What to eat in Morocco
Morocco is a country which is a multi-cultural and multi-climatic. The seaside offers a huge selection of dishes made out of fresh Atlantic fish and seafood, while the continental side of Morocco is famous for a wide choice of meat, poultry, fruits and vegetables. You can call Moroccan kitchen one of the richest cuisines of the world.
Fish and seafood in Morocco
Morocco is on the coast of the Atlantic Ocean, which is rich in fish and seafood. Usually, there are fish markets located right next to the fishing port, with some restaurants nearby, where you can have your bought fish cooked for you. It is also applicable to Essaouira. It is better to visit the El Massira fish market in Souk el Had while in Agadir, it is really close.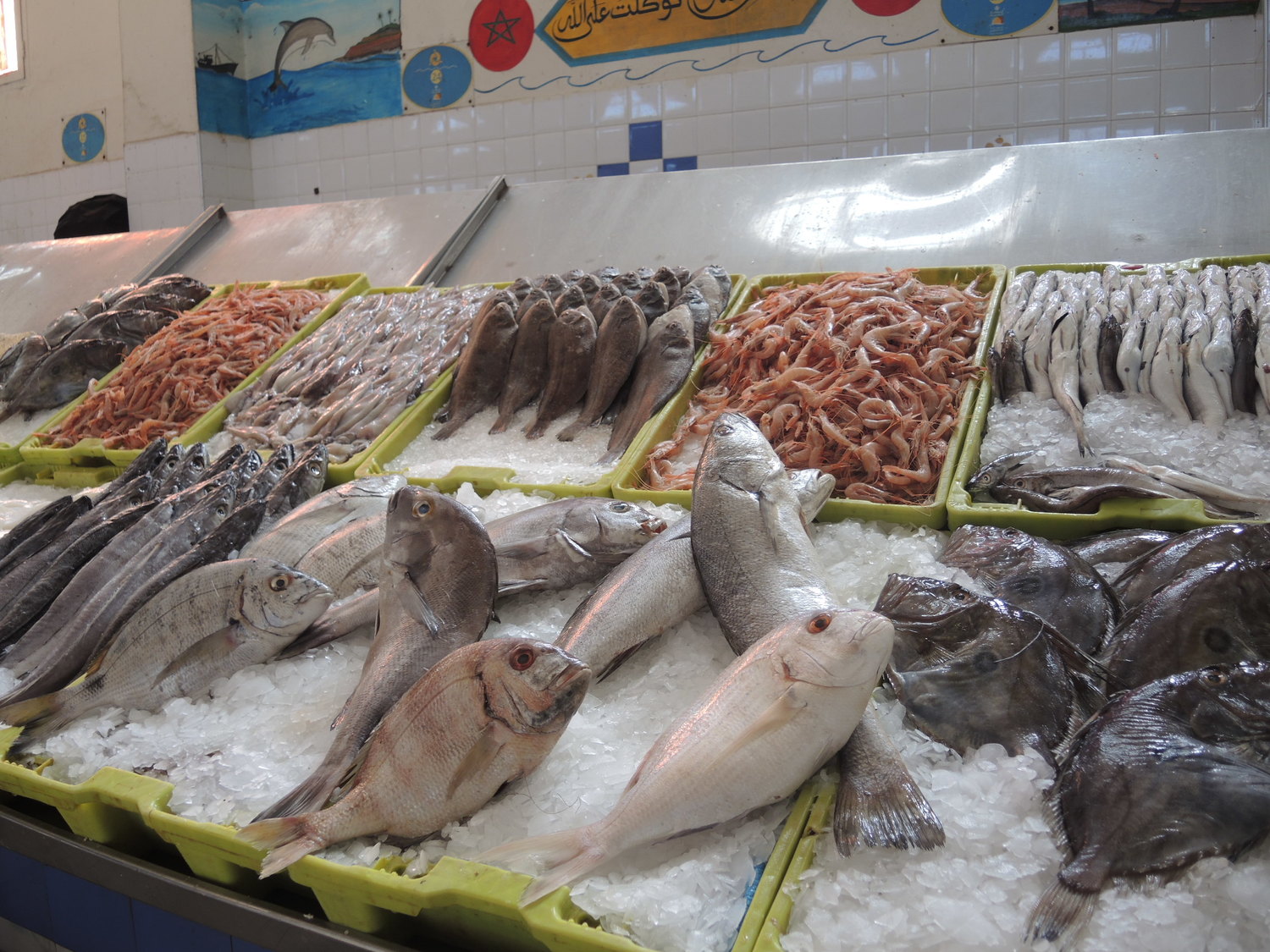 El Massira fish market in Agadir. You may find the exact location of it in the map below. There is another big fish market in the Essaouira fishing port.
You can pay a little extra to have your freshly bought fish cleaned and ready to cook.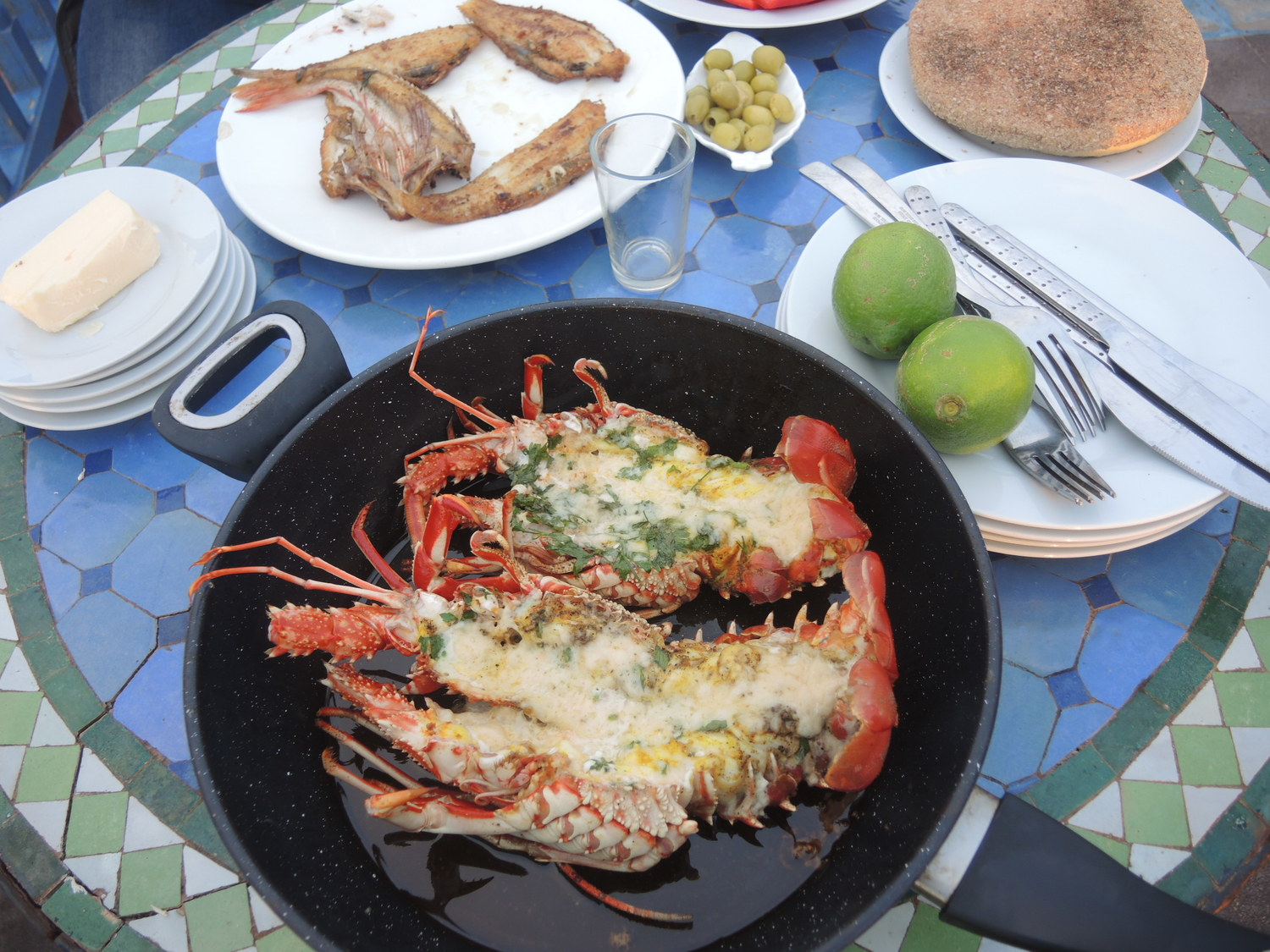 If you consider yourself to be a culinary enthusiast, you should book a hotel with a kitchen where you can cook your own food. It is even better if you talk it through in advance and you might even be able to use the main hotel kitchen. It is easier to agree on it with small hotel and riads' owners, rather than in large hotels. Hotel's main kitchen is better and often offers a gas cooker, instead of small and weak electric cookers that you might find in your hotel room, with which is difficult to reach the desired result.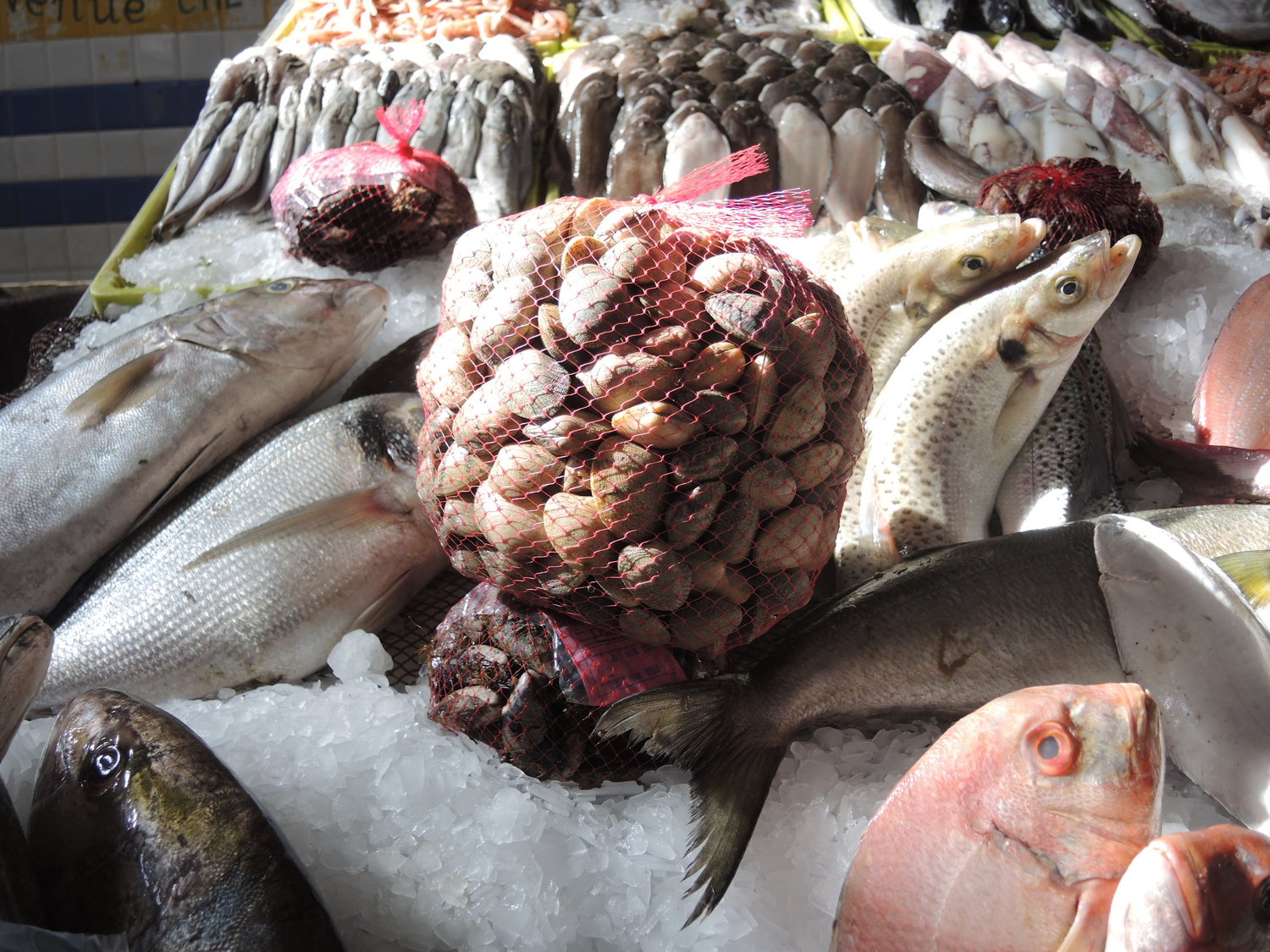 The most impressive dishes are those including shellfish, lobsters and other seafood. In Morocco you may buy a live langouste for about 35 euros per kilogram and a lobster for around 30 euros per kilogram. Culinary-wise, they differ between each other concerning the amount of actual meat in it and the cooking time. Lobster has most of the meat in the pincers and in the tail, and it is cooked as a whole (just like a crab), for around 40 minutes. However, langouste does not have any pincers and its meat is divided through a whole body. Usually while making a langouste, it is cut in half lengthwise and fry paned shortly from both sides; or made in the oven for around 8 – 10 minutes. While making it in the pan or in the oven, we advise to add some cheese and butter sauce – this will make it into a fantastic dish.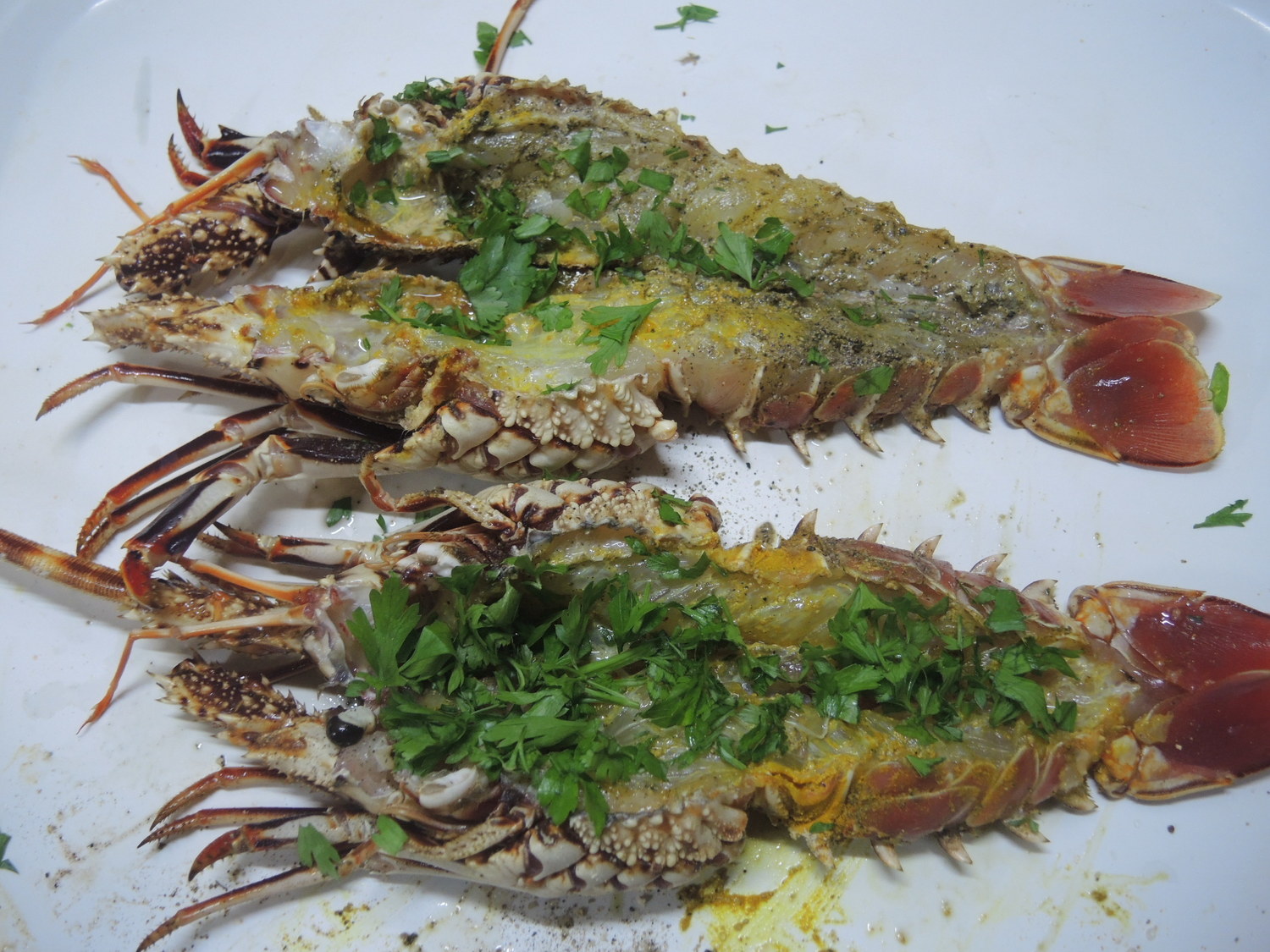 When langouste is cut in half lengthwise it is dried down with a paper towel. We put chopped parsley, some ginger, salt and pepper, a little bit of butter with some cheese. Place the langouste on the pan and cook it until cheese melts.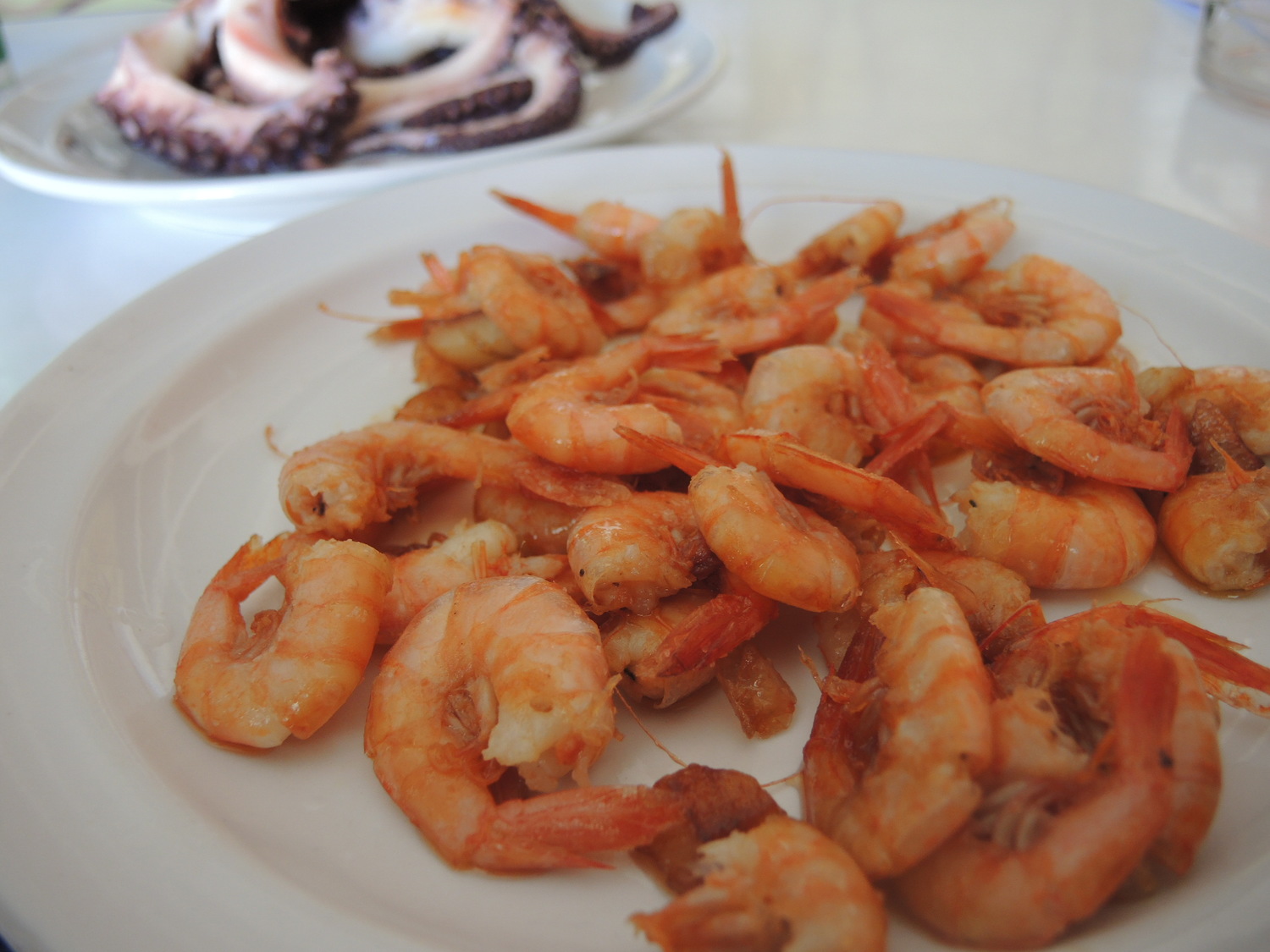 The fresh shrimp that might be found in the Moroccan market have very long antennas (mustache) and soft shell. The shrimp might be made in a several different ways. One easy marinade is with some lemon juice and garlic, another kind of marinade includes some wine and ginger. Mix the shrimp with the marinade and keep it cold for at least half an hour. Heat the oil up and cook the shrimp for several minutes.
It makes it even better if you cook some onions and garlic with oil in a pan before adding the shrimp. If you want to make fish soup, you will need some small fish for its base. Goatfish, ruffle and perch would be perfect for that, they simply require cleaning and they will add amazing spice to the soup later on. If you choose using octopus, it requires a longer cooking time (around 1 – 1,5 hours, depending on its size, in a salty water).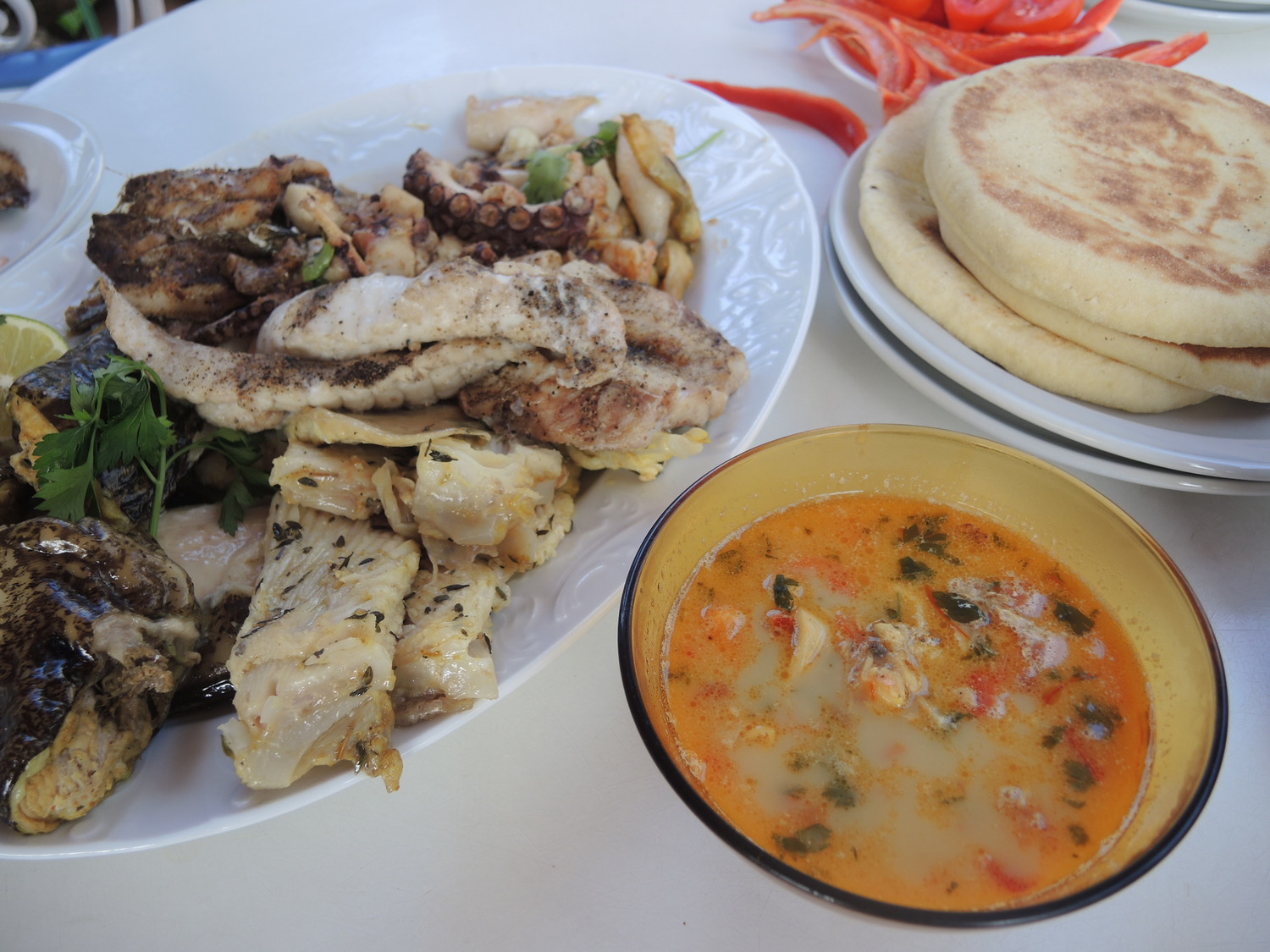 Recipe: Fish soup with cream
Firstly, take about 3 liters of cold water and add 1,5 kilograms of fish for the base (goatfish, ruffle, perch, fish heads). Bring the water to boil and add a few bay leaves, some thyme. After half an hour strain the base and cool the fish on the side. When it cools off, we take out the bones and keep the fish meat, which will be added to the final soup.
Take the octopus and cut its head off. Put the remaining octopus to the boiling water and boil for 30 – 40 minutes. However, the tentacles of the octopus have to be knock out in advance, the vendors in the market will do that for 5 DH. Once again, add some bay leaves, thyme and mint. You might check if the fish meat is done by using a fork, it is done when it is tender.
Add 2 chopped tomatoes to the broth and boil for about 10 minutes. If you have the tools, it is even better to blend the soup. Add some finely chopped potatoes, carrots, cut into hemispheres.
Fry some chopped garlic and red onion in a quality oil, add the shrimp with shells. When it is cooked, add it to the soup.
When the garlic, onion and the shrimp for the pan are moved to the pot with the soup, add some fish meat that we had from the making of the broth.
Add some chopped squid, the head of the octopus and boiled, chopped octopus tentacles. Add 200 grams of shrimp without the shell and about the same amount of mussels. Squeeze out a lemon, add some salt and pepper if needed and some ginger powder and a pinch of saffron. You might buy some saffron in the market, a gram costs around 2 – 4 euros in El Had Souke market in Agadir.
This time I experimented with some muraena (moray eel), which has white, rich meat but also, lots of bones. In my opinion, the best way to cook it would be on the grill or smoking. Simply fried and cooked is good too, but not impressive. The vendors cleaned the moray eel in the market and left the skin on. They did cut it all the way, even though it is recommended to leave the end of the fish and not use it.
We got a little intimidated about the ray fish, since the minute we started cleaning it, a strong odor of urine. I marinated the ray overnight in some milk, onion, ginger and lemon. When we cooked it afterwards, all the bad odor was gone and the taste was amazing.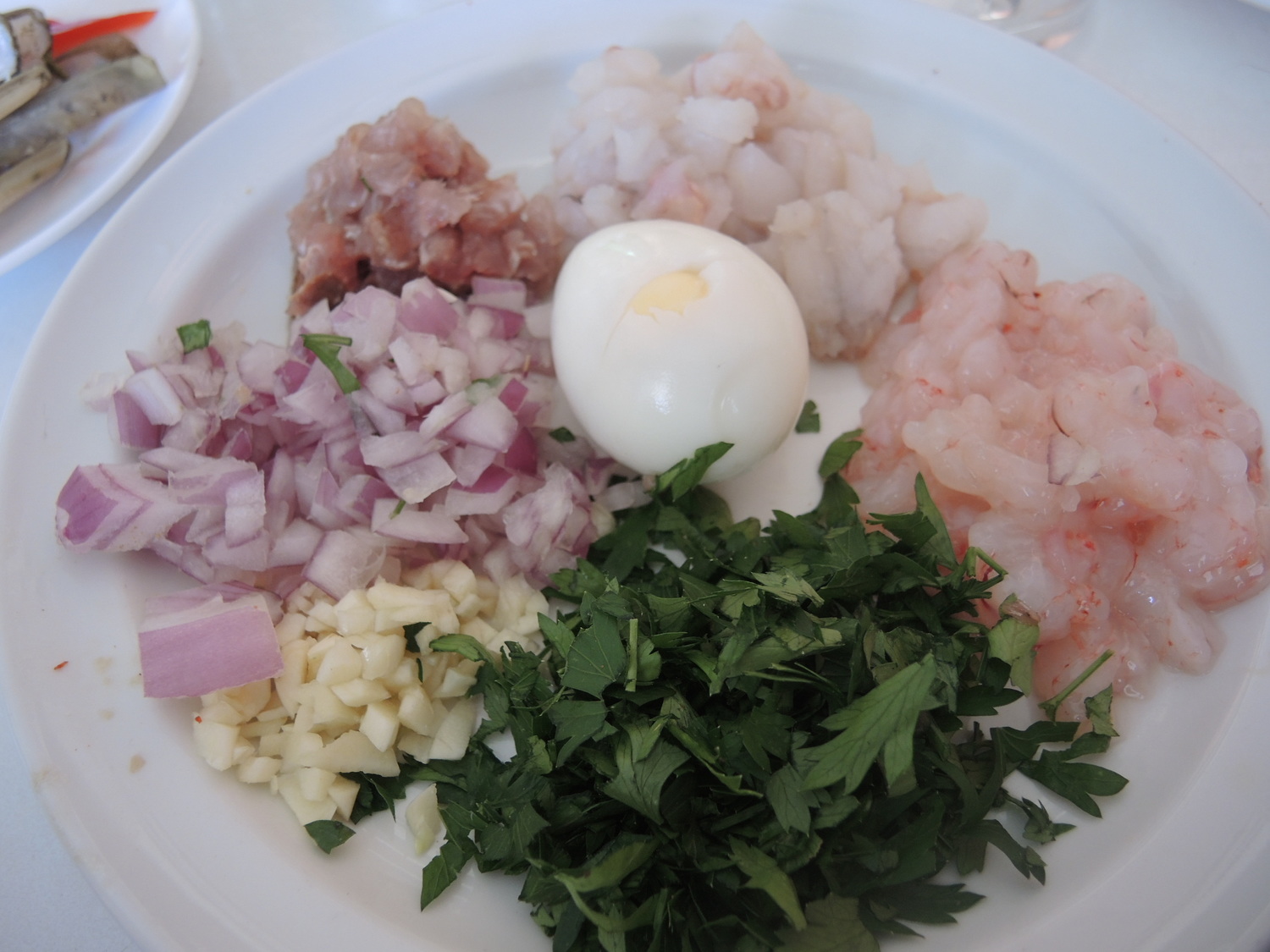 Ingredients for fish tartar. Peeled fresh fish, angler fillet, sardine fillet, sweet pink Greek onion, some cloves of garlic, parsley, an egg. Some salt and pepper. This dish is fantastic with some white bread and butter.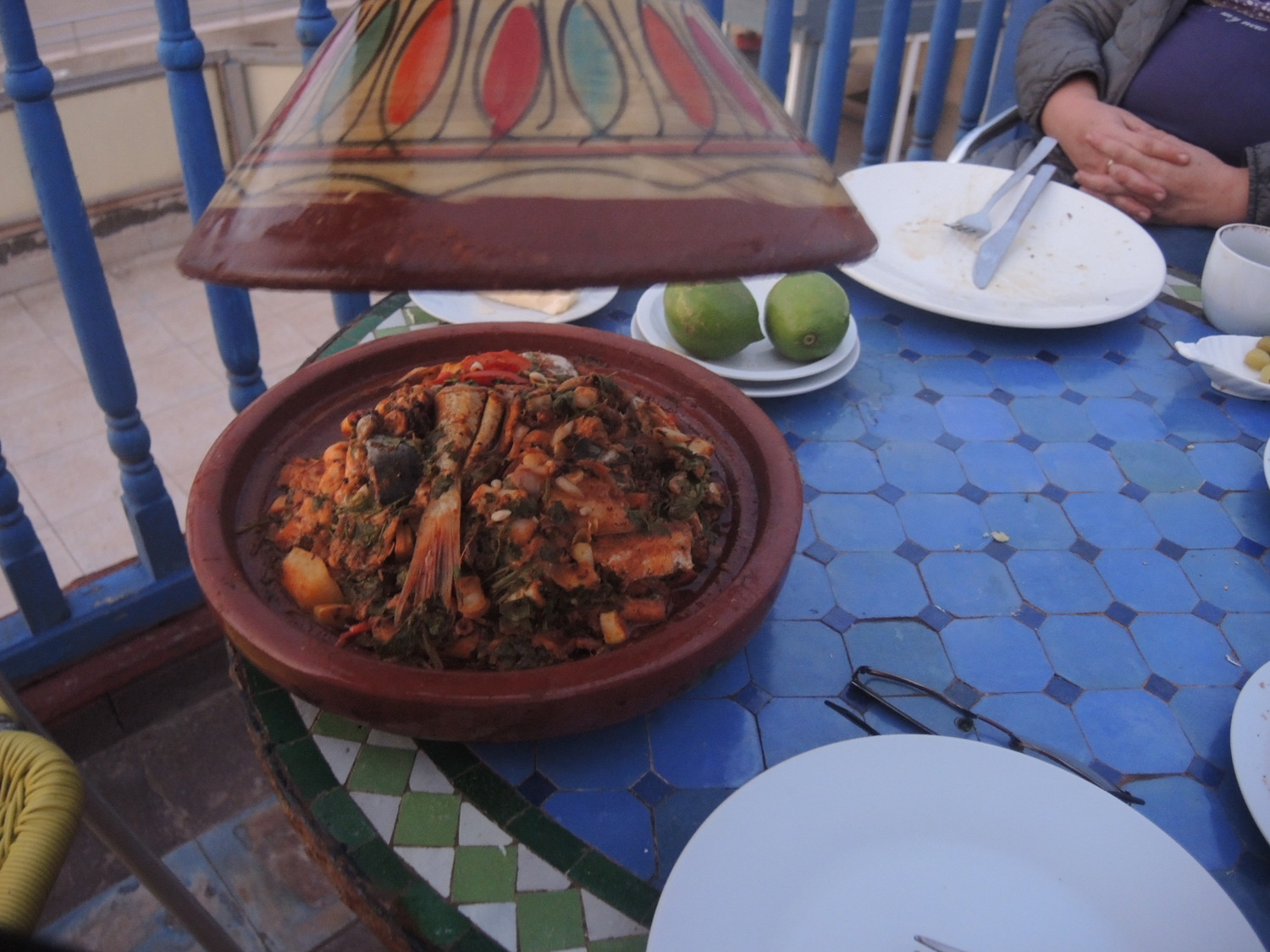 Fish and seafood tagine in Essaouira. We got so lucky that in Riad La Rose des Vents we agreed on using the main kitchen and we got some dishes as well. We also got a lesson on how to make a traditional Moroccan fish tagine.
First, you put he vegetables: some finely chopped tomatoes, potatoes, carrots, parsley and coriander. Cleaned fish (goatfish, tuna, sole, eel) is cut in small pieces and marinated. We used some lemon, olives, some white wine, salt, pepper, ginger powder, a teaspoon of paprika, a teaspoon of sweet paprika, some parsley and the top of coriander for the marinate. When the fish is marinated, it is placed on top of the vegetables and the lid is put on top. The whole dish is placed on the cooker, on a big heat. After it gets to boil, the heat is reduced and kept at around medium heat.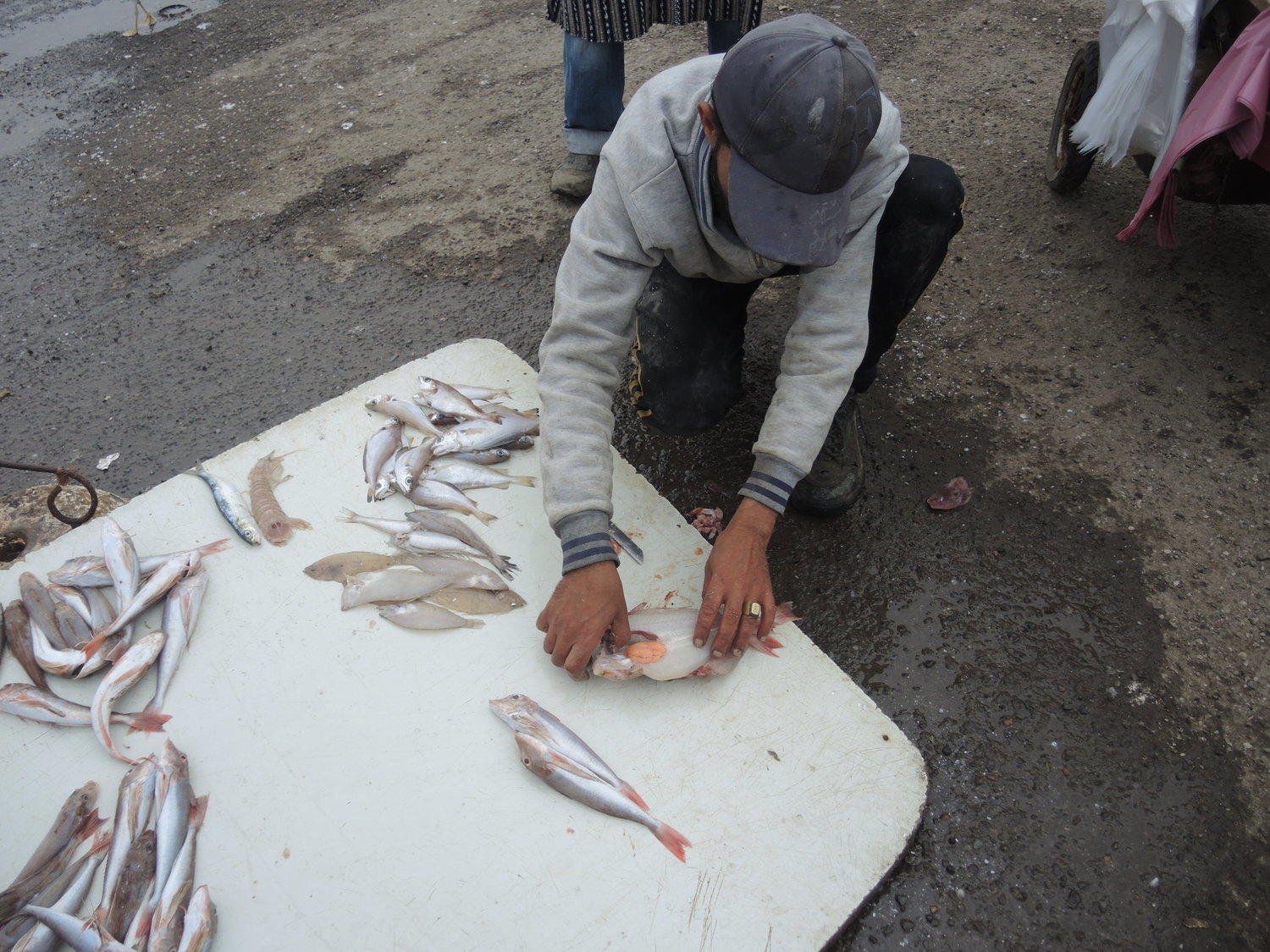 They clean the fish really good in the market, which makes the cooking way easier. The skin is removed when cleaning the sole. There are not lots of bones in this fish, the fish meat is tender and with a good amount of fat in it. Fried sole is just fantastic.
What to eat in the restaurants in Morocco
As in other countries, the main rules of choosing a restaurant applies in Morocco too. You should choose the places where the locals eat. Do not be intimidated by the looks of a restaurant, even if it does not look attractive, if locals are eating inside, you will have a delicious, cheap and safe food there. Just do not order before getting a menu and agreeing on the price in advance. Another indicator of a good restaurant is the presentation of fresh fish, seafood and meats. You can also trust a restaurant if there are lots of tagines in front – this means that this restaurant is popular and the owners are not afraid to make more food in advance. And, the meat in tagines that was sitting in warmth for hours simply melts in mouth.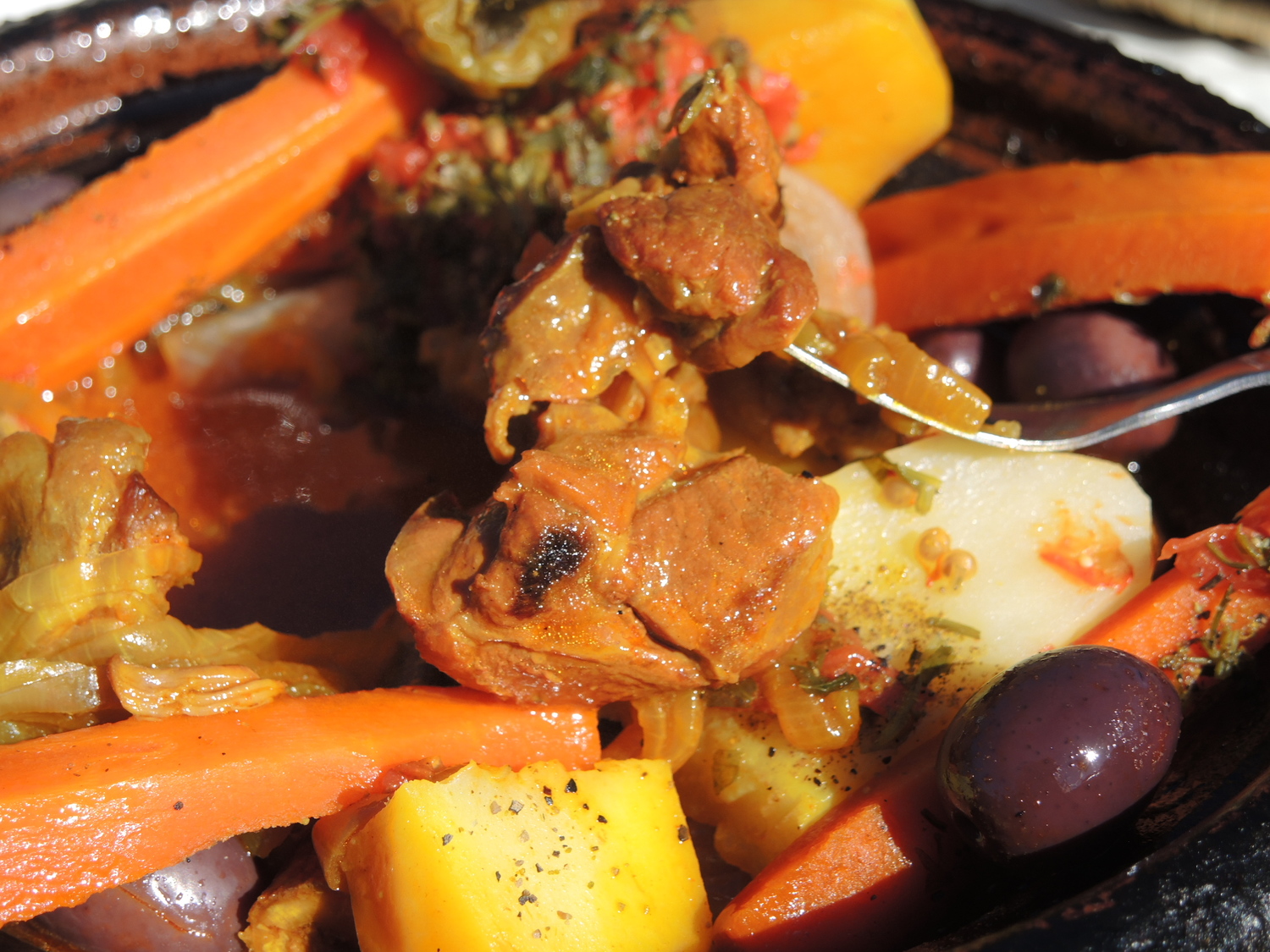 Lamb tagine in Atlas Mountains. Another very popular - chicken tagine, is a safe choice. Poulete (Moroccan for chicken tagine) is about 4 – 5 euros.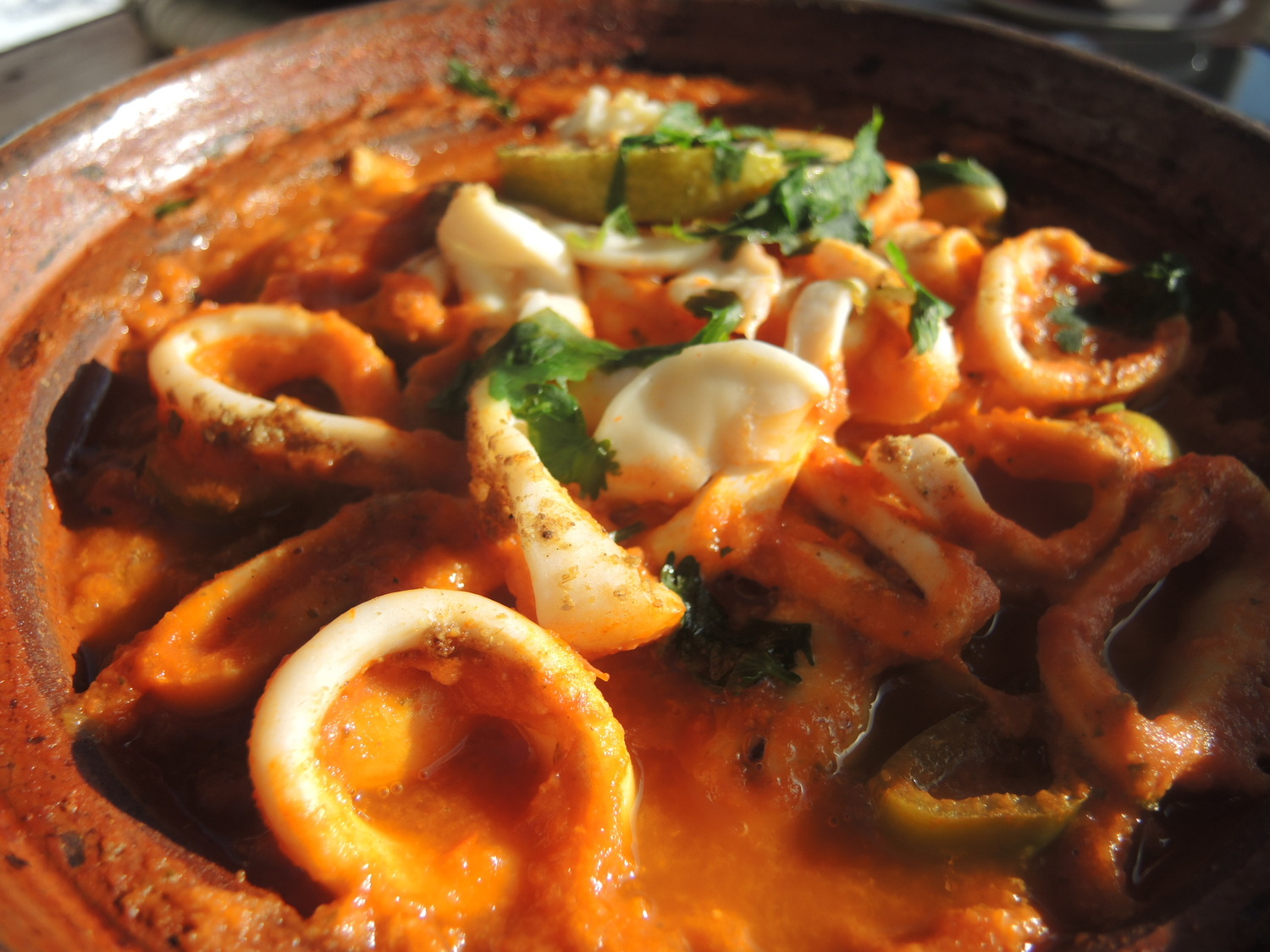 In the seaside towns it is really advisable to eat seafood tagines. Squid tagine or octopus tagine (calemare and puolpe) are great.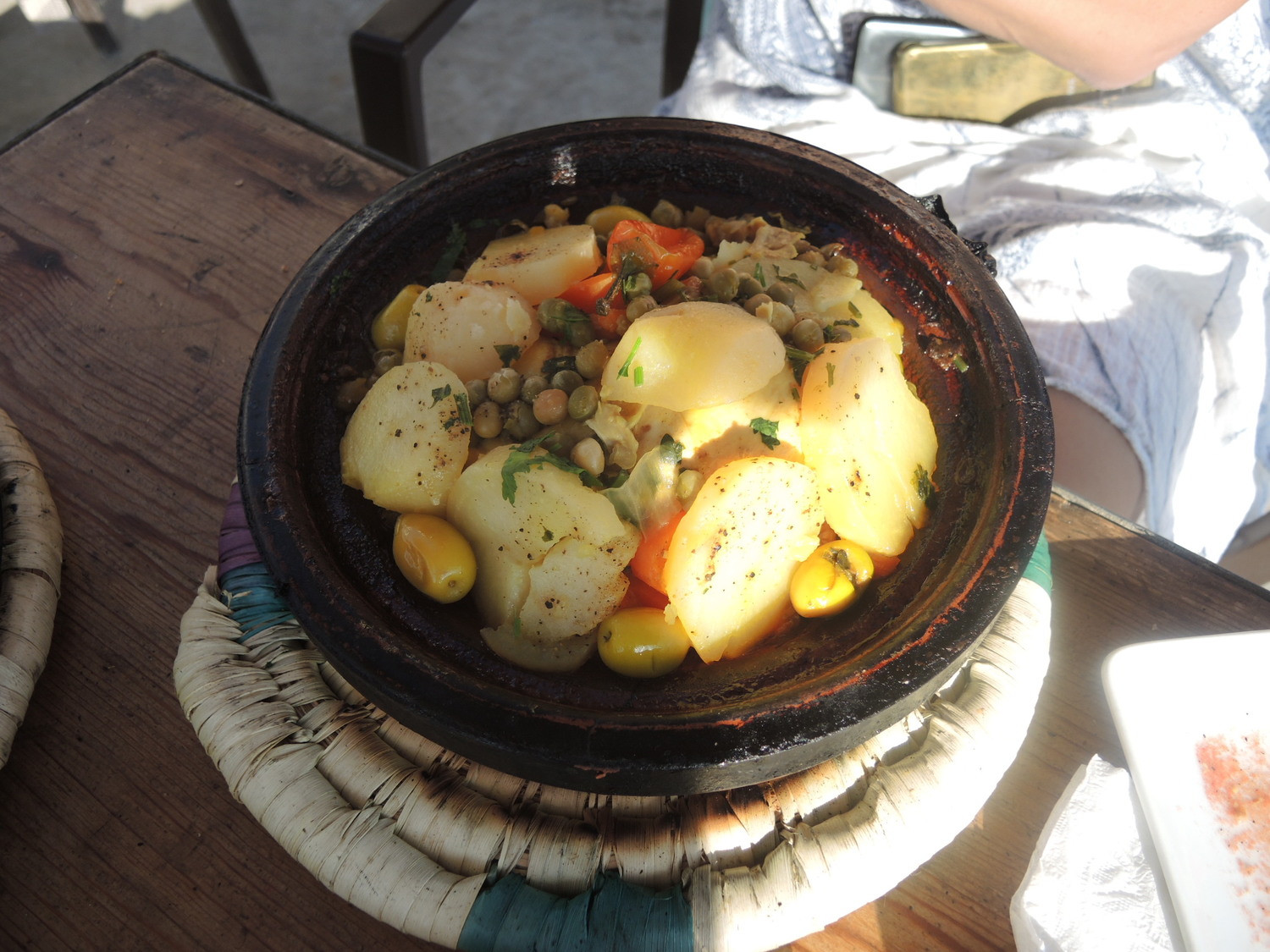 Vegetable tagine (Legumes)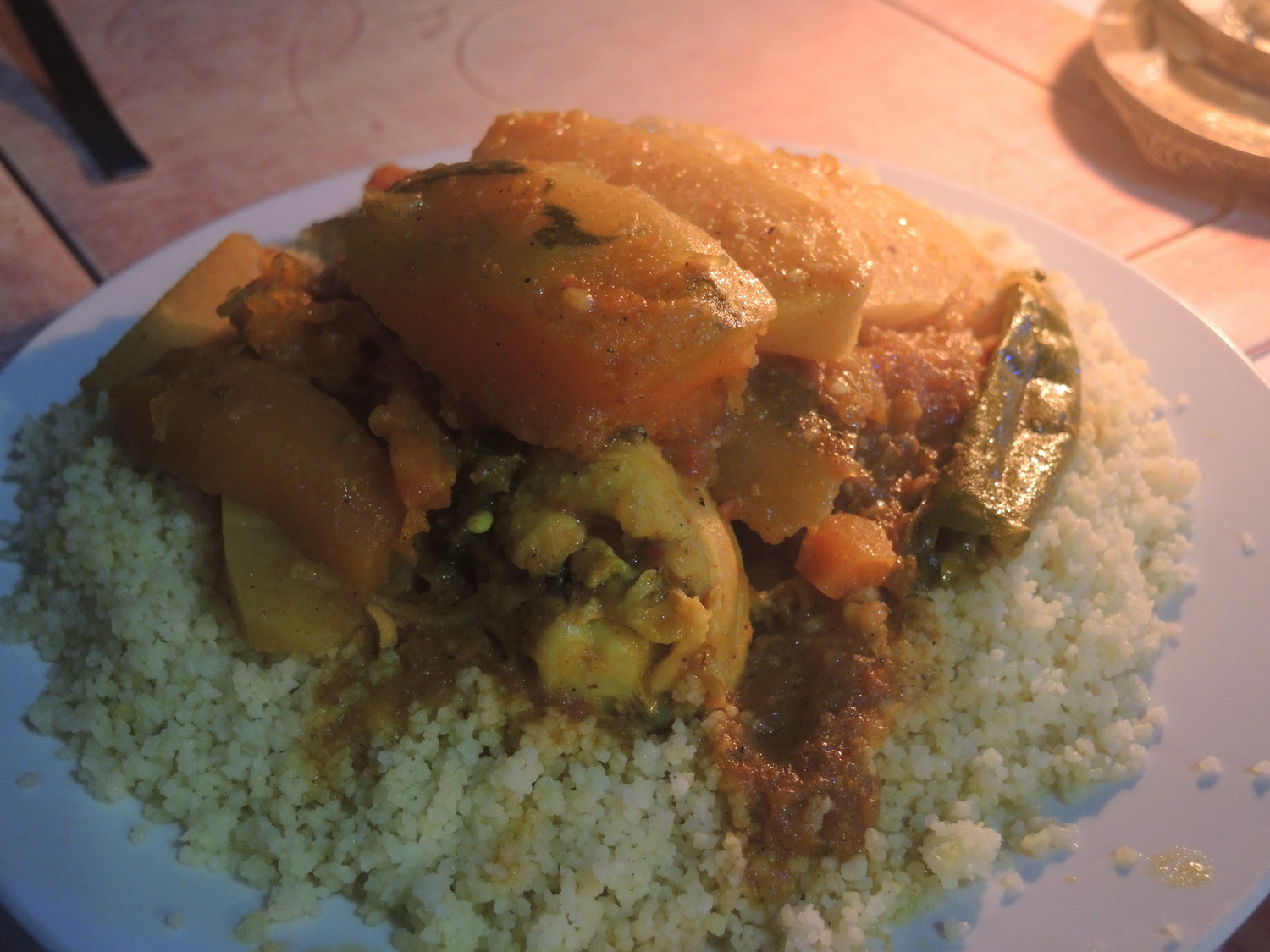 Chicken couscous with vegetables. This is a great retreat for a stomach irritated with the richness of tagines with lots of meat. It is amazingly delicious to pour a little fat of the meaty tagine on the couscous.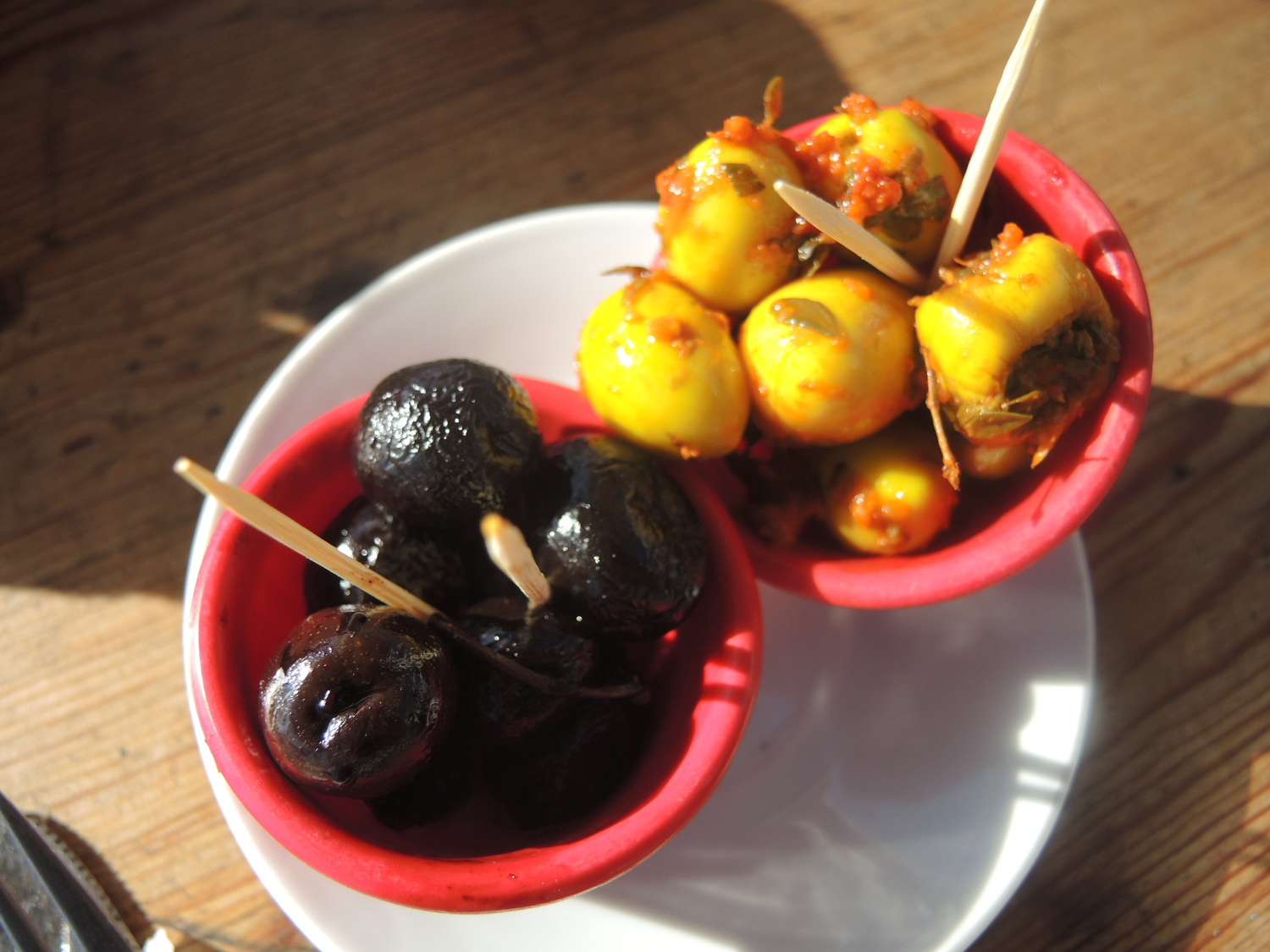 In a decent Moroccan restaurant, you will have the chance to enjoy some marinated olives and some bread as an appetizer.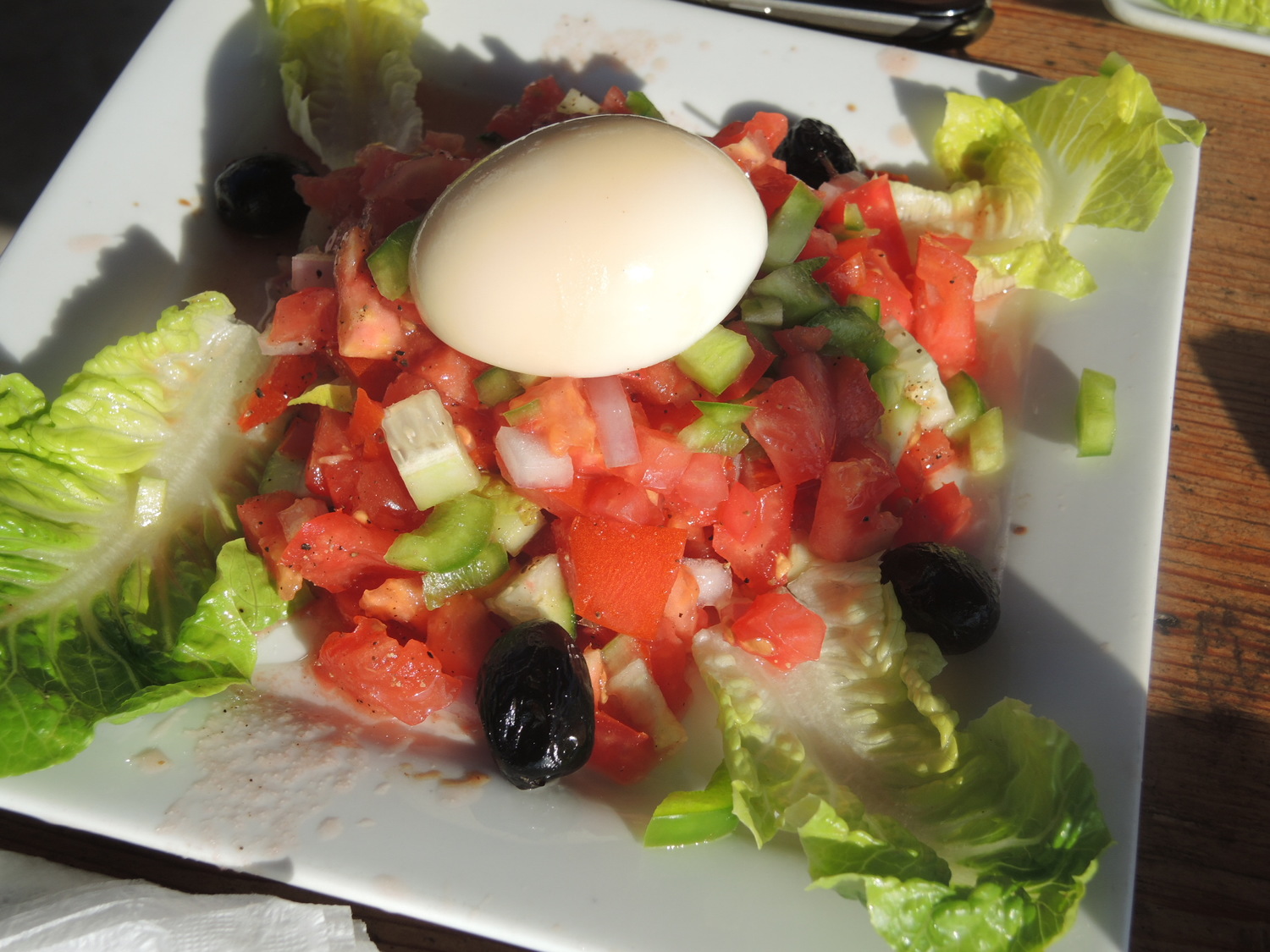 Moroccan salad with tomatoes, egg, onion and lettuce.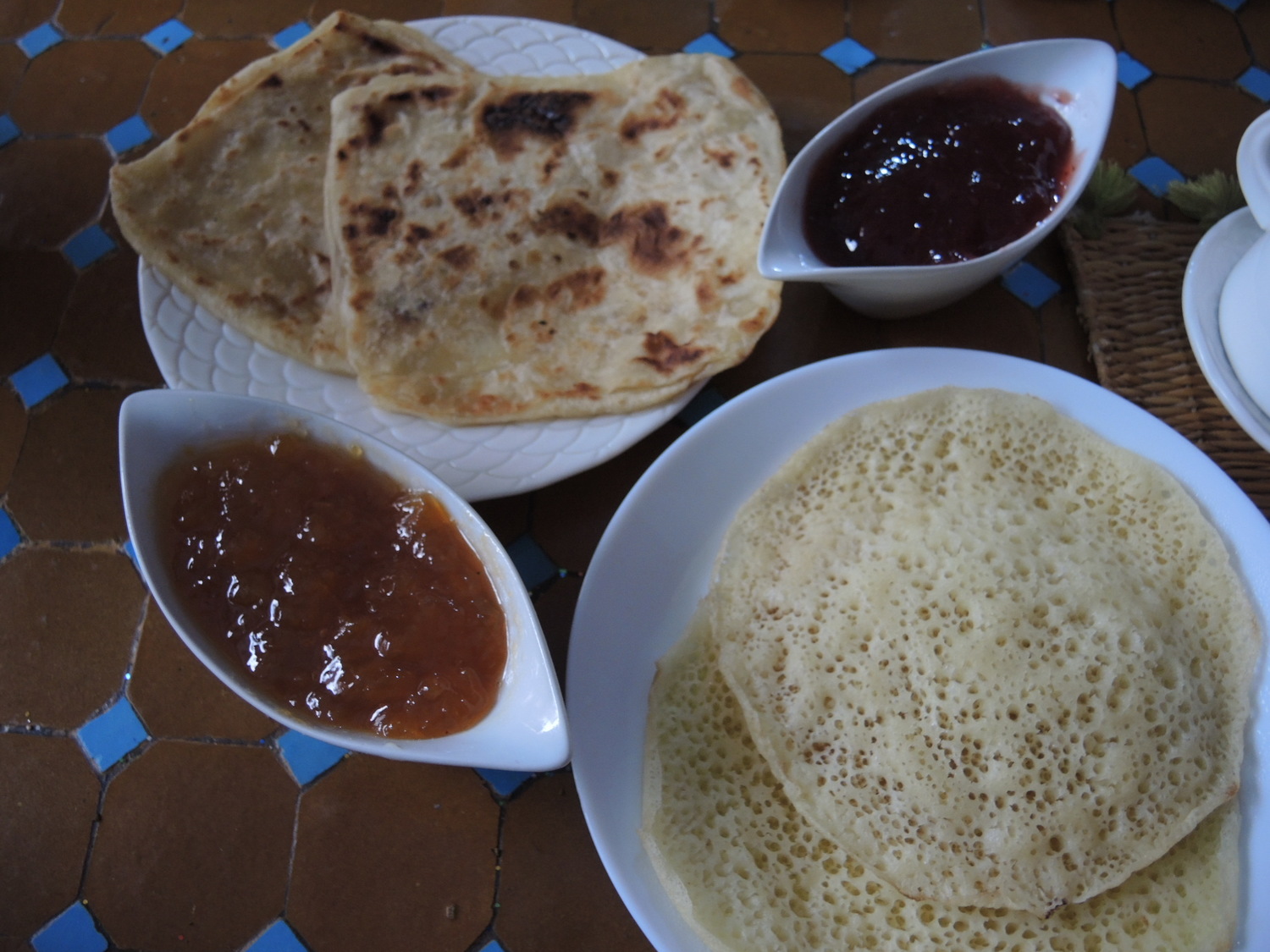 Moroccan pancakes with some kind of jam are perfect for breakfast.
What street food to choose in Morocco
To eat or not to eat on the streets in Morocco? Many are scared off by the unsanitary conditions, however, you should use your eyes and senses to separate different things – places where you will get diarrhea and places where you will experience culinary ecstasy. You might consider the same qualities, such as variety of dishes and number of locals eating there. We see some places where the locals go and we choose to try that out as well. It is also advisable to choose well cooked dishes.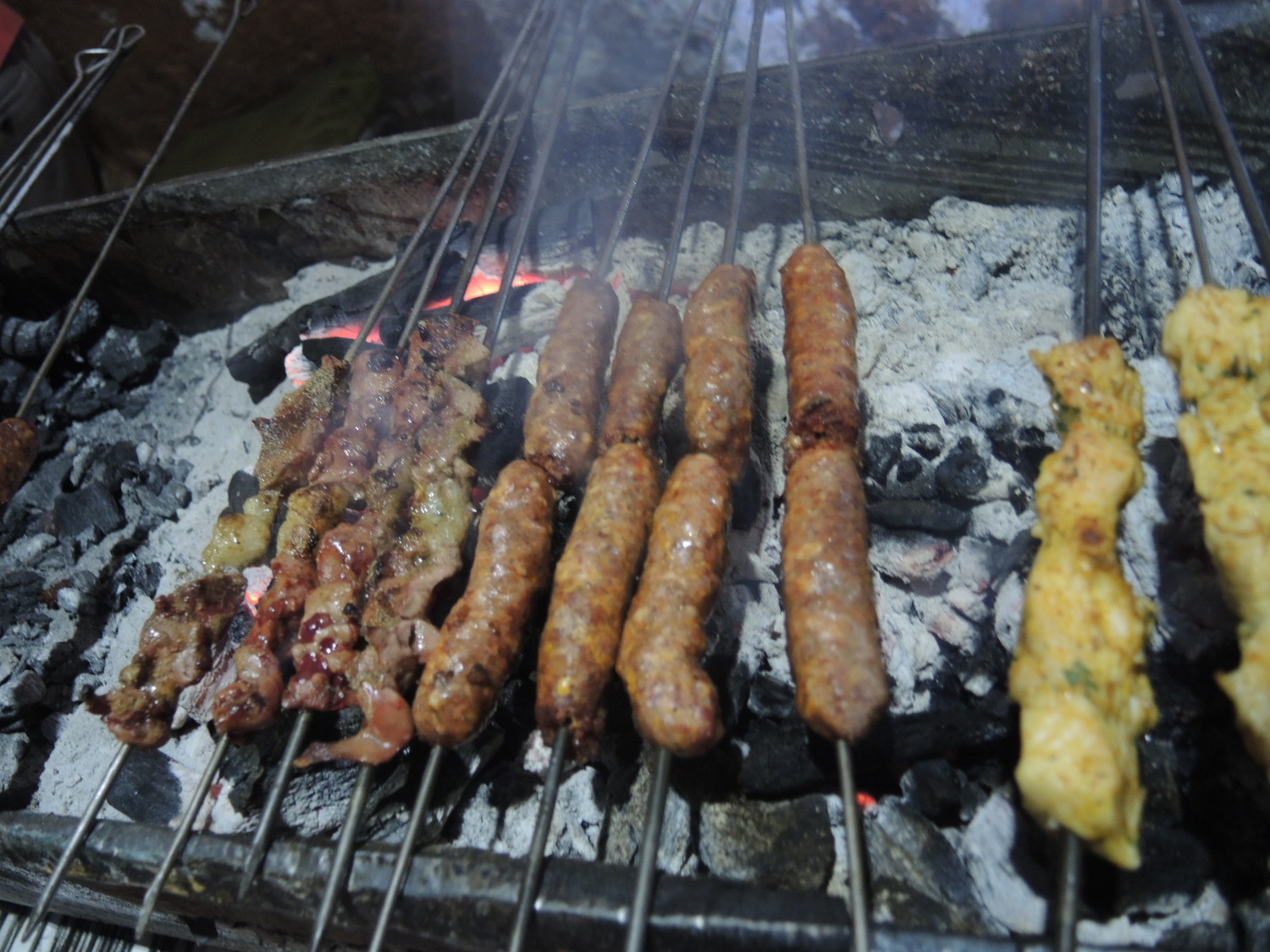 Merguez hotdogs and mutton kebab. Cooked meat is placed on a bread bun with some sauce on top. They originally add veggies on top, but I choose not to. This kind of hotdog is way better than anything in McDonalds and similar places.
Moroccan hotdog.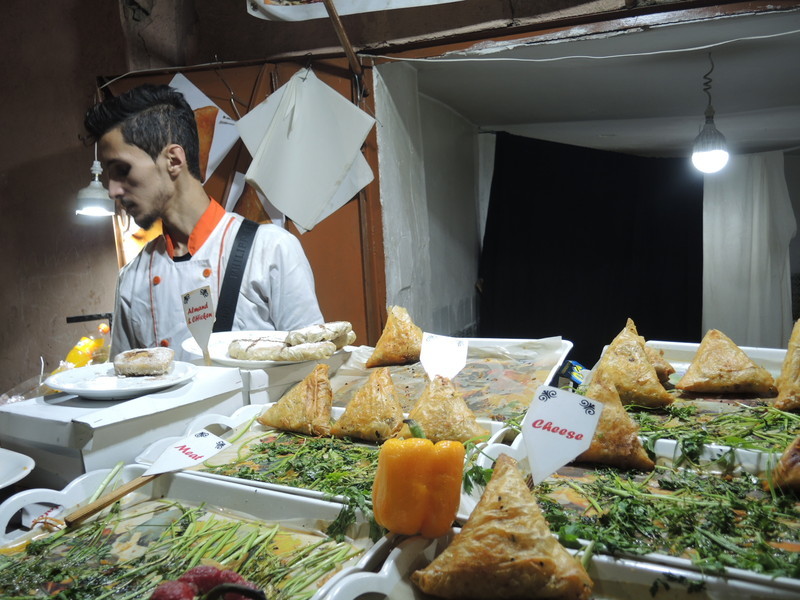 Briwat pastries might consist of chicken, beef and cheese. Crispy, multi-layered dough and very delicious fillings.
Bastilla (or pastila) might have chicken or pigeon meat inside. Pigeon meat is considered to be a dish of luxurious restaurants. The mix of meat and powdered sugar with cinnamon is very interesting indeed.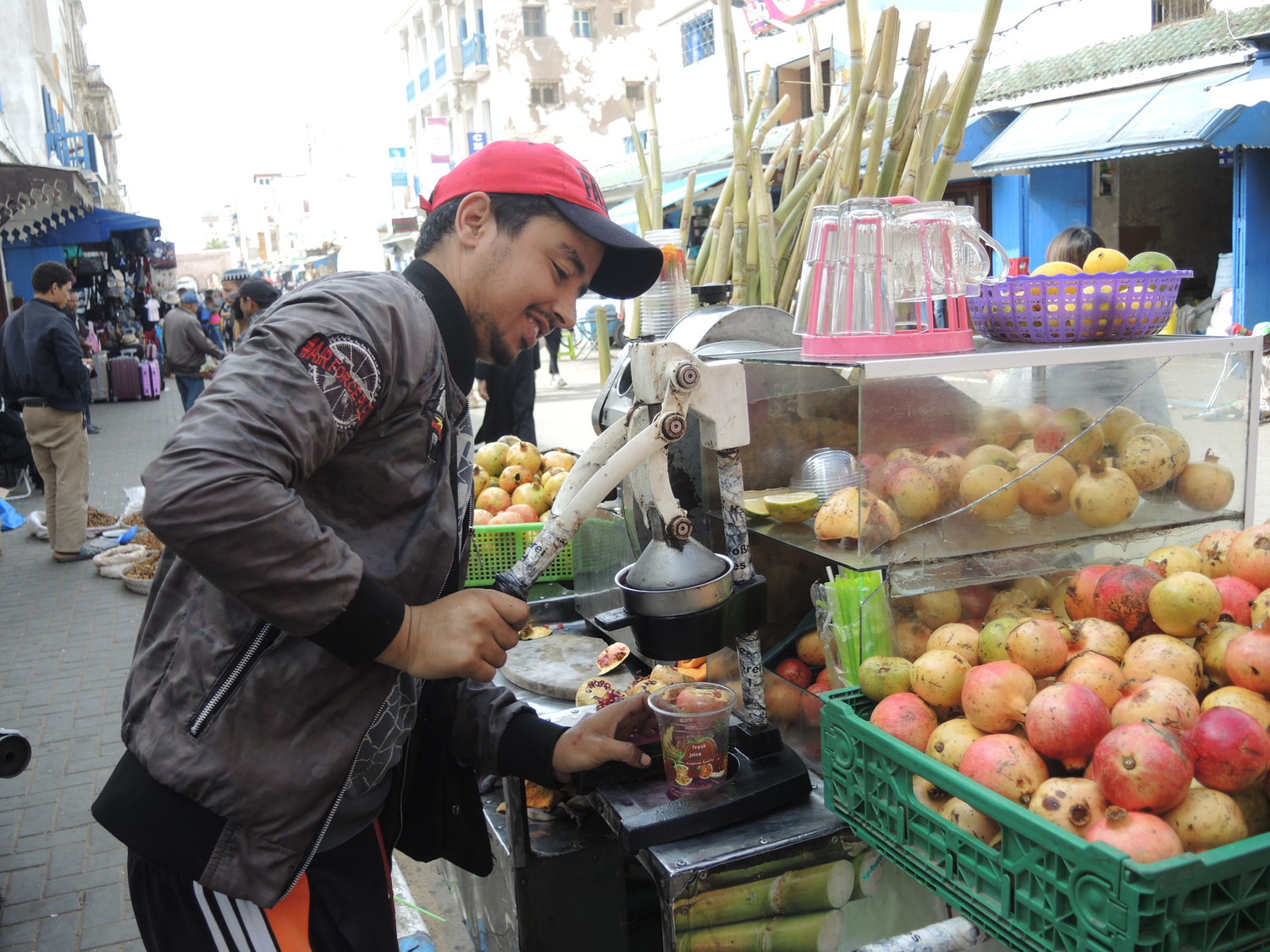 Fresh pomegranate juice squeezed right there on the street (1,5 euro for a glass), orange juice (0,5 euro) and sugar canes.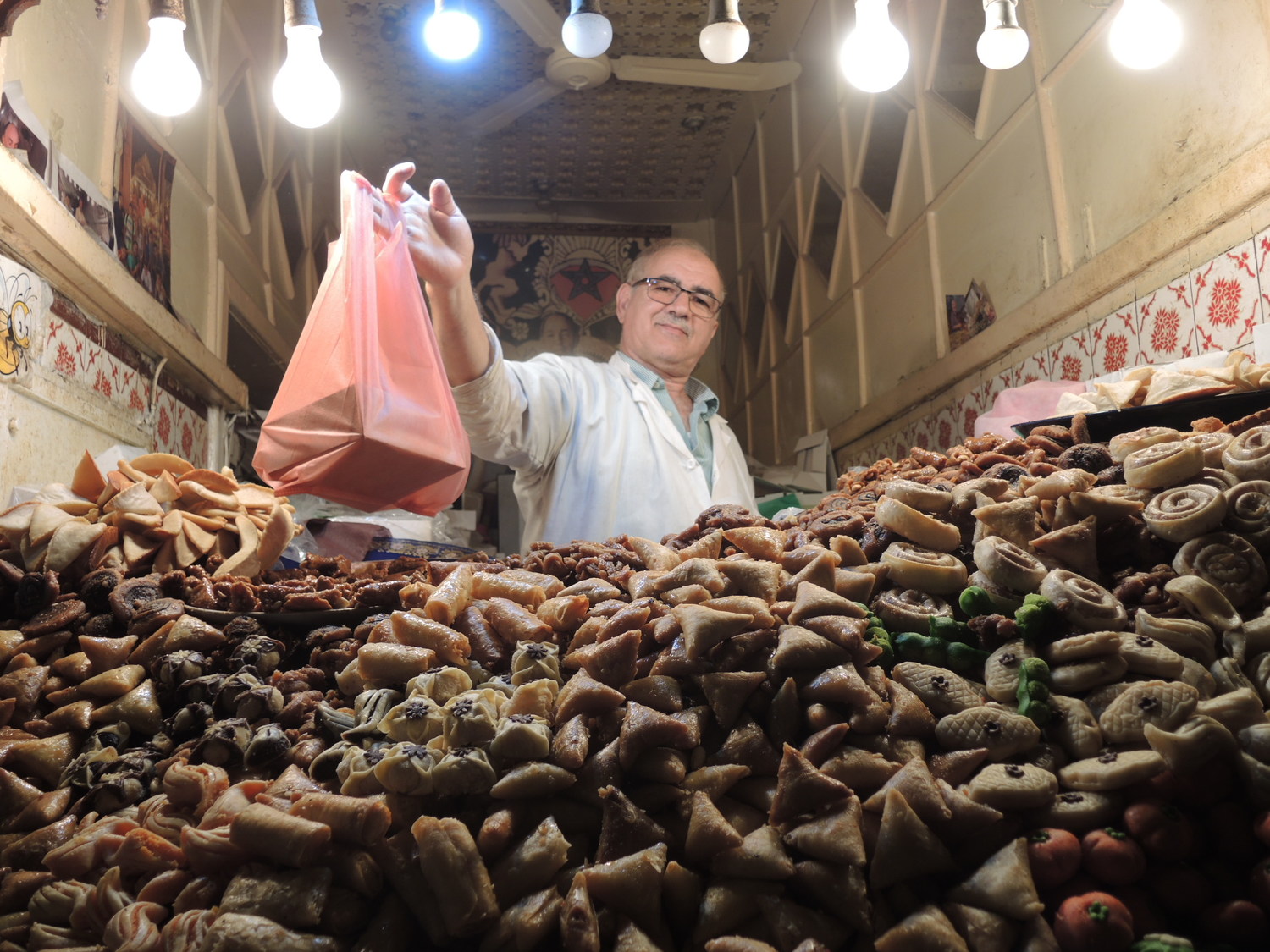 It is advisable to buy some Moroccan sweets in specialized stores. The prices are quite high, around 10 euros per kilogram.
What to drink in Morocco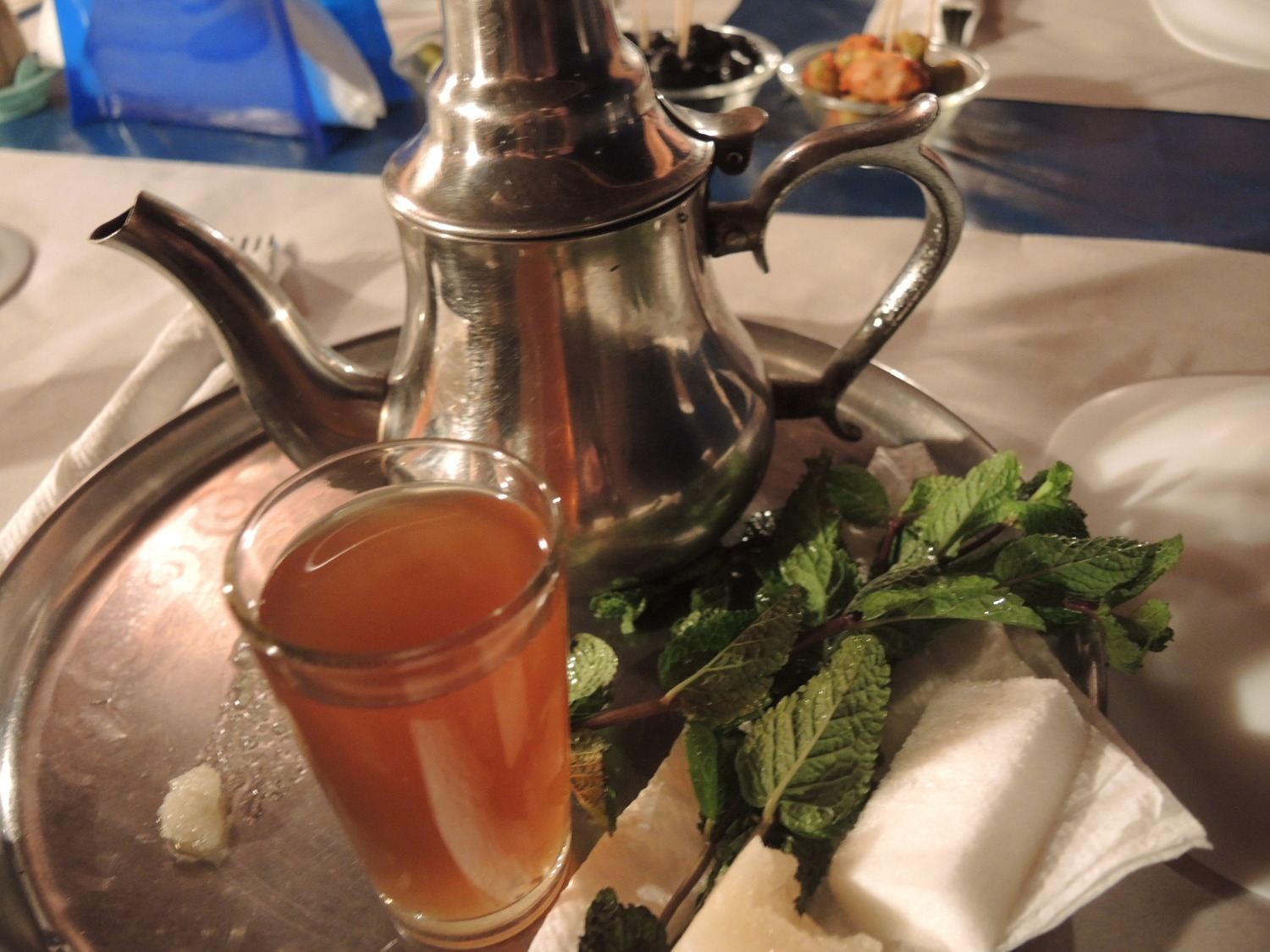 There are not many places where you will be offered a beer, wine or other alcoholic beverages. It is typical to order some coffee or mint tea. You will be served a big piece of unrefined sugar, if it is not already sweetened.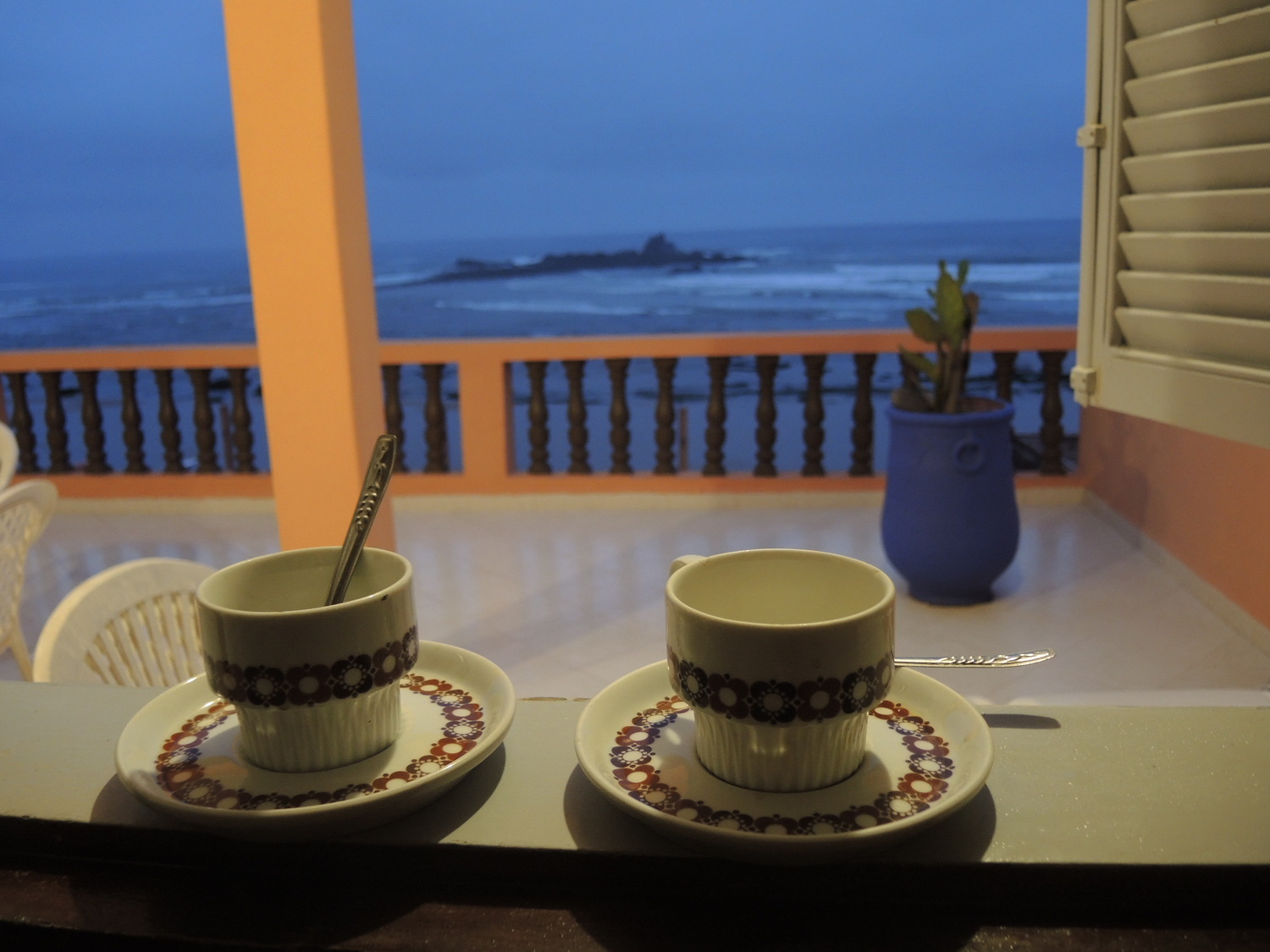 Coffee with a view. If you want to have a cup of good coffee, it is advisable, once again, to choose places where you see locals sitting and drinking coffee. However, we had the best cup of coffee of the trip when we stopped to a small coffee shop by the side of the road. The environment was unappealing, looked more like a dump, but there are lots of locals sitting inside and watching football. We drank our coffee out of small cups and it was the best coffee we had in Morocco.
Alcohol in Morocco
Alcoholic beverages are sold in specialized shops and some supermarkets. There is a specialized store in Essaouira, near Bab Doukkala, in Moulay Youssef street. There is also a supermarket a little further away from the Medina.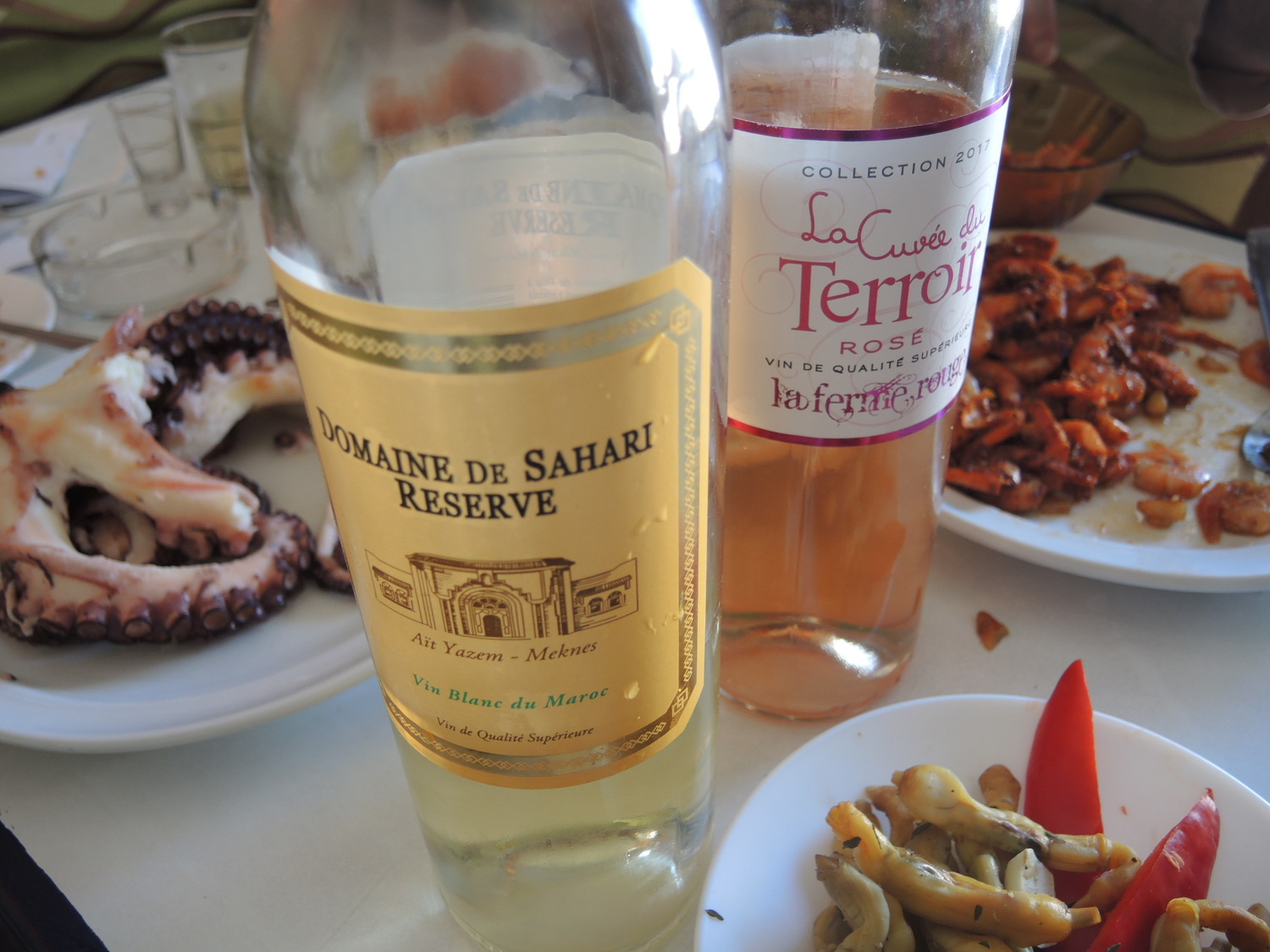 Moroccan wine and beer are pretty good. I would say that Domaine de Sahari Grenache is very good, actually. It costs around 8 euros, when a bottle of local beer Flag costs couple of euros.
Fruit in Morocco
Sadly, we couldn't enjoy the abundance of fresh Moroccan fruit in November. You can find some tomatoes, similarly as in Lithuanian supermarkets, I was also lucky enough to find some sweet red onions in one place.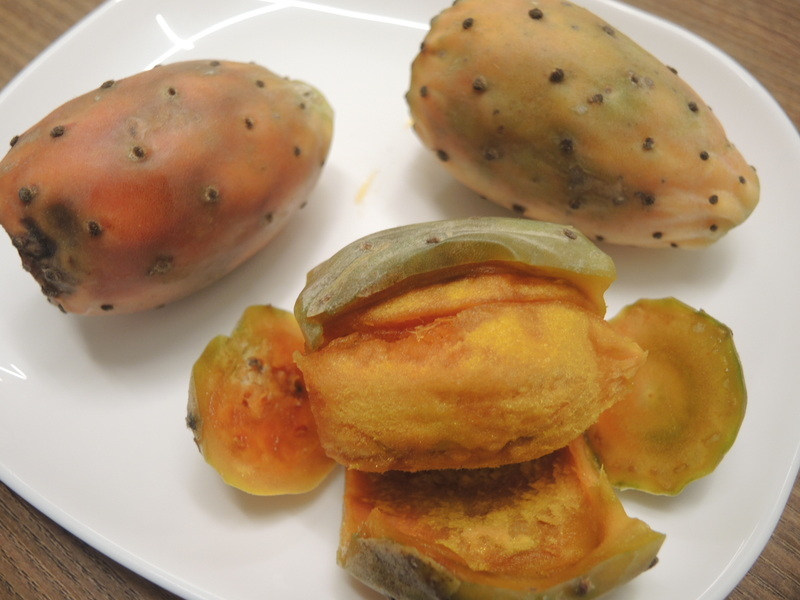 You may taste some exotic when trying opuntia cactus fruit. You see them everywhere around, it is obvious that they are grown for a purpose. It is not advisable to pick them by yourselves, though. The skin of the fruit is full of small spikes that will definitely stay stuck in your palm. When opuntia cactus fruit is for sale on the street or in the market, the spikes are removed in advance. When eating the fruit, the ends of it are cut off and the skin is removed as well. The taste is like of a Moroccan mango, just with lots of small seeds inside.
What to do, what to see in the city of Essaouira on the coast of Atlantic Ocean
Most popular restaurants places and tipical food in Sardigna
Traditional Moroccan food, best restaurants in Morocco, reviews of restaurants in Morocco