The Canary Islands are located in the northern subtropical region near the west coast of Africa, like a green magnet in the turquoise of the Atlantic Ocean. The archipelago's geographical position offers warm, sunny weather all year round. The temperature ranges between 20 °C and 25 °C in both winter and summer, and the temperature of the water is often higher than that of the air.
The Canaries are made up of 7 large and many small volcanic islands. The largest islands are Gran Canaria, Tenerife, Fuerteventura, Lanzarote, La Palma, La Gomera and El Giero. They differ from each other not only in size but also in landscape and climate.
The most popular island for holidays is Tenerife, which is considered the diamond of Spanish tourism. Holidays in Tenerife are suitable for all ages and interests.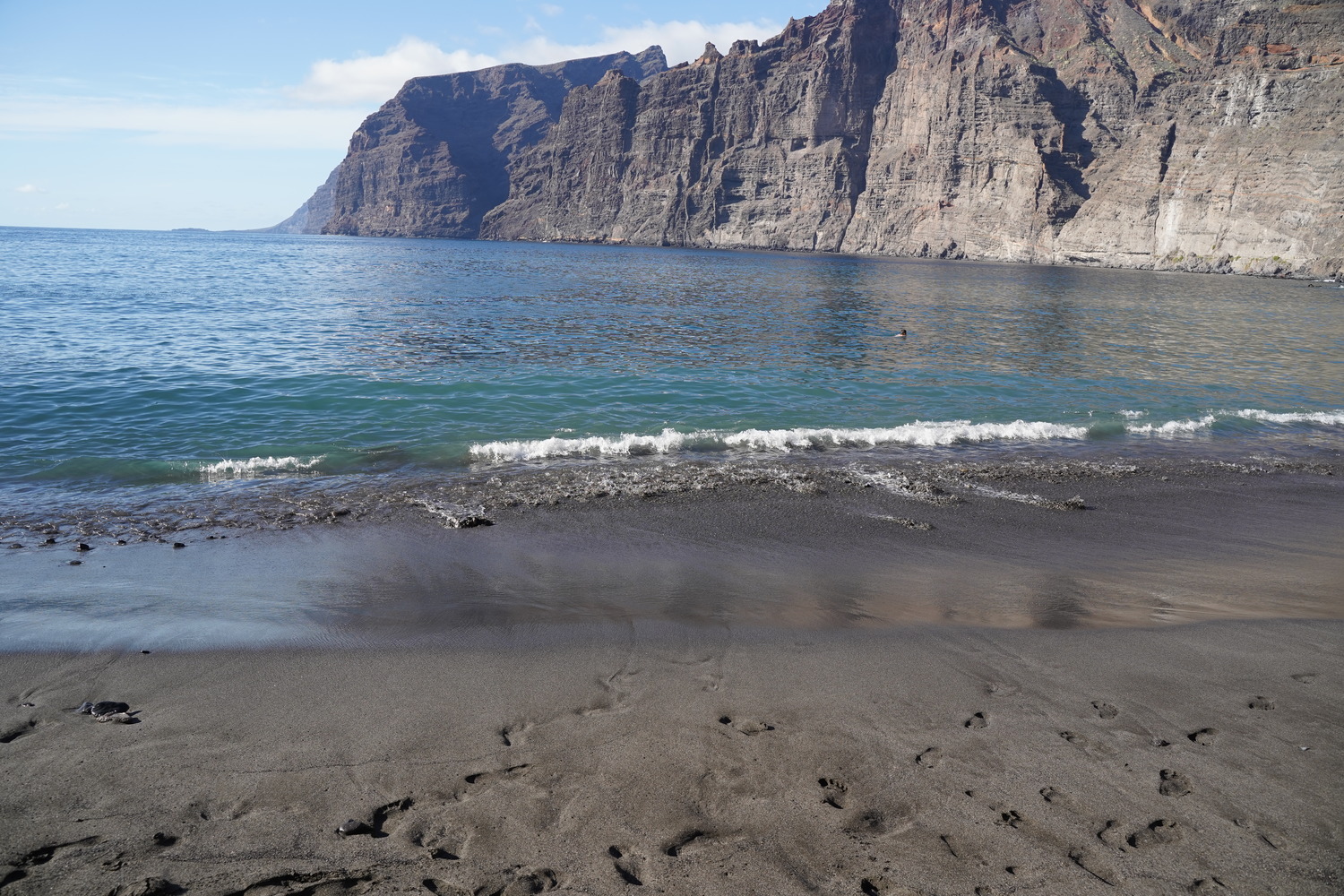 Los Gigantes beach. One of the most beautiful resorts in Tenerife, it's perched on a hillside. Quiet, for middle-aged holidaymakers.
Holiday in Tenerife
Traditionally, Tenerife is distinguished between north and south. Tenerife is divided by the Teide Ridge and other volcanic ridges. The north side is greener because this is where the ridge halts any clouds from the ocean. The south side is almost completely a barren desert.
The resting place that you choose largely depends on your age and hobbies. The choice should not be based on the north or south divide of Tenerife, but on a very specific resort. For those who don't like a lot of walking in hilly places, it is better to choose towns on the flatter coast. For those who like a quiet holiday, small coastal resorts are better. For active recreation lovers, there are also resorts with well-developed active recreation facilities.
All the places discussed in the article are on this map:
Holiday in Northern Tenerife
In northern Tenerife, the escarpment descends almost along the entire coastline. If you rent accommodation further away from the sea, you'll probably have to descend and ascend the hill. Apart from Puerto de la Cruz, the other towns are relatively small and quiet. Puerto de la Cruz is the old capital of Tenerife, where the old town has been preserved, but at the same time, the modern new town is just nearby. Both families with children and young people looking for fun can have a good holiday.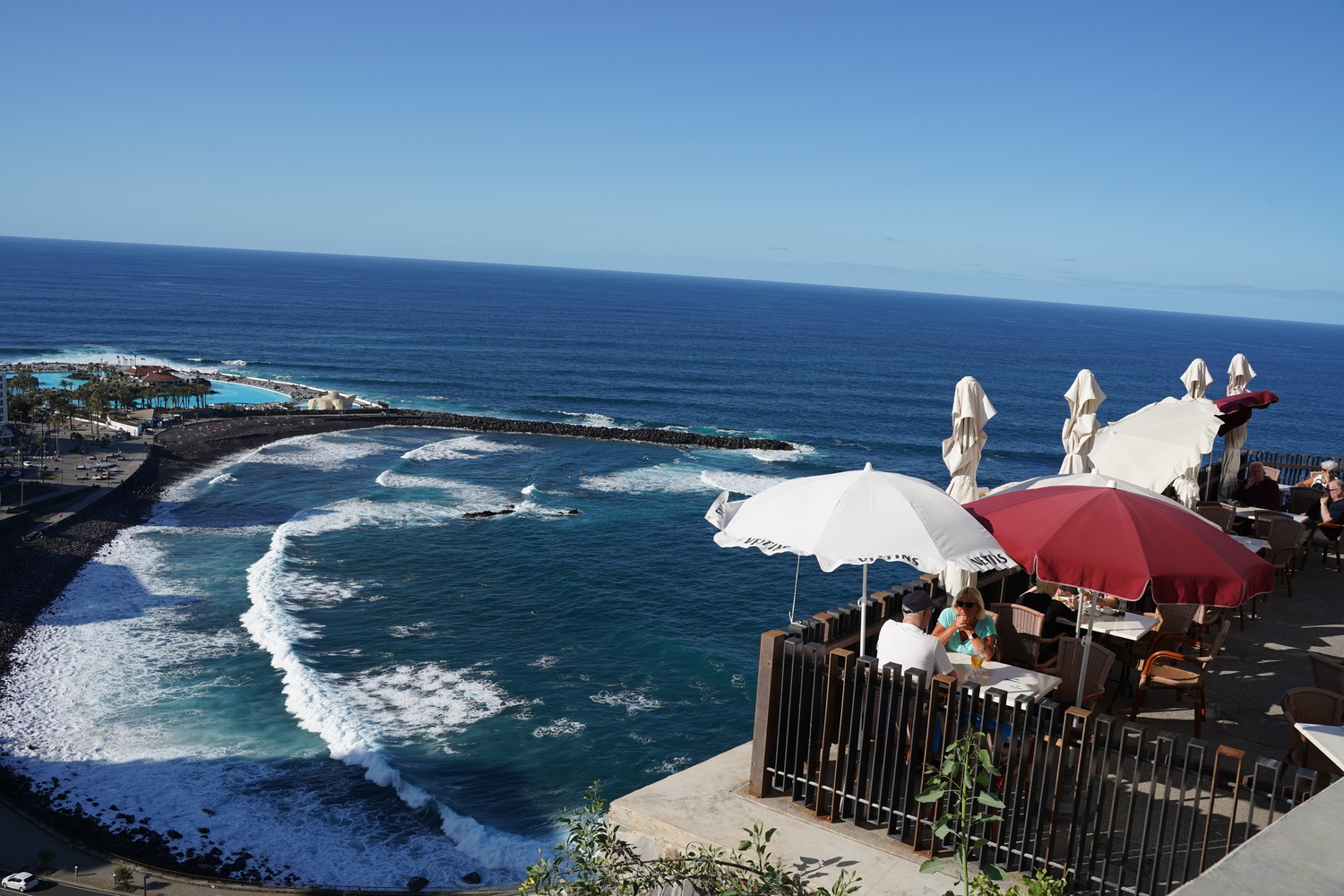 Puerto de la Cruz Martianez Beach. A long breakwater weakens the ocean waves, but they retain their power and often their height. With its many surfers, it's one of the most popular places to learn to surf. The famous Loro Park is just nearby and is worth a visit. It is a botanical, zoological and amusement park in one. The dolphin shows will leave you impressed.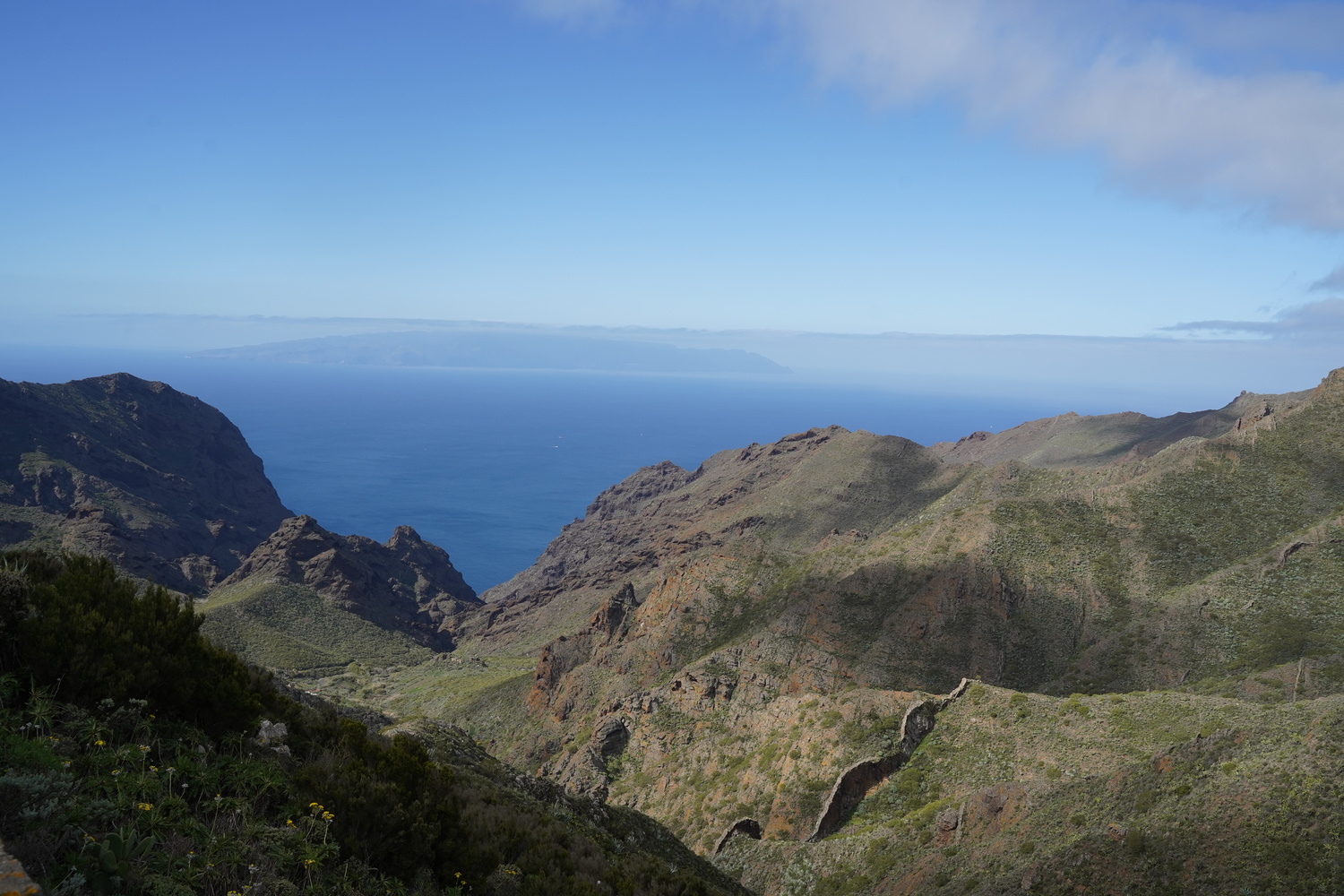 Active recreation enthusiasts should enjoy a holiday in Taganana. There are many hiking trails along the ocean. It is accessible from the spectacular Anaga Nature Park.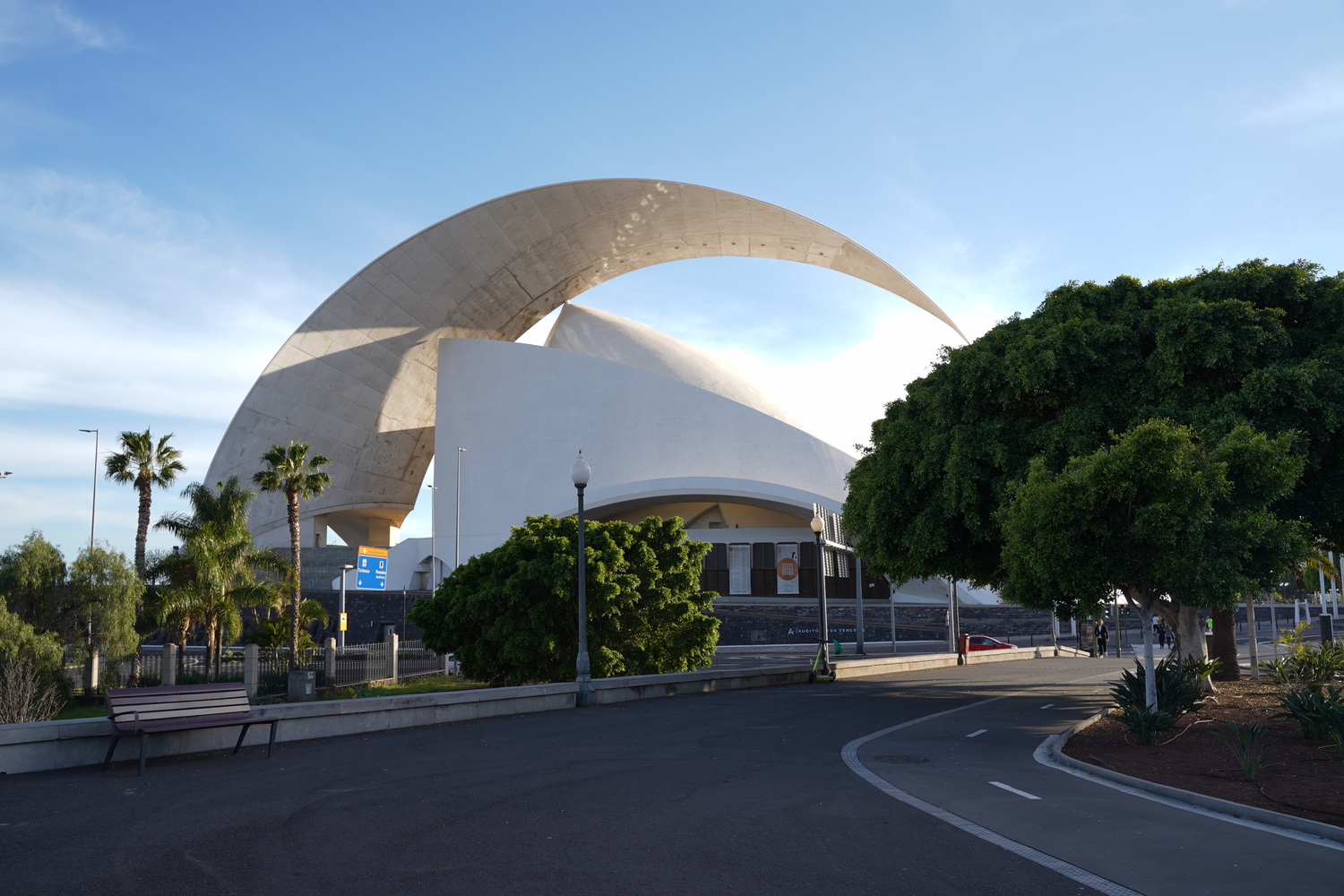 Tenerife Santa Cruz is a modern city, the current capital of Tenerife. The beach is small and rocky, although you can take the motorway to the beaches that are further away in half an hour. It's a cosmopolitan city perfect for shopping and having a bit of fun.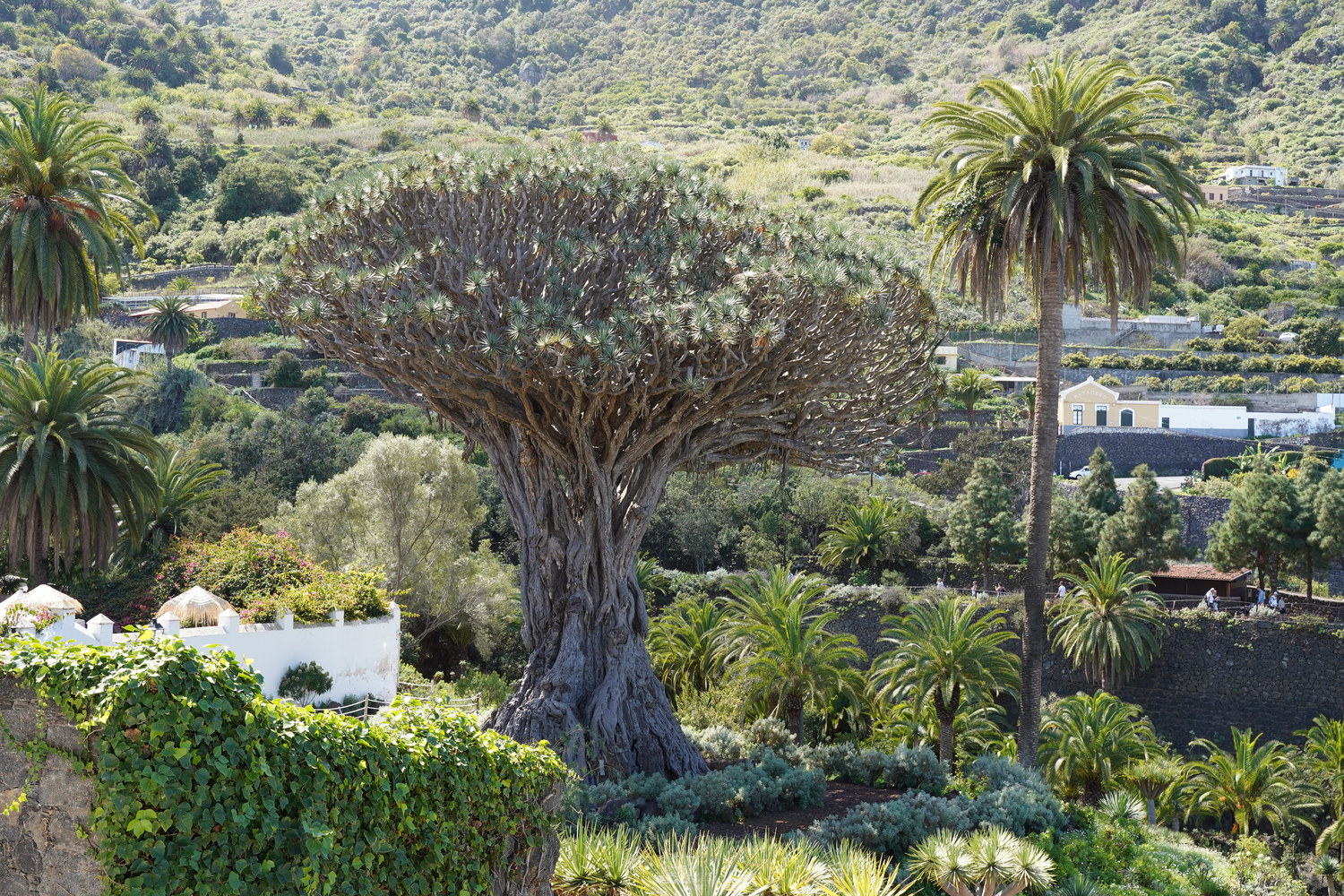 Tenerife's famous oldest dragon tree grows in the town of Ikod De los Vinos. The town is on a hillside and most of the accommodation has stunning ocean views. If you turn around, you can see the Teide volcano in many places. The place is worthwhile for middle-aged couples and travellers looking for a romantic break. There are many wine producers here and tastings are available. The beaches are small and cliff-lined.
Holiday in Southern Tenerife
The southern part is drier, and there were only poor fishing villages along the coast for a long time. From the 1950s onwards, the coastline began to be actively developed. The best-known resorts are Los Americos and Los Cristianos. These resorts are almost on the plain and are close to each other. They cater to younger and middle-aged lovers of active nightlife. Los Americos is a little more bustling, with many nightclubs, casinos, bars, restaurants and amusement parks. The beach is not very big. Los Cristianos is a bit quieter, with a large promenade around a large sandy beach. Los Cristianos Promenade has lots of restaurants, bars, and shops.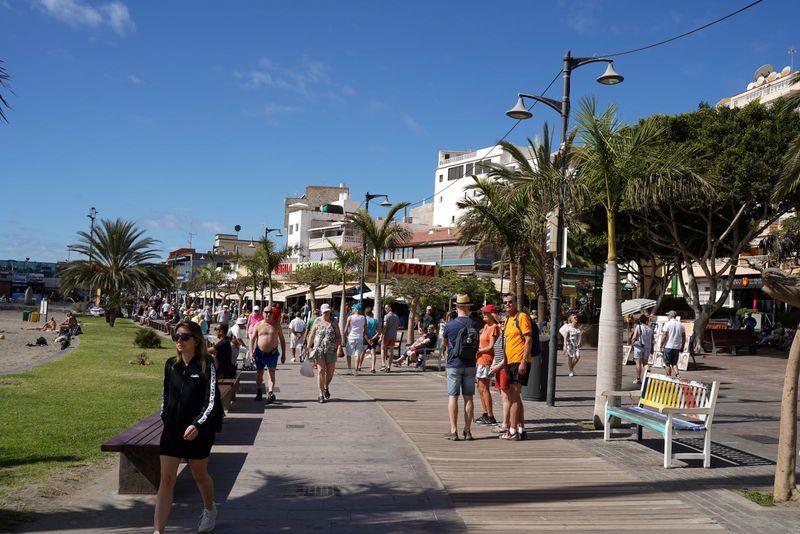 Los Cristianos' Promenade is crowded during all seasons.
In the south, there are many relatively quiet resort towns. Los Gallegos, on the plains, has a small harbour and a beach. It is famous for its small fish market. However, in Tenerife, it is not worth choosing a town with a fish market if you are thinking of cooking fresh fish every day. Fishermen supply fish to restaurants and supermarkets. In Tenerife's Mercadona or Lidl, you will find freshly caught grouper, dorado and white perch. Seafood is usually thawed.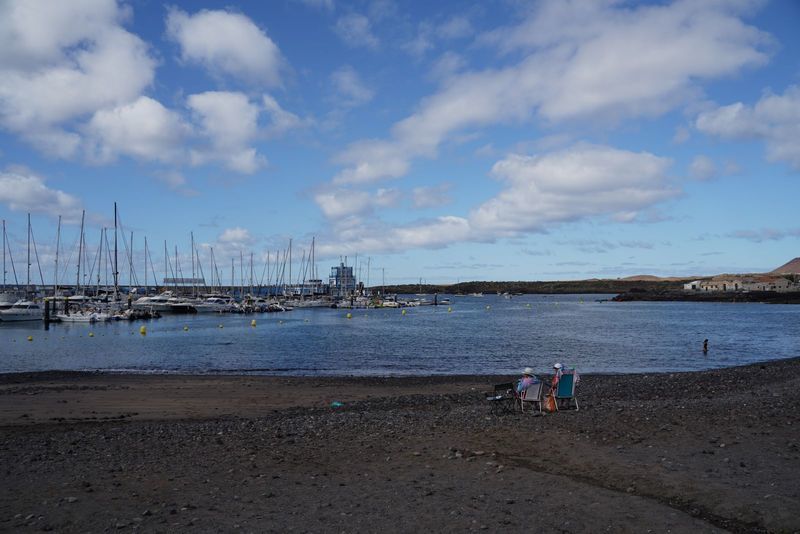 Los Galletos beach and harbour, beautiful promenade, and several fish restaurants.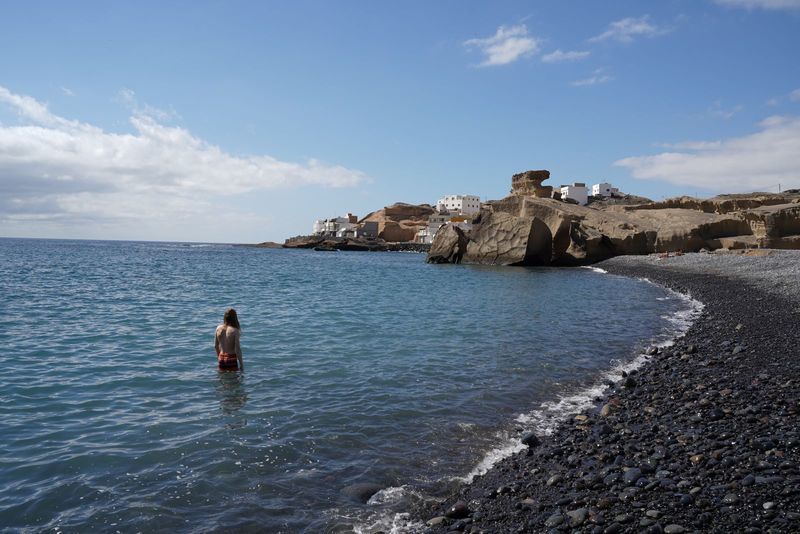 The resort of Tajo is also quite a lowland. It gives the impression of being a town for fish gourmets. There are many fish restaurants in the centre of the town. It opens around noon when the fishermen bring in fresh fish. The coastline is rocky, with impressive sandstone cliffs. Hotels are low-rise.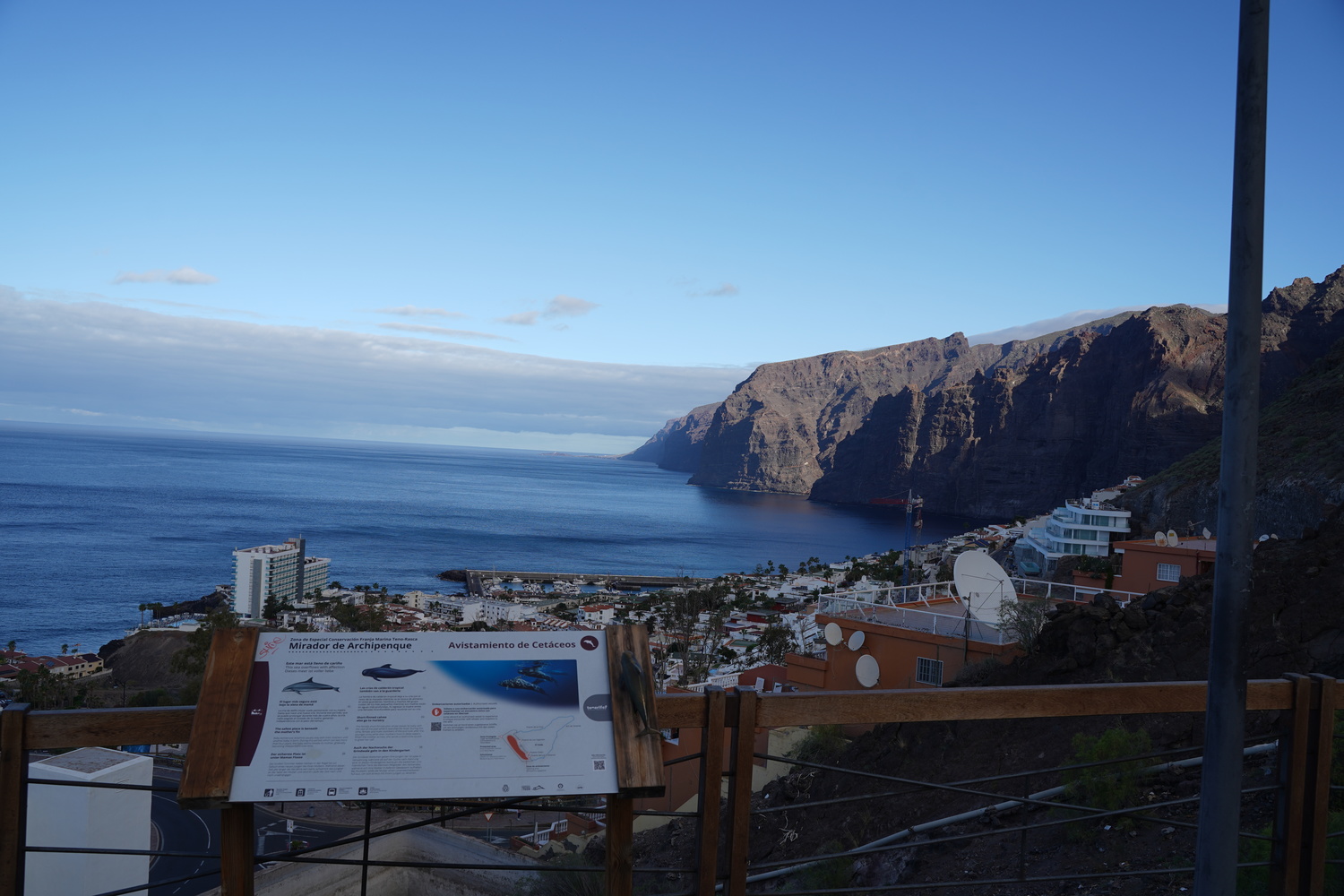 In the southwest, there is the well-developed resort of Los Gigantes, which is on a hillside. Although on the map the hotels appear to be on the seafront, they are actually on an impassable cliff. Tenerife's entrepreneurs have learnt how to utilise the most beautiful places. Such places usually have cafés and restaurants with spectacular views.
Beaches in Tenerife
Tenerife has a vast coastline, but only a small amount of it is used as a beach. Most of the coastline is precipitous, a rocky shoreline battered by huge Atlantic waves even on a seemingly calm day. Almost all of the beaches are artificial, often with imported sand. As a rule, the beaches are separated from the Atlantic waves by breakwaters or harbour jetties. This often results in beaches being aligned with boat harbours.
The beaches are meticulously maintained and the sand is constantly cleaned. Free toilets and washing facilities are usually available near the beaches.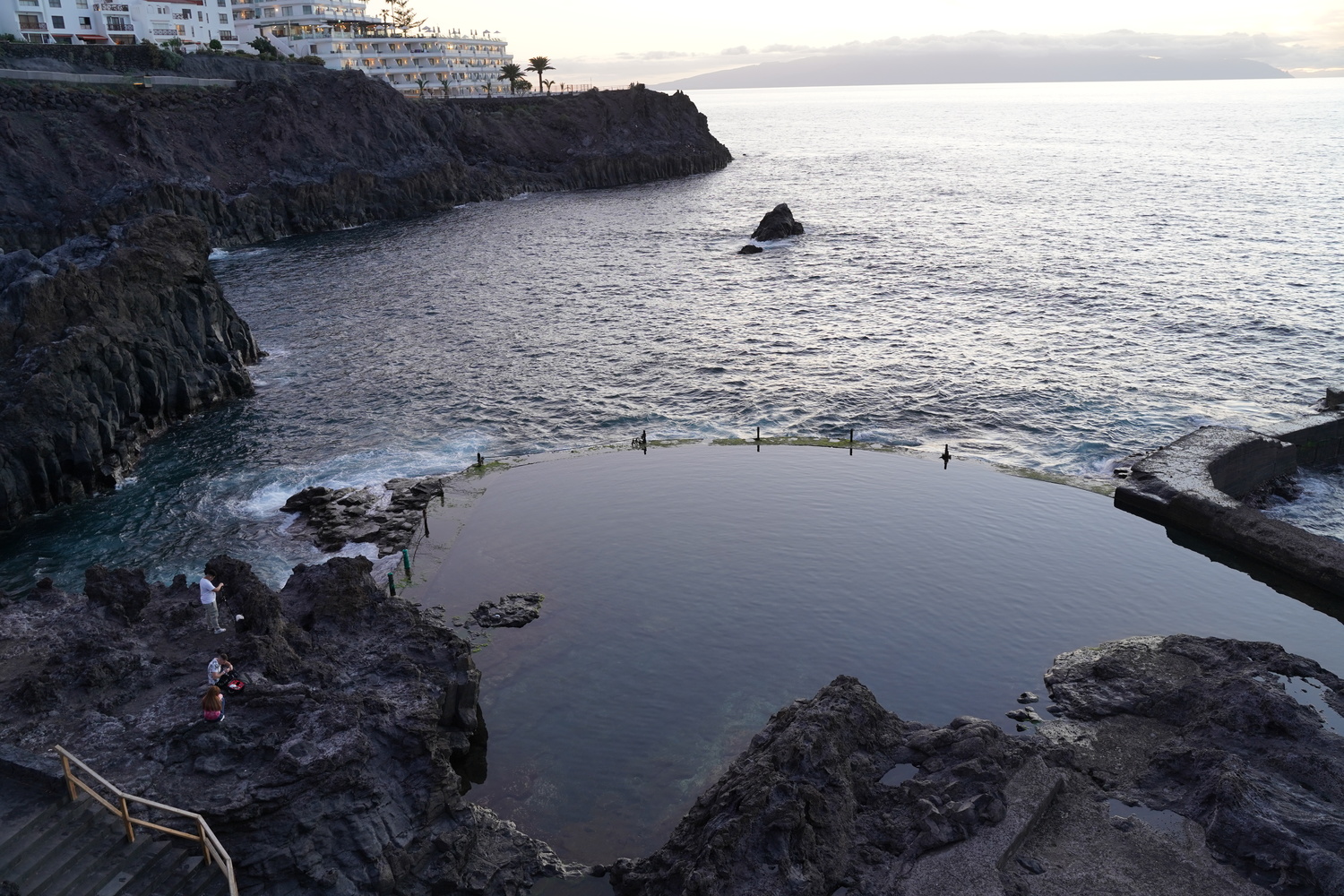 Tenerife has quite a lot of natural coastal pools. Even on a stormy day, you can swim here. However, you need to be careful, as there are some people who have been pulled out of the pool by a big wave. This pool is in Los Gigantes.
What to do in Tenerife
Tenerife is a true paradise for people who appreciate natural beauty. The island has three large nature parks with circular hiking trails. Guided tours can be organised, but it's much more fun to visit the beautiful places by car. However, if you have a fear of heights, it is better not to do so. The roads are on cliffs practically everywhere, serpentine along the precipices.
The Teide volcano is visible from almost all over the island and is also easily accessible almost to the very top. A cable car takes you to the summit. The highest point is still a short walk away. The Teide volcano can also be reached on foot by climbing a route of about 14 kilometres (6 hours). The number of people going up and down is limited and you should register in advance.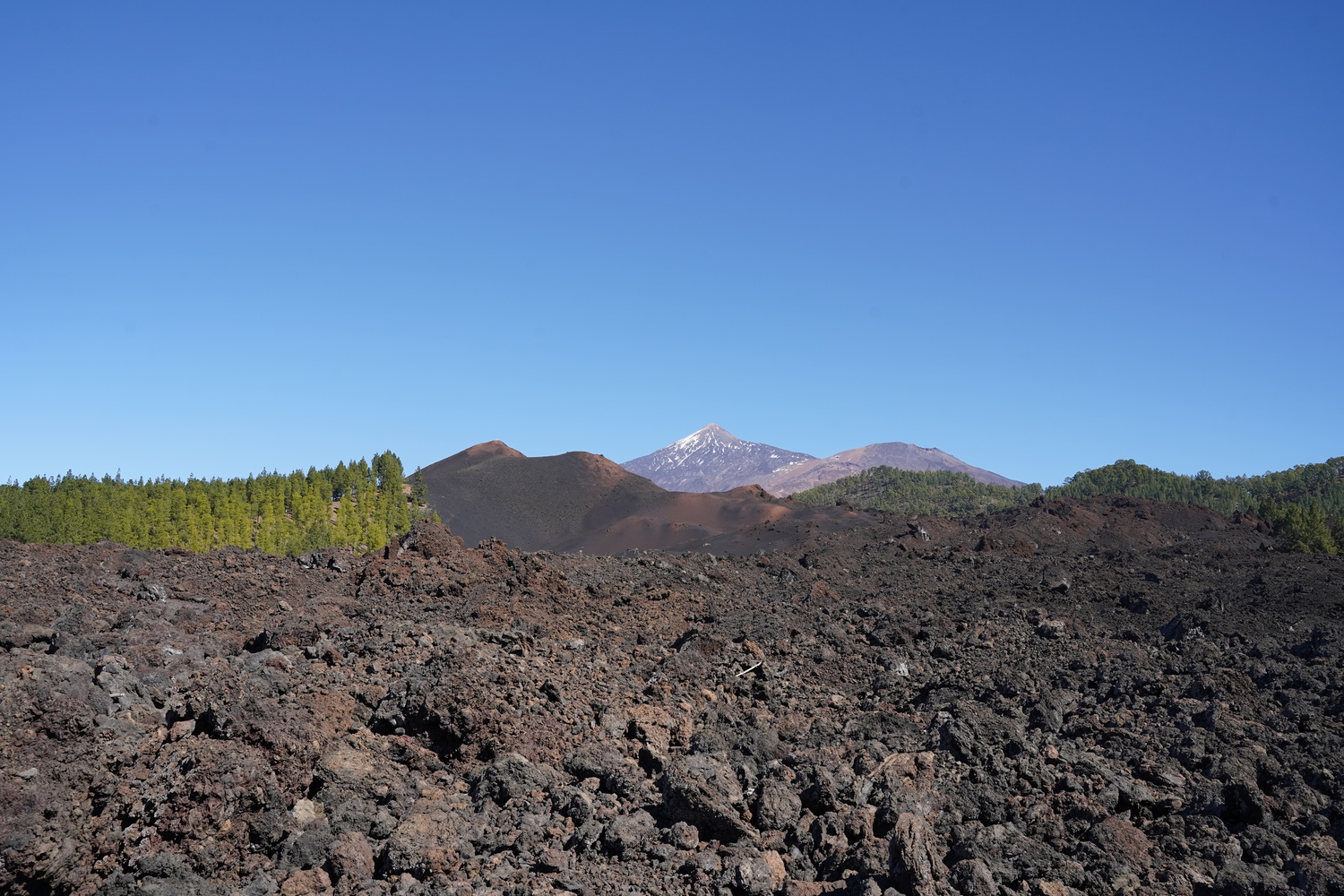 The walks in the Teide Nature Park are even more impressive than the summit. There are circular hiking trails and a real moonscape. Pictured here is the black sand desert at Chinyero volcano.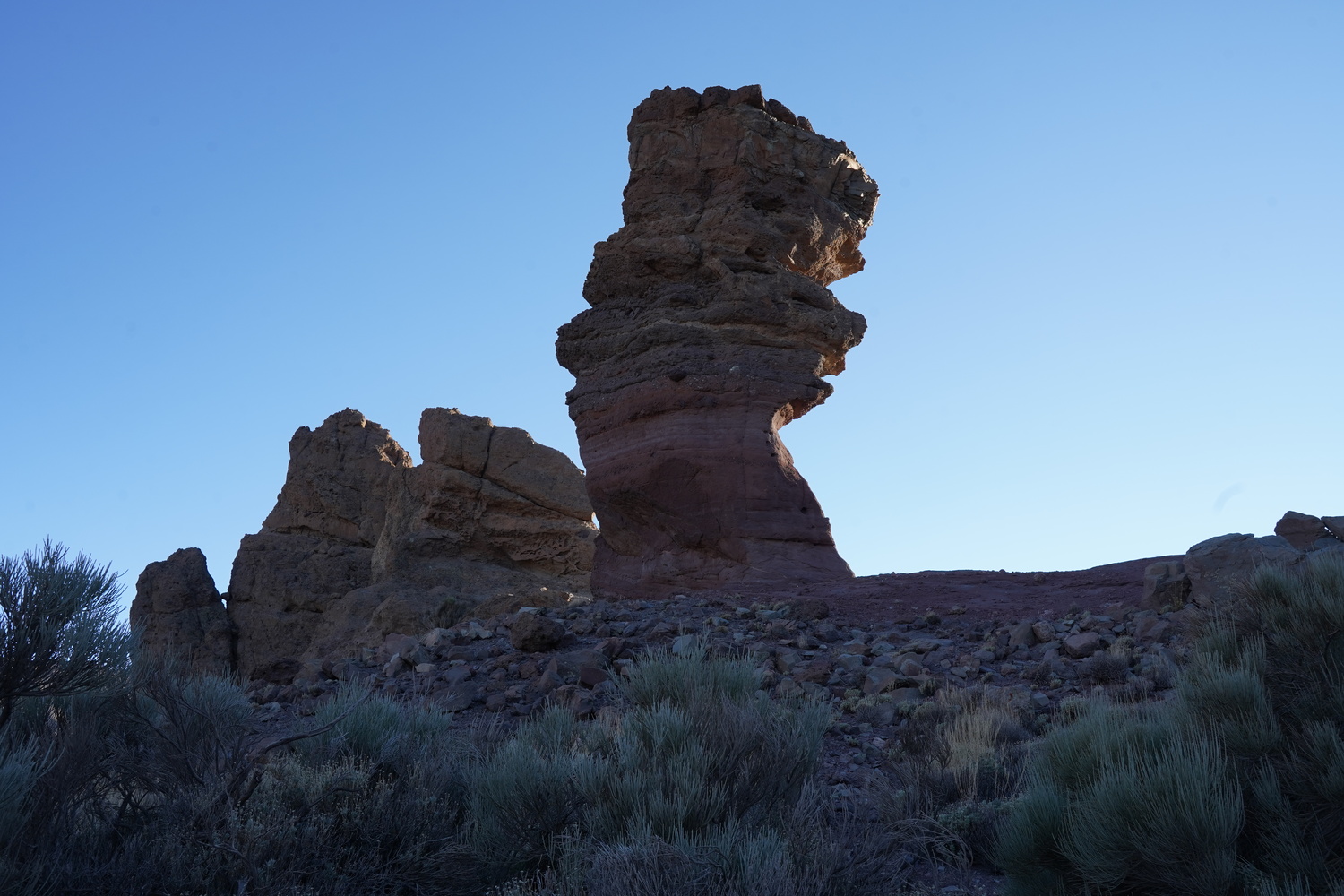 One of Tenerife's landmarks is the Cinchado Rock, just off the Teide cable car. Around the rocks, there is a hiking route of several hours which is best left for the evening. The setting sun paints the rocks golden. Just bring a flashlight as it gets dark very quickly. This is the start of the ascent to the top of Teide.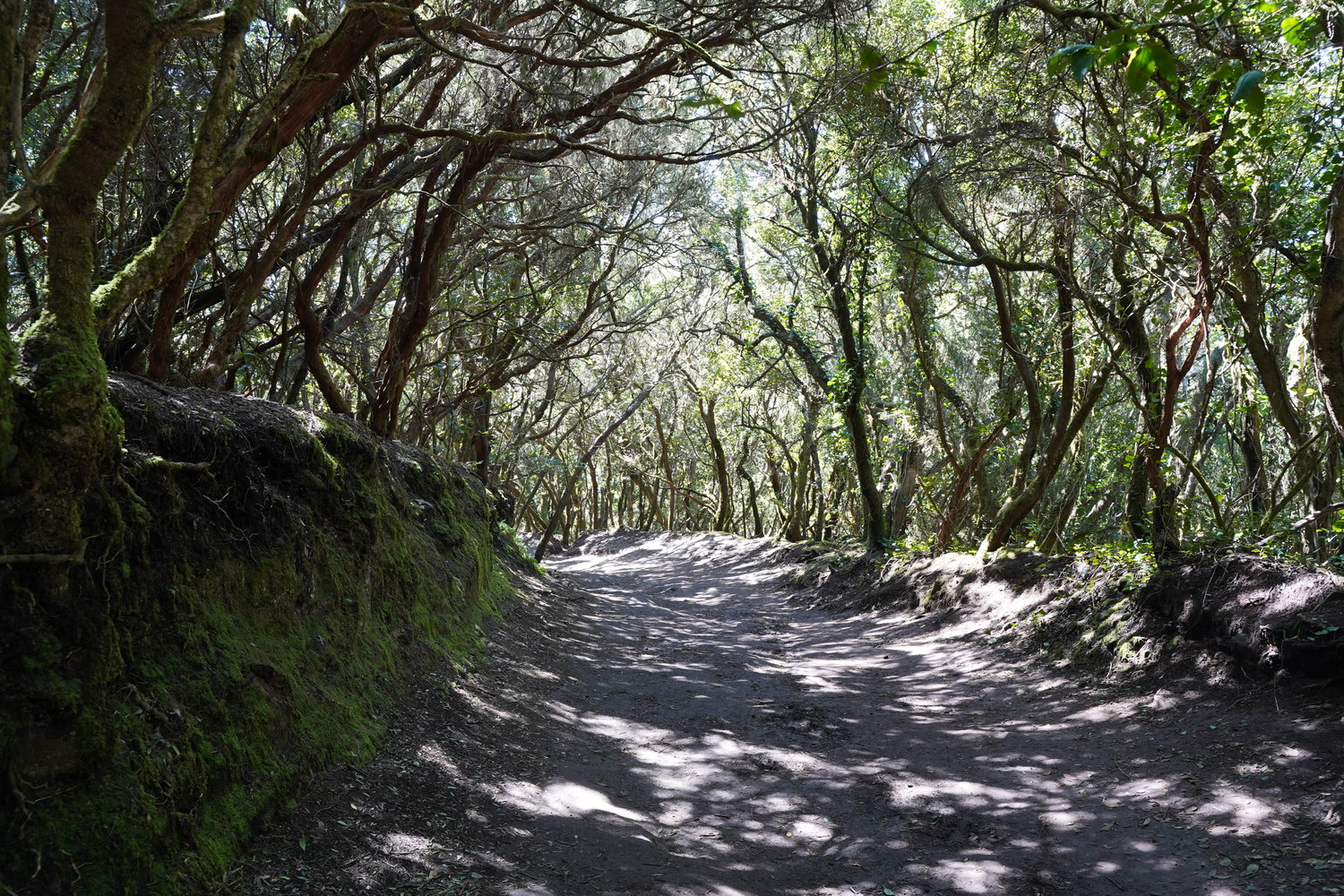 Anaga Nature Park is completely different but just as impressive. It's green, with clouds steadily drifting by the Teide volcano. This moat is artificial, it's a road through the mountains between the villages. Circular hiking trails and spectacular views of the coast in all directions.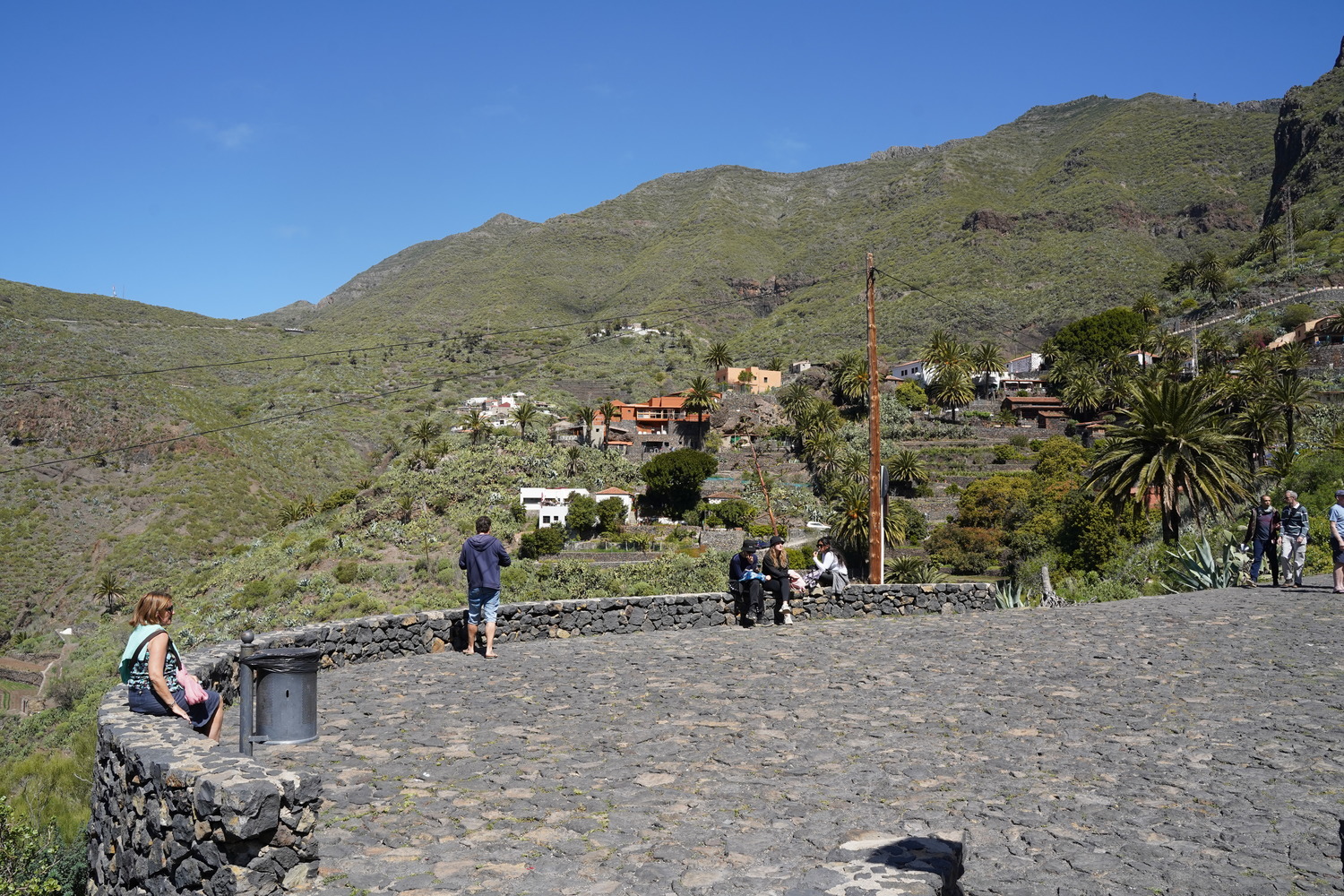 In the western part of Tenerife, there's the Teno Nature Park and the popular village of Masca. The descent to the village is very impressive, as is the ascent. There used to be a walk down to the sea and a boat ride back. In 2022, this route was closed, hopefully temporarily. Shuttle buses can take you there.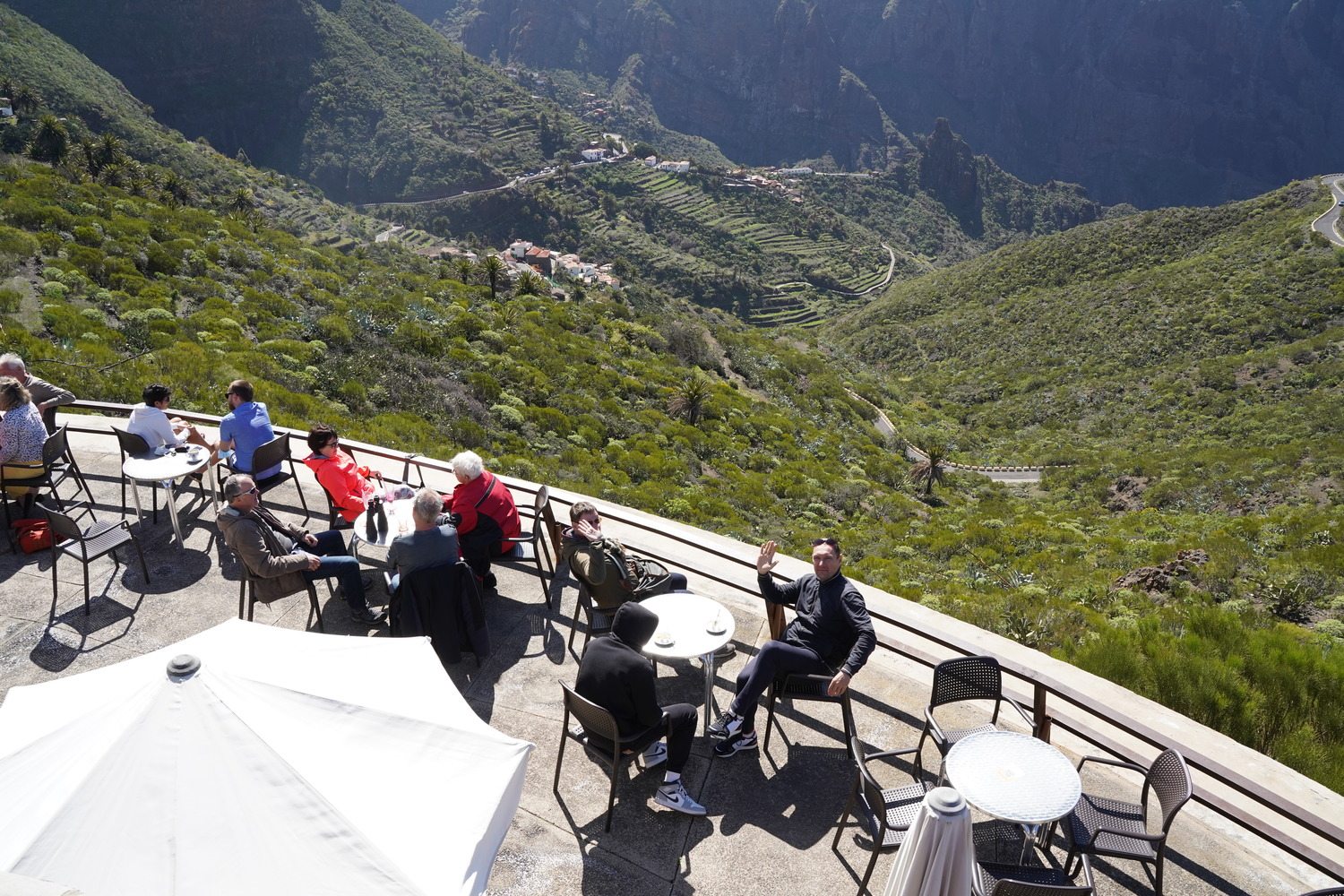 Travelling by car gives you a more relaxed schedule to see the most beautiful places. For example, sit in a café overlooking the Masca Valley (more like a hillside).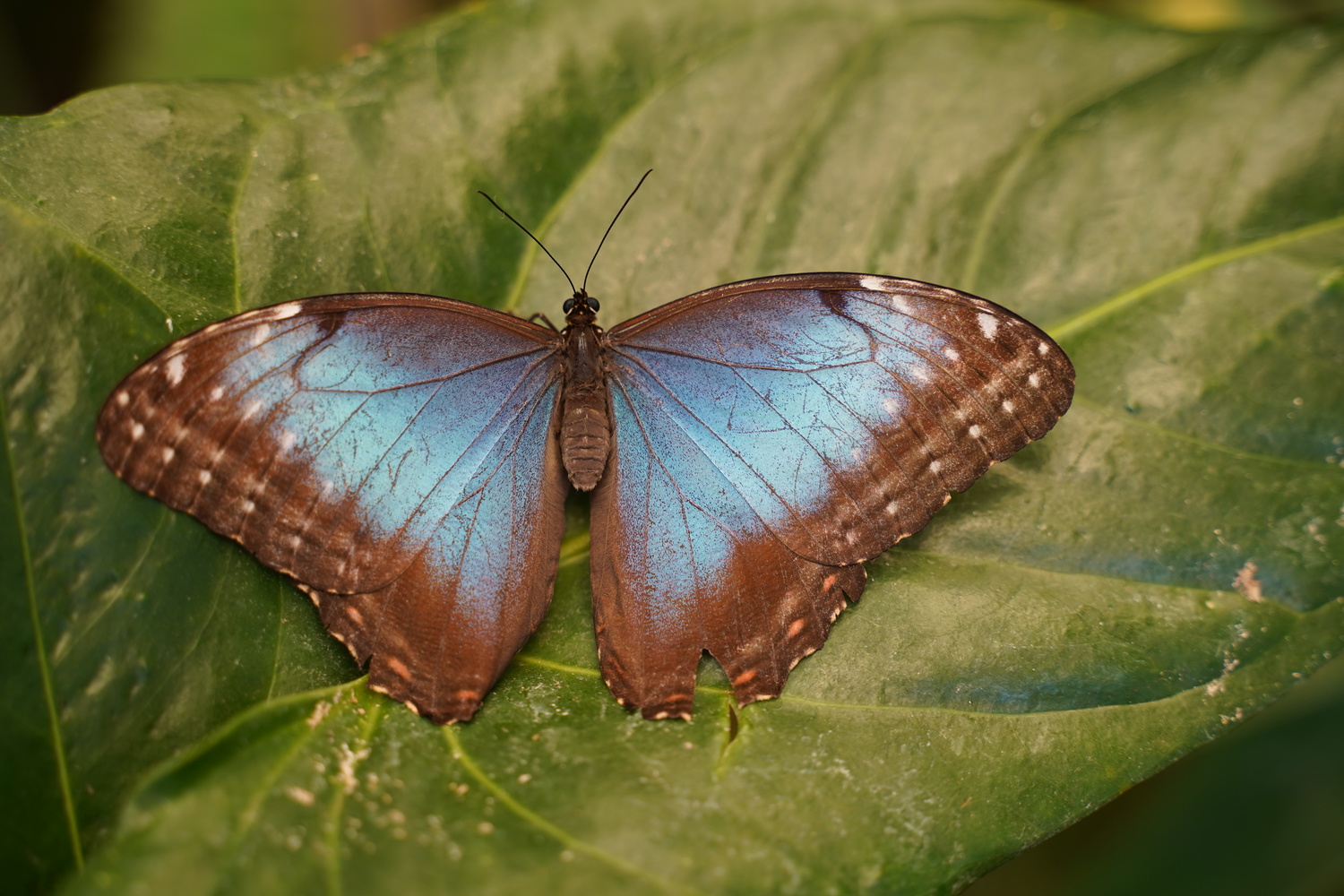 The Butterfly Garden Museum at Ikod de los Vinos is just nearby. Thousands of colourful butterflies fly freely in the large subtropical garden. They can sit on your hands, your head or tickle you as you walk.
A banana plantation with a banana museum, is also in the town of Ikod de los Vinos, next to the dragon tree (Drago de los Vinos).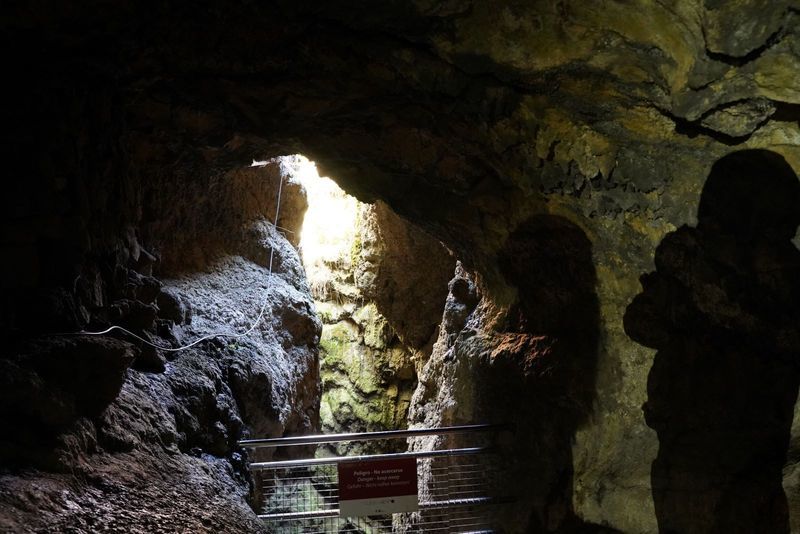 A wind cave is just above the town of Ikod de los Vinos. The cave was formed by lava flow and solidification. It is no more impressive than the stalactite caves carved out of the sedimentary rocks. However, it is different and extends the knowledge of the processes.
Tenerife is carved by gorges and barrancas. The Barranco del Infierno - Hell's Gorge is well equipped for travellers. The cliffs, several hundred metres high, rise perpendicularly upwards. It is very interesting to see the roots of the pine trees which are probably four times longer than the trees themselves. At the end of the gorge, there is a small waterfall, the waters of which are formed by the condensation of moisture on the sides of the cones.
Fun activities in Tenerife
The nightlife scene is best developed in Los Americos, Los Cristianos and Puerto de la Cruz. Even in the smaller towns, restaurants are often open until midnight.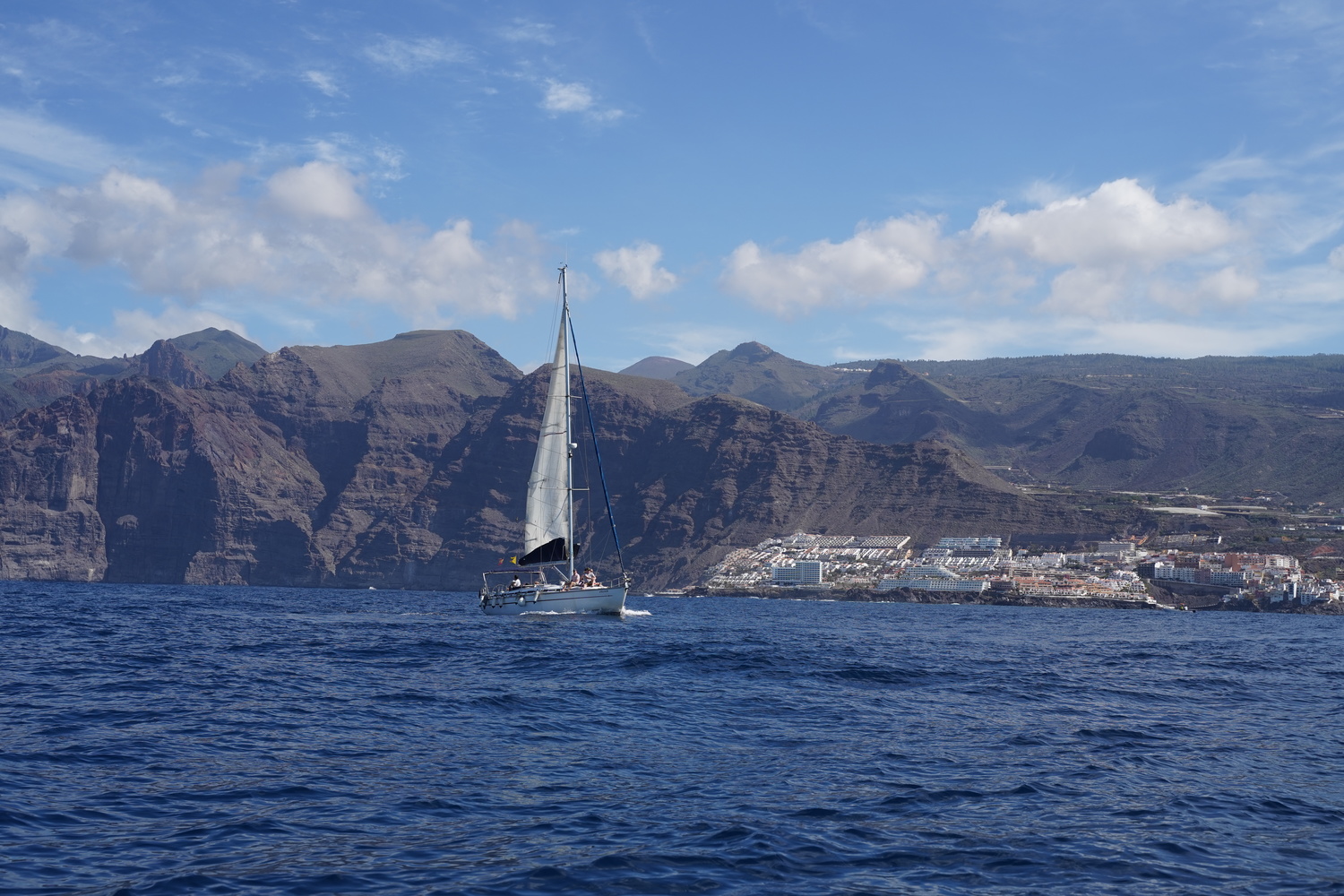 Nautical excursions are available from most piers and harbours. While sailing, you can watch dolphins at play and small whales launching fountains.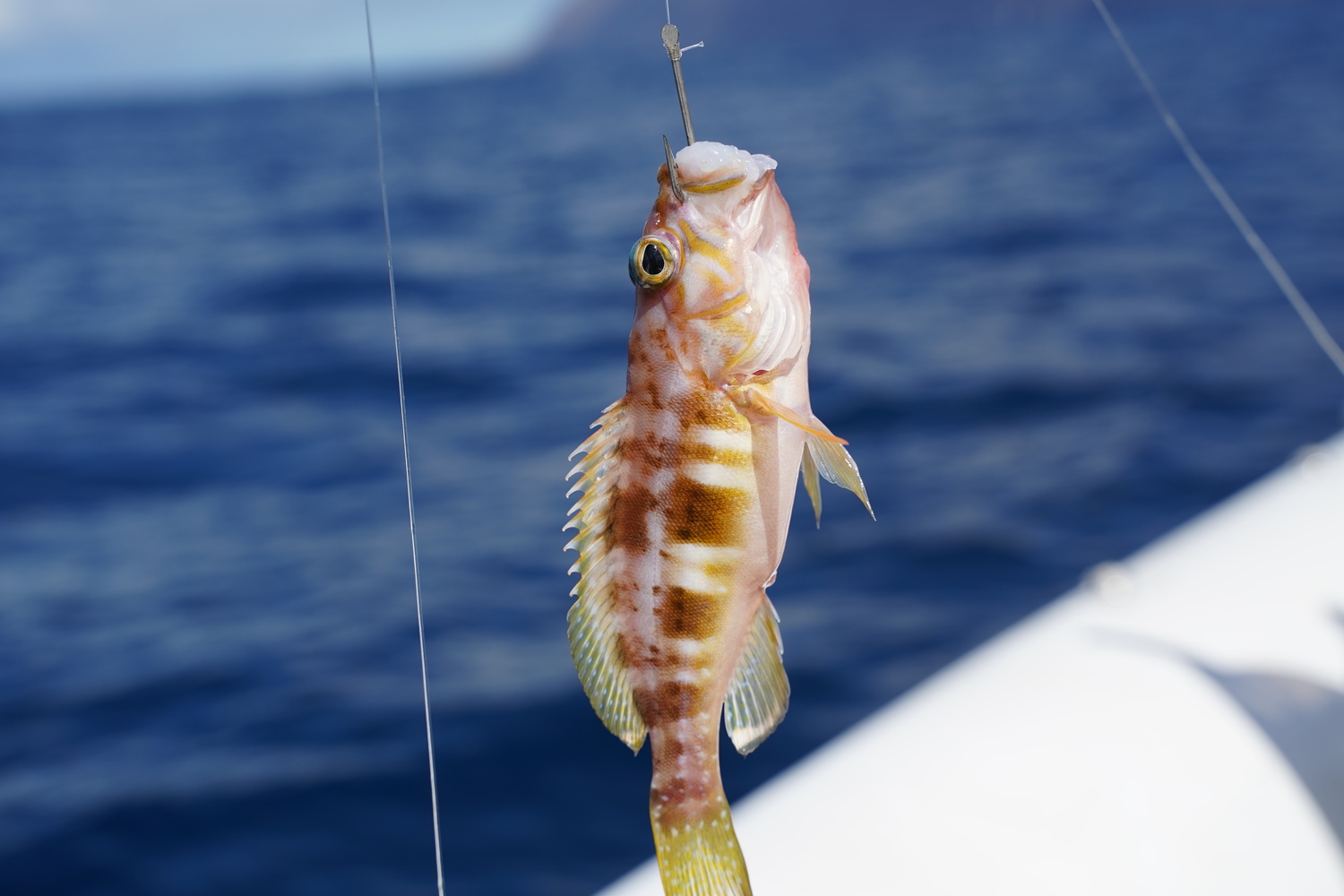 Is it worth spending the day fishing? I think so, because fishing is usually combined with watching marine animals and admiring the coast. It's much more spectacular when the dolphins dive under the boat and are within easy reach. You can rent a small boat and go bottom fishing. A boat with a skipper for 3 to 4 hours costs 250 euros. Unfortunately, you can get sea sickness if you're unprepared, and often medication does not help either.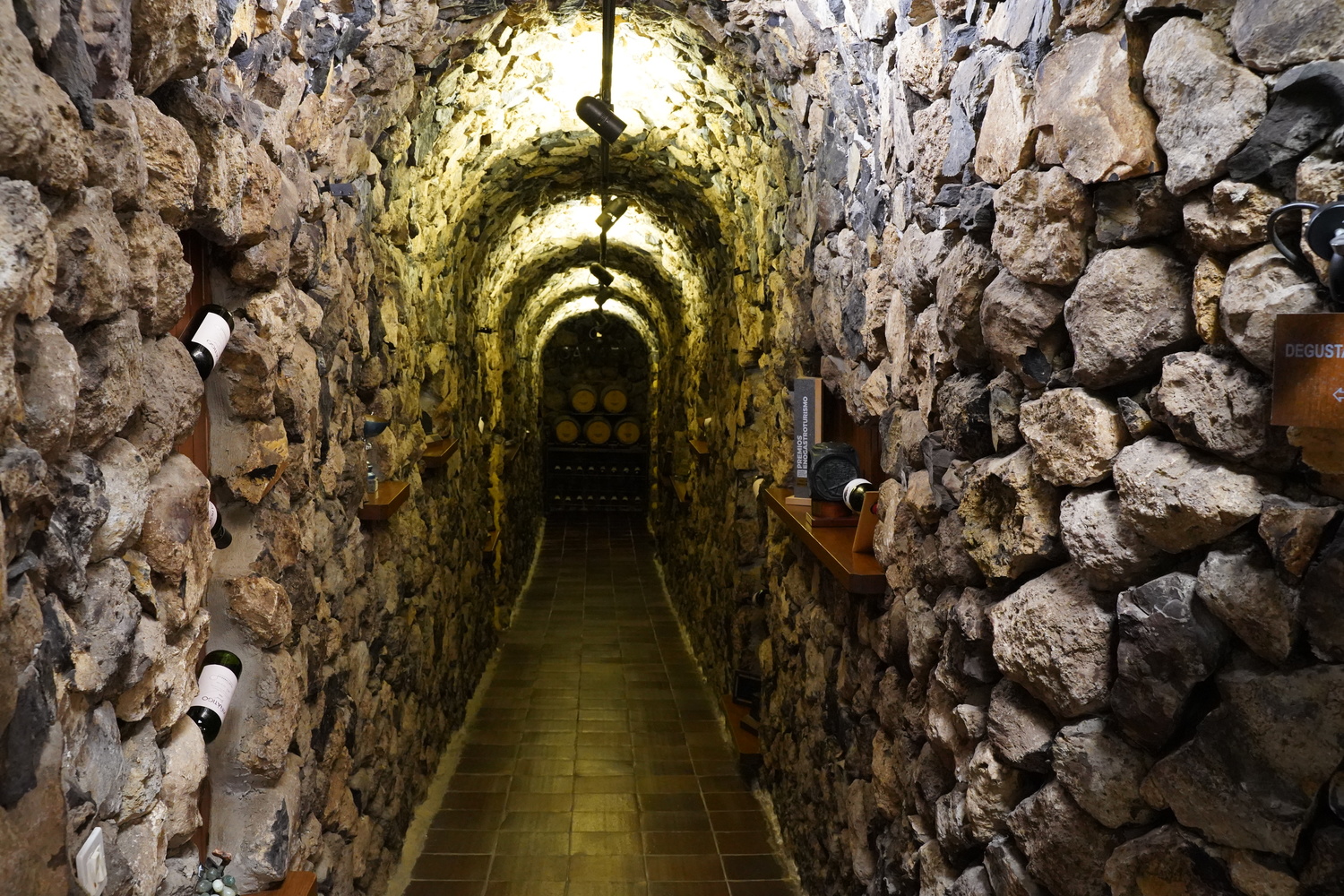 The wines in Tenerife are excellent, and it's worth doing a tasting in the first few days and buying some for the rest of your holiday. They sell during opening hours and allow tastings. Advanced tastings with a tour can be booked in advance or at specific times. Tenerife is famous for its Malvasia grapes; the Listan grapes are also worth trying.
Where to eat in Tenerife
It would be difficult to single out a restaurant with great food. A restaurant's food depends on the chef, who may not be around next year. Therefore, when choosing a restaurant, you need to use some deductions. A large number of people in a restaurant is also not an indicator of quality.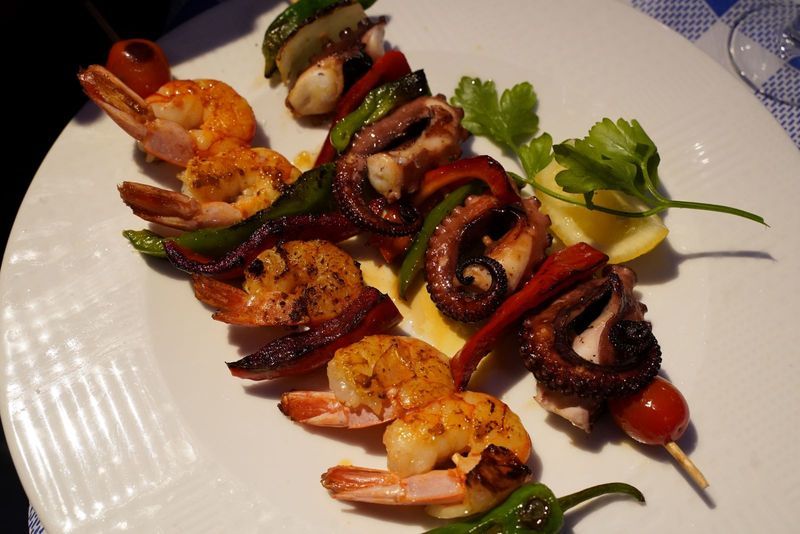 It is a good idea to eat fish at lunchtime. That's when the fishermen bring fresh fish. The fish in the displays is incredibly colourful. Dorado and white sea bass are usually artificially grown and you won't get much flavour. The coloured ones are mostly wild, order their grills, it brings out the flavour to the max. It goes very well with black rice dyed in sepia ink. Meanwhile, prawns, squid, and octopus are imported and thawed. Such dishes are perfect for dinner. Paella must be ordered in advance. If you order from the instant menu, you may be disappointed with the rice porridge with seafood. For fish, I would choose a restaurant where the fish is cooked as fresh as possible.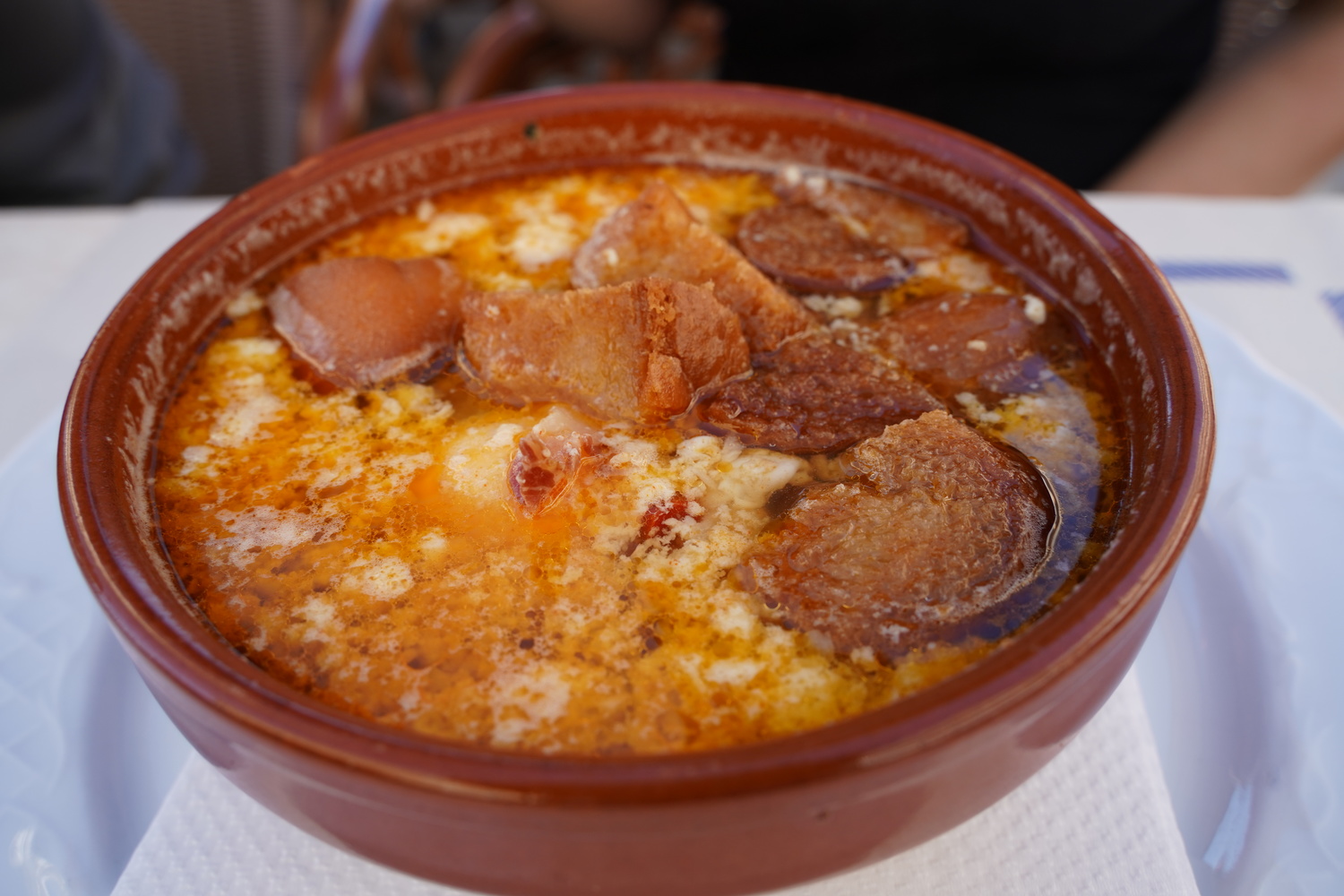 Sopa de Ajo - garlic soup. If you're not used to it, ordering a plate for several people is better. It's an unusual feeling in the throat.
Tenerife is mistakenly perceived as a land of only fish and seafood. Agriculture is well-developed here and there are many impressive continental dishes. In small villages, it's better to order stews with meat. Beef in particular may surprise you. I have marked on the map a restaurant in Tamaimo in Asador Ruta el Teide. They cook beef and serve fantastic-tasting tartar with green egg. A fantastic and inexpensive steak. It was surprising when the restaurant served the dishes all at once, as in the top restaurants.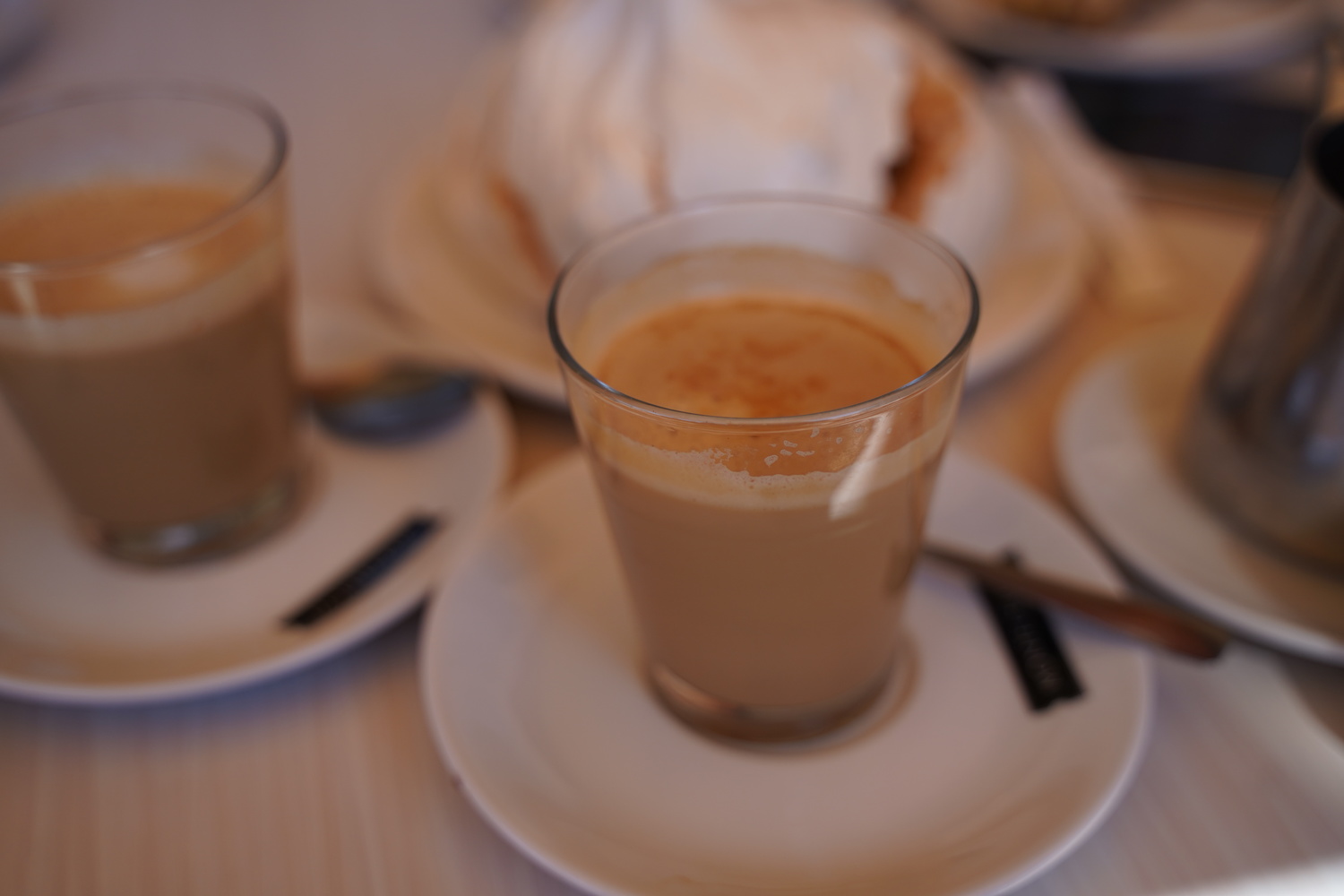 Barraquito is a traditional Tenerife coffee with liqueur and condensed milk. No barraquito here.
Hotels in Tenerife
Tenerife has some very interesting accommodation options. Prices vary widely and it is possible to find some incredible options for a budget price.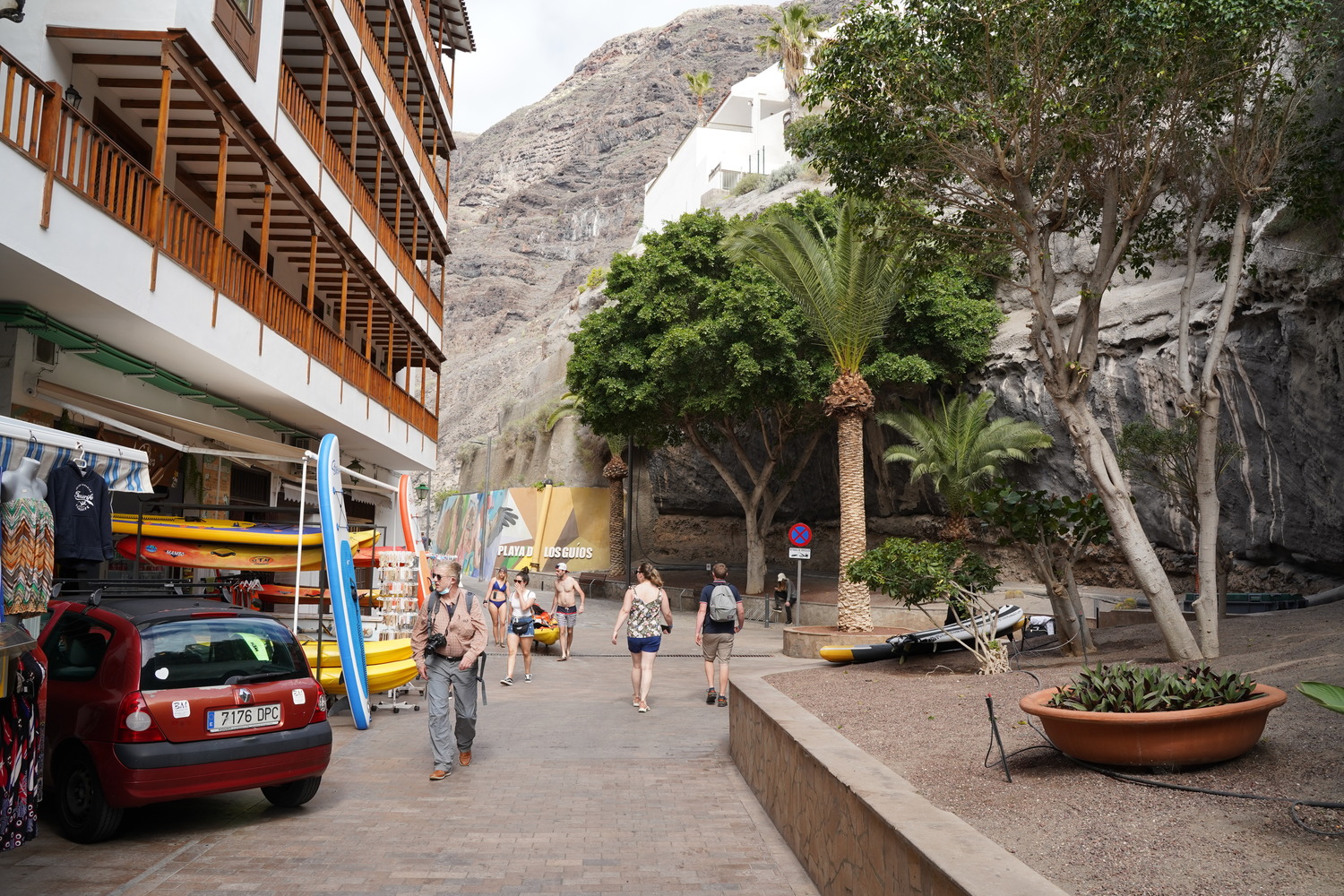 The hotels and apartments are relatively newly built and modern. I found that the hotels were more expensive than the apartments when looking for accommodation. A three times smaller hotel room will cost the same as an apartment. Apartments with a kitchenette will come in handy. Supermarkets are full of good quality and fairly inexpensive produce and fish.
The villas are located a little further from the sea. However, the advantage is that you can park your car here to drive to the beaches. However, there is sometimes a long walk from the hotels to the beach or entertainment venues. This Villa las Flores was rented six months before we arrived and cost only 300 euros per night. At the last minute, it costs 1400 euros.
A holiday in Tenerife will leave a lasting impression. A short holiday will not be enough to explore even one coastline. You will want to return to Tenerife again.
Here is a video report about traveling to Tenerife:
Monuments, restaurants and local foods
Clermont-Ferrnad, located in Auvergne a green and peaceful region, is the perfect place if you want to discover France in an unusual way.
Morocco by car. The full itinerary of a car trip in Morocco.
Go through 4 different countries and visit new places, cultures and ways of life in a 12 days road trip accross Europe.