Best restaurants in Madrid
What and where can you eat in Madrid ?
Spain has a lot to offer, especially in term of food. One of the thing you will see very quickly is that a lot of locals order "tapas". But what are they ? Tapas are little ration of food, that you can order, for having something to eat with your drink. It is very common in Spain to go to Tapas bar to eat in Friends or Family, we order various tapas, and then we share the dishes with everyone.
The most common tapas are Patatas Bravas, fried potatoes with a spicy sauce; Tortilla de Patata, potatoes omelette; Pan tomaca, bread with garlic, chopped tomatoes and olive oil. It is possible to have pan tomaca and add some Iberian ham or cheese.
Talking about ham and cheese, in every Spanish restaurant and tapas bar (or almost) it is possible to order a set of Iberian ham or cheese, or both.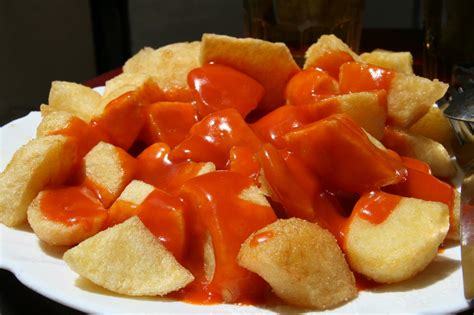 Let's not forget the traditionals "Croquetas". They are croquettes, filled with, most of the time, bechamel and whether ham, cheese, cocido, vegetables, chicken or fish for instance.
In dishes, you can try the Cocido, a traditional stew from Madrid, with chickpeas and pork, or have the famous Paella, with or without seafood.
In dessert, it is impossible to squanders the chocolate con churros. In a lot of places in Madrid, cafés, restaurants, bar you will find these churros that you can eat with a hot and thick chocolate.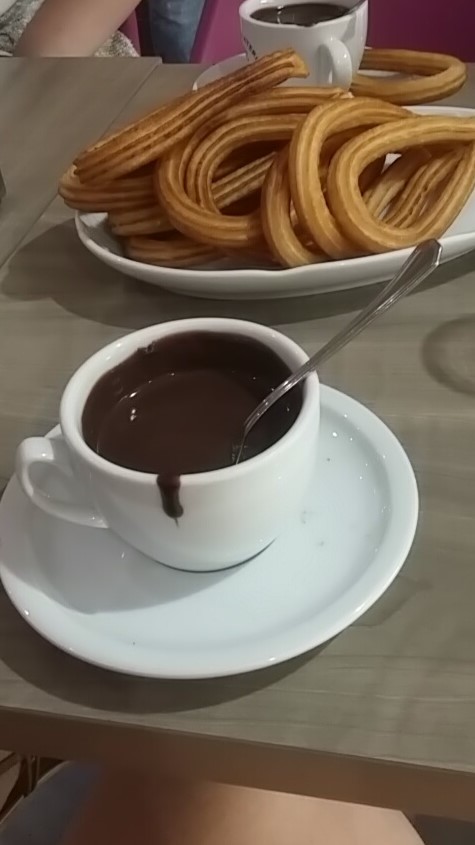 What type of food will you find in Madrid ?
The geographical situation of Spain, with its different reliefs ans weather, permits to its cuisine to be diversified. With time, it has undergo many influences. Firstly by ohter civilisations, emmigrated in Spain. Secondly by major discoveries, such as the discovery of South America in 1492, and expeditions in Asia and Africa. The several occupations form the Greeks, Romans and Moors brought know-how, spices, almonds, oranges or limon. And the several expeditions led by Spain brought chocolate, tomatoes, potatoes, spices and other ingredients
In most dishes, there is olive oil, tomatoe, garlic, pepper and spices. Occasionally, we can find dishes combining salty and sweety, Moors legacy.
Basically, a lot of dishe were prepared in platter of terracotta or clay. Nowadays, some restaurants perpetuate the tradition, especially with the Cocido, stew with chickpeas, pork, beef, carots and potatoes, among ohter ingredients.
Other essential elemetn in Spanish gastronomy: delicatessen. You will fin Iberian ham, Serrano ham, lomo, chorizo…
In all the restaurant sin Madrid you will fin all these specialties amongst other and of course you will be able to taste Iberian cheese .
So eating in Spain is convivial, any tapas bar or restaurant can suit to a friendly meal. For families, it is good to go to a restaurant, like this even if you order tapas, you can sit while eating, which is not possible at bars or not a lot.
To conclude, Spanish cuisine is friendly and convivial, yes, but there are also a lot of Spanish chefs that are rewarded by stars on Michelin Guide. In Madrid DiverXo restaurant has 3 stars in the guide, so that can be a perfect place for a business lunch or dinner.
I f we talk about sweet and sugary food, a great way to taste local products is to buy them in pastries stores, cafés or markets.
Pastries and confectionneries in Madrid:
Just as salted dishes, Spanish pastry underwent foreign influences and was modified by new discoveries and expeditions, allowing to add new ingredients to the original recipes.
In madrid, dozens of cafés can be found that sell Spanish pastries, as well as specialised shops, such as churros making or turron selling for example. (sort of Spanish nougat, with different flavours)
A lot of pastries are linked to religious fairs. For instance: the Roscon de Reyes, a brioche in circle, garnished with candied fruits, that is eaten at christmas and "Los Reyes Magos" in January; the Turron, made especially at christmas, or Torrijas, bread dipped in milk and eggs, then cooked in a pan and tapped with honey, that is eaten in Easter.
But while being in Madrid, it is most of all the churros that you notice (or Porras, which are like churros but bigger). They are traditionnally dipped in a hot and thick chocolate, that is custom to drink, after finishing your churros.
There are some famous chocolate factory, called churreria in the case of Chocolate con Churros, like San Ginès, one of the most ancient churreria in the city. Open since 1894, Its succes began when, at the end of the theater, people got used to take chocolate with churros. Then it stayed open until the morning, so the people, getting out of disco, were coming there to eat their breakfast. The place reminds the cafés of the late 19th century, with its tables in marmol and its tiled bar. As it is near Puerta del Sol, it is common to go there take the first chocolate of the year, after the bell rang twelve times to indicate the new year. In 2010, a churreria San ginés even opened in Tokyo in Japan.
Where is the best neighborhood to eat ?
Where are the best places to eat ? It is true that whether you are in family or in friends, or you are there for business, you won't go to the same restaurants and bars. The central neighborhood, including Sol, Plaza Mayor and the Royal Palace is a very good spot to find sophisticated restaurants serving good dishes. The Café de Oriente has for example a good location, near the Royal Palace and Royal Theater, and its inside decoration and the quality of its cuisine makes it a plausible place for business meetings, lunch or dinner. The advantage is that it is also possible to be in a more relaxed atmosphere, enjoying a drink or a meal, in friends or with family.
To resume, you can find various places to eat, at different prices, most of the time not expensive, with friends and family in a convivila atmosphere, but you can also find more chic restaurants.
Furthermore, the famous San Miguel market is in this quarter. Locals sell their products, coming fom Spain, to other locals or tourists. It is one of the place to go if you're looking for typical products, and made in the Spanish way. Very friendly and touristic, you can find the bets of Spanish gastronomy: delicatessen, dried fruits, tapas, confectionery products, wine, cheese and so on.
Around the centre, some gastronomic restaurants exist, like DiverXo, in Chamartin (North of the town) or the restaurants specialised in Paëlla realization. Central neighborhood counts the most number of restaurants and tapas bars, serving Spanish dishes.
Recognise a good restaurant :
It might be difficult to know how to recognize a good restaurant, reviews can be written by anyone, an actual customer, but also sometimes from the employees, so in that case the review is not objective. Nevertheless, we try in our map to find the restaurants with an originality and usually with good services and food, whether it is Spanish restaurants or an other type of cuisine, in good places and where you can enjoy your lunch or dinner (or breakfast!) When in business, the restaurants with a dress code for waiters, stars in Michelin guide, and a gastronomic cuisine, are good indicators. When you search something in family, the intimate atmosphere of the restaurants of Plaza Mayor and around , are perfect. They often have a long history and have a beautiful decoration inside. For friends, going to a tapas bar to have a drink and a little somthing to eat is very convivial, you will also find on the map various tapas bar to go, according to their renown and quality of tapas.
Where to go at night ?
In the evening, it is the moment to visit the capital in another way: cinema, shows, restaurants, bars... Different type of places, that you make you dsicover Madrid Culture, and globally Spanish's from an other perspective.
If you have the opportunity, one of the most typical things to do while you're in Madrid is go to see a Flamenco show. Yes a real one ! Whatever reason brought you to Madrid, Flamenco is definitely not something to miss.
For those who don't know, Flamenco is a Spanish tradition, known worldwide, combining singing, guitare and dance. For sure, we kow Flamenco comes from Andalusia, and that it has many external influences: southern spanish gypsies and from India, Hungary, Romania and the Moors. At the basis it just a sing, but dance and guitare were added with time, to finally become essential elements in the Flamenco we know today. As Madrid is the capital, this tradition coming from southern Spain quickly spread and we now find the best shows and schools there.
La Corral de la Moreira is one of the best Tablao (Flamenco scene) in Madrid (if not the best). Numerous Flamenco celebrities came to dance in this restaurant and numerous celebrities such as actors, singers or residents came there to admire the show. It has also received several awards . Le Café de Chinitas will know how to delight you as well, or the Flamenco Candela, another well known place for seeing Flamenco and eating.
You can also choose to go to a bar, dancing or not, to enjoy your evening. Don't forget to look for cinemas or theater, if you prefer a more quiet atmosphere.
Author: Hélène Marchandise
Monuments, restaurants and local foods
Traveling around Kaliningrad and its beautiful regions: Baltiysk, Zelenogradsk, Svetlogorsk, Yantarnyy, Curonian spit.
most popular places and tipical food in lazio
The big city of Apulia: Bari

Traditional and Mediterranean cuisine, a family business and in a family environment