When visiting Morocco, it is simply a must to visit one of the biggest cities of Morocco – Marrakech. It is one of the former capitals of Morocco, with Rabat being the current capital of the country. If you want to see only the main objects in Marrakech, a couple of days will be absolutely enough, but if you really want to experience the culture and the spirit of the city, even a month will not be enough. Experiencing the national colors of the country is the most interesting purpose of visiting Marrakech.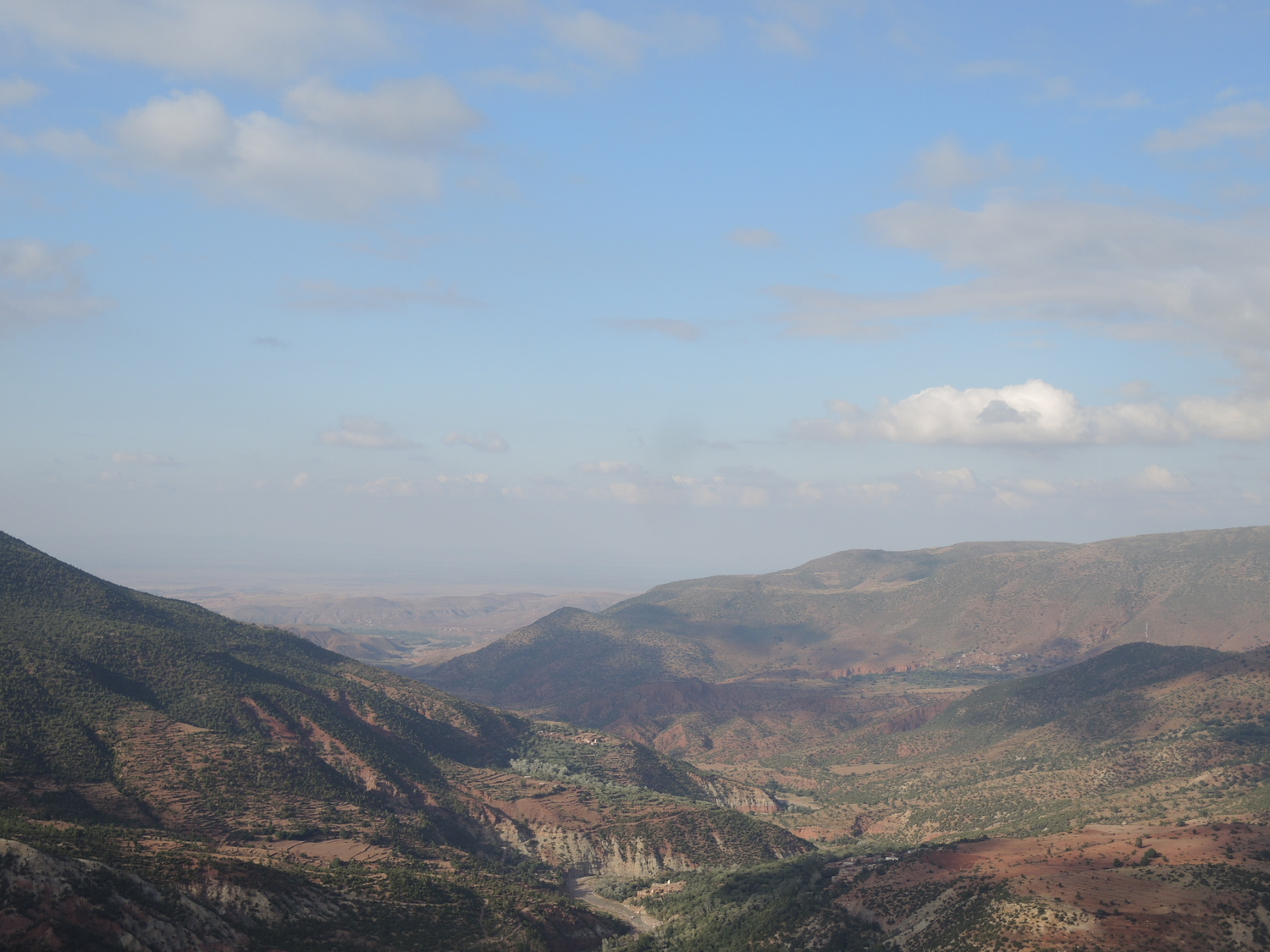 Valleys of the Atlas Mountains in the morning, on the way to Marrakech.
History of Marrakech
Marrakech is like a line between the Arabic world and Berber world, and it is a place where both of these worlds mix together very interestingly. We are not experts in neither of these two cultures and we would not be able to recognize and separate traditional costumes, languages and music of them. However, when you find yourself in the middle of El Fna square you can just feel the people of different cultures and nations partying right next to each other. The Arabs settled down in Morocco at the end of the first millennium, but they weren't the first to massively invade this country – there are some ports, set up by the Roman and Phoenician still operating in the country. Morocco experienced a large invasion when vandal tribes displaced Rome through the Gibraltar. It is believed that all of these invasions were not friendly, but is usually not spoken about. The surviving temples of Judaism and the wide use of the symbols of Judaism show that Berbers and Arabs could and can live in peace.
El Badi palace in Marrakech is a place where you get the understanding why this place is so loved. Here you find the beauty of a desert with the Atlas Mountains water nourishing it and the incredible view of the mountains itself. El Badi palace was built by the Saaditian dynasty and now the ruins that are left let you imagine the majesty that used to be here.
As a rule, the most beautiful people are born when different cultures and races are mixing. It can definitely be applied for Morocco. The people in Morocco are beautiful, smiling and happy – they are definitely enjoying the life, even though they live quite poorly, according to the rest of the world.
How to communicate with the people of Marrakech
In many reviews you will find information about how the locals are bothersome, don't leave you alone and tend to deceive the tourists. It seems as the travel agencies are trying to plant some fear into the tourists to make them want to stay under their wing and use their services.
If you are aware and don't let anybody trick you or deceive you – they won't. Locals deceive tourists that let to be deceived. You should try not to look too lost lose the clueless smile and wandering look. The locals will be sure to take advantage of people like that. It would also be difficult to do some shopping, since the vendors will not be that willing to bargain. It is in their blood to try and trick a European person, so you should stay sharp all the time. Being friendly might not do the trick and if you are going to be found in a confusing situation, they will take their chance to deceive you. Try not to show any confusion at any time. These, of course are just tips, it is not a rule and it might not be any help in certain situations.
I don't remember a case when after refusing the offered help, the locals wouldn't let us alone. Of course, there are some homeless or poor people, who are quite irritating, but even they go away after repeating "no" several times. The vendors usually leave you alone after saying that you are just "looking around" and the local "guides" usually are happy with couple of dirhams if you don't need their services. If you can't rid of so called local "guide", don't be rude and give him 5 – 20 dirhams, and if you really find their information helpful, which happened a couple of times for us, you can even give them some more. If you really don't need help and don't want to give away any change, just repeat "no guide" and they will leave you alone.
While shopping or coming in some establishment, you can always say "salam", which will show your politeness. When in a hotel, you can use either "salam" or "bonzur", which is more appropriate for hotel or restaurant's employees. "Bozur" is also acceptable way to say hello to women and younger people. You should keep an eye contact, don't be afraid to smile as well. You should try show as much confidence as possible and be polite – don't forget to say thank you ("shokoran" or "merci") when you are served in a restaurant or when you buy something.
If someone says "thank you", you can response with "merchaba".
There are not a lot of criminal activities in Morocco. The locals, actually, don't like when tourists get deceived or mugged, or when whatever bad happens to them. We saw one case of pickpocketing gone bad – other local vendors called out the thief and gave him a lesson.
Shopping and bargaining in Marrakech
Marrakech is like a one big market: there are some goods sold almost at any street, some food stands on the street and some places to spend the night offered. When you buy something, it is better to know the real price of something and to know exactly what you need. You can kind out more about the real prices at some official store, for example ASWAN near the Jardin park. In the market you are very welcome to bargain and you can expect the price to go lower by 20 – 30 percent. However, everything depends on the location and the quality of the product. For example, a special Berber dish for whiskey might cost around 8 – 12 euros if it is made of cheaper materials and around 25 – 30 euros if you look for a better-quality product. You can also find out the price when you come in to try some. You get the real price after you turn around and start walking away. In about 10 meters or so, the vendors start lowering the prices in order for you to come back to them. You will understand if you ask for a price that is too low already, because the vendors simply won't sell you something and won't follow you if you start walking away.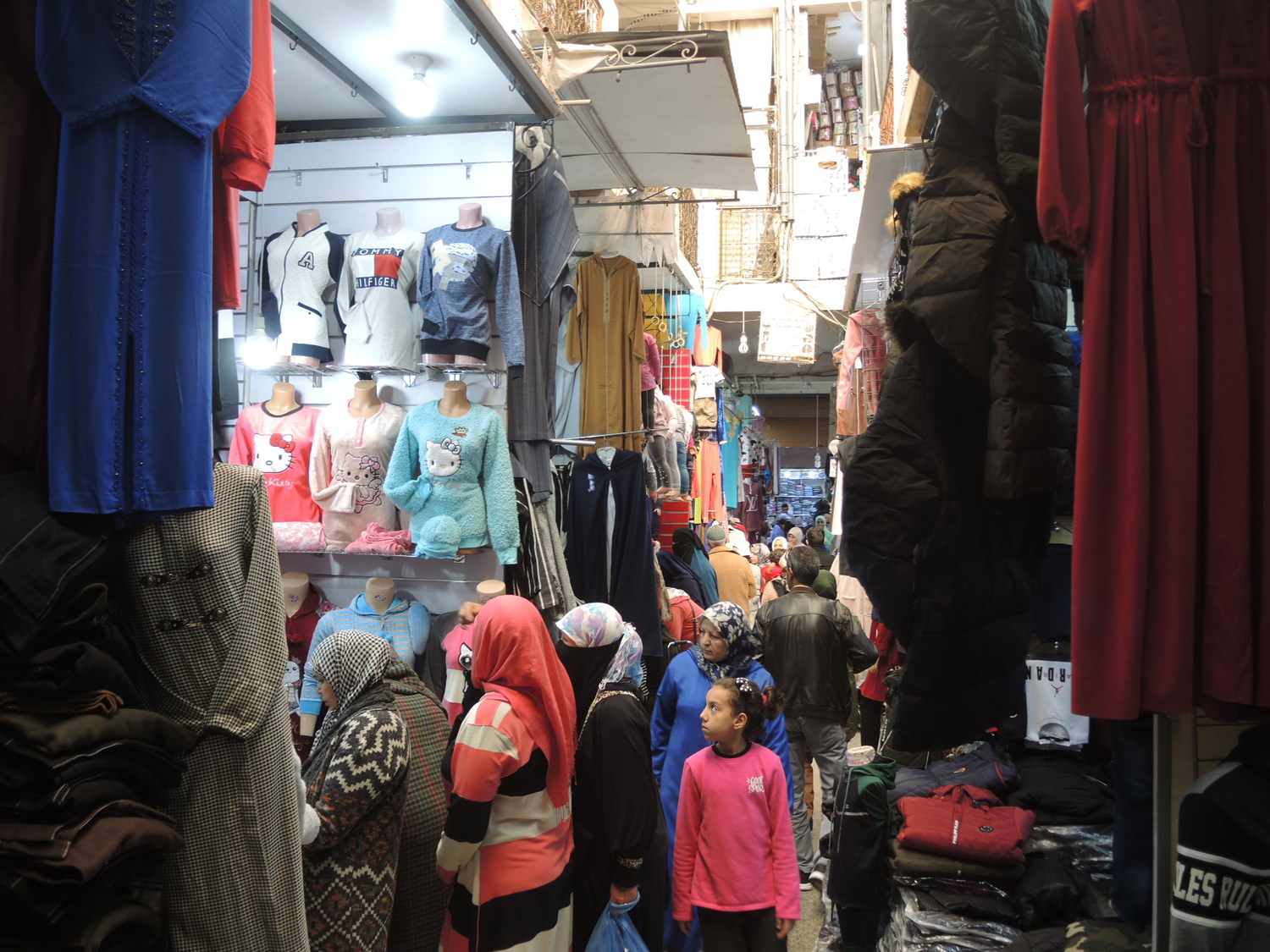 Market in Marrakech.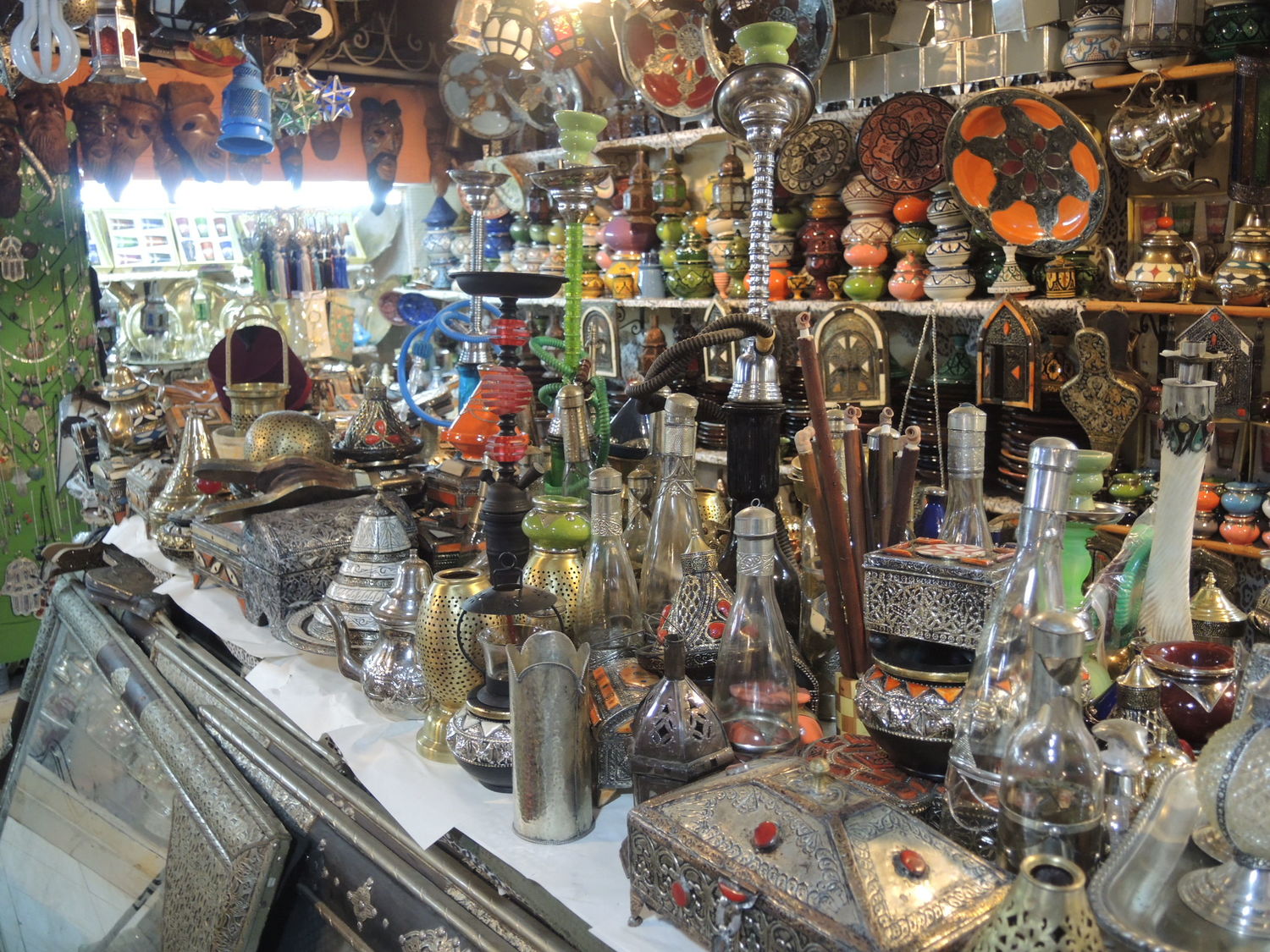 In a handcraft store you feel as if in the Ali Baba treasure chest.
The price differences between districts in Marrakech are quite significant. In the surroundings of Jamaa el Fna market, (towards the Jardin gardens), the things they sell are of better-quality but more expensive too. There, you will have to pay around 20 percent more, even for the same quality product than deeper inside of the medina. The best prices are in small, narrow streets.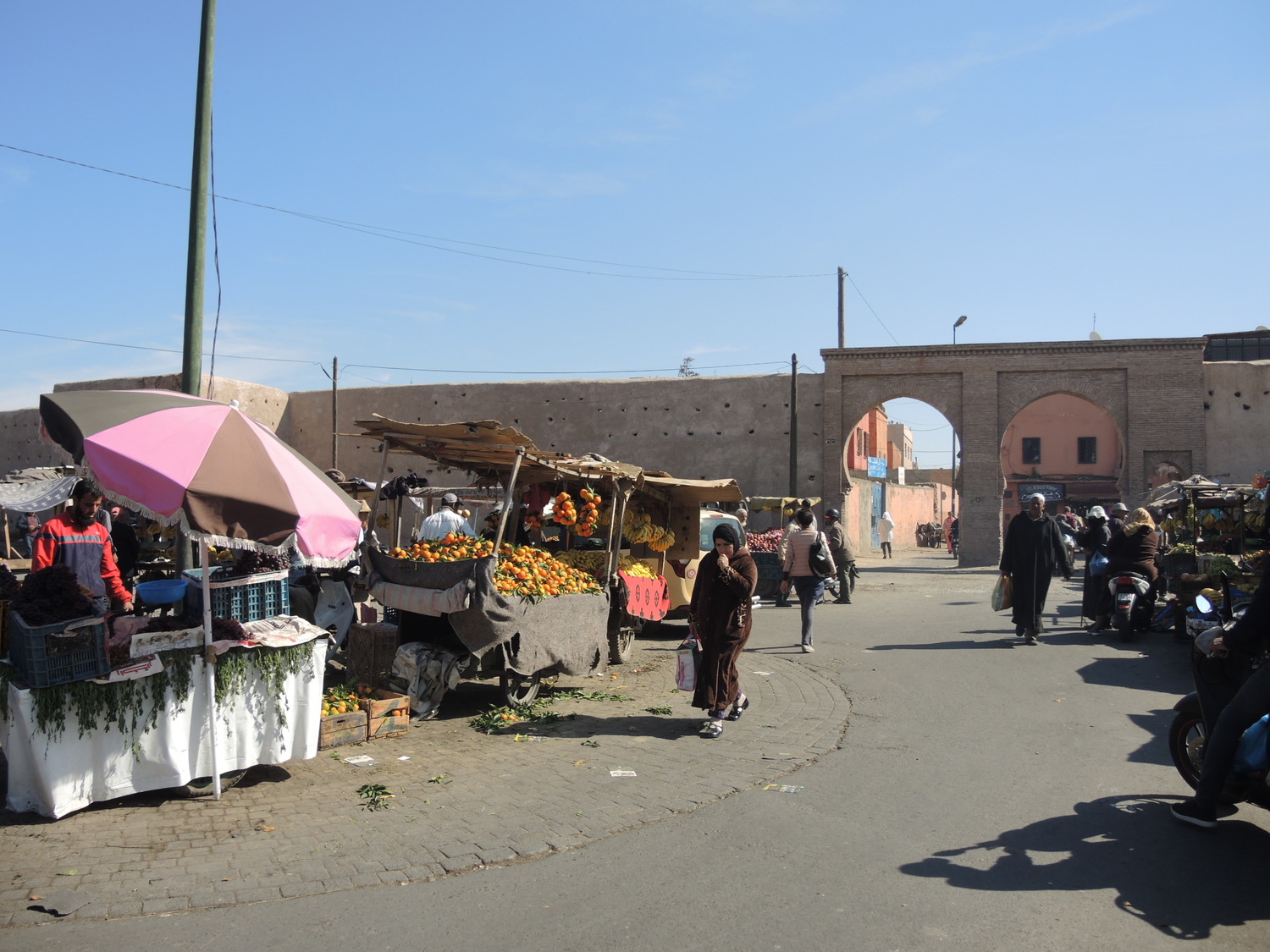 Market of the streets of Marrakech is open since very early in the morning till very late at night. The most successful shopping took place later in the evening, when the vendors are already tired from the day's work and dream about going home.
The shop stands are kind of divided. The most expensive products are on the left from the Jamaa el Fna market (going from the mosque), however behind the market, in wider streets, you can find a good-quality thing for a reasonable price. Some cheaper zones are in small narrow streets, but you have to try your best to find good-quality products. For example, if you are looking for a good-quality argan oil, you should look for specialized shops with women vendors, because that way there are more chances that they associated to the cooperative. The cooperatives of argan oil are usually ran by women. The cooperatives, like one on the way to Essaouira, are the best places to buy argan oil, however, the prices are bigger there (around 35 euros per liter of culinary argan oil and about 10 euros for 250 milligrams of cosmetic argan oil). Even though the prices are bigger, you can be sure that you're getting the best-quality product.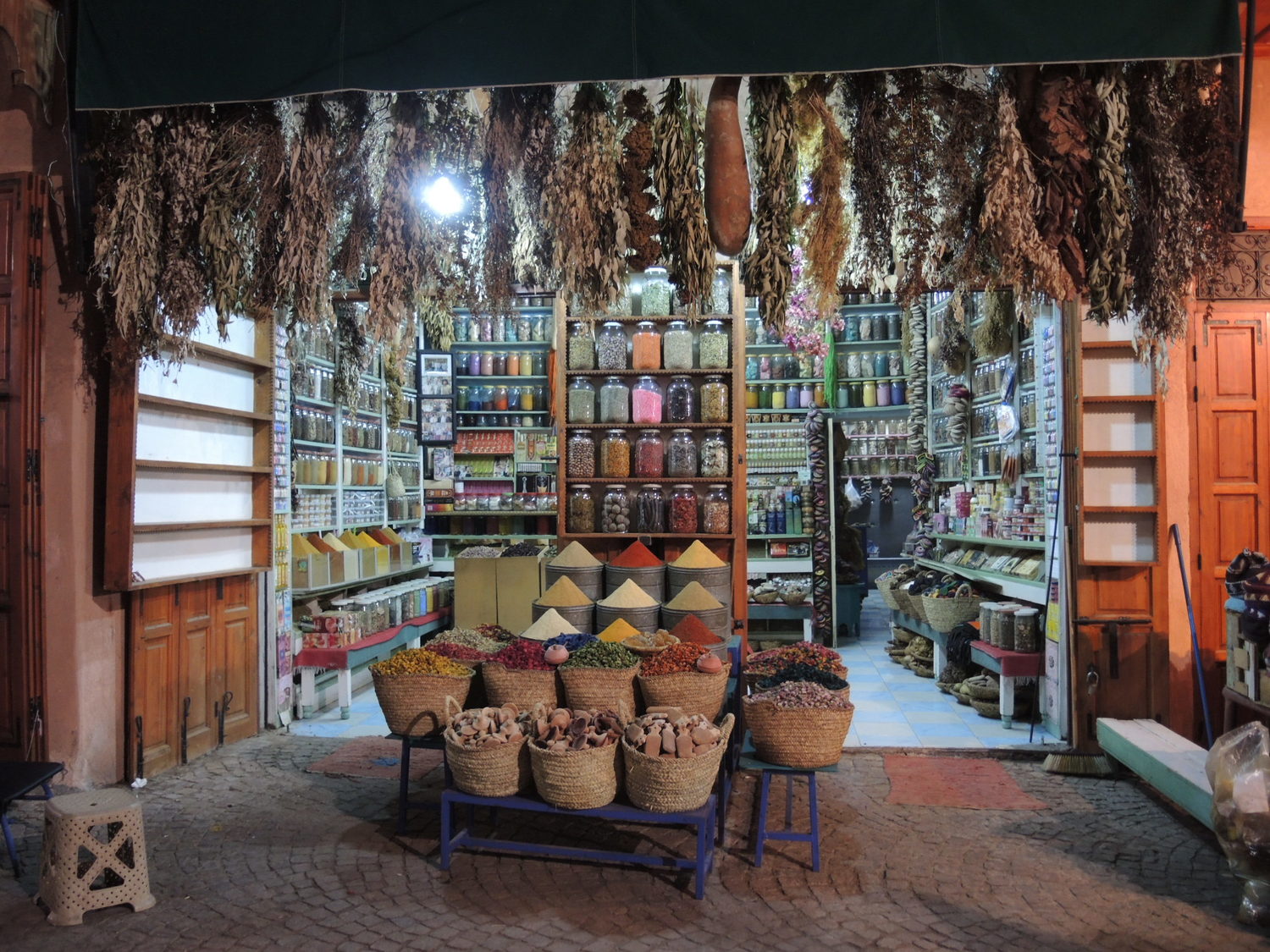 Before buying something, don't be afraid to pick it up and look at it, the vendors will not make you buy it if you do. Just try your best not to give up the initiative to the buyer, check out the product and ask for its price. Initially, the vendors might seem as deaf when you ask them about it, and try showing different goods. That is exactly a try to take up the initiative – if you let that happen, your chances of getting a better price go down. Repeat your question until they will be willing to answer. If you feel that the price is way too high, smile skeptically and start walking away. Sometimes the price is pretty honest, in that case, you are probably in a good shop and talking to the owner, who make the production himself. They might have a smaller range of products, but you can be sure that it is a good-quality product.
Dates are popular market places in Marrakech. The prices may vary greatly: in the same market you might pay 16 euros per kilogram of dates, and couple of stands later, you might only have to pay 4 euros per kilogram.
Places to see in Marrakech
There are hardly any examples of special architecture in Marrakech and one day might be enough to see all sightseeing spots, if the itinerary is well organized. If you come here by car, you can park it near the main Koutoubia mosque and start walking into the medina of Marrakech through the mosque itself. The garden near the mosque is quite impressive and worth visiting too since it is a perfect place where you can sit calmly and run away from the buzz of the medina. Turns out you are able to get to know to this beautiful garden as soon as you arrive to Marrakech.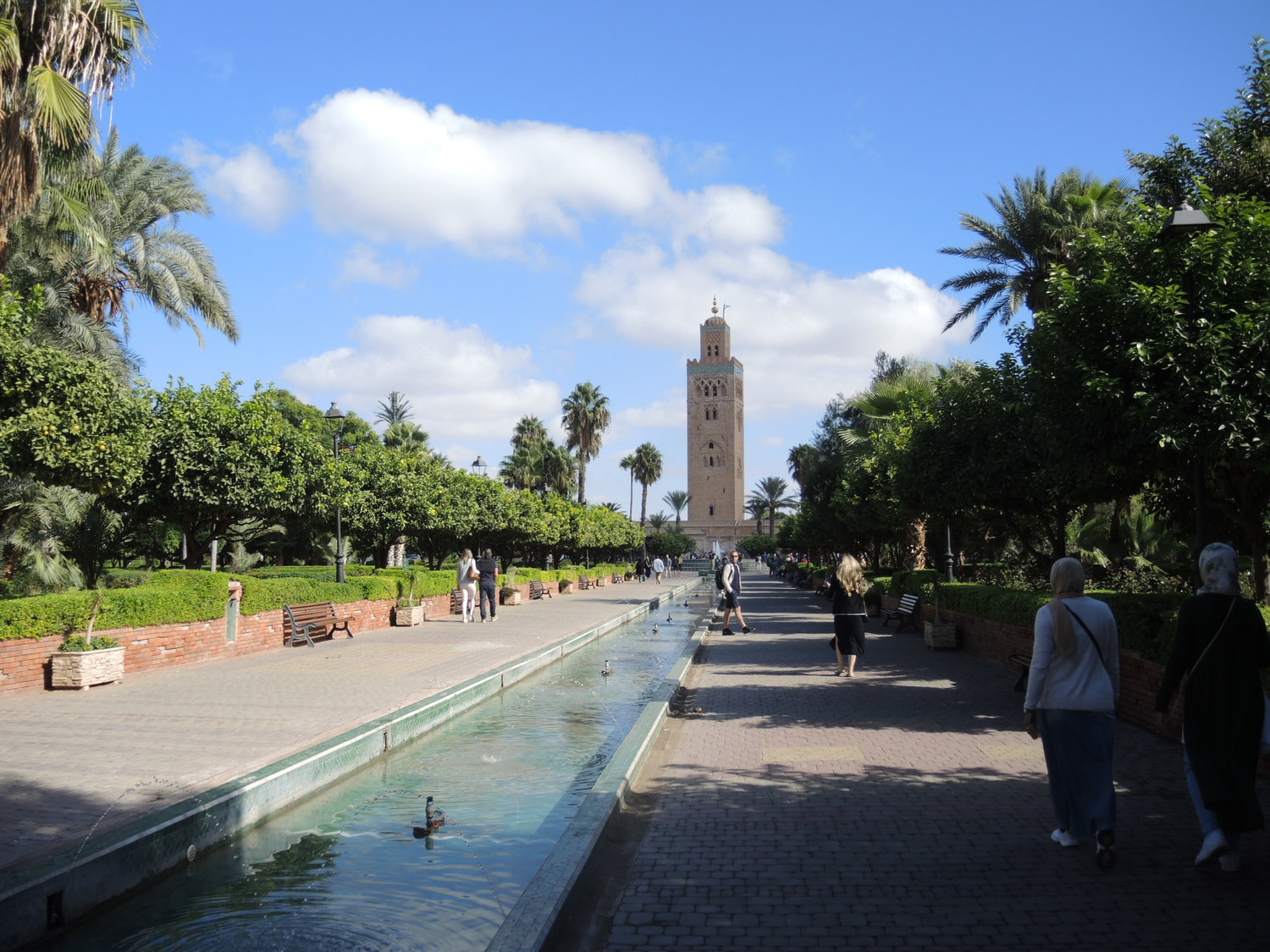 Koutoubia mosque is a perfect landmark to navigate towards in Marrakech. The city is not that tall, so the minaret of the mosque is visible from any spot. You can also find a great, official parking lot nearby.
It is worth staying for the night in the medina of Marrakech, about 500 meters around the Jamaa El Fna market, since the location is convenient in order to reach a place worth visiting – the Majorelle botanical garden. The botanical garden is on the western side of Marrakech, right outside the medina, so a walk on foot will also be a great chance to see different streets and buildings. There is a market for the locals right after you leave the medina, which is a great chance to buy some fruit way cheaper than in the center of the town. Going on, you will reach the "new town", which has shops and supermarkets, such as "ASWAN", which is also worth visiting. Even if you don't buy anything – it is a great chance to find out the appropriate prices of certain products. This ASWAN, however, do not sell any alcoholic beverages.
The Majorelle botanic garden is very big and equally impressive. It has a large collection of palm and cactus trees and even on the hottest day, it is cool and breezy in here, since tall bamboo trees provide a perfect shade and the streams and small ponds provide the cool weather. This was one of the favorite places of a famous fashion designer Yves Saint Laurent and it is where you can find his villa. However, there is an entrance fee. If you want to see the gardens, you will have to pay 7 euros per person, and if you want to go inside the Berber museum that is located in the garden, you will have to pay 3 euros more. The entrance fee to the Yves Saint Laurent museum/villa is 10 euros per person. In my personal opinion, visiting the gardens is enough. In Berber museum you will see several rooms with expositions of clothes and gardening tools, and in Yves Saint Laurent museum you will be able to see several rooms with expositions, as well as a hall where biographic movie about Laurent is shown.
If your itinerary of places to see is quite flexible and not too tight, the best time to visit the gardens would be close to the evening. This is the time when you will be able to take the best pictures, when on the other hand, during the day, the sun shines so bright that all the colors just pop and mix together.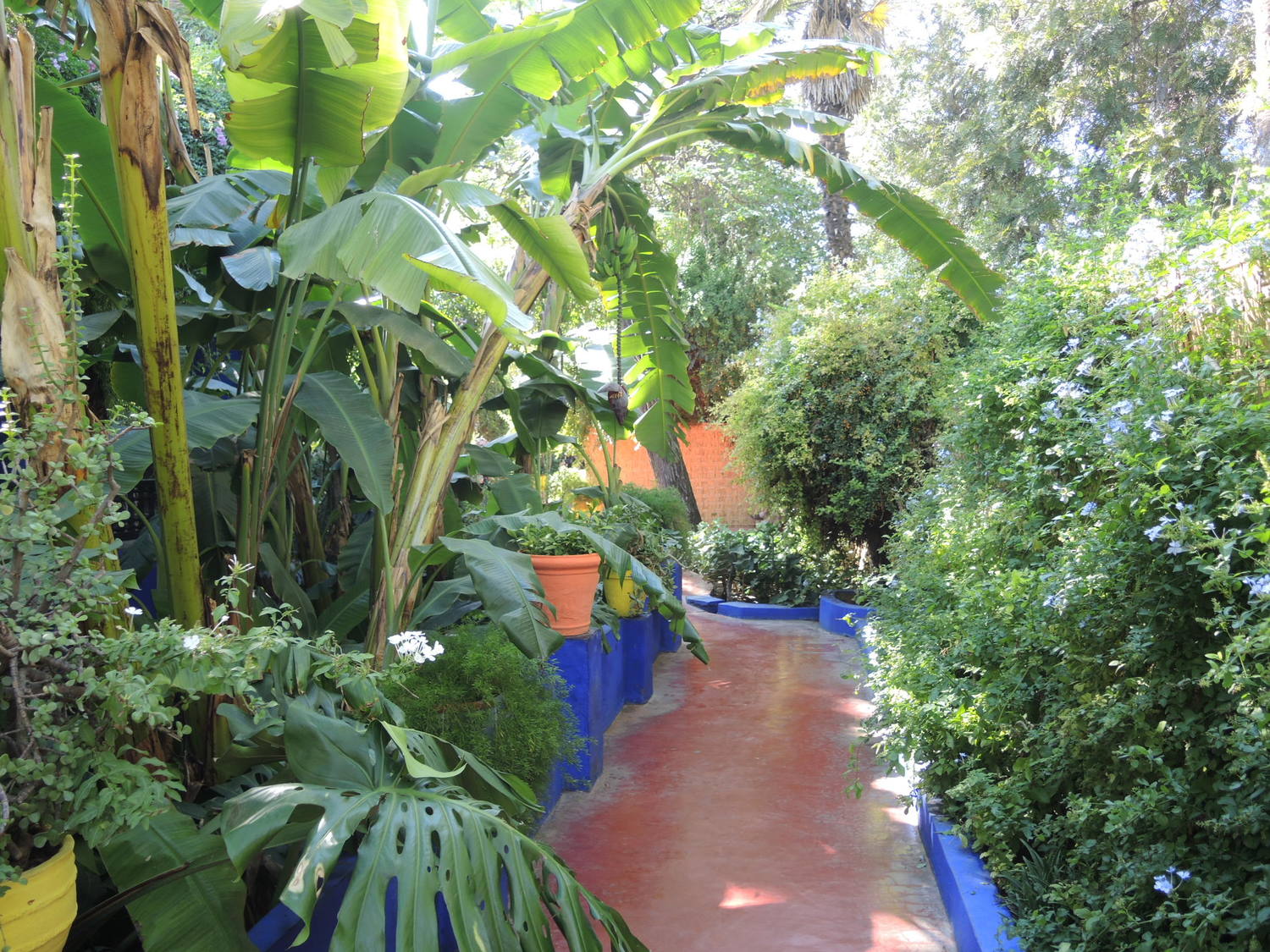 There is an abundance of ponds in Majorelle botanical garden and they go together perfectly with the surrounding greenery and buildings.
You can take the taxi from the Majorelle botanical garden to the gates to the medina. You can also go to the east side of the gates, the Saadian mausoleum, which, after some bargaining, would cost you about 8 euros for a big taxi. The entrance fee to the mausoleum is 7 euros.
Saadians is a royal dynasty that has been ruling Morocco for a thousand years. When you are there, you get the idea that Moroccan people really love and respect their king. Even though Morocco is not a country that could be called very prosperous, the tourism industry is quite booming. Morocco does not have any useful mineral and other resources, so it is quite clear that country suffers from some kind of corruption (seeing how beautifully everything looks). For example, the road quality in Morocco is pleasantly surprising, since even in the Atlas Mountains, the roads are covered in asphalt and are equals to the European roads.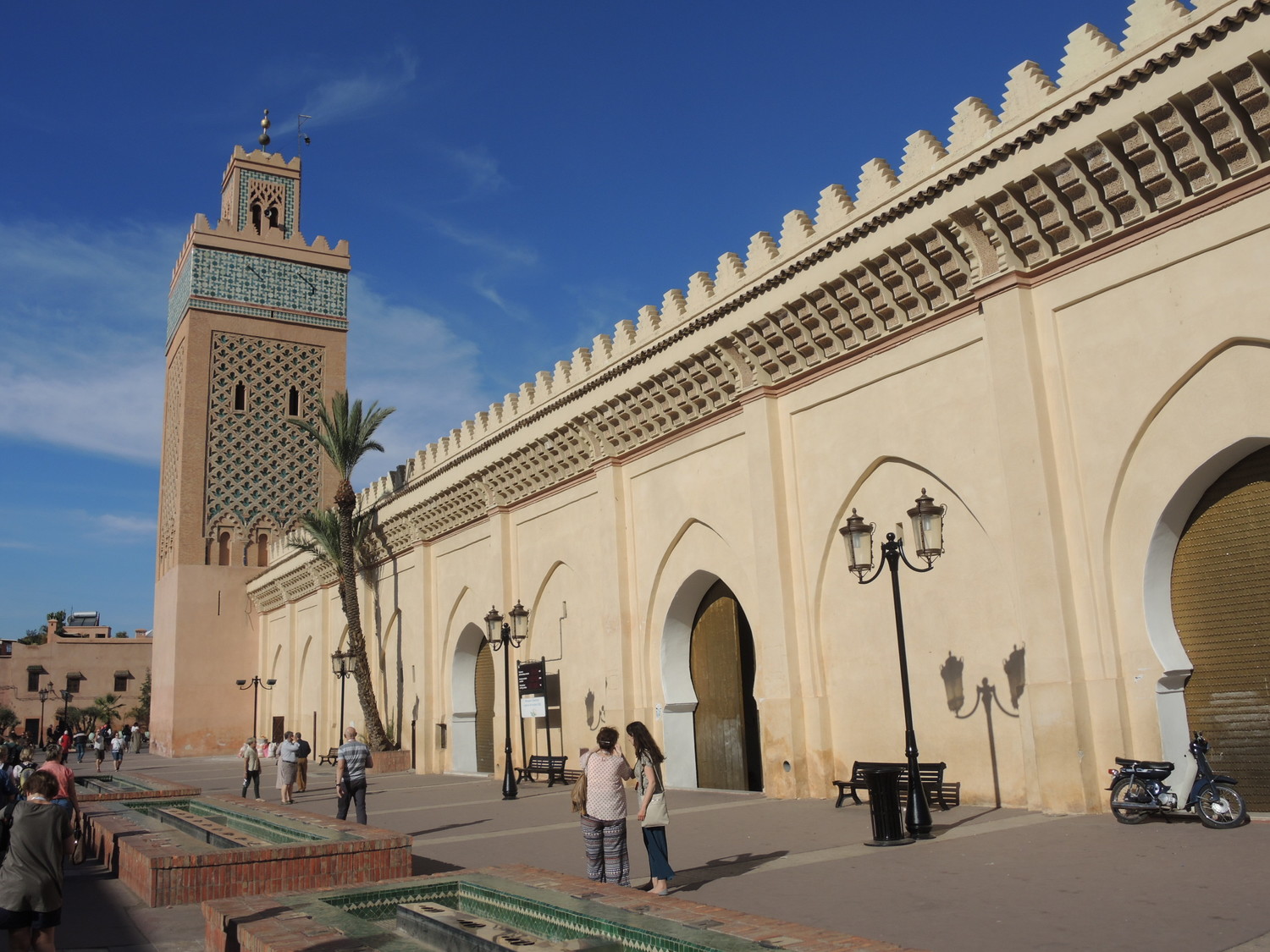 Saadian Mausoleum in Marrakech. You may leave the taxi near the burial sites of the Saadians (tombs, as taxi drivers know it better), and start walking towards the Jamaa El Fna market, which will take you about 30 minutes. The medina of Marrakech is not very big, however, way bigger than the one in Essaouira. On your way you will see 2 more of the sightseeing objects – the old El Bahia palace and El Badi palace. The entrance fee for each palace is 7 euros.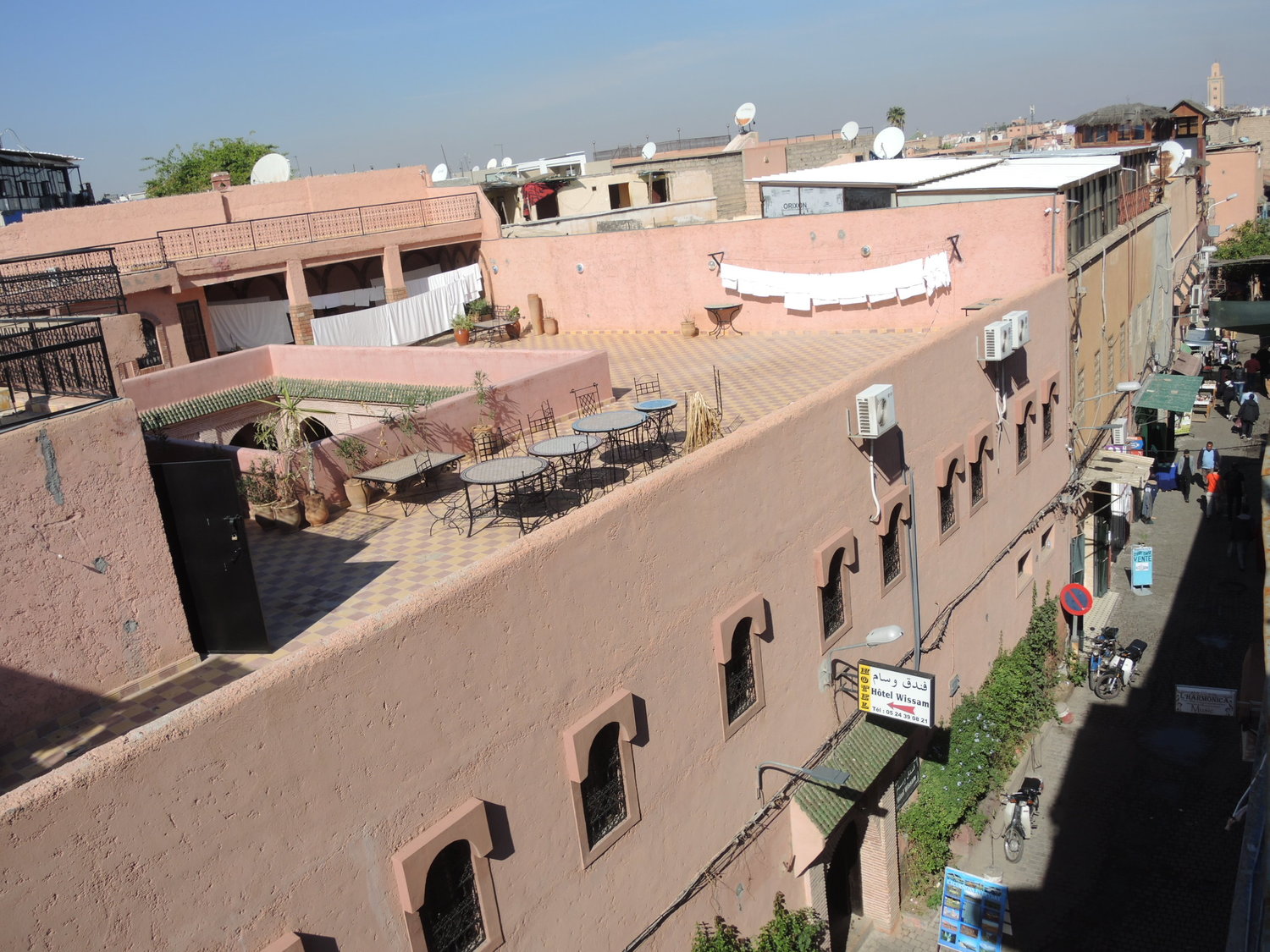 Beautiful Marrakech.
El Badi Palace was built by the Saadian dynasty back in the 12th century. The zone, open for the tourists has some ruins of the palace and pools. Is it worth paying 7 euros to see it? Hard to say, there was nothing that impressive or unseen before. The gardens are quite beautiful, however, as well as the gorgeous panoramic view to the Atlas Mountains. Here you get the feeling about how valuable this place is for Marrakech. You can see the clouds coming from the ocean and the Atlas Mountains stopping them and draining them dry right here, nearby, which is perfect for calming the African heat. The rivers, coming from the Atlas Mountains made this place into a fertile, blossoming garden. Back in the day, when the palace was prosperous, the king used to live right here, together with his harem.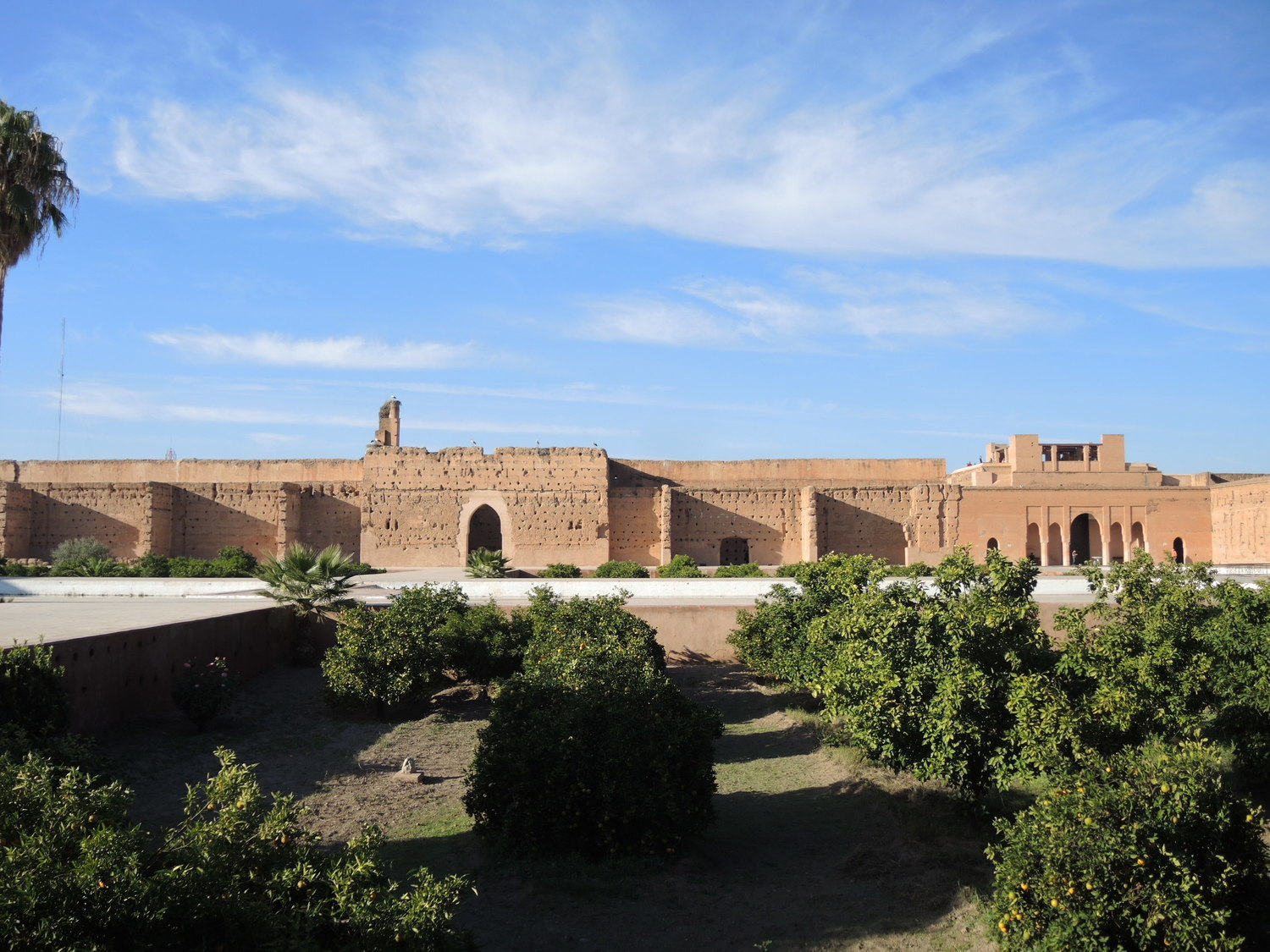 El Badi Palace in Marrakech. A little further – El Bahia palace. Here you can admire the oriental architecture, colors inside and outside. The palace is located in a beautiful garden where you can relax after an active day in Marrakech.
Returning to your place of stay, you will be able to cross some streets of the locals. Here is a perfect place to try some street food! Look where the locals eat – this will show that it's safe, delicious and cheap. We had fried sardine and stuffed pastries – I would definitely recommend it. Do not fill yourself completely if you want to enjoy a delicious dinner in the Jamaa El Fna square, where the night is when the fun starts.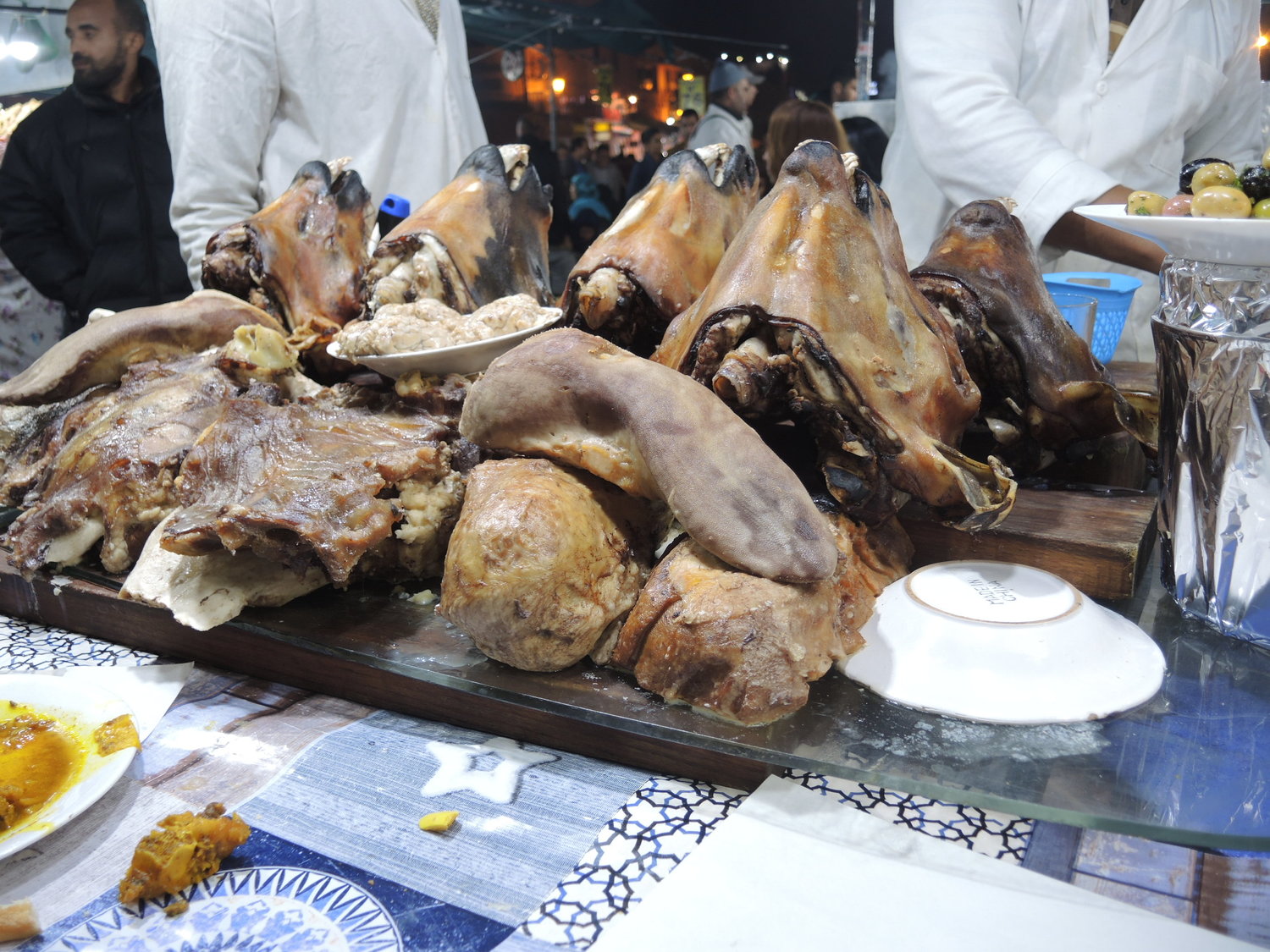 Jamaa El Fna square is a very logical place to end the trip to Marrakech. When the night is closing in, hundreds of food stands are set up and the nightlife of Marrakech, as well of huge variety of foods start boiling up. Try your best not to be too greedy – we advise you getting half rations at some stands, since they are quite big. You should try the meat of the lamb head. For a half ration, you will get the sauce, which is similar to thickened broth, some tongue, cheeks and brains, as well as a piece of bread and some tea on the side. This dish (half ration) costs 3 euros.
If you don't want to buy a specific food that the vendors insist you on buying, simply say that you are already full, and you will be perfectly fine. In this market you will be able to find new foods that you probably have never tried before, such as lamb head meat of beef head meat. You can also find more traditional and regular food, such as regular meat, seafood and fish. There is also a broad variety of snails.
What to eat in Marrakech
In Marrakech you will find a collection and a mix of Berber and Arabic food recipes. Many dishes are made out of ingredients that comes from the mountains and caught in the ocean. The quality varies, however. Restaurants don't necessarily offer the best-quality products and the most delicious food. Often, it's the opposite – in restaurants working people are in a hurry, the meat is often still quite tough. Anyway, it is not a strict rule, restaurants often have a bigger menu. Once in a restaurant we had the best goat tagine, only in a restaurant we saw a b'stilla (bastille) with pigeon meat, which is a layered dough pastry stuffed with minced meat and some powdered sugar and cinnamon on top. Also, the restaurants usually offer a comfortable seating with amazing views of the Atlas Mountains and the city. You can easily reach a culinary ecstasy when delicious food comes with gorgeous views.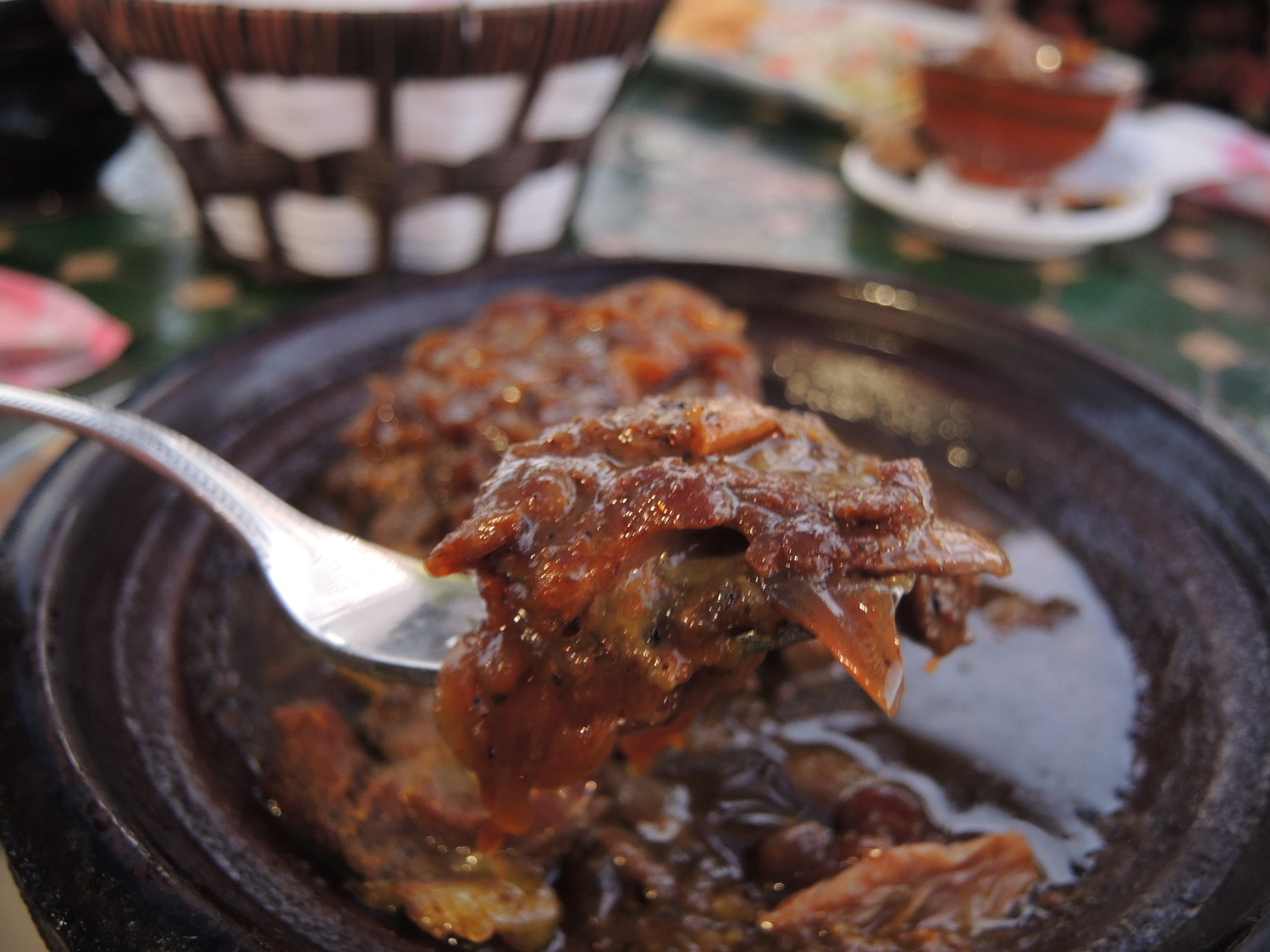 Berberian goat tagine. It is not that commonly seen on the menu, so the restaurant that offers to taste it is quite good and worth the attention. We've heard before to look for it somewhere in the Atlas Mountains, but we did not find it there. We tasted it here, in Marrakech, for 6 – 7 euros.
Tagine is a meal that is served and made in a traditional tagine dish that originated in Northern Africa. It is basically a thick clay plate that eases the heat from the fire and distributes it all around. It works similarly to a regular thick-bottomed metal pot. The clay plate is covered special lid that reduces the free space and creates a specific circulation of the steam inside. Usually, the products that go into the pot are raw and uncooked and most of the products are usually vegetables. There are some kind of meat or fish in there too, but exactly the abundance of vegetables create the interesting mixture of the flavors.
The tagine dishes usually stand in front of the restaurant, which is an indication that the restaurant is of a higher level. Another indication might be some fresh meat hanging nearby. Tagines that are made in a shortest amount of time is chicken tagine and regular vegetable tagine, while it takes about 3 hours to make a traditional beef, mutton and goat tagine. During this trip we were not scared to places filled with locals even when they did not look very appealing. Places like such starts about a kilometer away from the city center. It is worth looking for food like that in the night market of El Fna. The beef is simply melting in the mouth, and we are sure that after you are done, your plate will be absolutely clean.
Poulete tagine – chicken tagine, it is usually served with some vegetables and is usually very tender. It cost around 4 – 5 euros.
Beef tagine is a little more complex. In places where the service goes as a conveyer this dish is usually tough. If you find a place where they make a really good beef tagine, it will definitely be more delicious than the chicken tagine. They usually don't use the ham part – the most tender and juicy meat of beef is usually near the bone. You should be careful – our organism and metabolism are not that fast as of animals – some stomach problems are possible due to the amount of protein and fat. Beef tagine will usually cost you about 6 – 7 euros.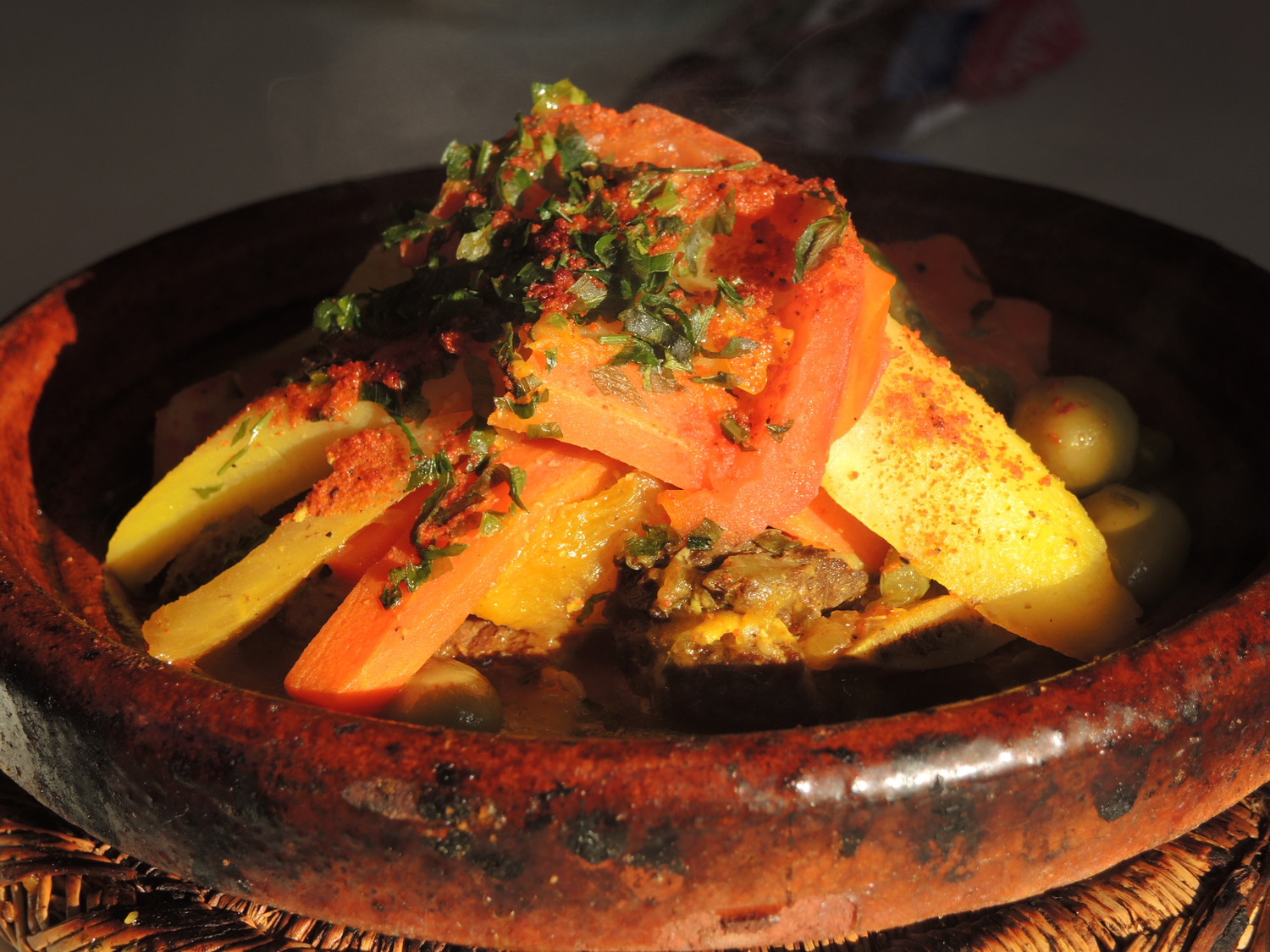 Beef tagine in Marrakech.
Goat tagine is more rarely seen in Marrakech. We had an amazing goat tagine going down the Atlas Mountains, on road N9 (the place is marked in the map). This small place does not even worth be called a restaurant, but chef Hasan served us a got tagine which was better than in any big and popular restaurant. The conclusion is simple – stop at the places where you see many tagines and some local people eating inside. This will cost you around 5 – 7 euros.
Couscous is a helping aid when your stomach is tired from the heavy food. Couscous is a kind of wheat grits that is broken apart and unshelled. It is usually made in a tagine dish as well, sometimes complemented by some kind of meat and vegetables. Even when you are so fascinated by the abundance of many different tagines, you should include couscous in your daily ration as well. In many cases, Moroccan people keep the hygiene pretty acceptable, even on the street. Simply, out bodies are not capable of taking care of that much meat in this period of time. Couscous costs similar to tagines.
Bastia is a sweet roundly-shaped pastry with meat filling with some cinnamon and powdered sugar on the top, which is a pretty interesting mix of the flavors. Rarely, but possibly, you can find a bastilla with pigeon meat, which would cost you quite more than with a regular meat filling. Chicken bastilla would cost you around 2 euros, while the pigeon bastilla will be around 7 euros.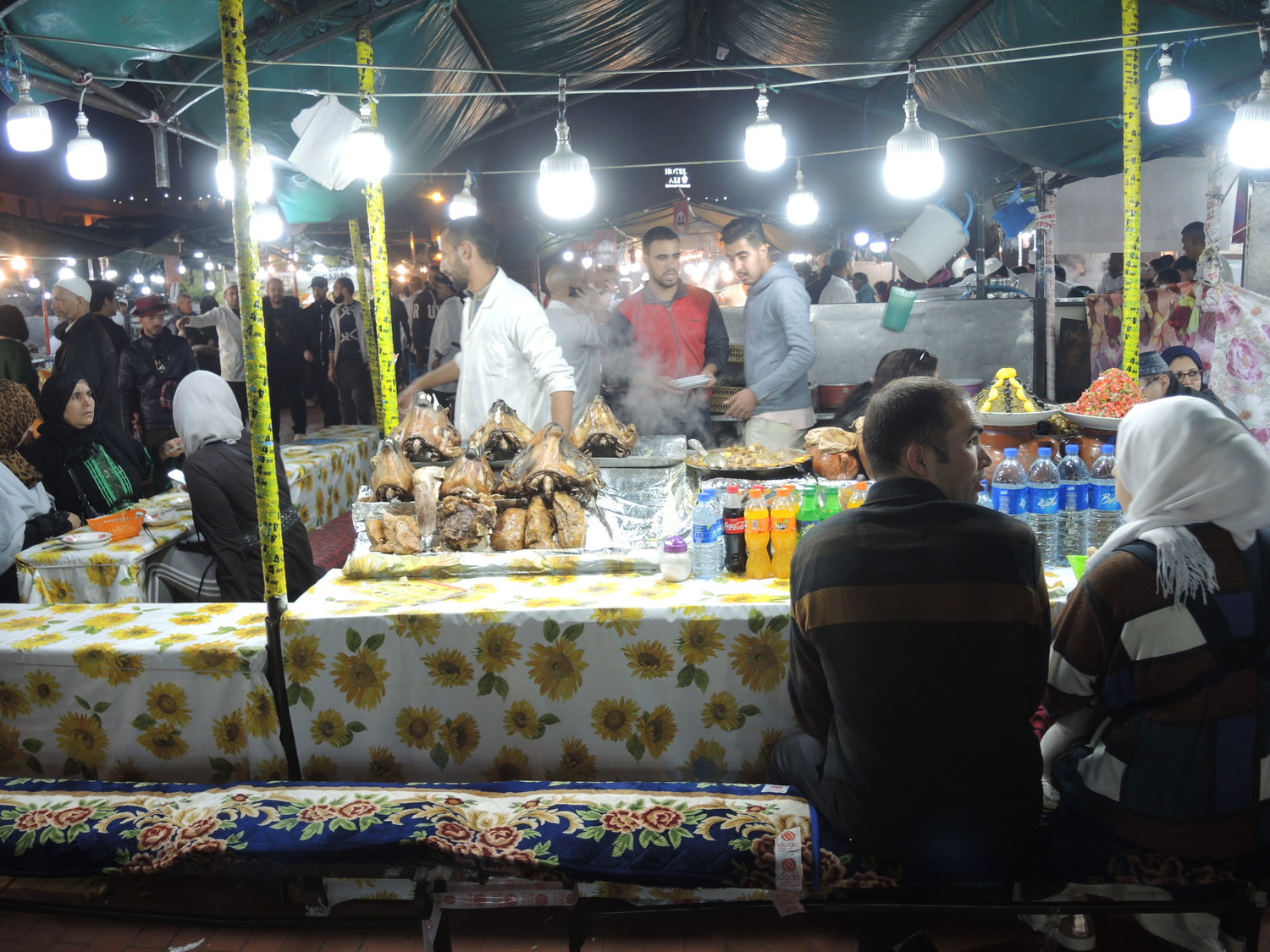 Night in Jamaa El Fna market.
Fried sardine with all the bones removed – 2 dirhams further from the city center; round bread pastry – 1 dirham in local stores and about 4 dirhams in touristy bakeries. Just observe where the locals shop – this way you will get fresh and cheap, as well as delicious products. In self-respected eating facilities, the bread is not included in the price.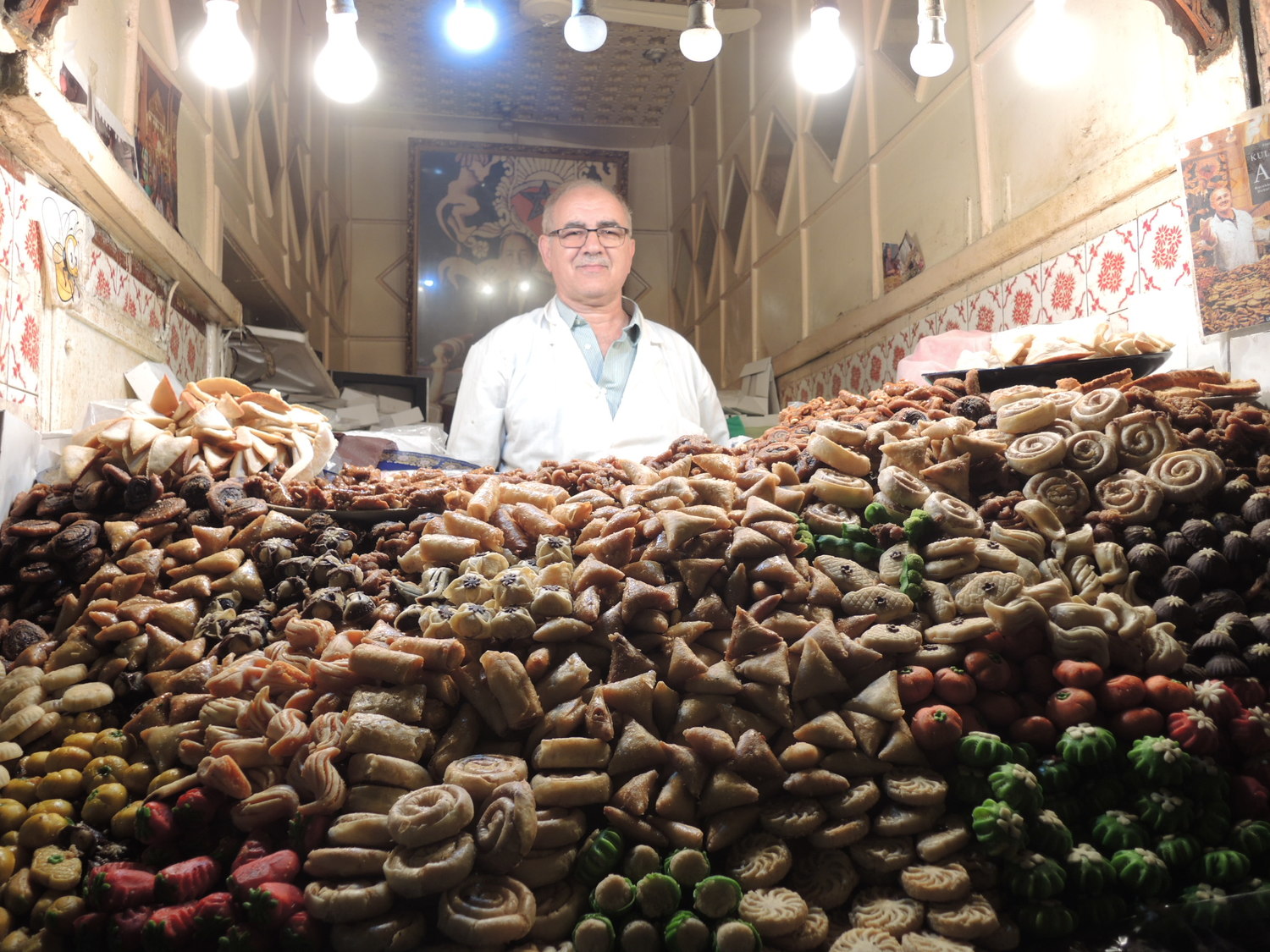 Sweets in Marrakech and in Morocco in general are quite strangely expensive. In a store ASWAN a kilogram of some kind of sweets will cost around 6 euros, and in a market – around 10 euros per kilogram. It is very interesting to get a kilogram of different sweets. After that, buy some milk for palate cleaning and try them out. This variety of flavors is really amazing.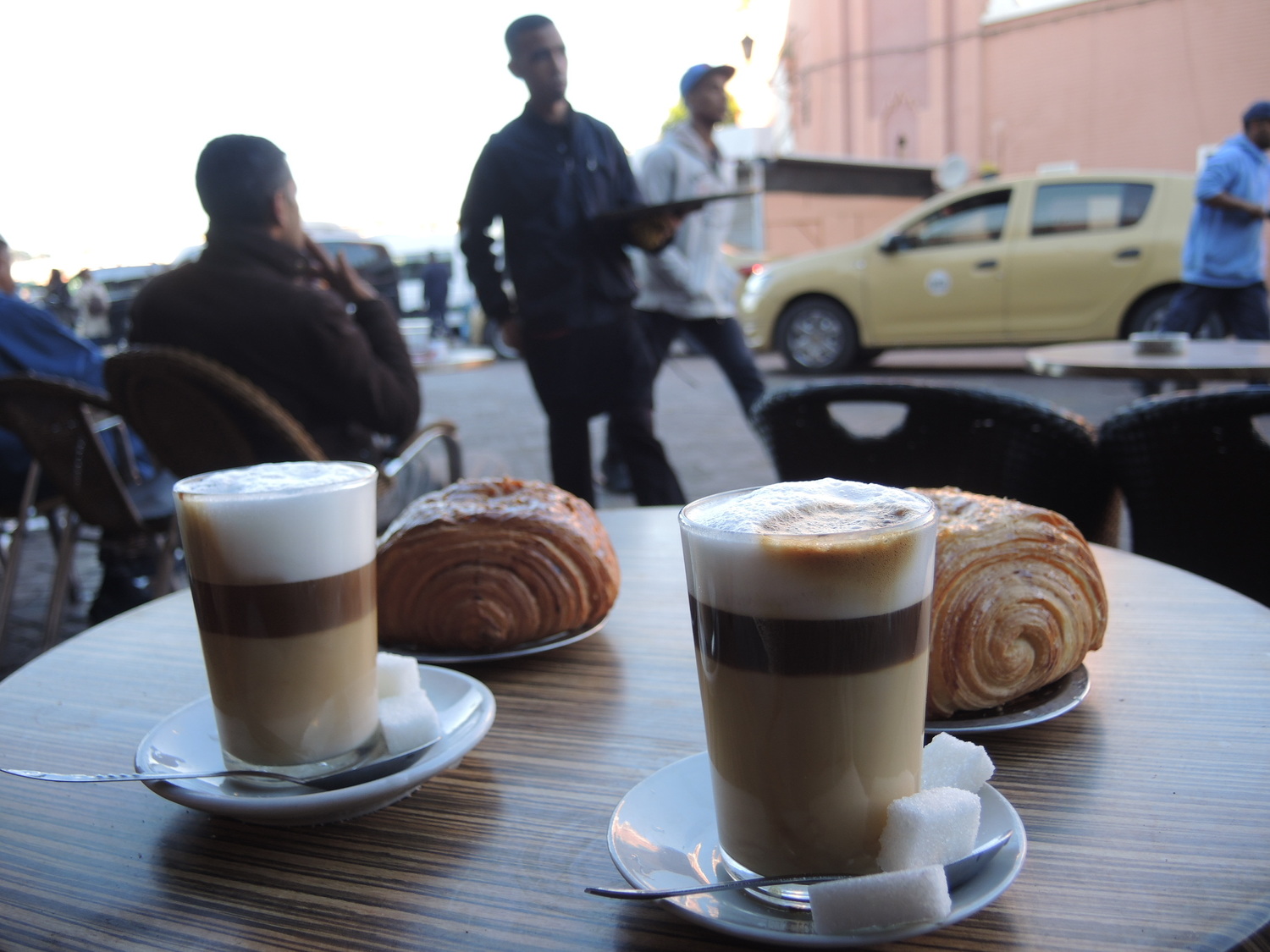 If you want a good cup of coffee, choose a place where you see locals enjoying coffee themselves.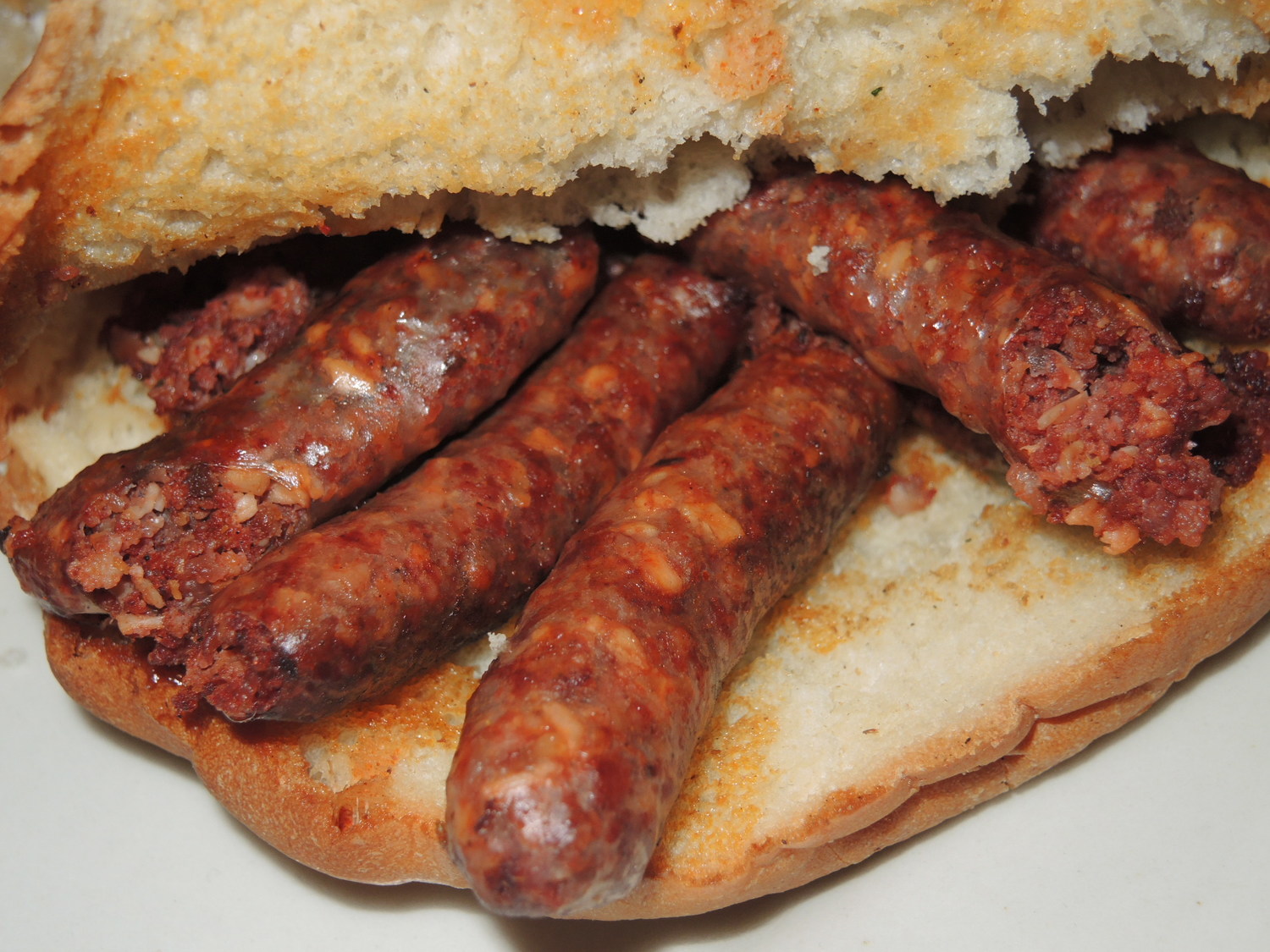 Merguez sausage is usually cooked and inserted inside of a bun. You might add some vegetables, but maybe sometimes you should avoid vegetables from the street.
Transportation in Marrakech
When you arrive in Marrakech, you will find many taxis, all willing to bring you to the center of the city. There are two types of taxis – big ones and small ones. Small taxis fit 3 people and cost about 8 – 10 euros, while big taxi fits 4 people and will cost you about 15 euros. If you need to go to the airport, especially in the morning, a whole medina will be full of taxis. Taxis also can pick you up right from the door of your hotel. This is one of the situations when bargaining will not be that easy, and you might not be able to get the best desired deal.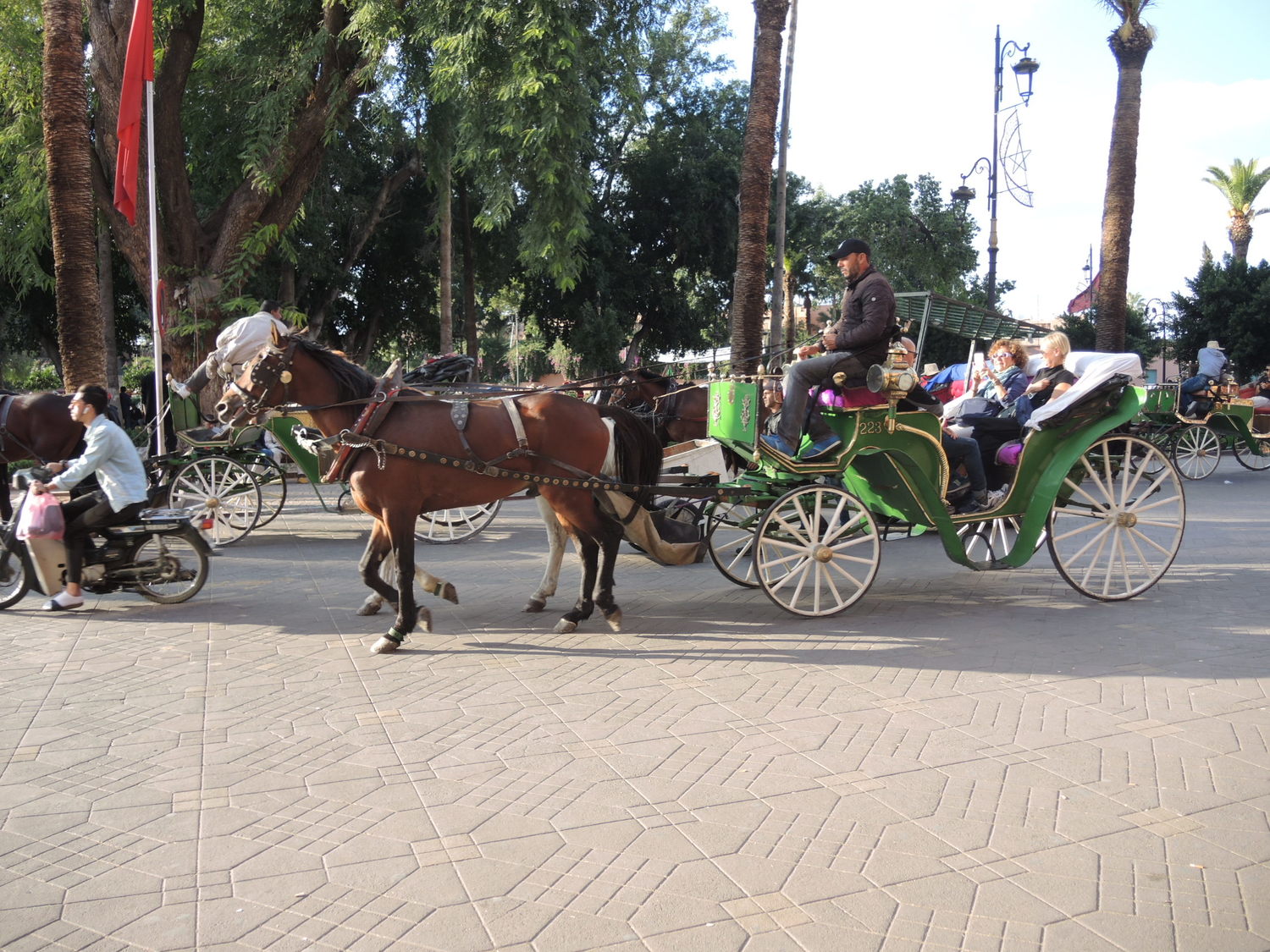 In the morning, the streets are full of taxis. During the day, the streets are too full of vendors and taxis could not possibly go through.
It is quite difficult to reach the medina of Marrakech by car. It is way better to leave the car before the medina starts. Official parking lot in front of the medina will cost you around 4 – 7 euros for 24 hours. We left the car in the parking lot near the Koutoubia mosque. We rented out the car in Agadir and agreed to leave it in Marrakech. A person from the car rental company came and picked up the car in the parking lot that we left it at. This additional deal cost us 70 euros, but it is worth the money since it is so convenient if you fly out from Marrakech.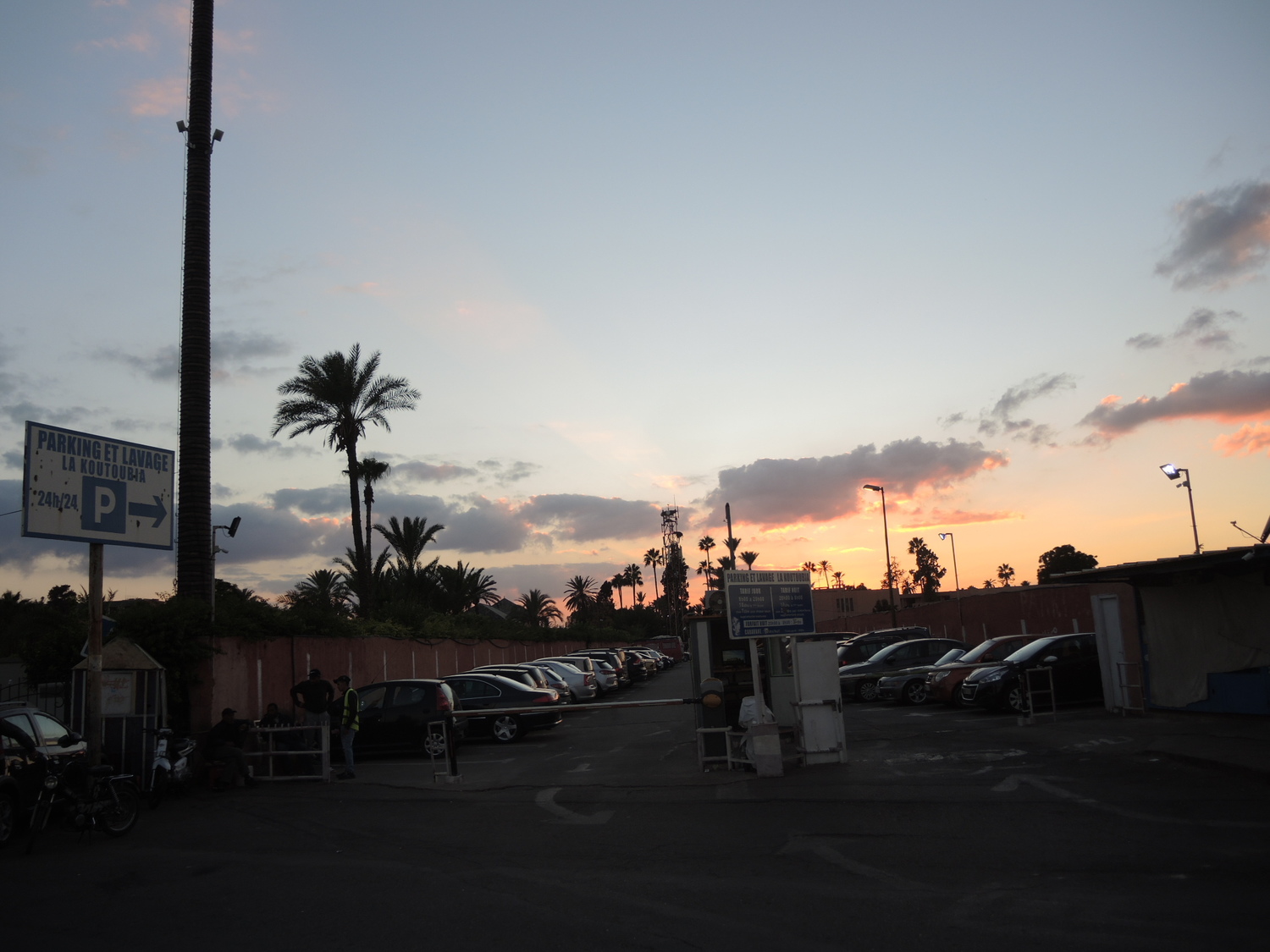 Parking lot near the Koutoubia mosque.
You may rent either a car, either a carriage to ride around the city.
What to buy in Marrakech
Marrakech does not offer the lowest prices right away, but after walking around for quite a bit, you might find some interesting things for decent prices. Original souvenirs include various metalwork, clothing, argan and spices. Argan is the oil that is made out of argan tree fruits. Argan nuts are small with three seeds inside of each of it. These seeds are what is used to make the oil. The most expensive argan product is the cosmetic oil, which is made by cold pressing and is known for its transparence. The oil made for eating is cheaper, pressed with different temperatures. You can also find and buy different products made out of the argan oil. Spice in Morocco is rather cheap and of a really good quality.
Tinsmiths produce a wide range of lamps, which, even when handmade, are rather cheap. Since the competition in the market is quite big, you are able to purchase a certain lamp for a third of its full price.
There are also colorful woolen scarfs, which are very soft and non-wrinkle. In the central zone of the town, you will be required to pay about 120 – 150 dirhams, but you can easily bargain and pay only around 50 dirhams. The best-quality scarfs are in the "first", front zone of the town, which will cost you around 250 dirhams, but again, with some bargaining abilities, you can end up buying it for around 80 dirhams.
Berberian coats cost around 350 – 400 and the vendors might go down the price lane and sell it for around 200 dirhams.
Where to stay in Marrakech
The best choice when choosing where to stay while in Marrakech is the riads in the medina. A riad is a traditional Moroccan house with a "well" in the middle which helps the light to come in and the windows are usually not facing the outside, rather the patio of the house. The price to stay in a riad depends on several factors, including the quality of the interior, the size of the rooms and the view from the terrace. It's not necessarily the case that riads in the center – near the Jamaa el Fna market will cost you the most, it's usually the opposite, you might find riads that are rather cheap in that area.
We were lucky and got a good deal on a riads without an in advance reservations, however, we would recommend booking an accommodation beforehand. In November, when our trip took place, booking.com provided us with only a couple of available places for several nights. The search for hotels is pretty fun if you don't have a lot of baggage with you, since it is a great way of getting to know the city and the medina. You might find some of our recommended riads and hotels in Marrakech in the map below.
If you reach Marrakech by car and your planned time of arrival is at a night time or at least when it is already dark, we advise choosing a hotel near the medina. These hotels usually have rooms available and provide a free parking lot for your car. The next day would be a good time to go inside the medina and look for another place to stay. A very well-located hotel is called Chemim. There was a paid parking lot next to it and that was the place we left our car at.
If you want some peace and quiet, you should look at hotels which are about 400 meters away from the market, in small streets. If you decide not to make any reservations in advance, mark down several riads that you like and walk around them. If you have Internet access, you can simply go to booking.com and see if the riads you like have free rooms to rent. Just don't forget that booking.com does not have all the riads and hotels in there. The best way to see if you like a certain riad is going up to its terrace. That is exactly how we chose the place to stay – we chose the one with the best view from its terrace.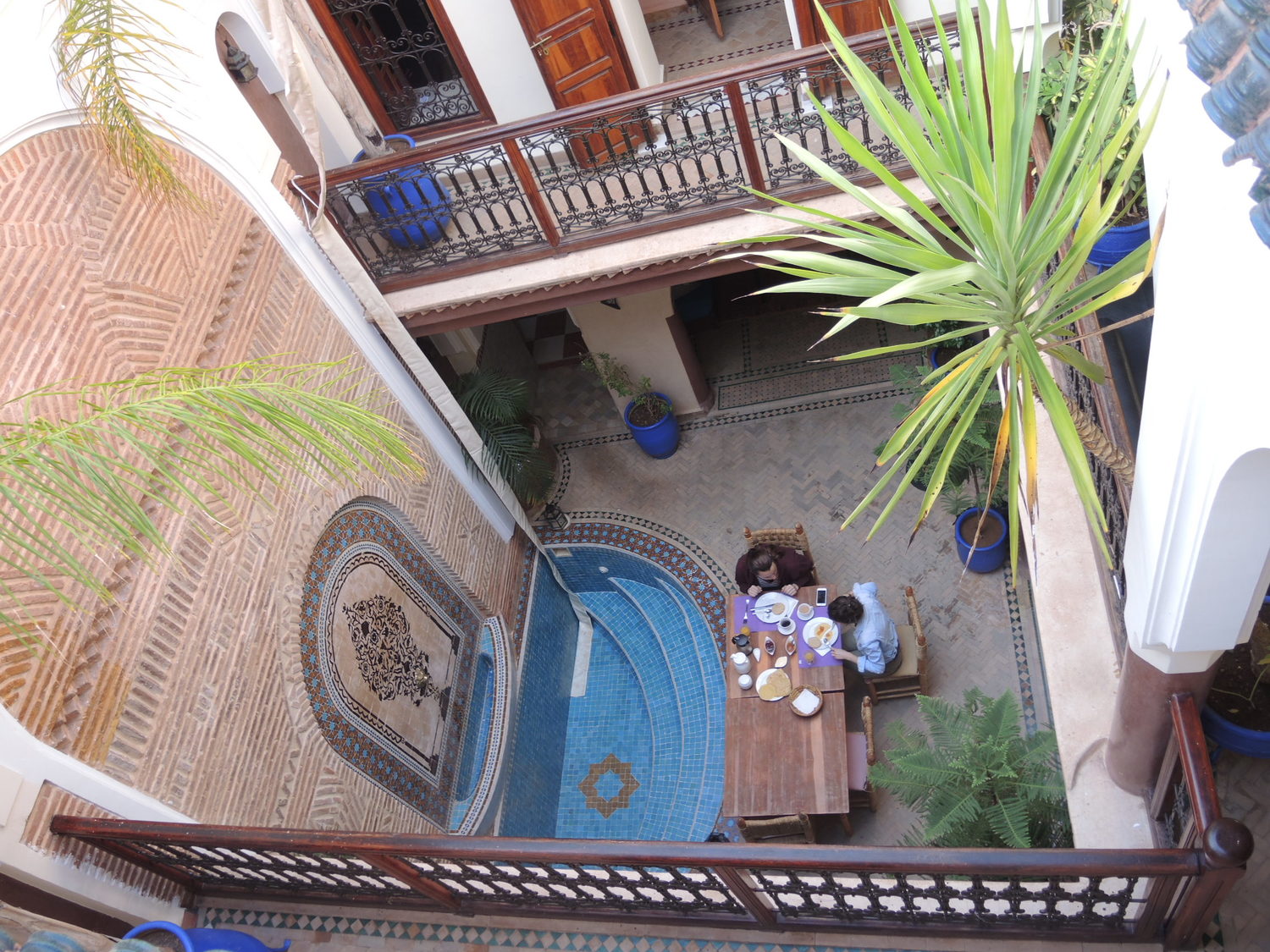 Riad BonHeur is in a calm and quiet neighborhood of Marrakech in a small street.
Riads usually have open and closed-in terrace spaces. These half-open half-closed terraces are great for a fun time or a peaceful moment with some Moroccan sweets and mint tea.
Possibly because of the noise coming from the Jamaa el Fna market during the night, the riads in that area are a little cheaper. Personally, I would say that the best area is the Kennaria street and its surroundings. Here you can find restaurants with awesome terraces and the riads are very well set up. We liked a riad Wissam, sadly there were no rooms available for two nights. The streets empty out around midnight, so if you want some peace and quiet, try and find a riad with an exit that goes to the inside of a riad, not straight to the street.
A normal price for a one-night stay with breakfast included is about 20 euros per person.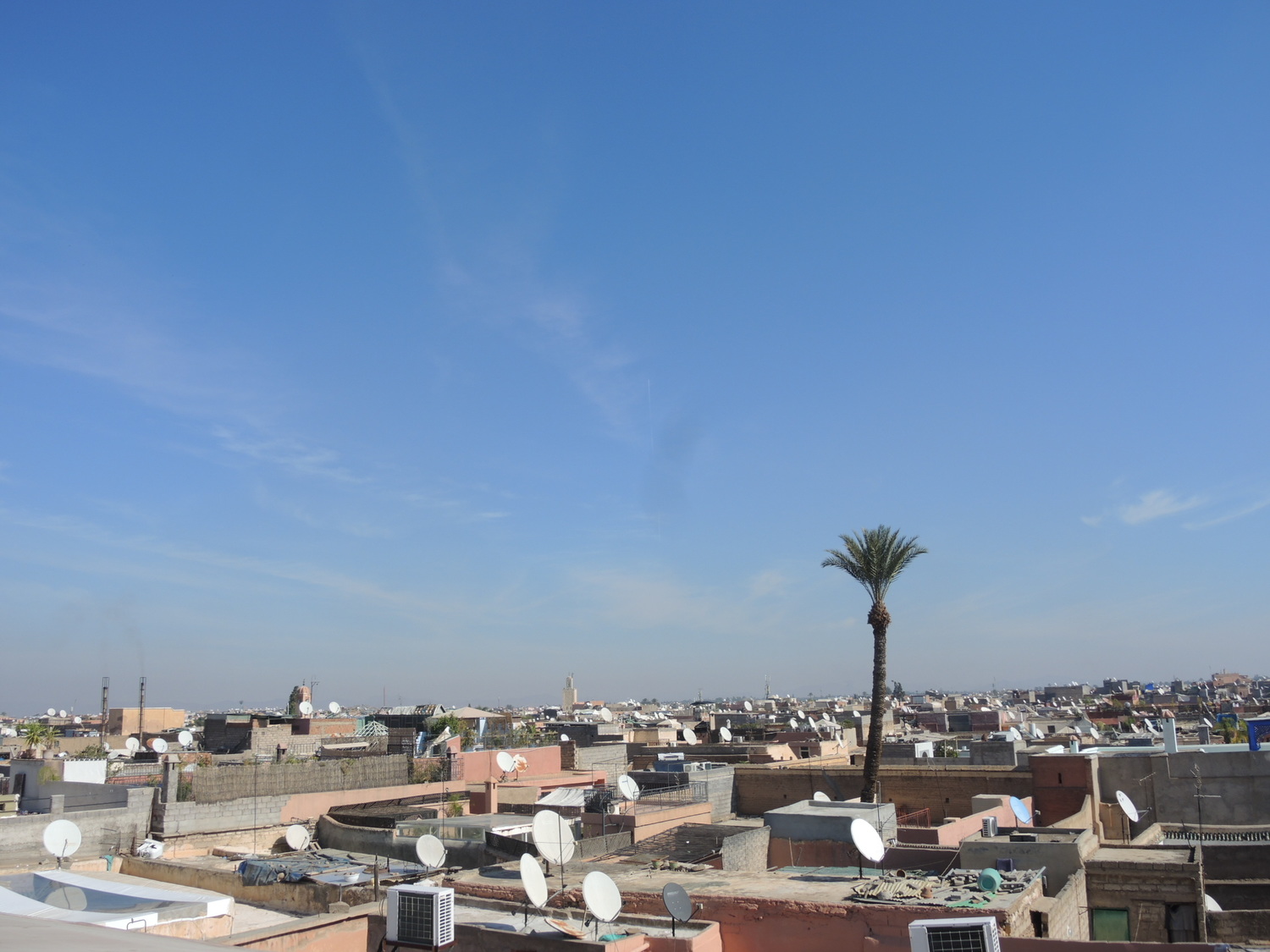 The roofs of Marrakech are of a similar level. You can see some amazing views from the terraces, since Atlas Mountains are visible from almost every terrace.
What to do in Marrakech
It is paying a visit to a hammam. The locals recommend to try something that is in-between a hotel spa and local saunas. The prices vary from 10 up to 35 euros.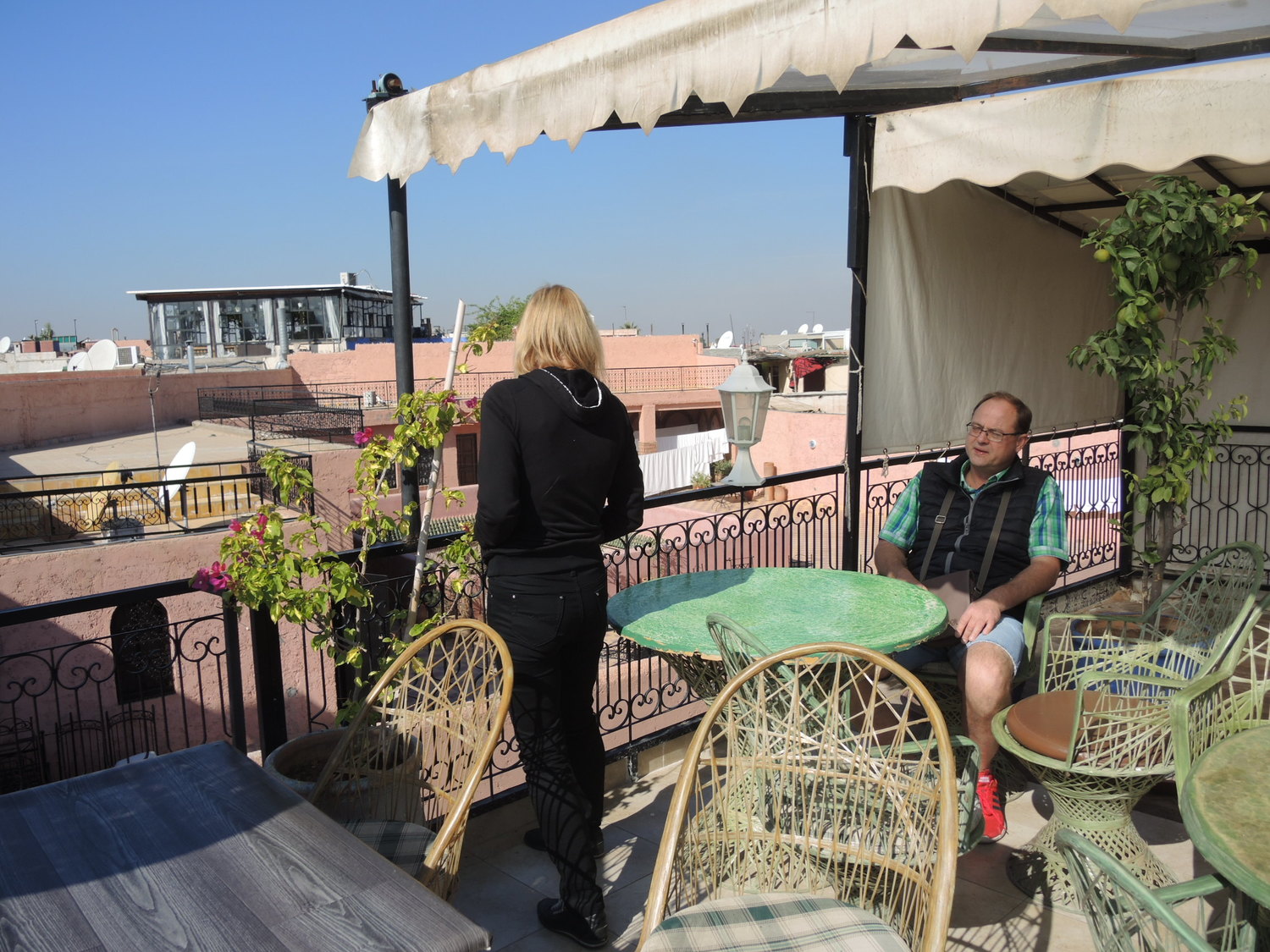 It is very fun to spend some time in a restaurant terrace with a view to the rooftops of Marrakech.
What to visit outside of Marrakech
If you have more time in Marrakech and you don't have a car rented, it is advisable to take a look at some excursions.
The most popular excursion is to the desert through the Atlas Mountains. It is a trip that takes a couple of days and include a camel ride and a night in Bedouin tent. There are two different destinations – Mhadid and Merzouga. Mhadid is closer to Marrakech but sand dunes are smaller there, and in Merzouga there are bigger, and you get to see some amazing waterfalls on the way there. There are some different price levels of trips like these. The cheapest one cost about 65 euros if you choose to go by a bus and sleep in cheaper places. The most expensive trips include a personal driver and a car, SUV to be exact just for your group. This trip will cost you about 700 euros for the group. What is a big advantage of this kind of traveling is that you can ask for a stop at any time. It is a massive advantage when traveling in Atlas Mountains and the driver will usually offer to stop at the most beautiful places. You can also choose a one-day-trip to Essaouira to get to know this beautiful seaside town. There you can find a compact medina and a massive fish market. One day is not quite enough in here though, the best way is to spend a night here. If you choose a trip without spending the night, the trip would cost you about 20 euros per person.
Another choice would be a one-day trip to Ouzoud waterfalls. These waterfalls are about 100 kilometers away from Marrakech by the side of the Atlas Mountains. Those of you who traveled through Norway in spring or summer time, this waterfall will not leave a bug impression, but taking into account that this waterfall is located in Africa, it is worth visiting. There are lots of restaurants around the waterfall that offer amazing views. We would advice spending a night here as well. You can get the best views at a sunrise. If you purchase this trip plan somewhere on the street of Marrakech, you will pay about 20 euros.
In Marrakech, you can purchase a ride with all-terrain vehicle. It costs 35 euros per person if you choose to go alone, and 45 euros if two people are on one vehicle.
How to reach Marrakech
If you arrive to Agadir, you have a couple of different options of how to reach Marrakech.
1. You can rent a car for a day or for several days. This is the route that we personally recommend, especially if you arrive to Agarid and fly out of Marrakech.
2. One-day trips fro Agadir.
3. A bus ride from Agadir. It costs only 10 euros per person.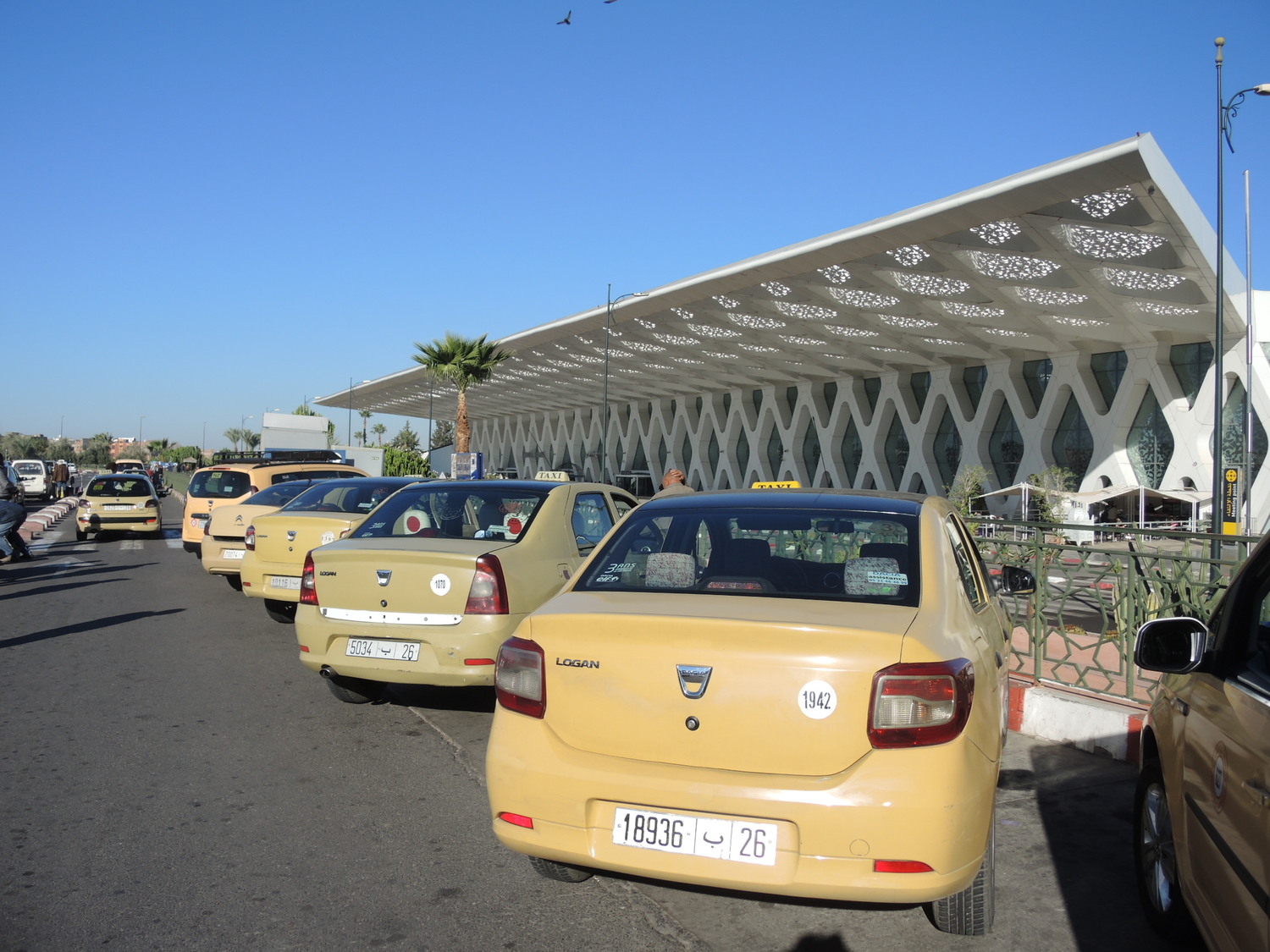 If you arrive in Marrakech by plane, there is no difficulty in reaching the center of the city. Menara airport in Marrakech is very modern and you can find lots of taxis in front. A taxi for 3 people would cost you around 10 euros, and a bigger one - around 15 euros. Just don't forget to agree on a price in advance.
Monuments, restaurants and local foods
Clermont-Ferrnad, located in Auvergne a green and peaceful region, is the perfect place if you want to discover France in an unusual way.
Morocco by car. The full itinerary of a car trip in Morocco.
Go through 4 different countries and visit new places, cultures and ways of life in a 12 days road trip accross Europe.