Portugal is a perfect travelling destination at any time of the year. It is not extremely hot during summers because of the Atlantic Ocean washing its shores, in autumn the weather is perfect for surfers, in winter the temperature is comfortable to travel around and it is not crowded with tourists, and in spring the temperature is perfect. Portugal is very rich with historical and architectural monuments, great beaches, one of the best cuisines, wines and port wines, various attractions, nature and even skiing. It is a safe country with friendly local people.
In the map below you can see places to visit, hotels, restaurants in Portugal.
Map of places to visit at Portugal
Arriving at Portugal
The best way to Portugal is by airplane flying to Lisbon. The capital city is worth spending there a couple of days after which you can travel to Porto visiting smaller seaside and continental cities on your way. Porto and its precincts will take a couple of days to travel around. After that, you can travel South towards Algarve, spend your time at beaches, take some guided tours to mountains or on water.
Things to do in Lisbon
To find a place to stay you can at Booking.com platform, where you can take a look at the map showing locations of all housings, prices and availability on the dates you have chosen. A nice place to stay at the old town of Lisbon is Hotel Convento do Salvador. Another option for looking a place to stay is through Airbnb.com. If you register for the first time there, you can get 35 euros discount by pressing this link.
If you want to feel Lisbon's spirit, stay at the old town under the Saint George castle. During the season a hotel here might cost around 100 euros on Booking.com platform and around 60 euros on Airbnb platform. As the hotels or apartments do not have private parking, you will have to leave your car in public parking places costing around 15 euros for 24 hours.
To start your discoveries, you can visit miradouros (viewpoints) which are at the highest points of each hill. Lisbon has many panoramic viewpoints because of its location on the hills. One of such viewpoints is Santa Justa Elevator reaching 47 meters height and costing around 5 euros. Night Lisbon from there is quite spectacular. You will get the best view of St. George castle from there. A more romantic scenery you can see from Miradouro da Nossa Senhora do Monte where you can admire the sunset looking at Lisbon's roofs. Another viewpoint to have a glass of beer or wine at is Miradouro de Santa Catarina. If these are not enough, try visiting Sao Pedro de Alcantara park or Miradouro de Santa Luiza viewpoints as well.
Lisbon is quite an expensive city compared to other cities in Portugal, like Porto. Prices vary along the city, from more expensive food and drinks in the old town to less prices outside the old town. We recommend trying the Mercado de Ribeira market full of sea food and fish. In Lisbon, many restaurants use fresh products to make food, but it is expensive and the portions are small, it is better to make food yourself from the products you buy there. While you are there, try sopa de marisco – sea food soup, francesinha – a sandwich with meat and tasty sauce, Pasteis de Nata – patties with cream. Other travellers also recommend sailing to Almada on the other side of the bay. There you can admire the view to Lisbon while eating their tasty food. One of our recommendations is fried octopus – polvo a lagareiro, fish stew – caldeirada de peixe.
Coming back to Lisbon, visit Praca do Comercio square in the centre of Lisbon, with the triumphal arch nearby. Belém Tower, or Tower of Saint Vincent, is constructed in 16th century and one of the most magnificent Lisbon's attractions. Near the Tagus river in the parish of Belem you will find the Jerónimos Monastery, one of the most prominent examples of the Portuguese Late Gothic Manueline style. You can take a city tram in the old town covering all the famous Lisbon attractions. Leaving the city centre you will find Aqueduto das Águas Livres aqueduct.
Take a short trip from Lisbon to Sintra, a city included in UNESCO World Heritage Site. Here you can see such attractions as Palace of Sintra, the residence of royal family during the summer, castles, Monastery of Nossa Senhora da Pena, Quinta da Regaleira Iniatial, an integral landmark of Sintra's UNESCO Cultural Landscape, the Sintra Mountains, the exposed granite formation of igneous rock extending to the Atlantic Ocean.
If you are looking for more than just urban attractions, visit Lisbon during summer festivals like the Sardine Festival, the Oceans Festival and others.
Trip to Porto
Porto is the second-largest city in Portugal with lower prices than in Lisbon. here you have to taste all the best national Portugal's dishes and to taste some port wine. Port wine has its history, today most of port wine belongs to Brits.
Porto is one of the oldest European centres surviving on the income from trading and shipbuilding industries. The city has a beautiful old town, Clérigos Church and Tower, Ponte Luis bridge with a beautiful view.
In Porto you will find many entertainments, such like World of Discoveries. This is an interactive museum in Miragaia district where you can travel back in time to the Age of Discovery and feel the joys of discoveries. Some other tourist attractions include Church of St. Peter Miragaia, Church of Saint Francis, São Bento railway station. Take a stroll along the Avenida dos Aliados central street in Porto with the Town Hall, or Rua de Santa Catarina street, Barredo and Biaxa districts.
Porto cuisine is very rich. The famous Francesinha was born here, Polvo a lagareiro – boiled and fried octopus, Cataplana de Marisco – sea food and rice soup. To taste port wine, you can at Vila Nova de Gaia where are many wine tasting cellars. By pressing this link, you will be directed to a nice hotel near Porto city centre.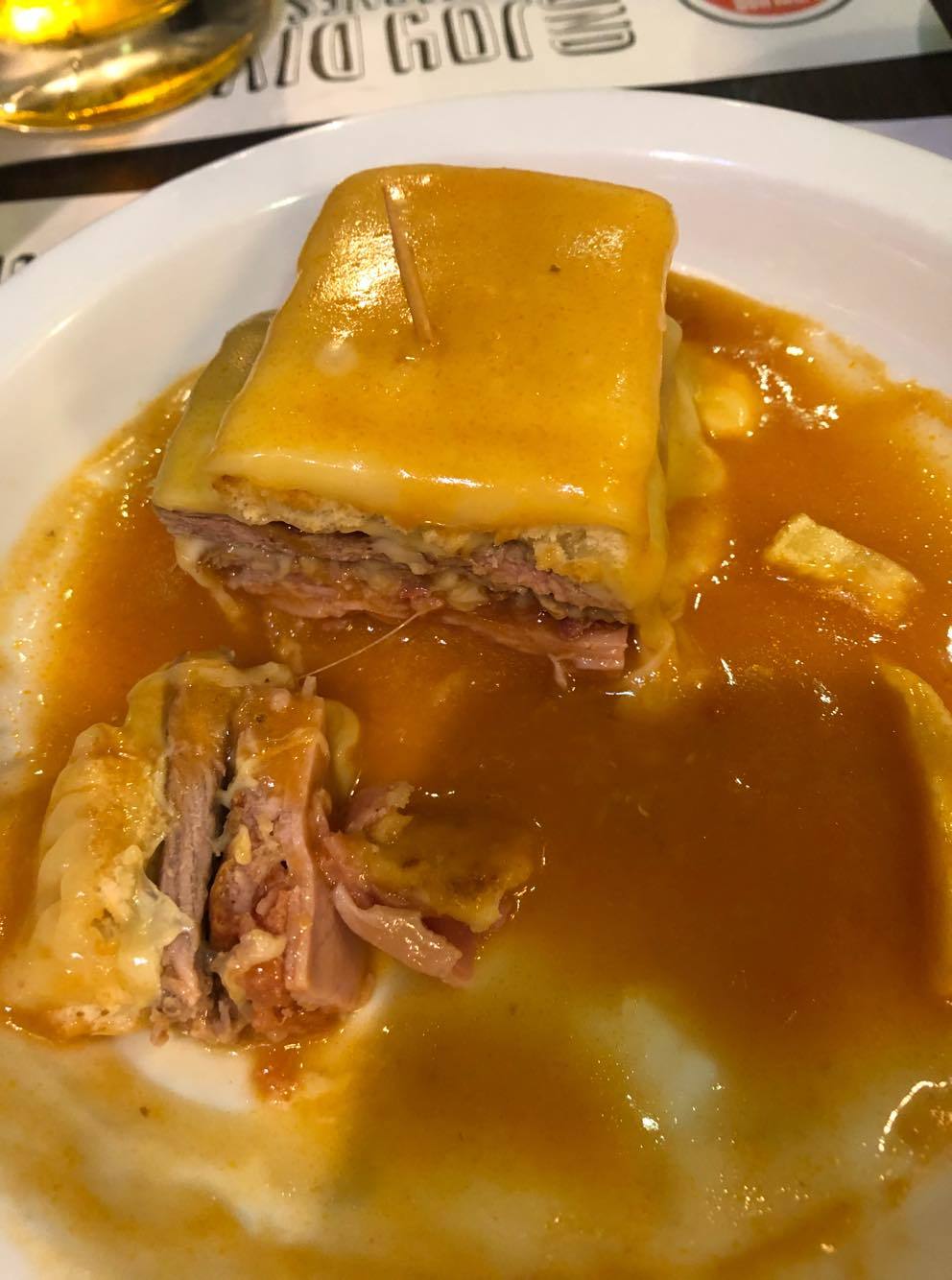 The famous Francesinha. Picture taken by Saulius Grigoravičius
Trip to Algarve
Around 300 kilometres South and you are in another wonderful Portugal region Algarve. Take a route along the Atlantic Ocean. Sagres and Sao are at the extreme western tip in Europe. There are beaches famous among the surfers nearby.
One of the destinations can be Lagos, a city near the sea with great beaches and spectacular views from the cliffs. Walk around the Praia de Porto de Mos, meet the sunset at Ponta de Piadade. Lagos is friendly for tourists. We suggest tasting Piri Piri chicken, Bola donut, Arroz de Marisco dish from rice and sea food.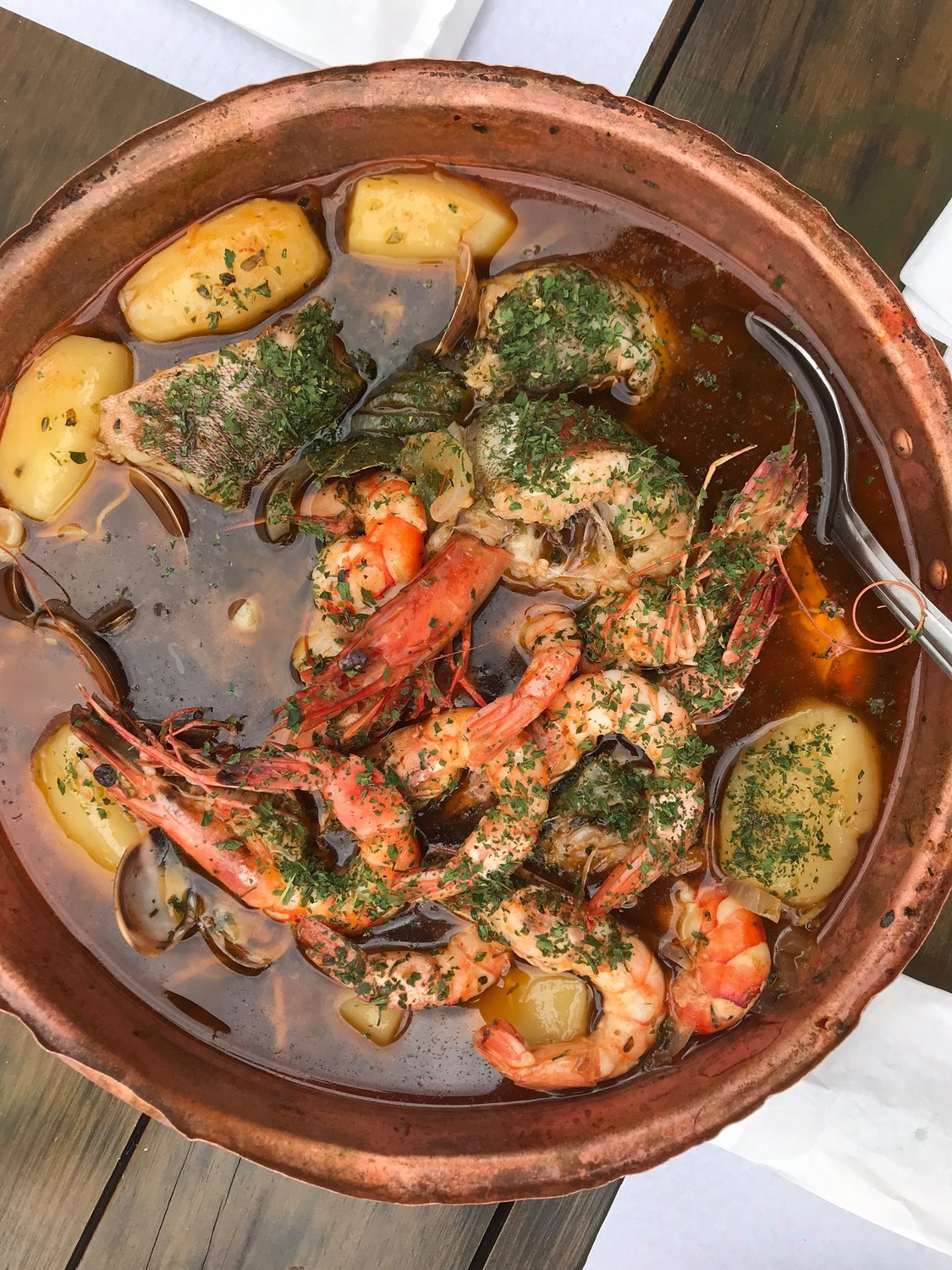 Arroz de Marisco stew of vegetables and sea food. Picture taken by Saulius Grigoravičius
The South coast of Portugal is famous of its yellow cliffs with many caves, rocky sculptures. We also recommend kayaking or sailing with boat. One of the most beautiful places is Benagil Caves, Ponta de Piedade.
Continental South Portugal is also very rich. Serra de Monchique is a village at the mountain separating South Algarve from North Alentejo. Travelling towards that village enjoy mountain roads.
You will also find a water park Aquashow Park at Quarteira city which is suitable for youth with its highest slide of 32 meters high.
Reaching Portugal
To look for flight, we recommend Azair.com platform. When you arrive at Lisbon airport, take the metro to reach the city, it is 7 kilometres from there. If you arrive late at night, you can take taxi or uber to go there costing around 10-15 euros. You can also rent a car for your discoveries, as many car rentals work 24 hours.
It takes about 10-14 days to travel around Portugal so the best option to do so is by car. When you arrive here by plane, just rent a car at the airport and enjoy discovering beautiful Portugal.
To plan your trip around Portugal you can use the map below with attractions to see in Portugal.
Monuments, restaurants and local foods
Clermont-Ferrnad, located in Auvergne a green and peaceful region, is the perfect place if you want to discover France in an unusual way.
Morocco by car. The full itinerary of a car trip in Morocco.
Go through 4 different countries and visit new places, cultures and ways of life in a 12 days road trip accross Europe.