Over the past few years, many travellers discovered the wonder that is travelling around Latvia. Many travellers were pleasantly surprised by Latvia's travel and entertainment infrastructure and nature. It is quite likely that Latvia will remain a popular destination spot. Travellers' reviews of trips to Latvia are positive not only about the Latvian coastline but also about the inland regions. Therefore, when planning a trip to Latvia, it is worthwhile to include some time at the seaside and some time at the continent.
Latvia attracts visitors with its well-developed entertainment infrastructure. Every ten kilometres you can find an attraction spot of some kind. Latvian restaurants offer large portions of food at very reasonable prices. Accommodation is affordable for people of all incomes. There are also many campsites in the wild that are well-equipped, camping sites, modern campsites, seaside hostels, entertainment complexes with spas. On our trip we discovered some real gems of Latvia that we haven't heard being talked about more and that we'll be sure to present in this article.
Latvia's western coastline
Latvia's coastline stretches up to 500 kilometres. A large part of it lies in the western part of Latvia and the Gulf of Riga up to Riga. The western part of the coast is ice-free, which has led to the flourishing of the fishing industry and the industrial ports of Ventspils and Liepaja. During the years of independence, fishing was pretty much abandoned and many fishermen went out of business. Therefore, you won't be able to buy fresh fish like you would in an ordinary French seaside resort. However, in the hot season, a lot is compensated by Latvia's beautiful beaches, which are made of fine sand, are wide and have beautiful dunes where you can sunbathe sheltered from the wind. There is a good range of entertainment, accommodation and dining facilities all along the Latvian coastline.
Here is a map of all the places discussed in the article:
Vacation in Jūrmala
The city is famous for its ionised sea air and the pine scent with phytoncides. It is also known for its quartz beach sand, its mineral waters (with hydrogen carbonate, bromine and sodium chloride), its therapeutic peaty mud and its mud with sapropel, which improves mental and physical well-being. Due to its natural conditions and location, as well as its natural and therapeutic resources, Jūrmala offers the advantages of two spas at once - balneological and maritime climate.
Jūrmala's spa hotels, rehabilitation facilities and sanatoriums offer rehabilitation and spa treatments, tension-relief programmes, and programmes to improve working capacity. Thanks to the combined courses, optimal results can be expected very quickly. The spa facilities offer a wide range of therapeutic, recreational and rehabilitation treatments (physiotherapy, water aerobics, various massages, air and climate therapy, sea bathing (thalassotherapy), salt rooms, horse riding therapy) and other therapeutic treatments that use only natural resources. These therapies are more than 150 years old!
A stay in Jurmala will have a positive effect not only on your body, but also on your spirit: this can be achieved by a change of routine, plenty of time in the sun, a break from the hustle of the big cities, a good night's sleep, exercise, a long walk on the beach, and good quality food.
The beaches of Jūrmala
Jūrmala's 33km long beach is one of the most beautiful in Europe, with white quartz sand washed up by coastal currents. The beach is the perfect place to relax and regain your strength: the crashing of the waves and the ionised, phytoncide-rich air will have a positive effect on your respiratory system. Walking barefoot on the soft and warm seaside sand during the warm season massages your feet, strengthens your body and relaxes you.
Majuroori and Jaunķemeri have a blue flag - the beach is safe, with adequate infrastructure and good water quality (sampling is carried out once a week). The water in the Gulf of Riga is less salty, so you don't need to shower after swimming in the sea. The beach is divided into active and quieter areas, so that all guests can enjoy the relaxation they want without exception.
Jūrmala's beautiful beach has a separate nudist area. The beach is equipped with changing rooms and benches. For those who want to stay active, there is water sports equipment for rent, free volleyball or football on the sports courts and several playgrounds for children. In summer, there are even several cafés on the beach. Lifeguards are on hand to ensure the guests' safety. There are toilets on the dunes and on the beach, and the beach is accessible via several paths for children or wheelchairs.
Winters in Jūrmala are mild, with an average temperature of around +1°C; summers are warm but not too hot, with an average temperature of around +21°C. Pine trees are very abundant both along the beaches and in the urban areas (they cover 50% of Jūrmala's territory); the trees purify the air and increase its therapeutic properties.
Jūrmala's climate is both soothing and tonic, so even on a hot day, swimming and sunbathing won't exhaust you. The following climate therapies are used in Jurmala: sunbathing, bathing in the sea, sand baths (psamotherapy) and air therapy.
Solar baths (natural light therapy)
Sunbathing properly and according to doctors' recommendations is beneficial. The sun promotes vitamin D synthesis and strengthens the body. Cover your head with a light scarf or a beach hat; sunbathing is recommended before 10 am when the air is cooler and fresher or in the afternoon when the sun's intensity is reduced and the heat does not put extra strain on the cardiovascular system. Increase the duration of sunbathing gradually. After sunbathing, it is recommended to take a 10 to 20 minute rest in the shade, take a bath or shower.
Vacation in Papė
On the internet, you can often find claims that offer a peaceful holiday in this resort. On hot weekends, it is doubtful whether you will find this. The campsites and the beaches can be crowded. Although obviously much less than in Liepaja, Ventspils or Palanga. The resorts have a rather poorly developed entertainment infrastructure, few cafes, and the prices of fish are cosmic. Before going to Pape, you should go shopping, because you won't find a shop there. For a more peaceful holiday, turn right before the canal, but there the homestays are usually only for long stays.
In Papė, the beaches are wide, fine sandy, and the dunes are quite short. Most campsites and accommodation are a hundred to a couple of hundred metres away.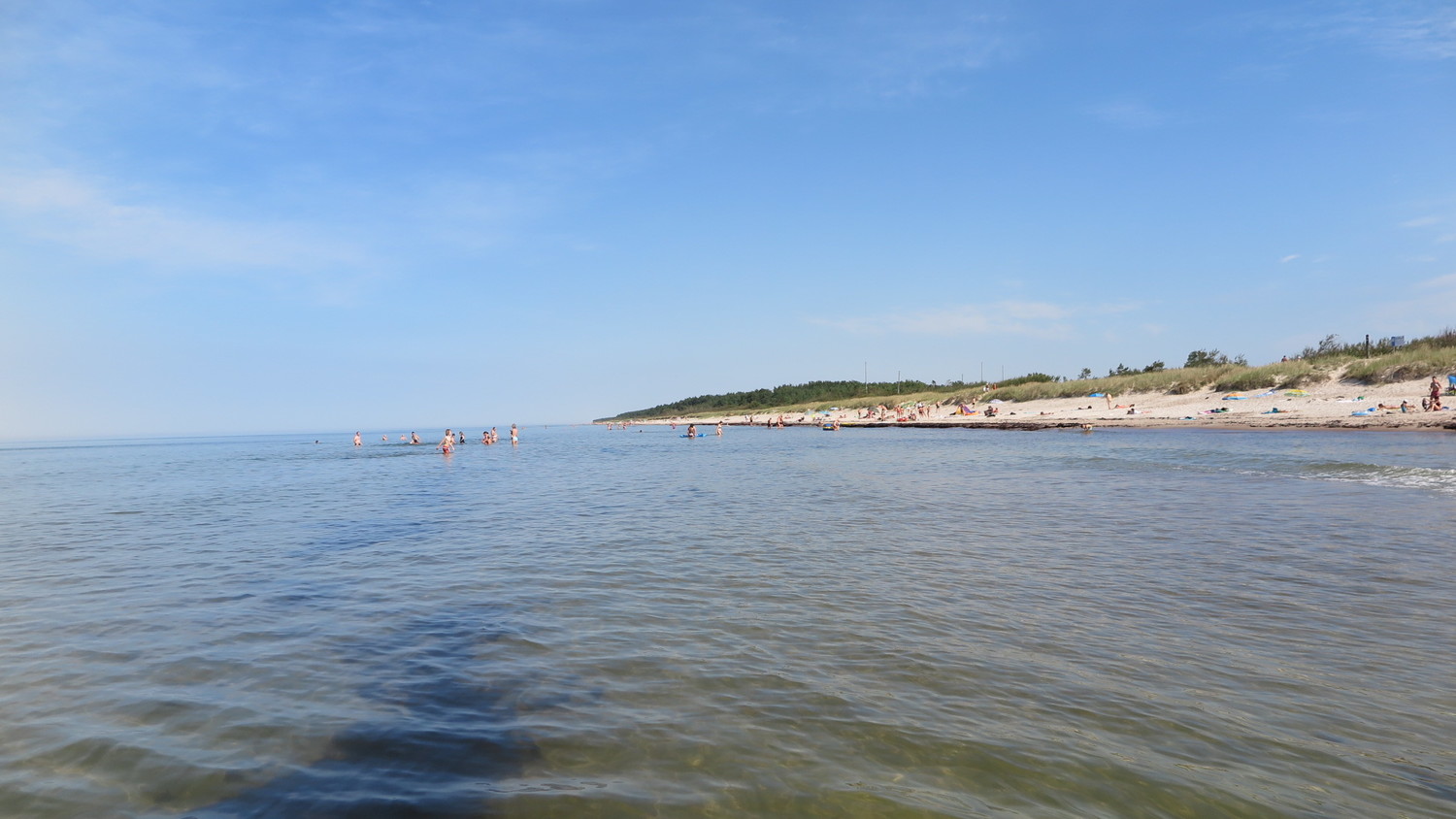 On the other side of Lake Papė, you can visit the Saavala pastures. Access is signposted, with a parking area with toilet and ranger's cabin. The entrance fee is quite symbolic. The meadows are grazed by semi-fat horses and cattle. They are kept here to keep the meadows free of scrub and tall grass. It is possible to get within 25 metres of the horses. A little further on, the shore of Lake Papė is reached.
There is a possible hiking/cycling tour of about 20 kilometres around Lake Pape. But only after rain. Part of the route is on a gravel road and on a hot summer day you will be covered in a layer of dust.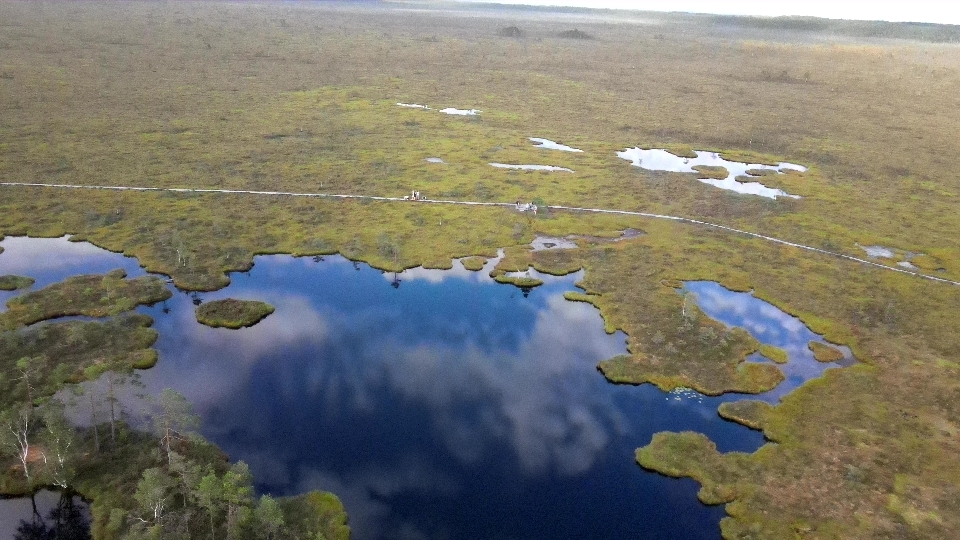 Vacation in Liepaja
Liepaja is a relatively short drive from Ventspils. The city is in three parts, the southern, with the old town, the centre, with industrial port areas and the northern area, with the Karosta military fortress. The city is rather stretched due to the predominance of low-rise buildings. It is worth starting your exploration of Liepaja from the Karosta Fortress. Visit the Karosta Military Prison (Gaupvachta), which has been turned into a war museum by a group of enthusiasts. For a long time, the fortress was a citadel of the fascist army and many military artefacts have been found in the surrounding fields. They are displayed in several rooms. The cells of the gulag and the sanitary facilities can also be visited. The tour is led by a guide. Lunch is available, and everyone was impressed by the shiupinine (solianka).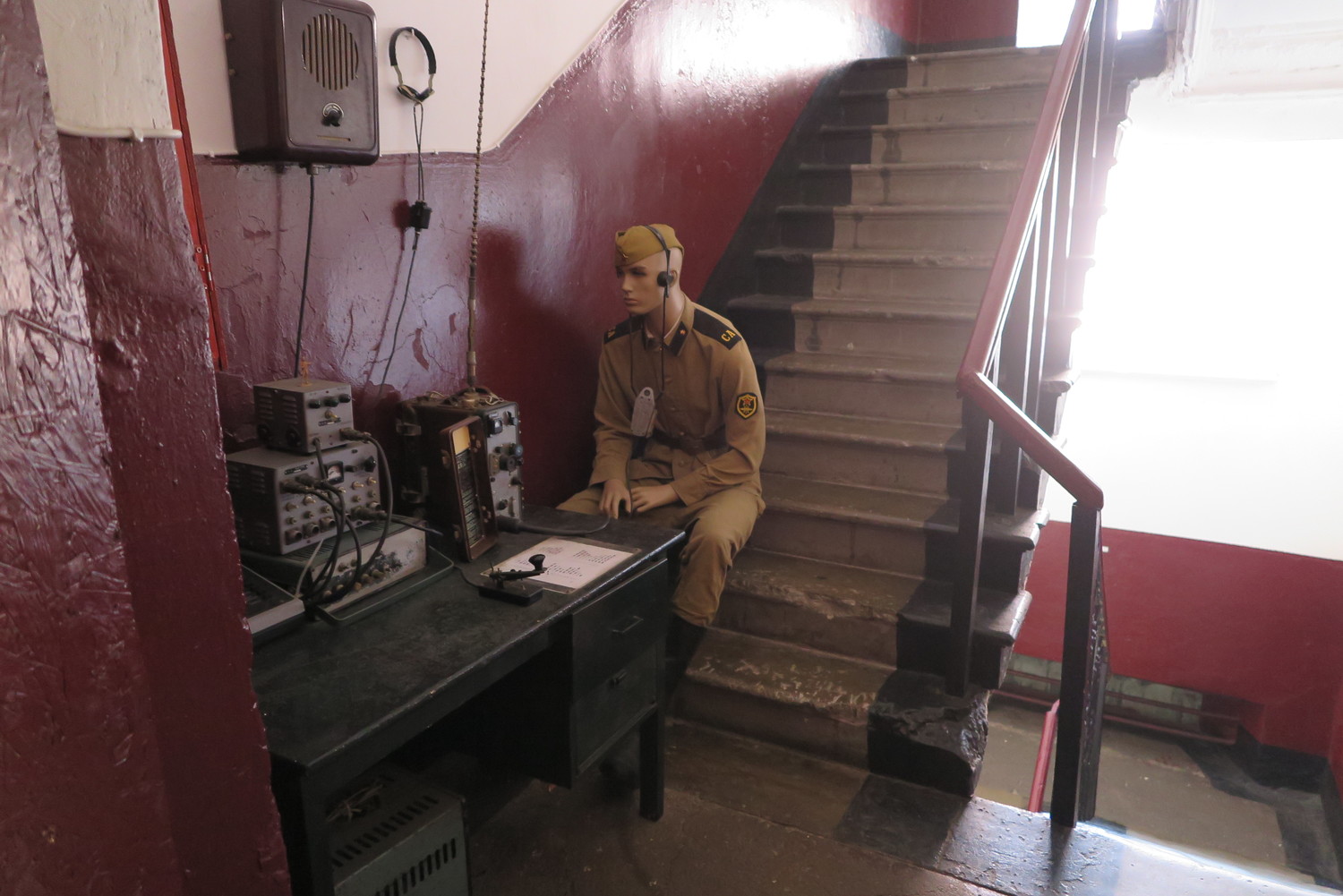 Liepaja's centre is in the southern part of the city, and there is a large free car park next to the theatre. From here you can walk to the beach along Kurmajas Avenue to explore the city. The beaches are wide, stretch for kilometres and are sandy.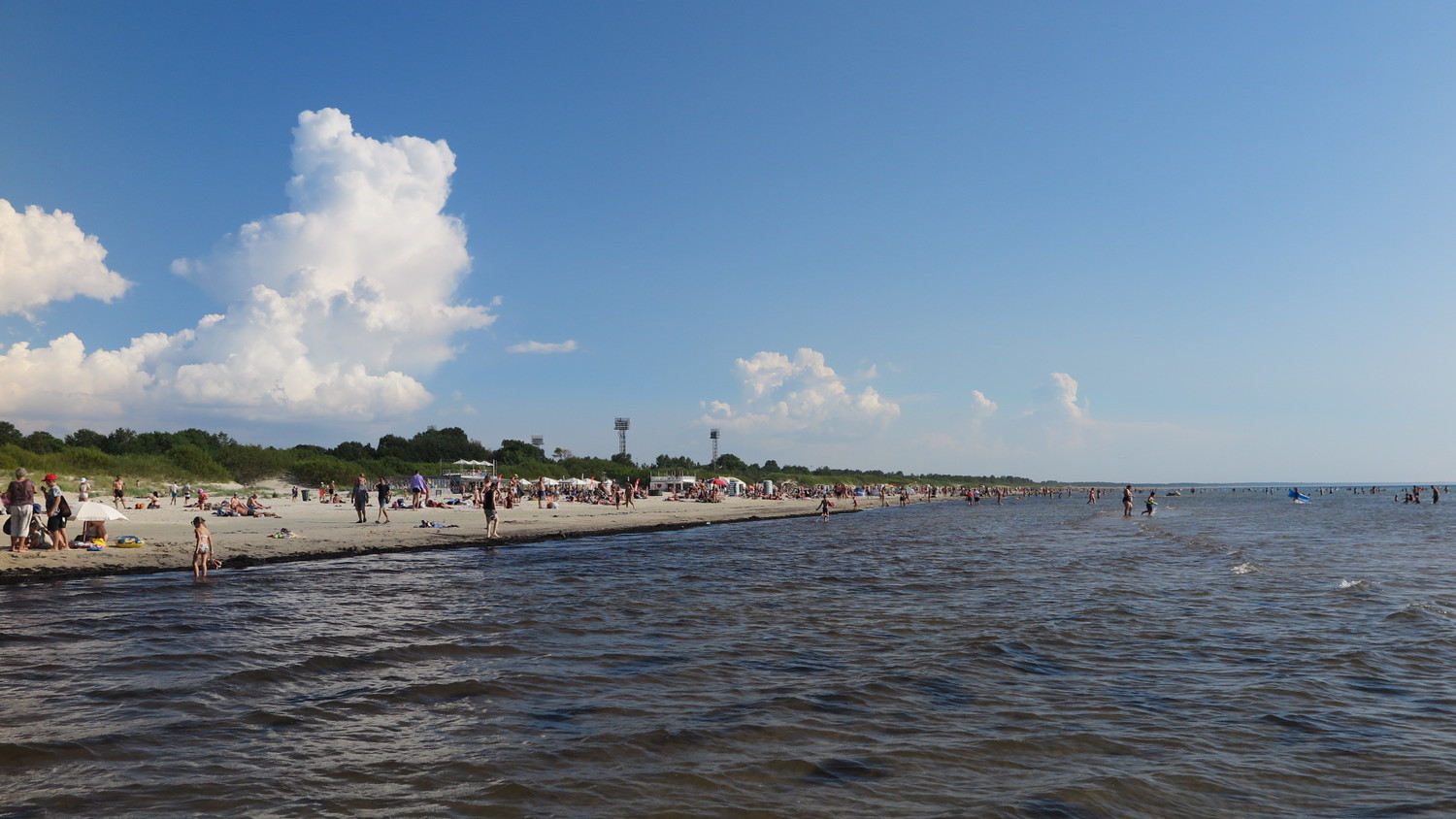 Liepaja is full of greenery and parks. You can also see the remains of forts near the Karosta coast. For those who prefer a busier night life, stay in Liepaja. For a more relaxed holiday, head further afield to Pavilosta.
Holidays in Pavilosta
Pavilosta is a slightly larger fishing village. Like most fishing villages, it is in decline. Fish is hard to come by in summer. Although in most Mediterranean or Atlantic fishing villages fish and shellfish are one of the attractions. Small-scale artisanal fishing is an important part of the travel economy here. I had a chance to talk to Yuri, a local fishing activist. He said that the government did not give quotas to small fishermen. One year, 300 fishermen were given quotas of 15 tonnes of fish. The main quotas went to the big boats, obviously not for free. As Juri cynically quipped to the authorities, he said that they would soon have to fish themselves. When the small-scale fishermen were crushed, no one was found responsible and some of them remained in power. There are parallels to this situation in Lithuania, with the attacks on the the Curonian Lagoon fishermen. Without them, the smoke shops of the Baltic Sea would lose their attractiveness and we would probably have prices as astronomical as in Latvia. For some travellers, the attractiveness of the seaside would also diminish.
Pavilosta itself is quite an attractive village. The houses in this town have been bought out by the Rigaers and are being renovated in a fairly good architectural style. If more fish were to be found, you couldn't tell it apart from a provincial French or British Atlantic coast fishing village.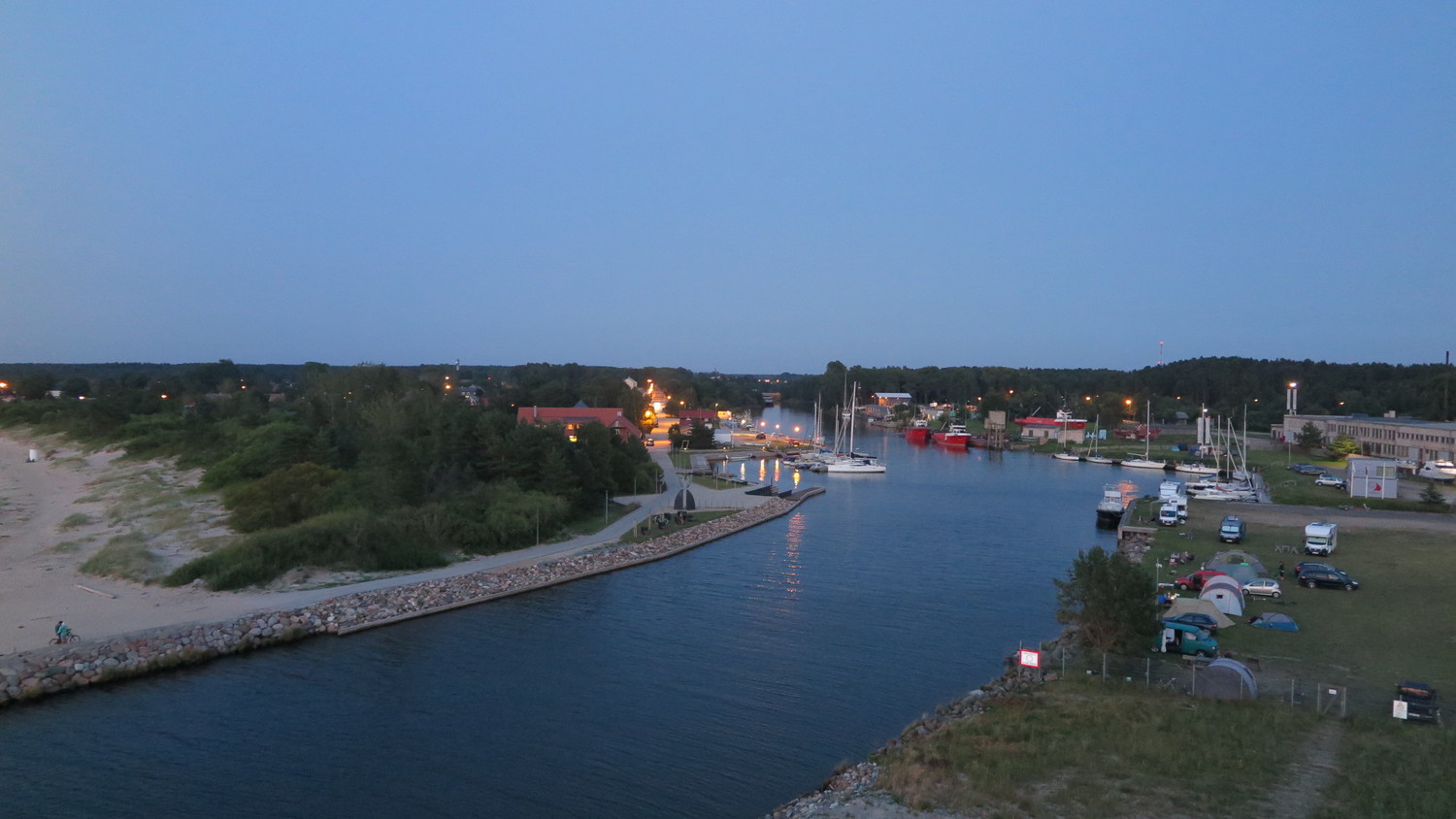 The city is divided in two by the River Durbe. It is deep and suitable for fishing. Although there has been no serious spring sturgeon fishing here for a long time. Fishermen earn their living by fishing for lampreys in autumn. When the rains start to fall and the wind is right, the lampreys start to spawn in schools. It's a fun opportunity to get to know this very tasty fish.
The quiet part is in the west. There is even a nudist beach. Zvejnekseta campsite with houses is very good. The sea is just a stone's throw away, and in the evening it's fun to walk along the pier. Fishing from the pier is only on the seaward side, although unofficially.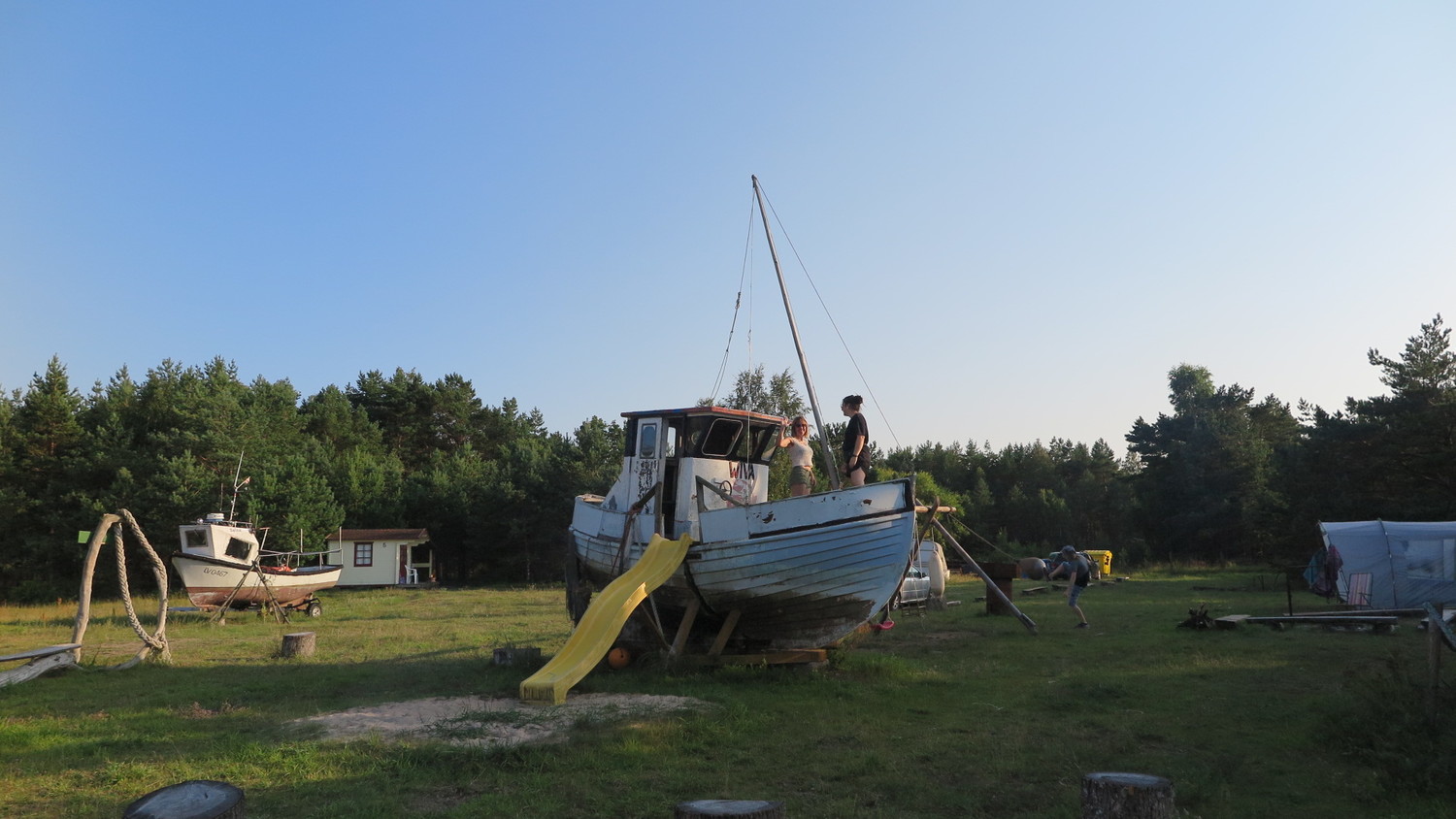 Jurkalnė encarpment
Jurkalnė is famous for its steep sandy cliff. It is impressive and worth a visit. A short walk through a picturesque pine forest awaits. You can take a longer walk, it's a beautiful place with a nice beach. There are several campsites and a café nearby.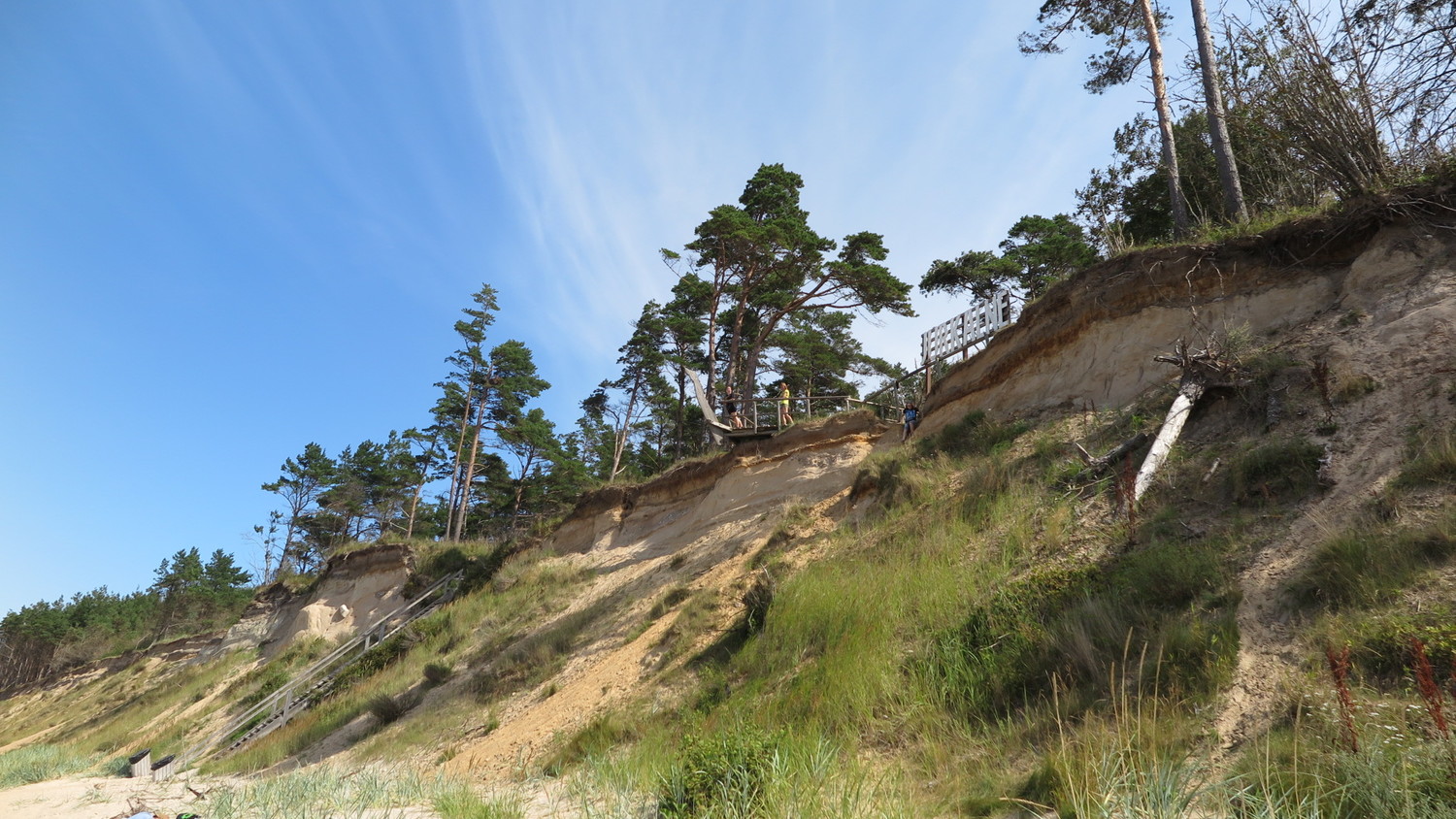 Užavas beer is served in the best restaurants. Fresh draught beer and souvenirs can be bought here.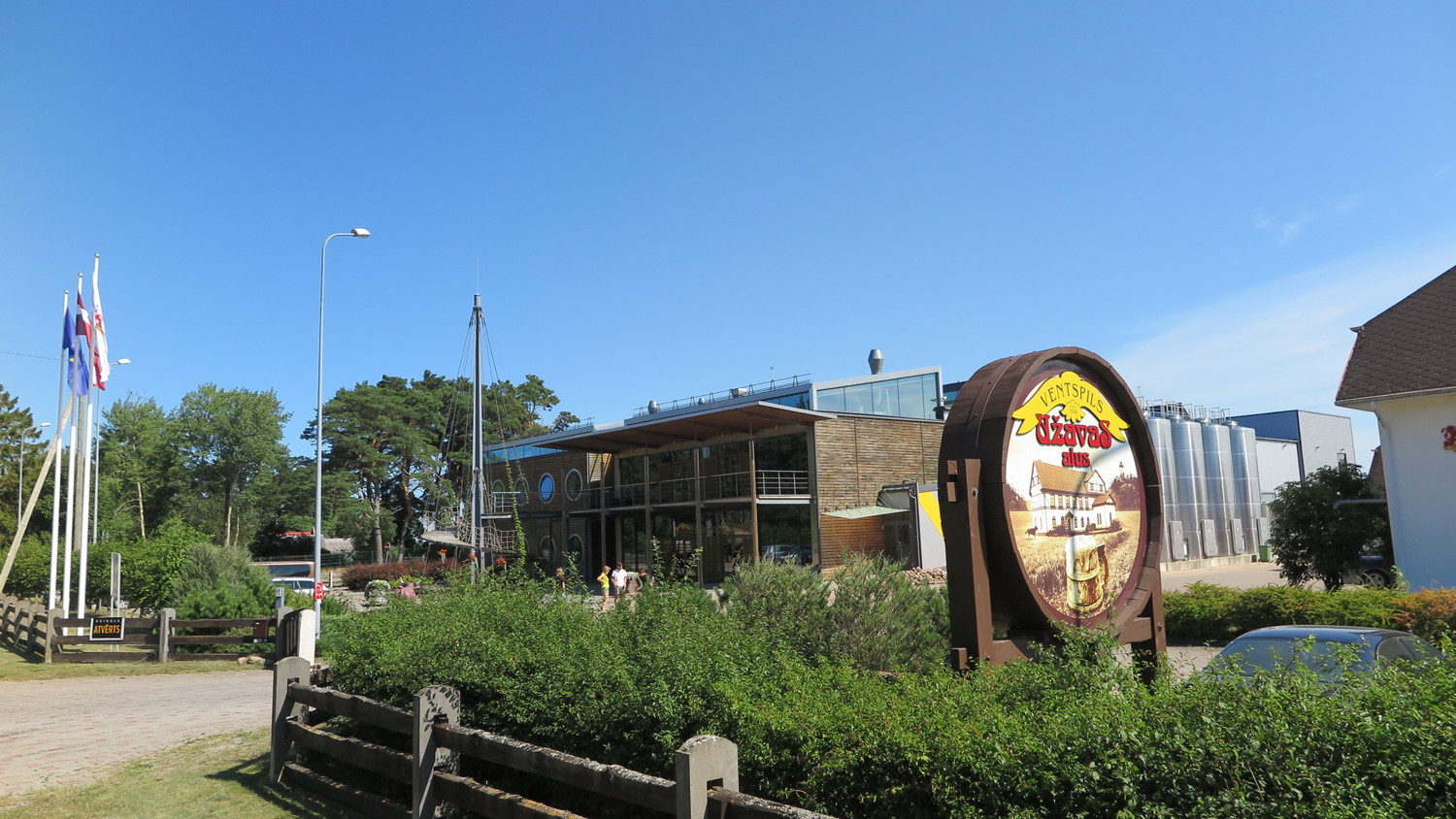 One kilometre from the Užavas brewery, at the white brick house, there is a turn by the Užavas bakas - lighthouse. A wild recreation area of incredible beauty is nearby. Even with such comfortable chairs.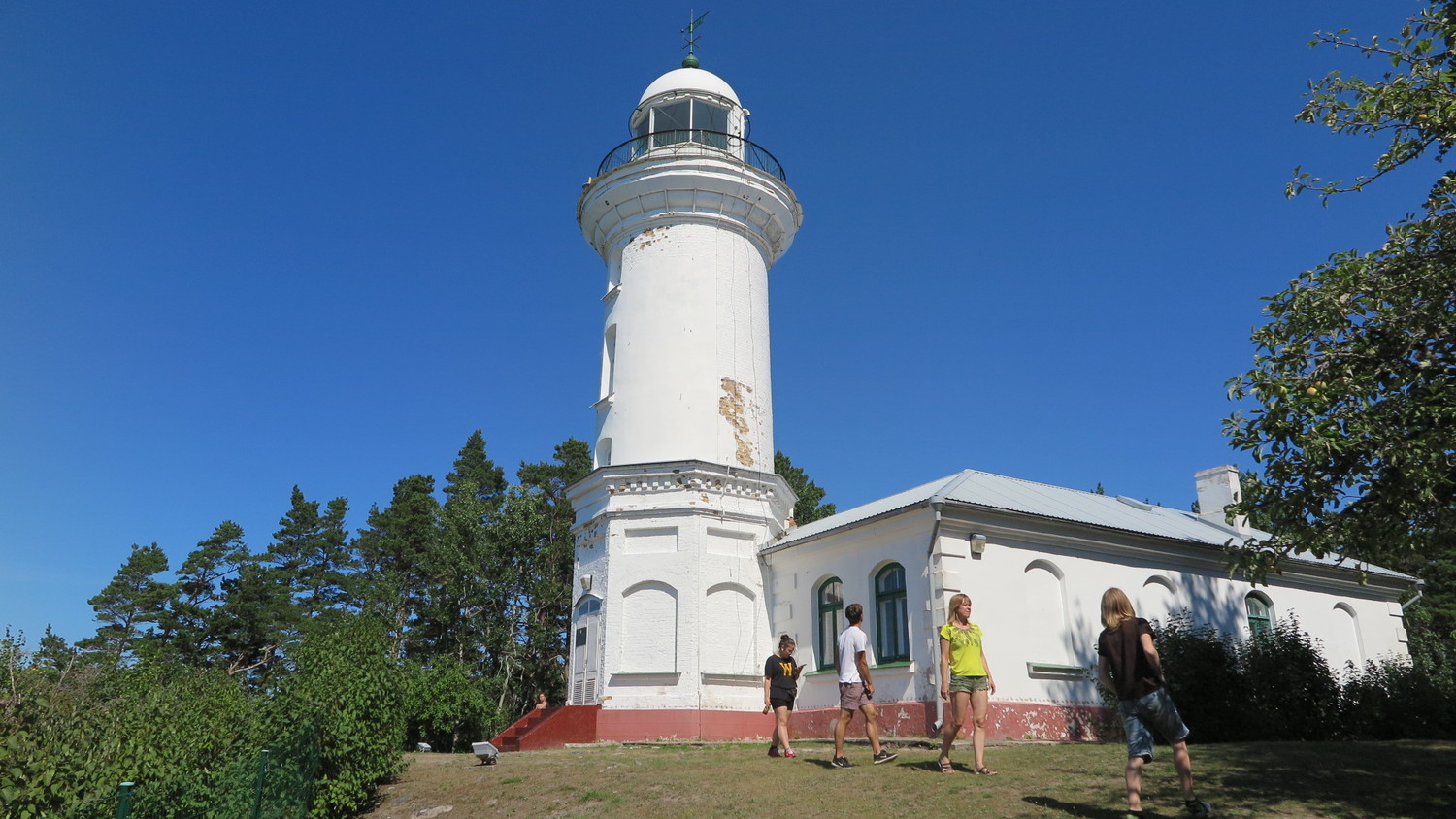 Places to visit in Ventspils
Ventspils is another of Latvia's ice-free ports. It is smaller than Liepaja, but seems to be a larger industrial port. The Old Town is cosy but not as spectacular as in Liepaja. The local market is open until 3pm, where you can buy fish. We were late, so I can't share my impressions with you, or tell you whether there are really good fresh fish there. In Ventspils we went to Ostas burger. Apart from burgers, there are also other very tasty dishes there. The prices are also quite attractive. The five of us had soup and a second dish, which cost us 75 euros.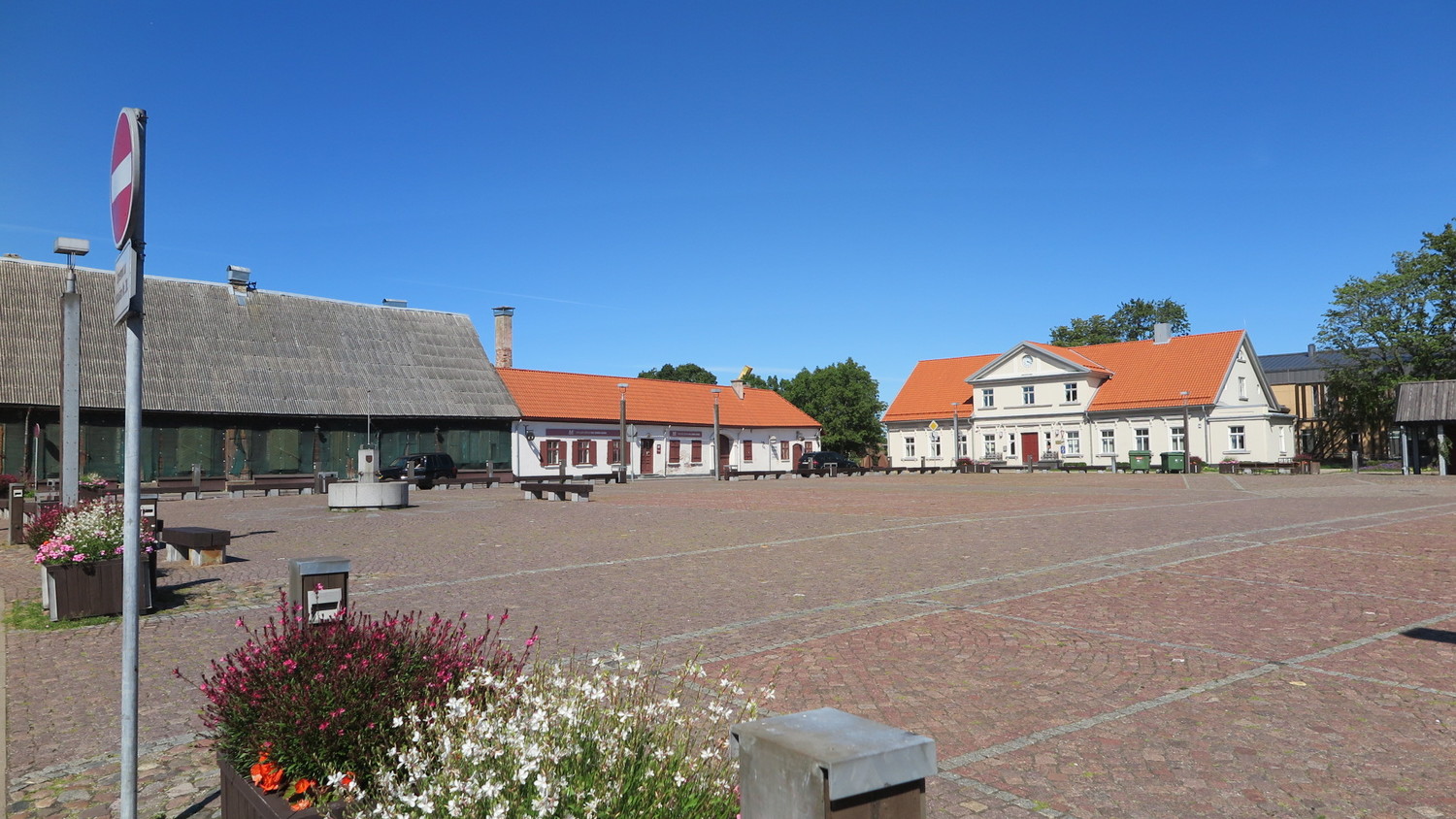 We didn't stay long in Ventspils. The Livonian Castle was closed that day, and we are no longer of the age to be attracted to Ventspils theme parks.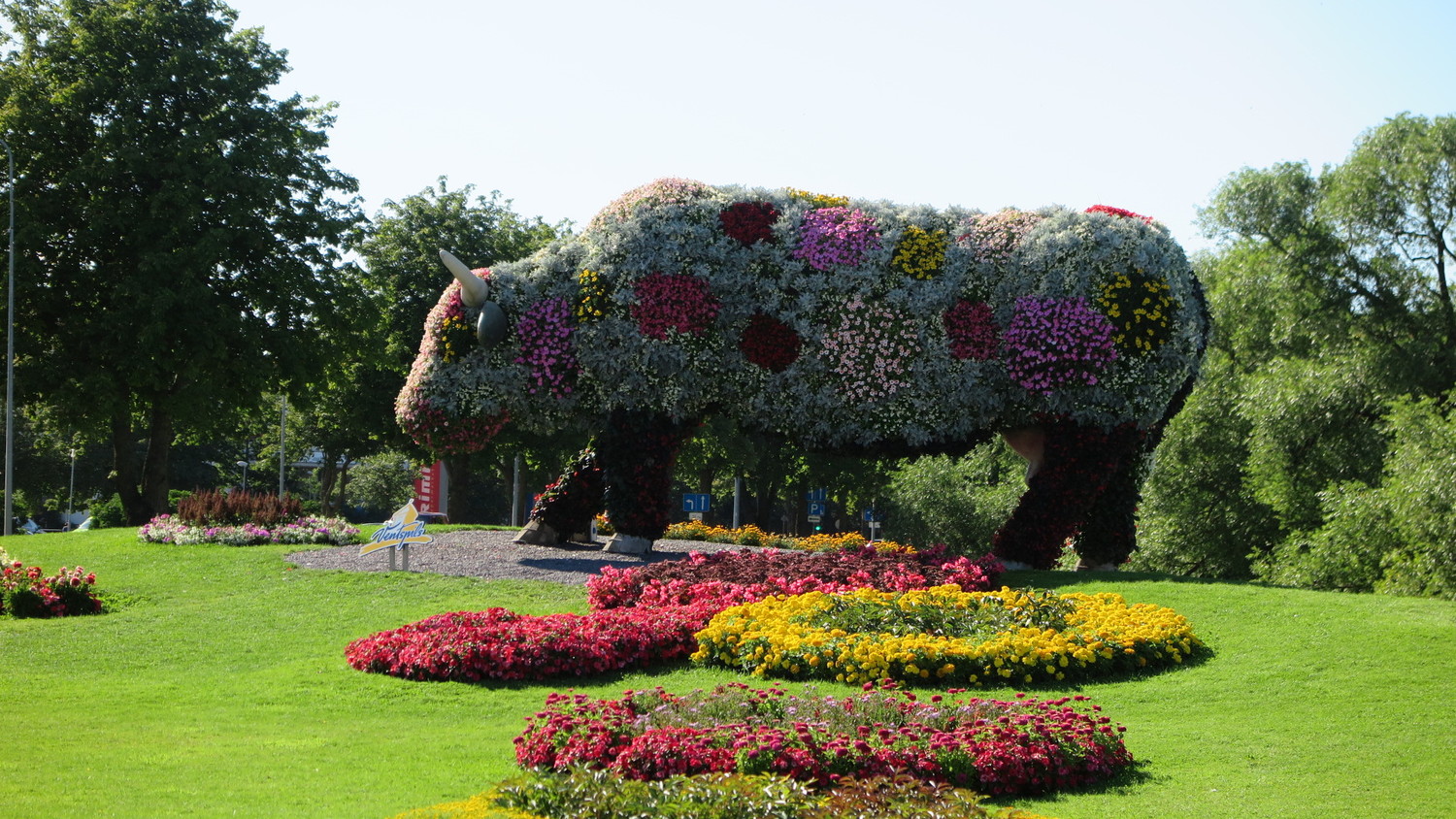 Lighthouse of Šliteres Baka
On the Latvian seaside, there are quite impressive views from high up. If you don't have a drone, a visit to the lighthouses can help. The Šliteres lighthouse is in a very interesting location. It is unusually far away from the sea shore. You can see the sea five kilometres away. The lighthouse is built on the paleoshore of the long Litorina Sea, which ensures a view that spans a long distance. The lighthouse is open until 6pm, but we make it in time, so we enjoyed the view with the help of a drone.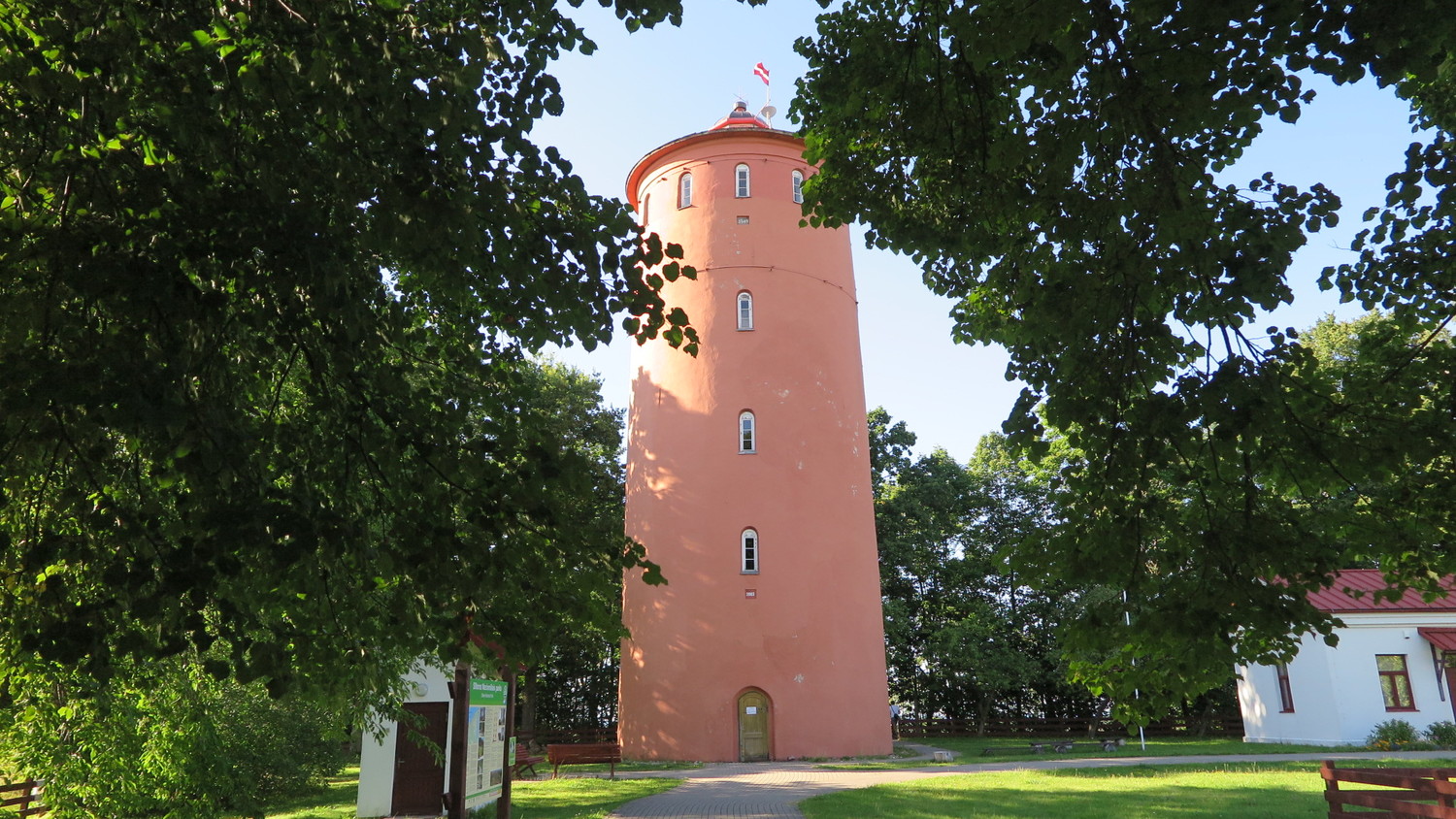 Cape Kolka
Cape Kolka itself did not make much of an impression after the many beaches visited. Drone flying is not allowed here due to military zone restrictions. The collision of the waves of the Baltic Sea and the Gulf of Riga is a bit more interesting.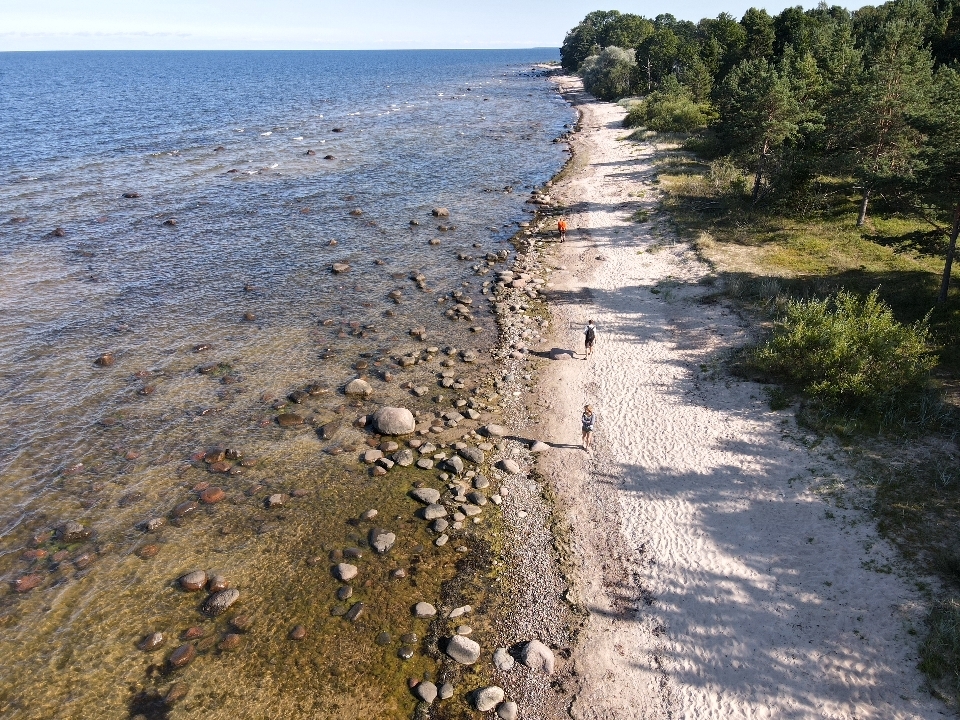 This is one of the most spectacular places to stay overnight on the seafront. A glass wall faces the sea. The price is quite reasonable at 55 euros for two per barrel.
There is a paid parking lot right next to the cape and a café open until 8pm. You can leave your car for free in the car park one kilometre away and walk to the cape. Access to the other side is via the Cape Kolka footpath. Smoked fish can be bought in the town of Kolka, there is a shop and prices are close to cosmic. Smoked halibut cost 20 euros, but was perfect.
Without passing Cape Kolka, we found a real Latvian gem. This is Saunagas, a complex of homesteads surrounded by forests. It is mentioned as far back as the 14th century. There are not many people here, just a dozen or so farmhouses, mostly holidaymakers. We walked several kilometres on the beach in the morning and did not meet a single person. In the evening, a small number of holidaymakers gather on the dunes to see the sun off.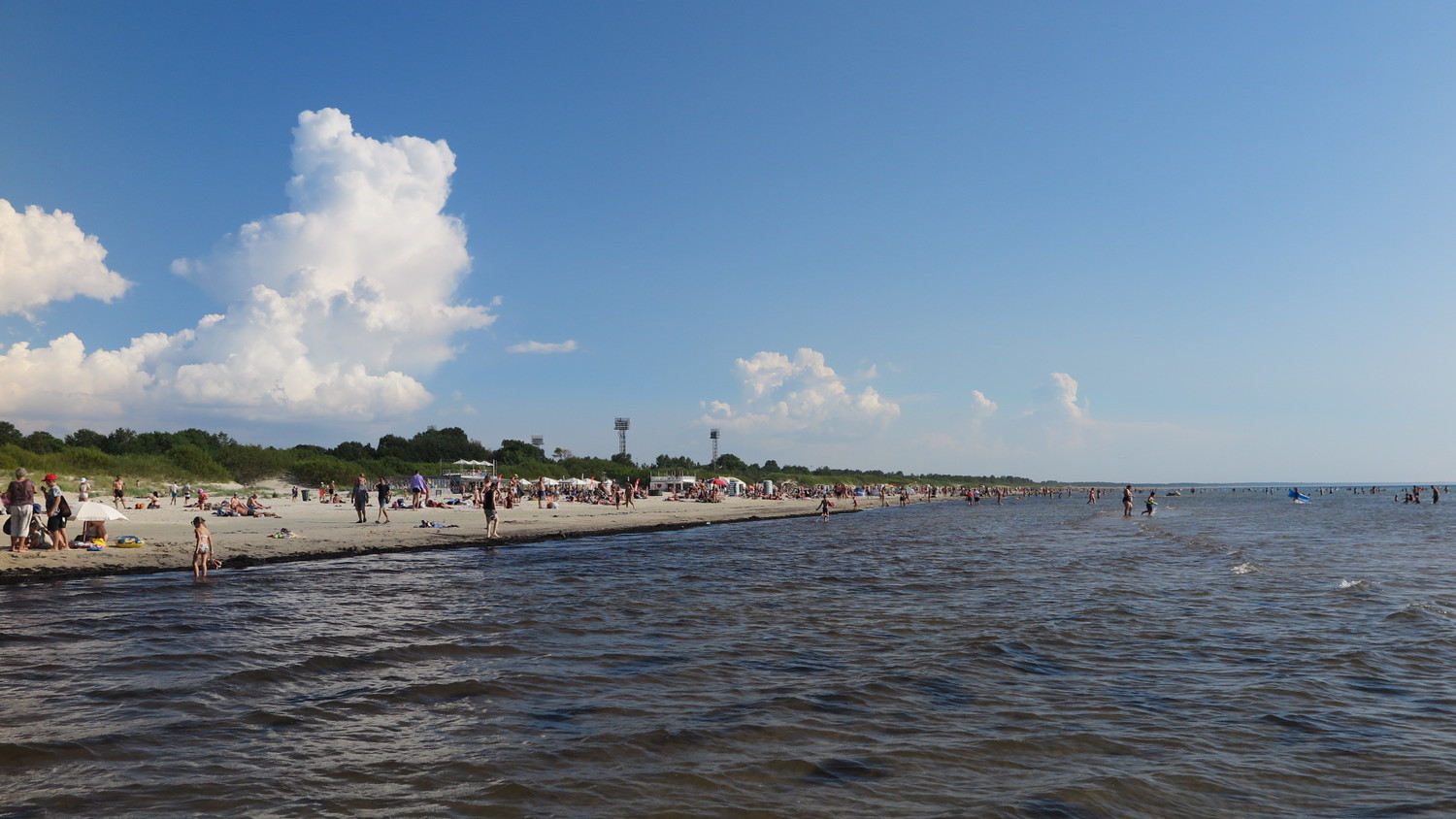 Along the sea is a fantastic pine forest with a bed of white moss. Just as we hit the mushroom season, there are lots of brown mushrooms, macaques and gooseberries. Very interesting dune waves protecting from the sea wind. Holidaymakers are so relaxed that they leave their towels behind and make small resting places.
Nitaiga houses. The owner, Dimans, built and furnished them himself. Separate rooms, two-storey house, large living room, shower, kitchen. Outside terrace, barbecue. Landscaped path to the sea and forest around the path.
Gulf of Riga Coast
From Cape Kolka, you can follow the coast of the Gulf of Riga. The most interesting object in Purvciems is Balta kapa - White Dune. This is one of the oldest dunes, part of which was cut by the river flowing below. A short nature trail leads initially along the top of the dune, then a wooden trail is laid out along the shore of the river flowing below. The cliff is about 20 metres high.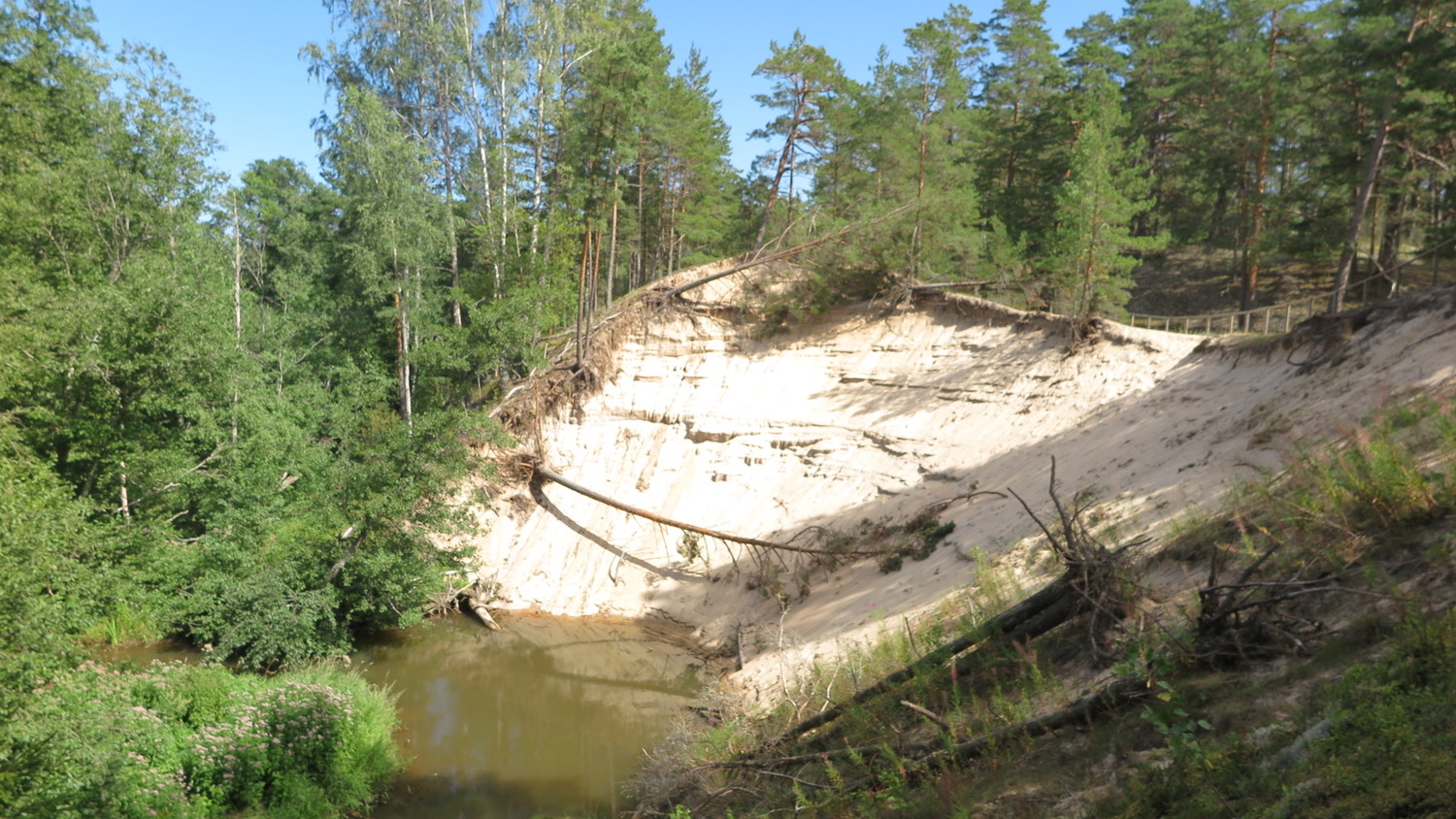 Lunch at the Yacht Club in Rua is worthwhile. The food is delicious and the fish is finally fresh. Very tasty herring, boned and fried in egg. Also very tasty fresh fried plaice.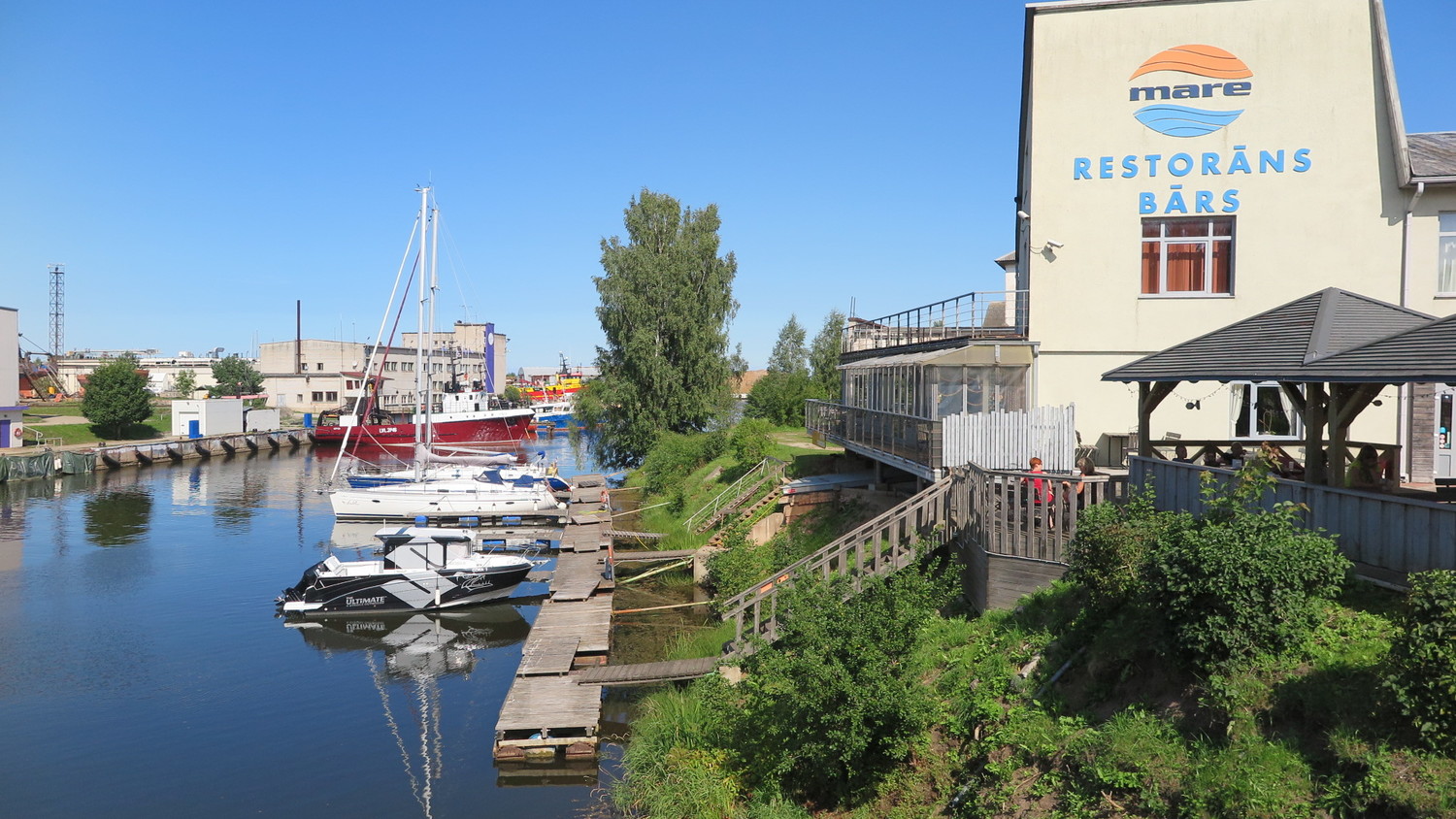 A slightly different coastline starts from Kaltenes. There will also be a stop here. The coastline is full of small and large boulders. There will also be plenty of them near our campsite in Melnsrags, at the Sun campsite. It is much more interesting to see them here because they are all obsessed with birds. Mostly cormorants.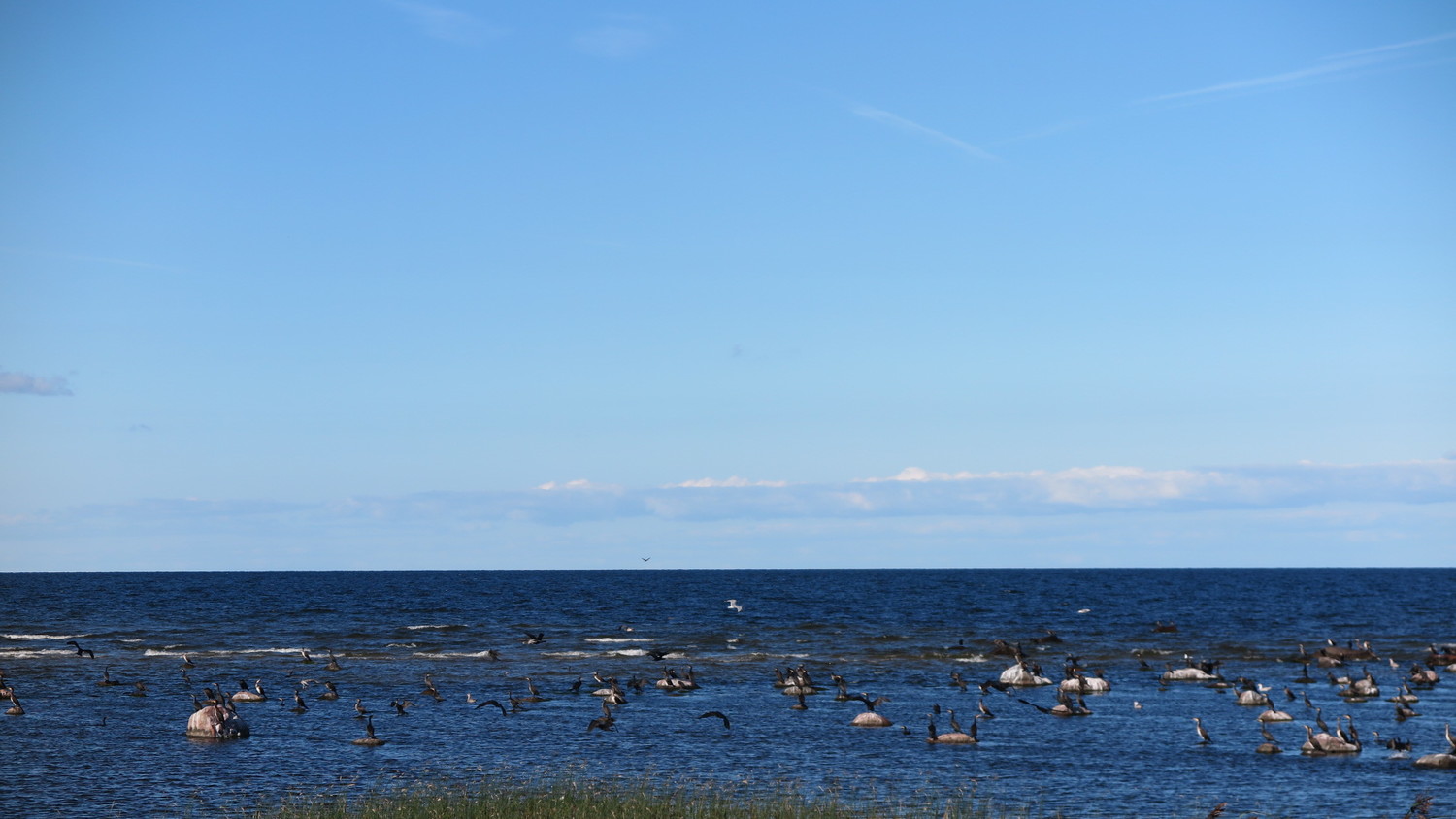 It's more fun to spend the night at the campsite next to Melnsrags Lighthouse. Although the prices there are quite high.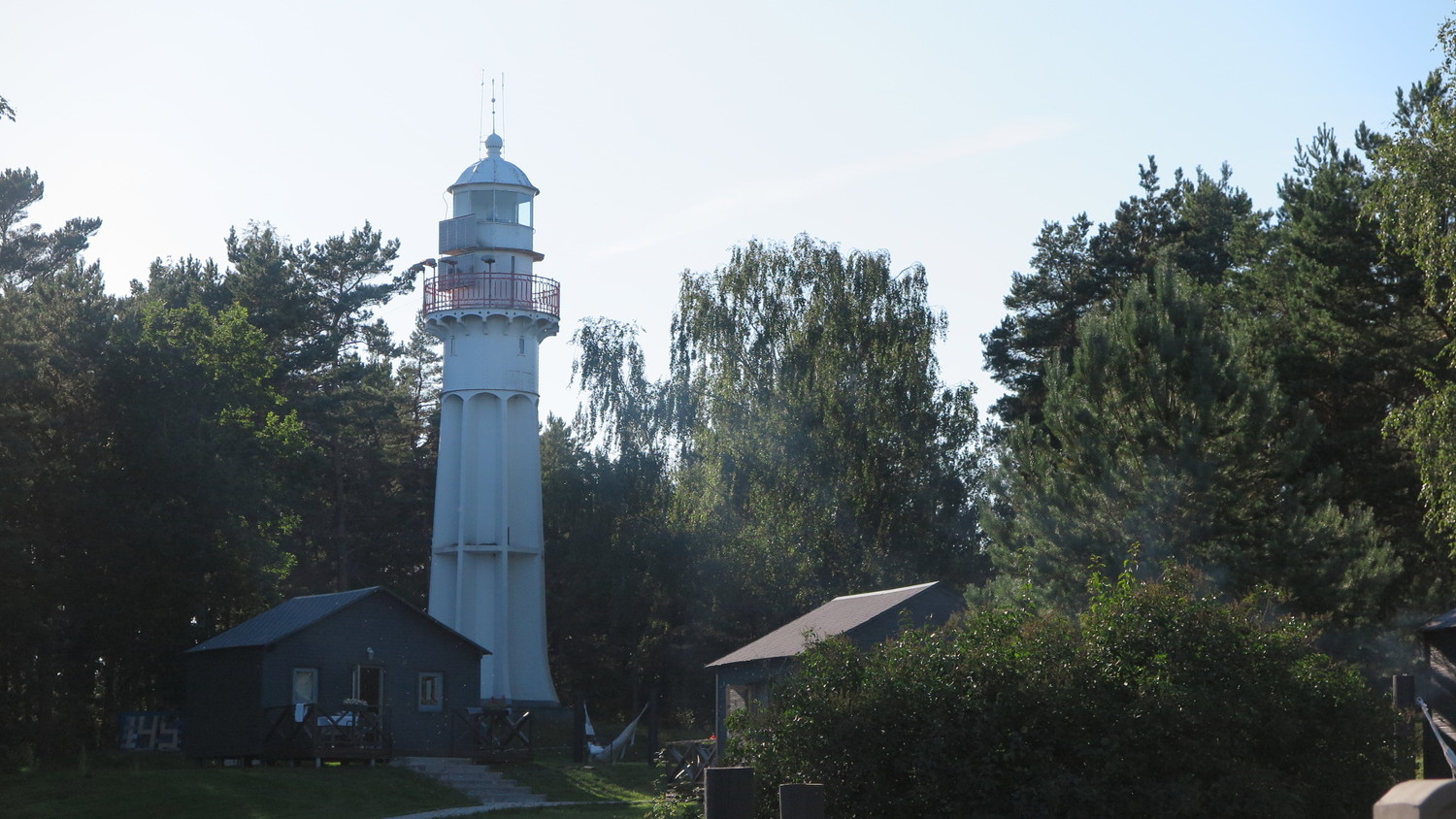 There are quite a lot of interesting hotels by the sea in this area from Rua - Kaltene - Valgalciems - Upersgriva. There are lots of campsites and hotels right by the sea.
Getting to Kuldīga
On the way to Kuldīga, you can visit several beautiful towns in Latvia. From Melnsrags we drive along a gravel road towards Nurmuiža Castle. This is a real discovery in Latvia. A wealthy banker has restored the ruins of Nurmuiža Manor Castle into a magnificent manor house. Now there is a restaurant, a hotel and a beautiful flower garden. The orangery ripens with warm dessert grapes, and the place is called Italy. France is an outdoor vineyard where even Pinot Noir grapes are grown. The restaurant is considered one of the best in Latvia and you can even taste oysters here. Open several days a week.
If you drive a bit more, there is a lily garden and a shop selling homemade wine and distillates.
Another discovery is the town of Talsi. We had set our sights on the Talsi cheese factory, with its famous Talsi rolls, round cheeses in various flavours. However, the first glimpse of the town changed our plans and we took the time to explore the town. The cheese factory, the church on the hill, the town at the foot of the lake. It would seem that you have entered a somewhat deserted German town.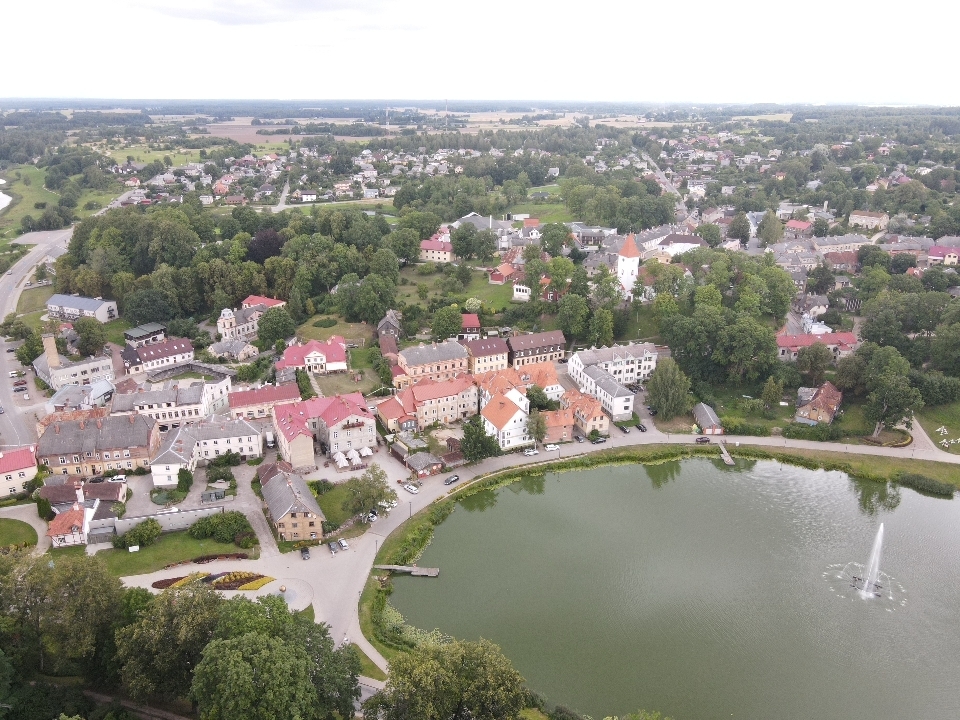 A visit to the cheese factory in Talsi is a must. There is a wide range of fresh cheeses, from slightly matured cheeses to 6-month-old hard cheeses. Prices are very reasonable and you may have to queue up from the locals. And if the locals are standing, the product is good, if the pensioners are standing, the prices are very good. We also picked up a variety of baked goods, it's been a long time since we've tasted such quality produce.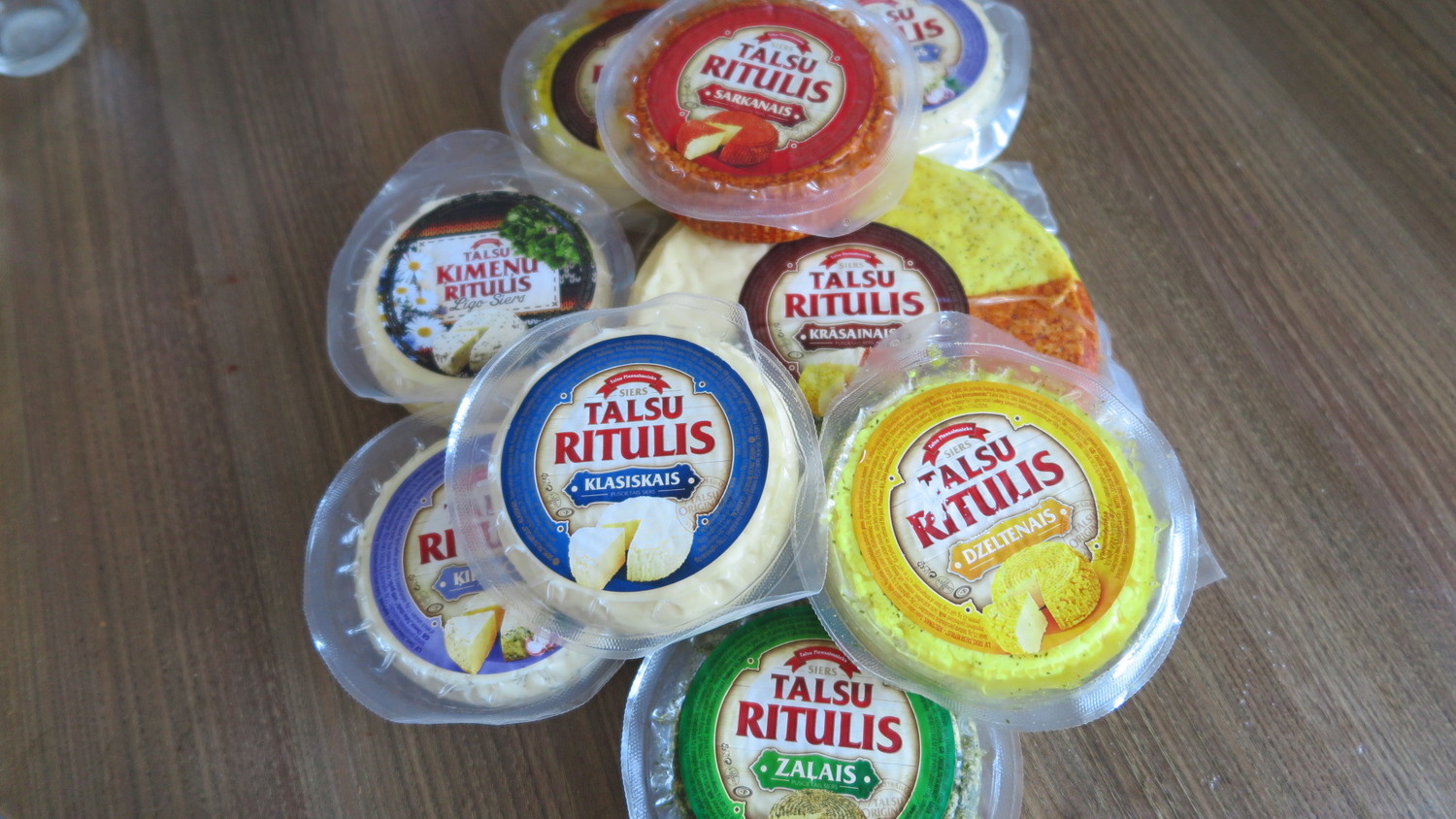 We reach the Abava valley at the town of Sabile. We want to taste Sabile ciders, but they are closed from Monday to Wednesday. The Abavas distillery tasting room and their vineyard are just next door. But we don't go, we've already been to the distillery itself. This is the place where they have tasting evenings with food and their alcohol. You just have to book in advance.
Nature trails in Latvia
Latvia's nature trails deserve a special mention. There are plenty of them throughout the trip and many of them are worth a visit. Most of the trails are not integrated into the overall travel infrastructure. More circular routes, longer walking and cycling trails. Practically all of the trails have parking lots, well-maintained toilets with refillable paper. It seems ridiculous that only when you travel you start to appreciate such advantages.
A typical sightseeing trail at the Abavas waterfalls. They are a short drive from the town of Sabile. Protected parking, toilet, caretaker's hut. The entrance fee is symbolic, but it's not a pity to pay it when you see how well the environment is maintained. We walk a bit to the waterfalls, pick up a bag of lovely squirrels, a few porcini mushrooms. The waterfalls are not spectacular, but the combination of all the surroundings is attractive. There are plenty of camping areas near the falls, canoes are available for hire, toilets are of course maintained, barbecues and other recreational equipment can be rented.
Then there are the rather uninteresting Abava cliffs.
Town of Kuldīga
Kuldīga has an interesting old town. Although it is called the Venice of Latvia, there is very little of it. The Alekšupe River flows past the houses.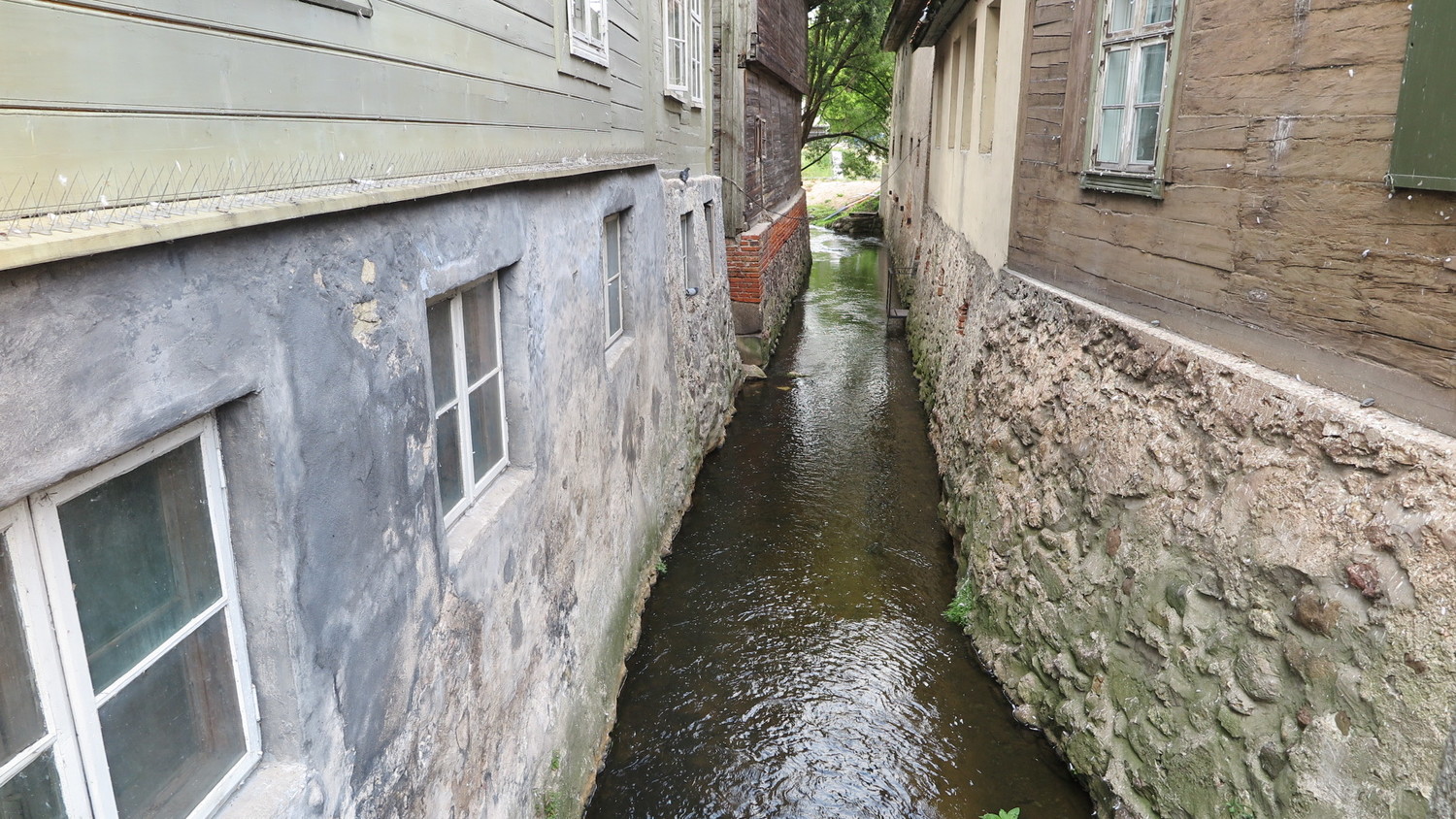 But then again, it is the whole of the town that makes the impression. On the hill there is a typical town square with outdoor cafes. A central pedestrian street with lots of shops and places to eat. Even wine and local food boutiques typical of Europe.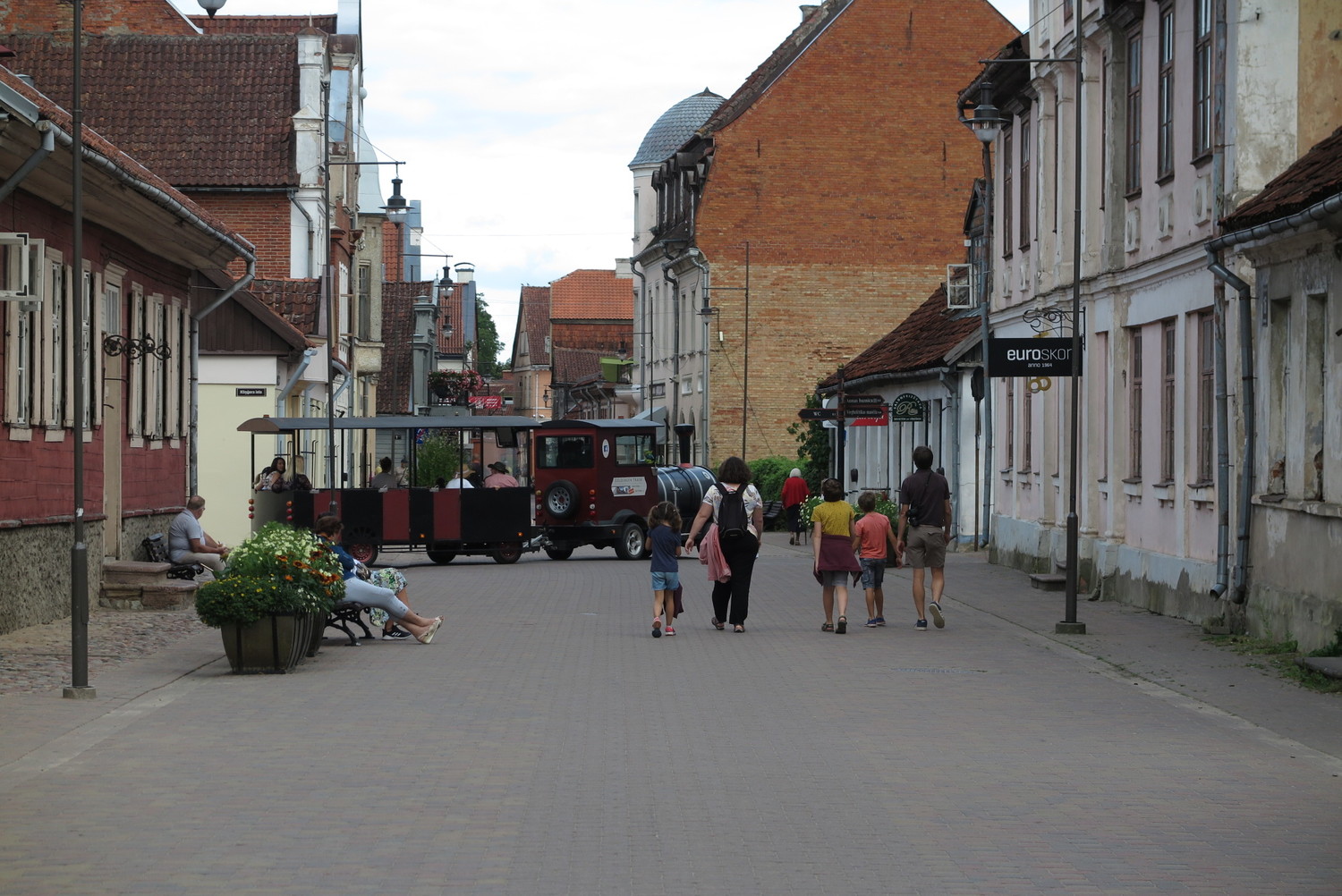 It's completely different from the old towns of nearby Liepaja or Ventspils. A restaurant on a stream, a restaurant overlooking the Venta Falls right next to the arch bridge. It's true that there are many tourists and you won't always be able to find a seat.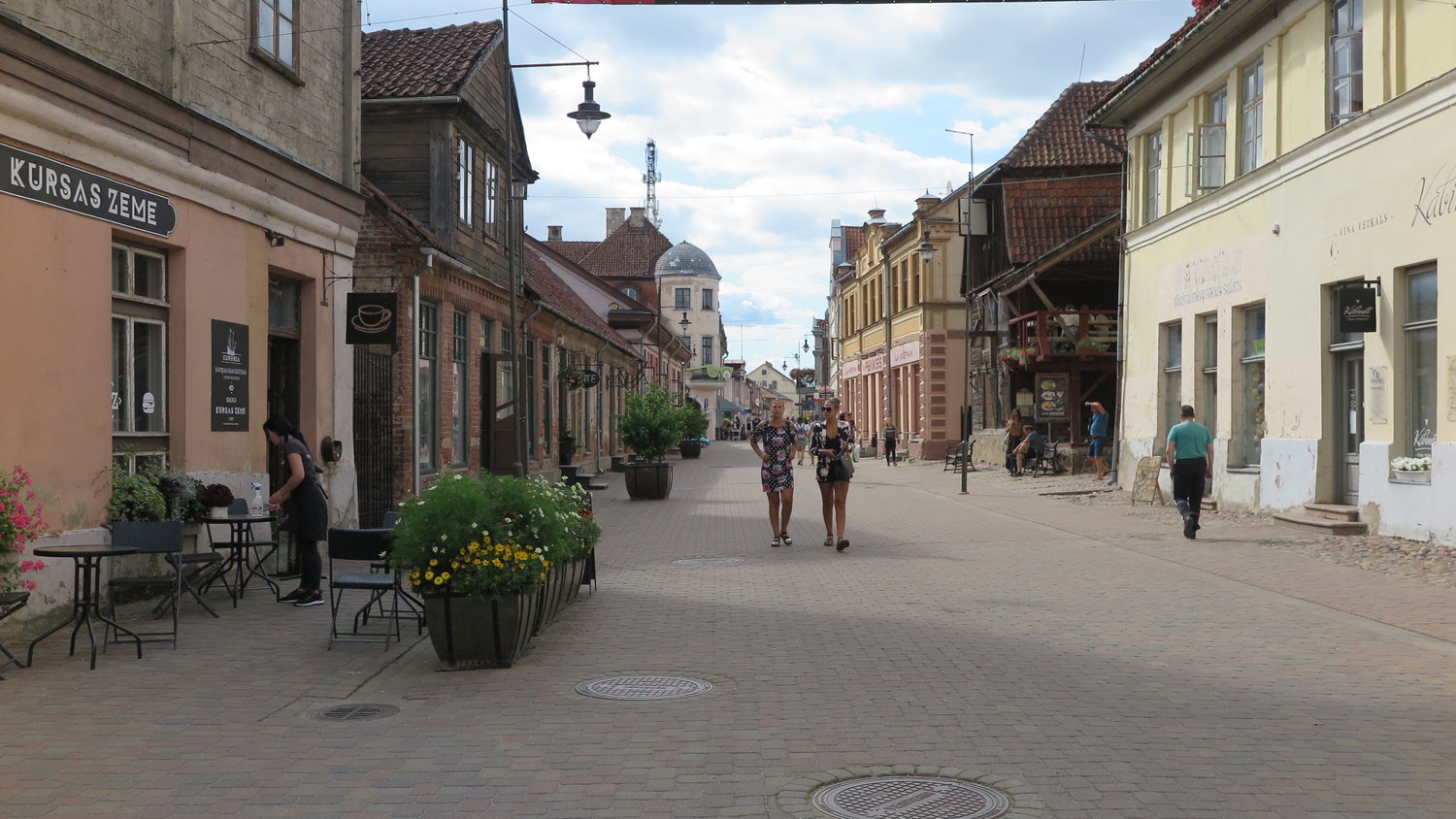 Monuments, restaurants and local foods
Clermont-Ferrnad, located in Auvergne a green and peaceful region, is the perfect place if you want to discover France in an unusual way.
Morocco by car. The full itinerary of a car trip in Morocco.
Go through 4 different countries and visit new places, cultures and ways of life in a 12 days road trip accross Europe.