On the south of Scandinavia, there is one of the most fascinating cities in Europe – Copenhagen. The capital of Denmark is full of culture, majestic history, castles and futuristic buildings. Nature and Scandinavian order harmoniously intertwines with traditions of the oldest Europe's monarchy. The ones that are looking for cultural experiences will find them in impressing museums and architecture; people who are seeking entertainment or action will be surprised by plethora of events. Rich in activities, images and experiences – Copenhagen won't leave anybody indifferent.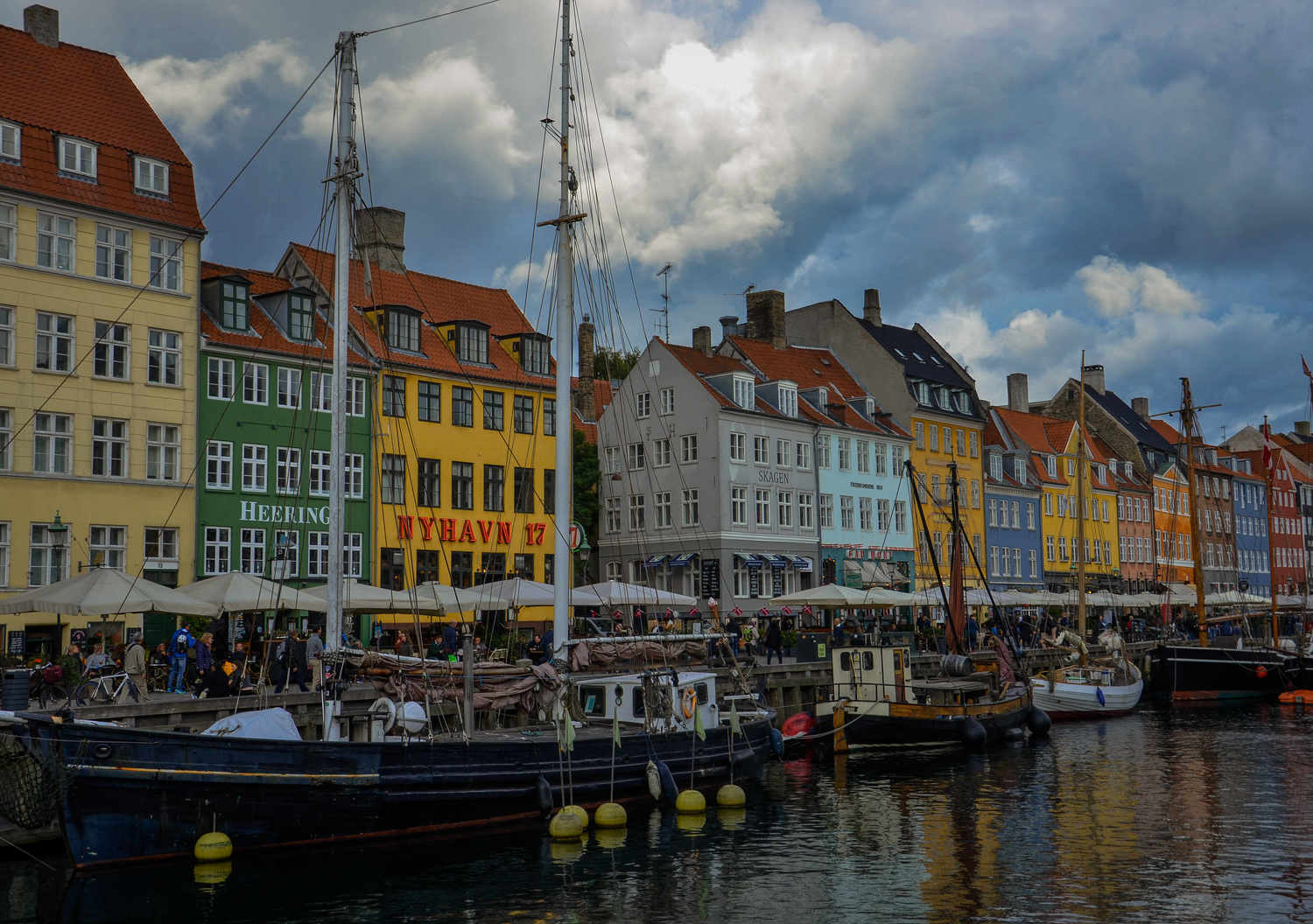 Here is a map of all activities and places that are discussed in this article:
What to do in Copenhagen?
In Copenhagen, there are many museums of art, sculpture, land and sea animals. Visiting museums could become a worthwhile journey by itself. However, the capital of Denmark offers engaging, sometimes unexpected, activities.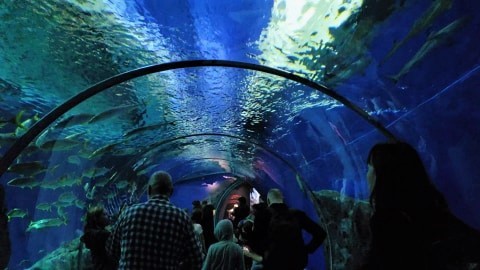 A tunel in the biggest aquarium in North Europe - Den Blå Planet (The Blue Planet)
On the way from the airport, one could stop at the Den Blå Planet's station, from there, it is only 15 minutes to the biggest aquarium in North Europe. Not only thousands of sea animals are astonishing – the museum as a building is fascinating with its futuristic architecture. From above it resembles a whirlpool. Walking among strange, beautiful and never seen before sea creatures is an unforgettable experience. (Admission is free with Copenhagen Card).
Other museums that are worth attention: Statens museum for kunst (SMK) – National Gallery of Denmark, which is the biggest museum in the country. It's permanent exhibitions include works of Scandinavian, South Europe's painters, among who are Matisse and Picasso. Glyptoteket museum (next to the Tivoli Gardens) is full of impressive sculptures: made of marble from Classical Antiquity, works of Danish and French artists (Mailol, Picasso, and Degas), antiquities from Mediterranean region, Egypt. (Admission to both museums is free with Copenhagen Card).
Christiania is a region bordering with a center of Copenhagen. This "free city" is famous for its green ideas, hippie culture and lifestyle. People behind creation of this community were pacifist hippies, who built first houses in 1971 in old military barracks. Soon this place became an object of attraction for all the free-souls. Christiania earned a name of a "free city". There are tons of eco-friendly restaurants, workshops, concert venues and galleries. The most controversial (as well as famous) there is a weed market. This might be a reason for strict rules, which are highly advised to be followed. One of them – never take pictures inside Christiania.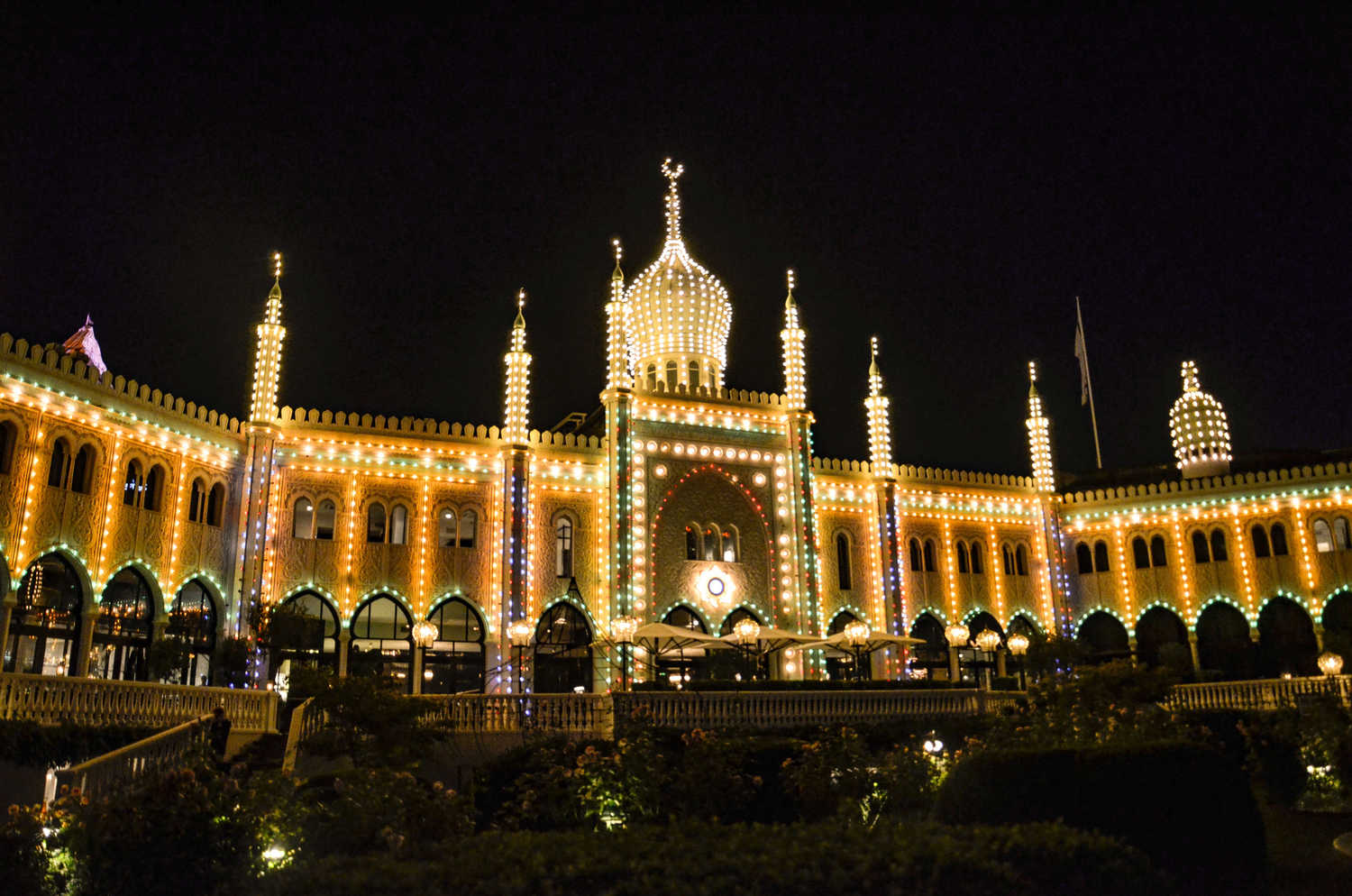 Tivoli Gardens at night
Tivoli Gardens (a theme park) were established in 1843; since then this place had become a national treasure and beloved internationally. Even the great H.C. Andersen was an often guest there and it is said that W. Disney became inspired to build Disneyland after visiting Tivoli. The theme park tempts with luxuriant gardens, exotic architecture, various rollercoasters and concerts of popular musicians. This place looks simply magical both at day and at night. During seasonal holidays, Tivoli becomes a true feast for the eyes. In autumn, one is spooked with amazing Halloween decorations, during Christmas theme park becomes a true winter city and on Easter – kingdom of Spring. (With Copenhagen Card, entrance is free, but all carousels cost).
The building of The Royal Danish Opera grabs attention with its modern architecture. Opera has assembled a professional and international group of artists – singers and choir. The Royal Danish Opera presents magnificent productions: ballet performances along with operas – "Sweeney Todd", "Karmen", "La Traviata", Vagners works and others.
Danish Carlsberg group is a true mogul of beer industry, whose network is international. Remarkable Danish beer brands: Carlsberg, Tuborg, Jacobsen, Somersby and others. People who enjoy beer could feel a real gourmand - Carslberg group offers beer tastings along with tours in the brewery. Personal beer expert will enlighten and entertain you with stories about Carlsberg and beer in general. Different and delicious brews from both the Jacobsen Brewery and the larger Carlsberg Brewery will be served.
Copenhagen Zoo is one of the oldest in Europe (established in 1859). More than 2000 animals live there. Entrance is free with Copenhagen Card. However, for additional price zoo offers experiences that are more adventurous: night tour at the zoo; feedings of leopards, monkeys; meetings with penguins, elephants, and giraffes.
Other activities in Copenhagen
For more activities in the capital of Denmark, one could try boat tours on Copenhagen's canals (which are free with Copenhagen Card). While swimming along colorful streets of Nyhavn, stories will be told. About Copenhagen's history, churches, old and new buildings. Such tours also take place on winter.
One of the most unique activities that you can try in Copenhagen, right in the middle of the city – skiing down the roof of Copen Hill, which is a center of urban sports. The roof is covered with artificial grass, which allows skiing and snowboarding. Walking and hiking on the building is free of charge. Everything else (sports especially) does have a price – so if you are interested in such thing just make sure to look at a price table before visiting.
Must visit places in Copenhagen
Castles, towers, palaces and canals – Copenhagen is like a big museum itself.
Copenhagen is famous for its architectural masterpieces. Right by the SMK museum stands Rosenborg castle. Built during Dutch Renaissance, castle charms with elegant architecture. Along exhibited artworks – royal jewels and jewelry (you are free to enter with Copenhagen Card). Impressive Christiansborg palace is also worth attention, this is where parliament, prime minster and Supreme Court take place.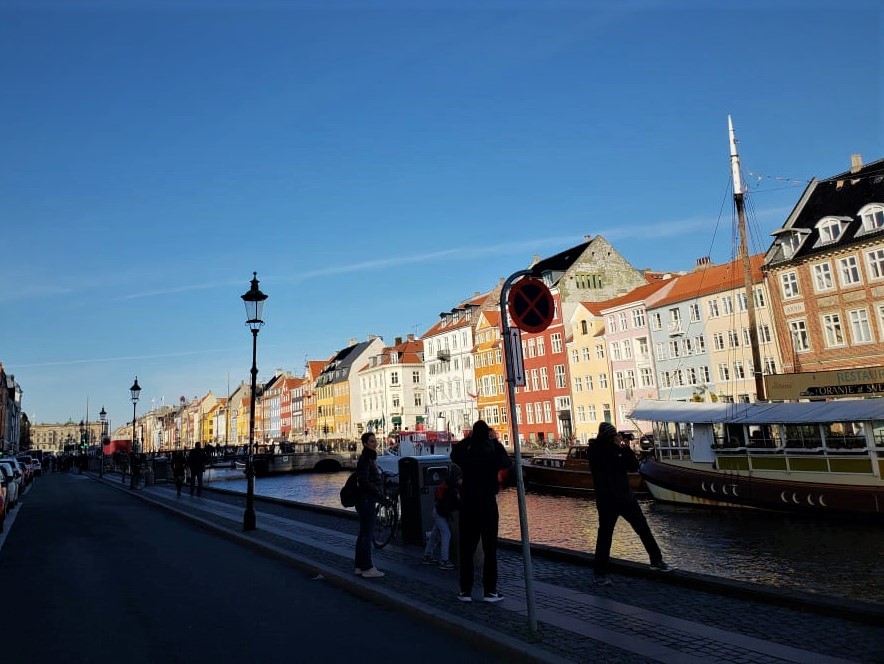 Nyhavn is the most famous street in Copenhagen.
Little bit further – the most popular street-canal in Copenhagen – the colorful Nyhavn. Colors of houses, architecture are mesmerizing. There one can find tons of cafes, restaurants and street food kiosks.
Later, it is worth visiting Amalienborg palace, where the royal family reside. Just behind it stands fascinating Frederiks church. Finally, right at the end of canal is the character straight from H.C. Andersens fairytales, which had also become the symbol of Copenhagen – the sculpture of Little Mermaid.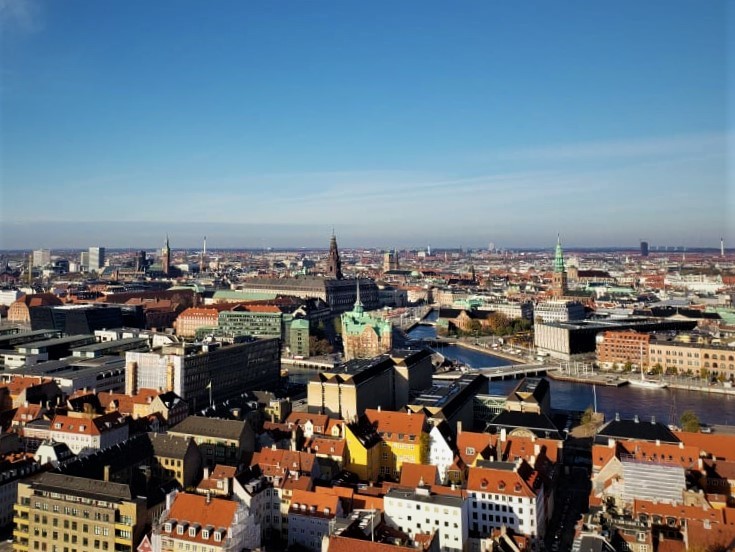 Spectacular city view from the tower of Church of our Saviour
The best panoramic scenery reveals itself from the top of Rundetårn tower. This is the oldest still functioning observatory in Europe. You can go to the top by walking up the spiral corridor, which was made that way for horses to take heavy bags up. One more tower for magnificent view: Vor Frelsers Kirke ("Church of our Saviour"). Copenhagen Card allows free entrance to both towers.
Further from Copenhagen
If you have time, an hour trip by a train could take you to Denmarks North, Helsingør (Elsinore). This is where the famous Kronborg castle is situated. In this very castle, Shakespeare's Hamlet was living his dilemmas (Entrance is free with Copenhagen Card). Every summer, on august 1-16, Shakespeare's festival takes place in Elsinore. During the festival, you can see the famous play concerts and artistic performances.
On the way to Elsinore, there is Experimentarium (only 6 km away from Copenhagen, and you are free to enter with Copenhagen Card) – a center of science and technology, where one can try scientific experiments with his own bare hands. A new Olympic exhibition was opened recently, which lets people test personal rapidity, reactivity and mental strength. 10 km away from Copenhagen is Dyrehavsbakken (or simply Bakken) – the oldest theme park in the world. Right next to Elsinore modern art museum – Louisiana – is located (Admission is free with Copenhagen Card).
Nordic kitchen
Food is an important part of the famous Danish hygge culture. From beloved Danish pastries to 22 Michelin stars across the city – Denmark lures gourmands not only with drinks but also with dishes of Nordic cuisine.
One should definitely try a common Danish food such as rugbrød which is a dark rye bread, sometimes made with various plant seeds, frikadeller (pan-fried meatballs of minced meat) or forloren hare (which is a Danish meatloaf). Smørrebrød promises new tastes. It's an open sandwich with many different toppings – this is a true national treasure and delicacy. What started as a simple farmer's meal made from leftovers now is nationally beloved – Danes eat such sandwiches on a regular basis and they are also served in high-end restaurants. In 2019,"Aamans 1921" earned a title of the restaurant serving the best smørrebrøds in Copenhagen.
Everyday food tradition closely ties with an important Danish pork industry. In traditional dishes pork, many various vegetables such as potatoes, carrots and peas dominate. Restaurants for a local food tasting: Det lille apotek, Restaurant Palægade, Restaurant Puk.
Sweet traditional treats: æbleskiver (doughnut-like dish with apple filling), kanelsnegle (cinnamon buns), wienerbrød (Danish pastries). You can find these and more sweet dishes in local pastries, which are almost on every corner in Copenhagen. The most notable being "Lagkagehuset".
For even bigger variety of local dishes, the best choice is food markets. The 2 most famous are Tovehallerne (Danish delicacies, local vegetables, fresh fish, pastries) and Raffen (located right on the seashore and following an eco-friendly "reduce and reuse" ideology). These places are always filled with both locals and tourists. Such crowds are not accidental – market offers many different food kiosks which appeals for various tastes and most importantly – markets are cheaper than restaurants.
Where to stay
Just like the rest of Scandinavia, Denmark is an expensive country. If you are coming from Europe, lodging might take the biggest part from your travel budget. Sometimes the best option for staying in Copenhagen (especially if you are traveling with a group) might be airb&b.
Public transport
Using public transport is the best way to travel in the city – system is well developed, punctual and convenient. Metro, buses, trains – everything arrives on time and getting around is very easy. Copenhagen is distributed in zones, the price of your travel with public transport depends on how many zones are crossed (it takes around 20-30 minutes to get from the airport (zone 4) to the center of Copenhagen (zone 1); which results in 24 dkk/~ 3 eur). If you are planning a lot of traveling around the city, I would highly recommend considering a public transport ticket for a couple of days (City Pass is available for 24, 48, 72, 96 or 120 hours). More information: public transport in Copenhagen.
Copenhagen card
If staying for 2-3 days in Copenhagen is in your plans, it's worth to think about getting Copenhagen Card. This card costs 99 eur for an adult (3 days), but includes free admission to almost every famous museum, castle, tourist location and also has a public transport ticket, which covers all the Copenhagen zones (you can even go to Elsinore for free), installed. So before the journey, make sure to think about your priorities, places that you want to see – this card might help you to save tons of money. All the information about the card and all the places that it covers in this link: Copenhagen Card; price, objects.
Author: Viktorija Vaickute
Monuments, restaurants and local foods
Clermont-Ferrnad, located in Auvergne a green and peaceful region, is the perfect place if you want to discover France in an unusual way.
Morocco by car. The full itinerary of a car trip in Morocco.
Go through 4 different countries and visit new places, cultures and ways of life in a 12 days road trip accross Europe.