Tenerife is the largest island in the Canary Islands. The Canary Islands are just off the coast of Africa, fairly close to the equator and have one of the most wonderful climates for holidays in the world. Tenerife is cooled by the Atlantic Ocean in the summer, warmed by the African winds in the winter and given stability by the warm waters of the Atlantic Ocean. Tenerife has almost no cultural or architectural heritage. However, the natural beauty is incredibly rich.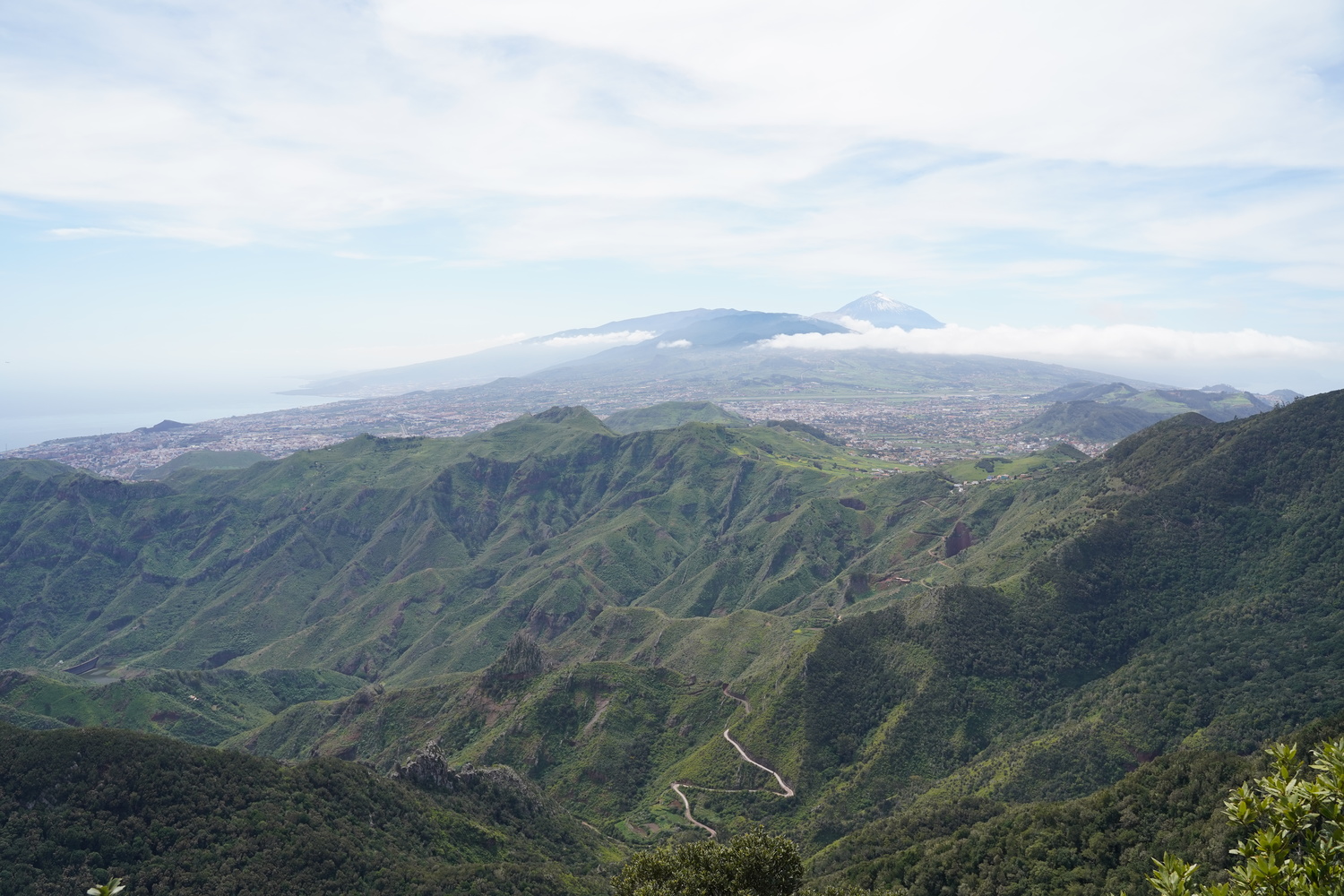 Tenerife's resorts are relatively new, having been developed in the second half of the 20th century. The resorts have been adapted to different age groups, hobbies and ways of spending time. When you visit Tenerife, you realise that you want to come back and see and experience more.
We've prepared a map of Tenerife. Marking useful places and places of interest. We tried most of the marked places during our trip to Tenerife. There are still some places left that we have not tried and would like to visit.
Climate in Tenerife
The highest summit in Spain, the cone of the Teide volcano, is visible from all parts of the island. The volcano and the hundreds of other volcanoes that make up the mountains block the rolling clouds from the north. Therefore, although Tenerife is quite small, the northern and southern parts of Tenerife are very different. The northern part of Tenerife is humid, subtropical, with lots of greenery, vineyards, botanical gardens and parks. However, the humidity is not "heavy" even when you get into a milky cloud.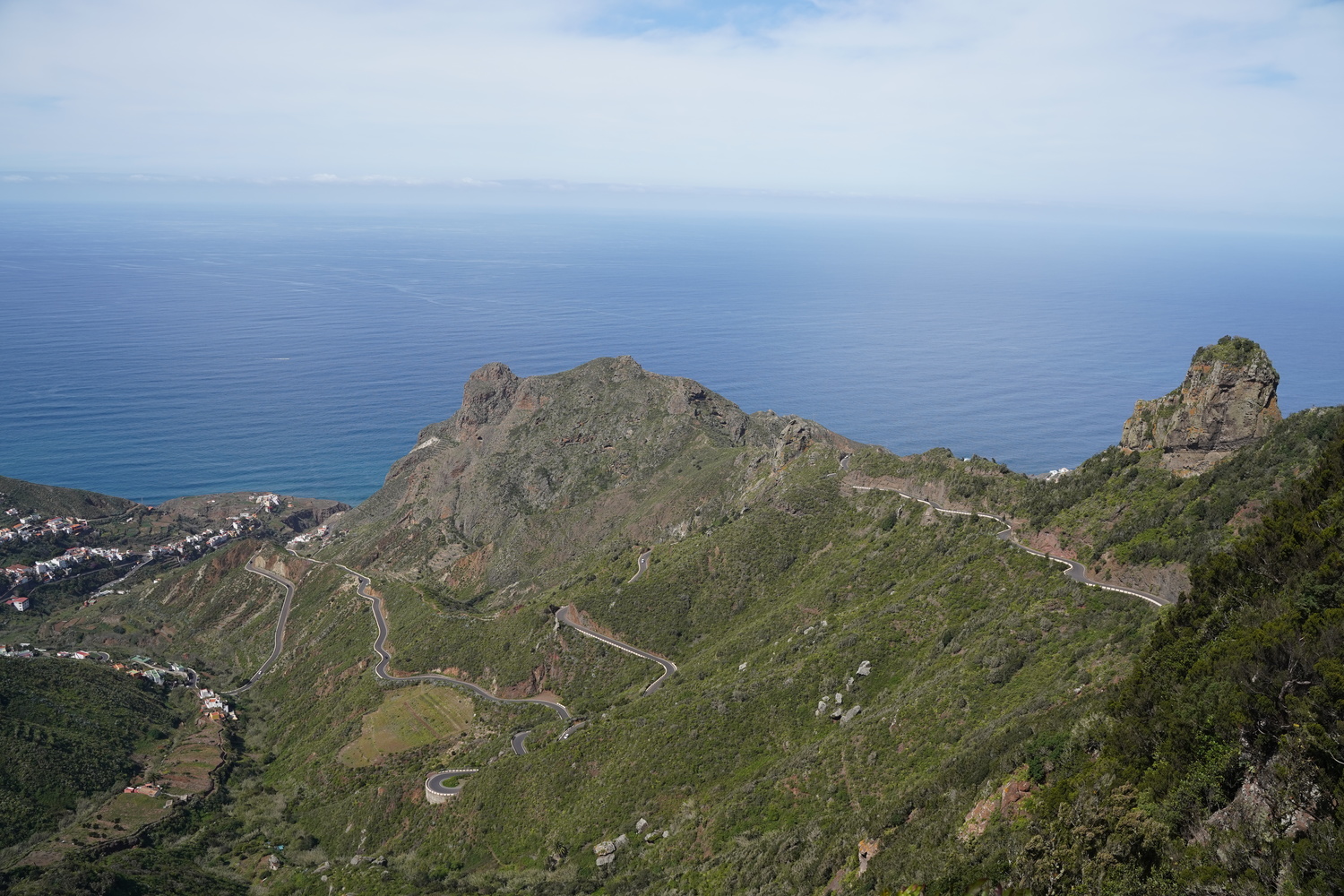 Taganana town on the north coast. A highly recommended place to go. It is part of the large Anaga Nature Park. It is worth dedicating a few days. Hiking trails are along the ocean coast.
The southern part is quite dry, water is supplied, and desert-adapted shrubs and cacti grow on the rocks. Even pine trees are adapted to suck up water with their thorns rather than their roots.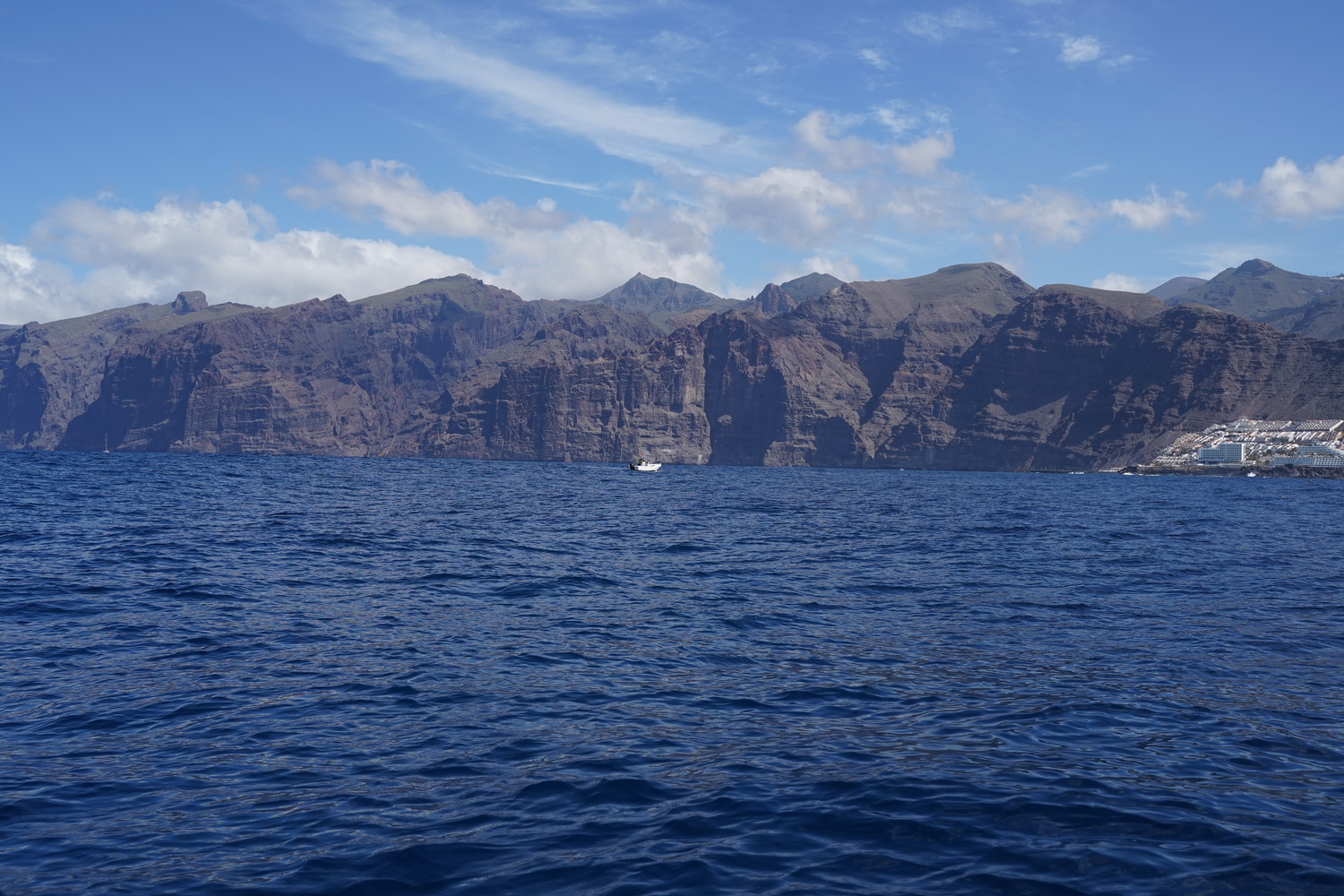 The rocky coastline at Los Gigantes. Behind the rocks, clouds can be seen hanging and lingering to the north.
Temperatures in winter will be around 20-25 degrees during the day and 16-18 degrees at night. In summer, the average daytime temperature is around 25 degrees, rising above 30 degrees. Night-time temperatures are around 20 - 25 degrees. In the mountains, temperatures are about 5 to 10 degrees lower.
Water temperatures vary little throughout the year. The average temperature is 19 degrees in winter and rises to 23 degrees in summer. Most of the rain falls in the winter months. However, the rains are usually short-lived and warm.
Resorts in Tenerife
When travelling to Tenerife for the first time, it's quite difficult to know where to stay.
The most common organised tourist destinations are large resorts with large hotels. These include Playa de los Americas and Los Cristianos on the south coast. Los Americos was built solely for tourists and has a predominantly younger and middle-aged clientele. The many restaurants, bars, nightclubs, casinos and amusement parks are more geared towards an active nightlife without children. There are large beaches, several water parks and dolphinariums.
The nearby resort of Los Cristianos is a little quieter and is ideal for families and children. The resort is also full of restaurants, bars and shops, most of which are along the long promenade. The white sandy beaches are large and wide. There is a monkey zoo.
Los Cristianos beaches on the promenade. Neat, clean, sandy.
For those who don't like noisy surroundings, Tenerife has plenty of options. You can even choose according to your hobbies. For fish lovers, Tajo is recommended. It probably has the highest number of fish restaurants per square metre on the island. You may not like the rocky beach, but the sandstone cliffs scraped by the waves add to the charm.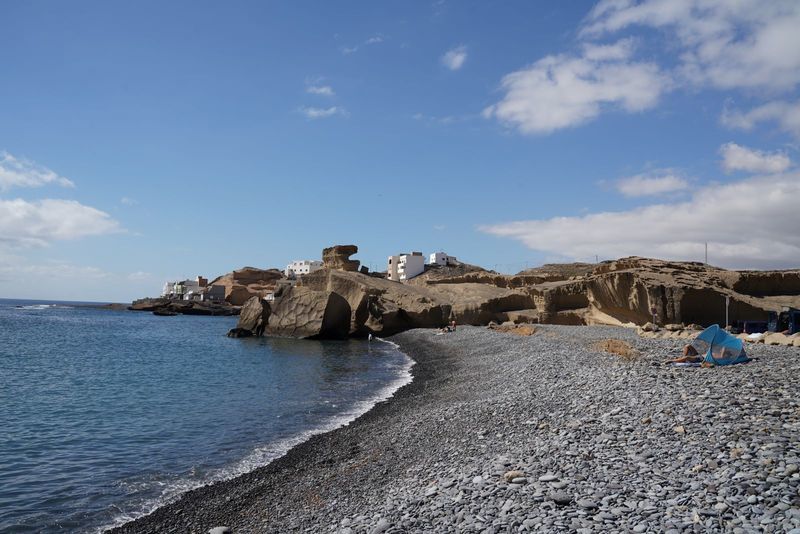 Tajo's rocky beach. Restaurants open around 12 o'clock and then you have to go eat fish. The fish on the shelves is bursting with colour, and after a few hours it will become dull. It will look fresh, with glistening eyes. But the real taste is until it has just been caught. So don't put off a visit to the fish restaurant for the evening - the real freshness of fish in Tenerife at lunchtime.
The small resort of Los Gigantes is quite distinctive. It is situated almost under a high cliff and now the hotels are clinging to the cliffs higher and higher. Making a mistake when choosing a hotel from a map is possible. It may look like a hotel a few dozen metres from the ocean, but it takes a kilometre to get to the beach.
A small harbour with a promenade, a sandy beach. I think it's ideal for those who are stressed and want spectacular views. Also very suitable for middle-aged to elderly people who have no problem with hill walks. There is a natural coastal swimming pool. Several restaurants, quiet bars.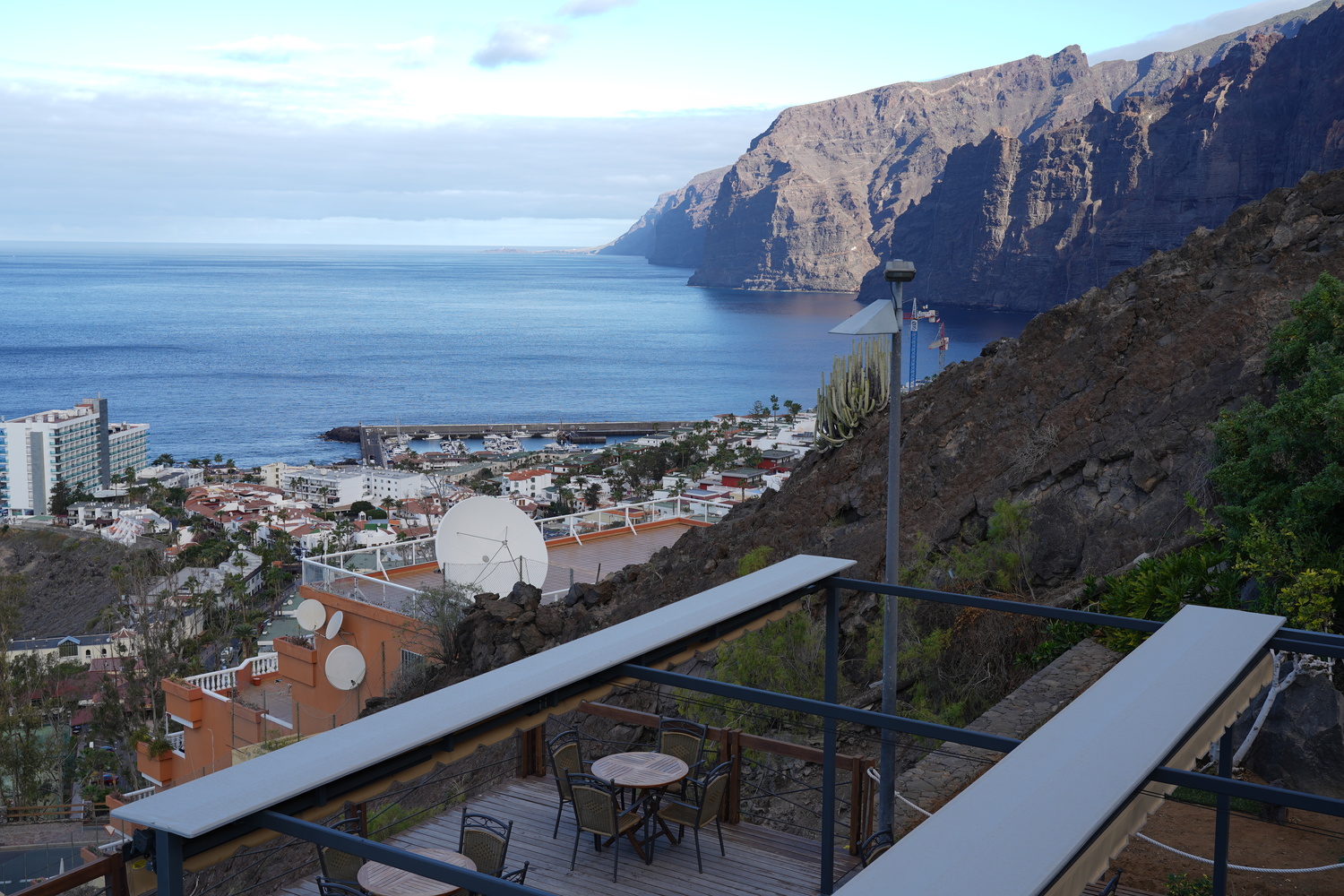 Los Gigantes. Although the distances are short, it is better to have a vehicle. Los Gigantes probably has the most spectacular views from the villas in the whole of southern Tenerife.
Puerto de la Cruz is the most popular on the north coast. This is the old capital of Tenerife with a slightly older style of houses and an old town. It's a great place to go for a group of middle-aged friends with children. The town has a beautiful promenade with fish restaurants, bars and nightclubs. Children should enjoy a visit to Loro Park, a huge botanical, zoological and entertainment garden. The city's botanical garden and the Lago Martianez complex are beautiful.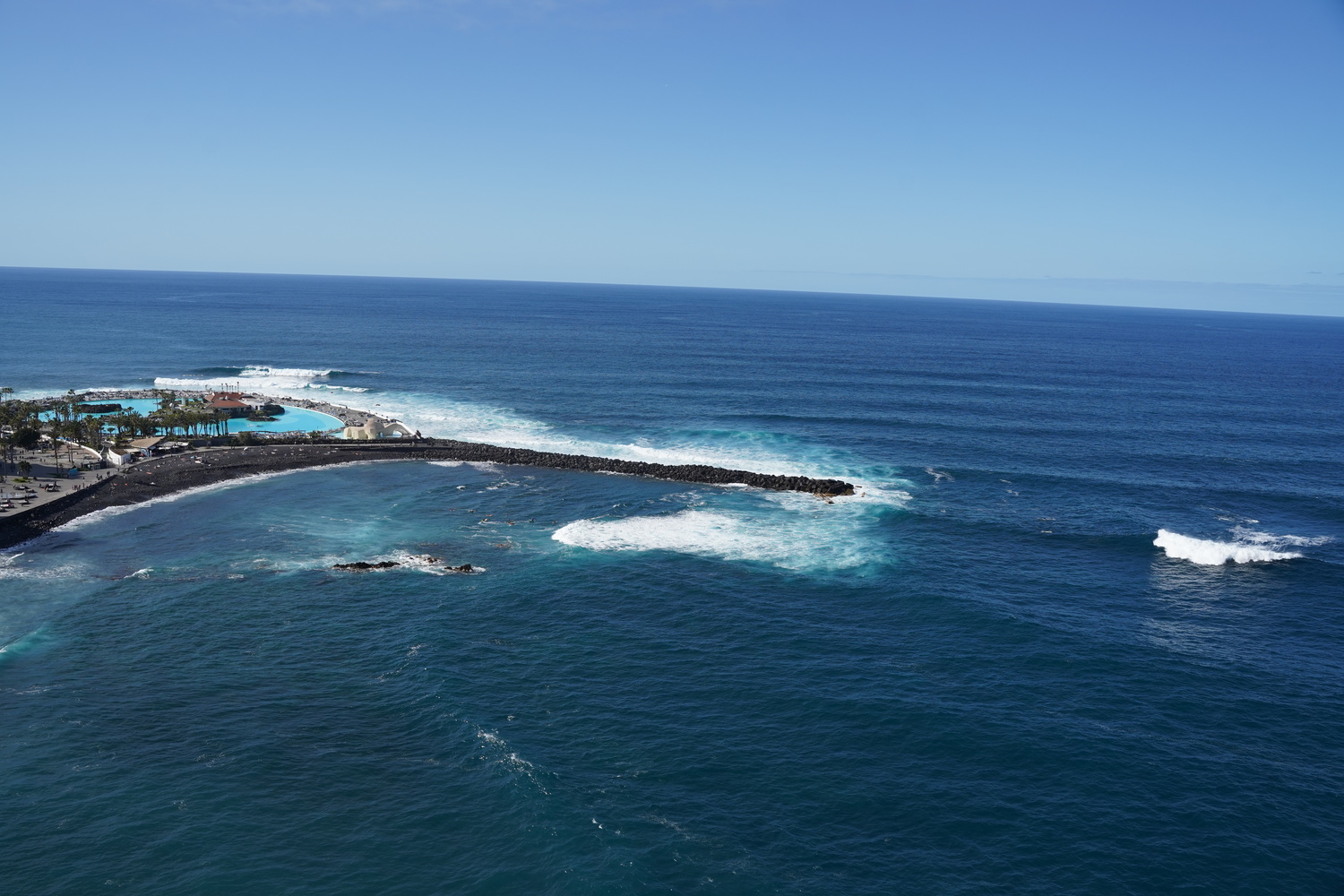 Puerto de la Cruz Martianez Beach. The lakes of Lago Martiamez can be seen beyond. Even in big swells, the beach is hit by non-threatening but quite big waves. For this reason, it is possible to learn how to surf here. This view is from the upper part of the city where the city's botanical gardens are located.
Many quiet, small resorts have sprung up along the coast from small fishing villages. These resorts usually have a small harbour, a promenade and a small beach.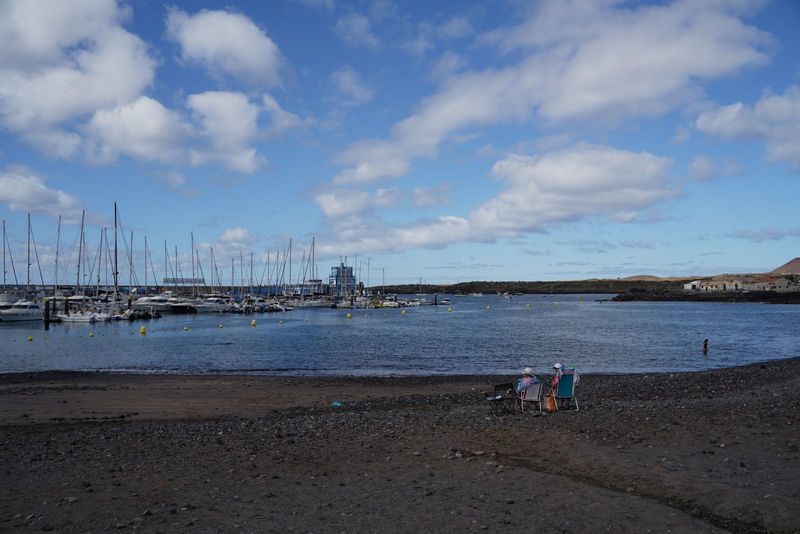 Los Galletos beach which is next to the town. There is an open-air fish market several days a week.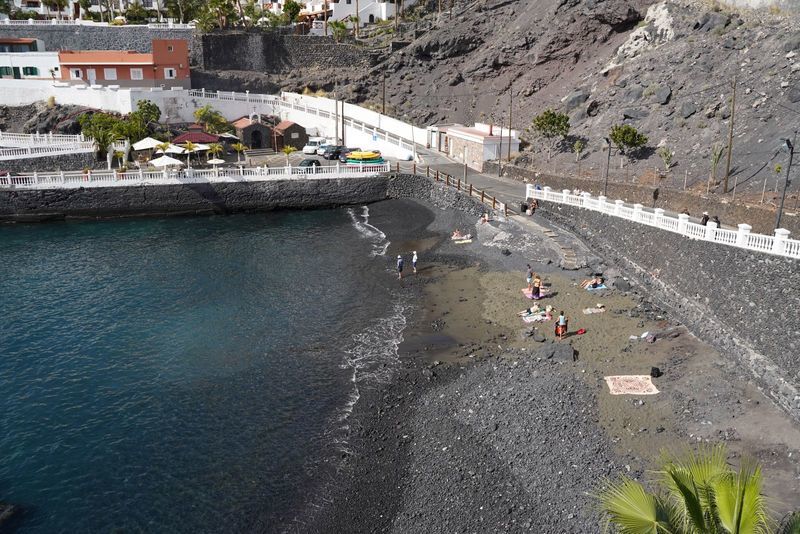 A typical beach in the small town of Puerto de Santiago. Pebbles, stones, sheltered from the lateral Atlantic waves. Suitable for snorkelling - fish are usually plentiful and varied at the breakwaters.
Fishing in Tenerife
When you go to Tenerife for a short break, it's normal to wonder if it's really worth spending a day fishing. The answer is not straightforward. Fishing in Tenerife can be from bottom boats, trolling for tuna in larger boats and fishing from the shore.
The most excitement is gained if you go fishing with the whole family on a boat. You feel much closer to the ocean than, for example, a sea excursion on a boat or trolling boat. We managed to swim past feeding tuna, then dolphins. The dolphins swam within a metre of the boat and you could reach them by hand. It's also fun to catch fish, however small, they put up a lot of resistance. The only problem is if the family members can't stand the rocking - you have to go back to shore quickly. Even in the calm Atlantic Ocean, there are constant swells.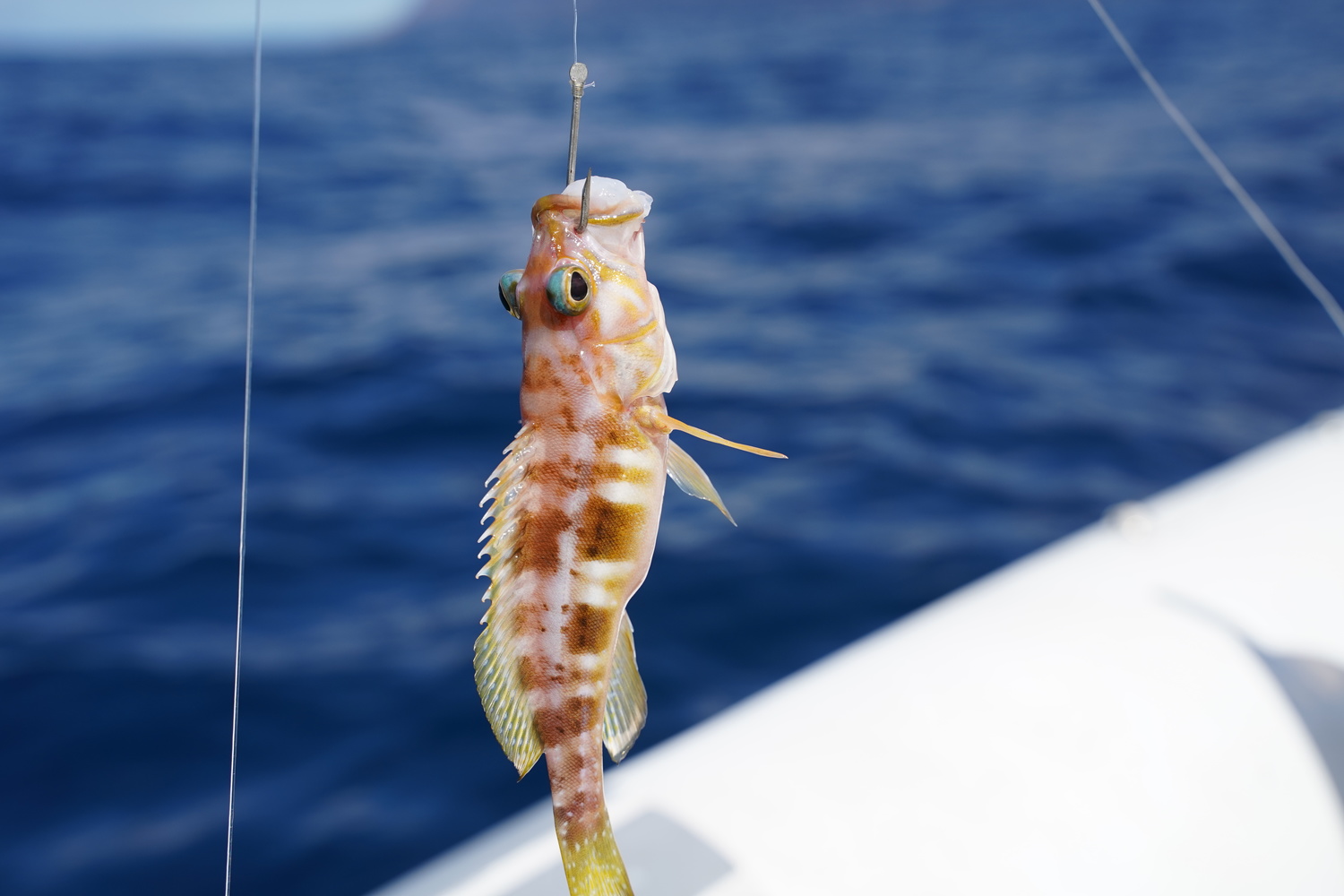 Fishing is carried out at a bottom depth of about 40 metres. The cost of renting a boat with a skipper was about 250 euros for 3 hours. The time was not included in the landing of the family.
Boat trips in Tenerife
Most ports and harbours have recreational boats departing from them to enjoy the coastline. It's also quite common to pass dolphins or small whales.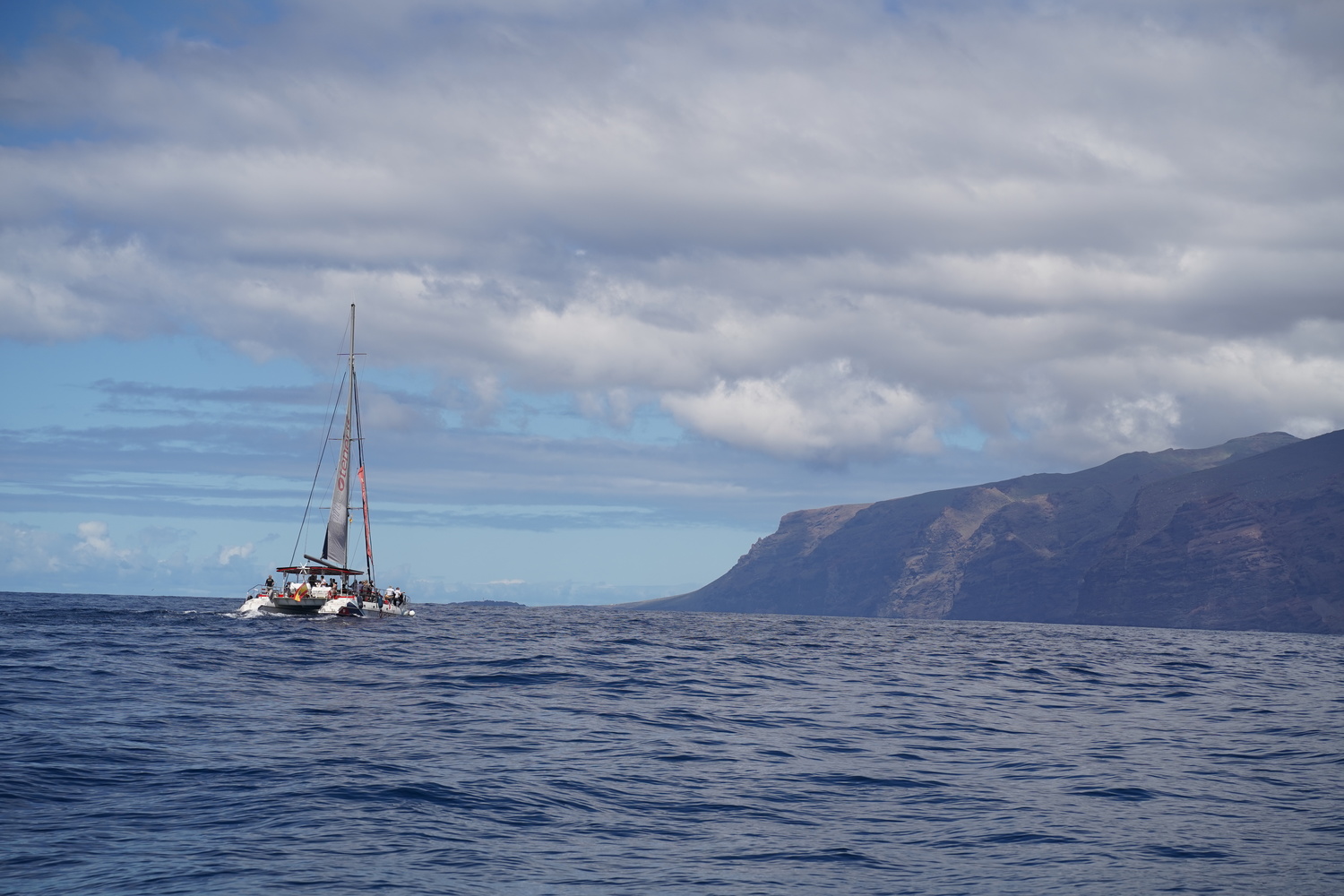 Ships designed for sea excursions don't sway like boats. However, it is still necessary to take anti-swaying medication before boarding a boat or ship. Unfortunately, they did not help on the boat. The instructions on how long to take the tablet beforehand should be followed.
Getting around Tenerife by car
Travelling around Tenerife by car is not the easiest. The only flat route is from Tenerife Santa Cruz to Los Gigantes. Everywhere else you'll encounter mountain roads and serpentines. You won't find serpentines this spectacular anywhere. They are particularly impressive on the drive to Masca and Taganana. The best way to visit the whole island by car is to stay in one of the resorts. Although if you live in southern Tenerife and are visiting Taganana, it's a good idea to look for accommodation nearby.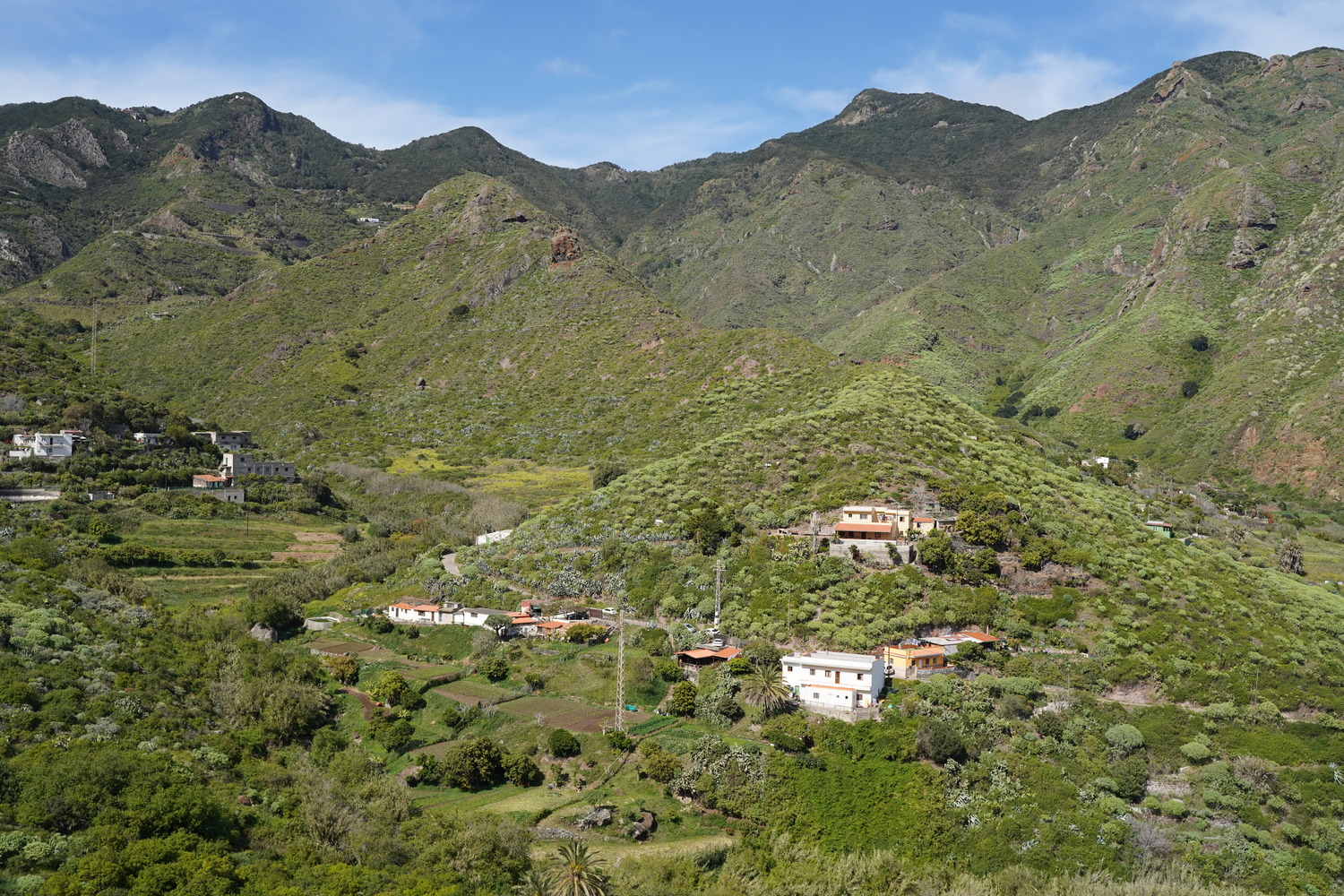 The serpentines and passes around Buenavista were even more impressive. We tried to get to the Teno lighthouse, but it is restricted and not always available. Clarification should be sought before driving. You can drive past here to the village of Masca.
Tenerifes nature parks

Tenerife's natural parks are open to travellers. There are many interesting hiking trails for different categories of travellers. There are short and easy trails, and circular trails of tens of kilometres. Tenerife's main nature parks are at the Teide volcano, Anaga Nature Park and Teno Nature Park.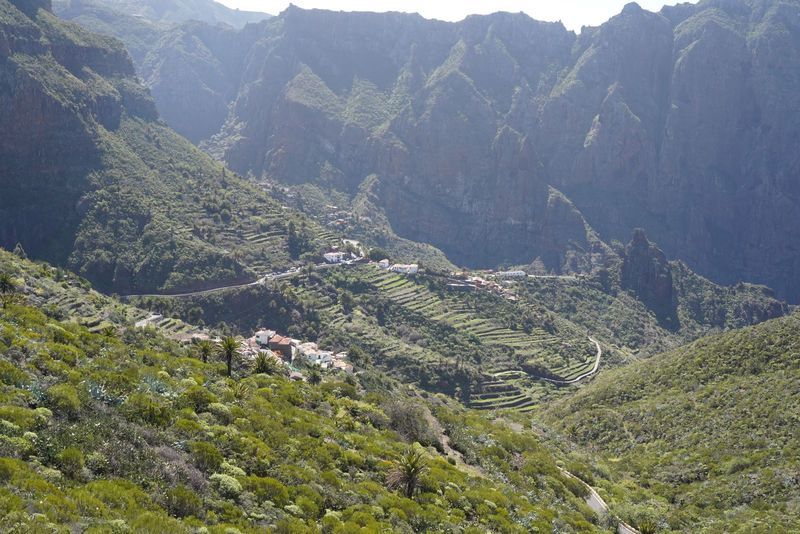 Masca is a popular tourist village in Teno Park. The village is situated on a hillside and once it was possible to walk down to the ocean and then take a boat back to Los Gigantes. In 2022, this attraction no longer exists. Masca may not be worth going to on its own, but it's a great point for a few hours on the circular route Los Gigantes, El Tangue, Teno Park, Masca, Los Gigantes. The route is for the whole day.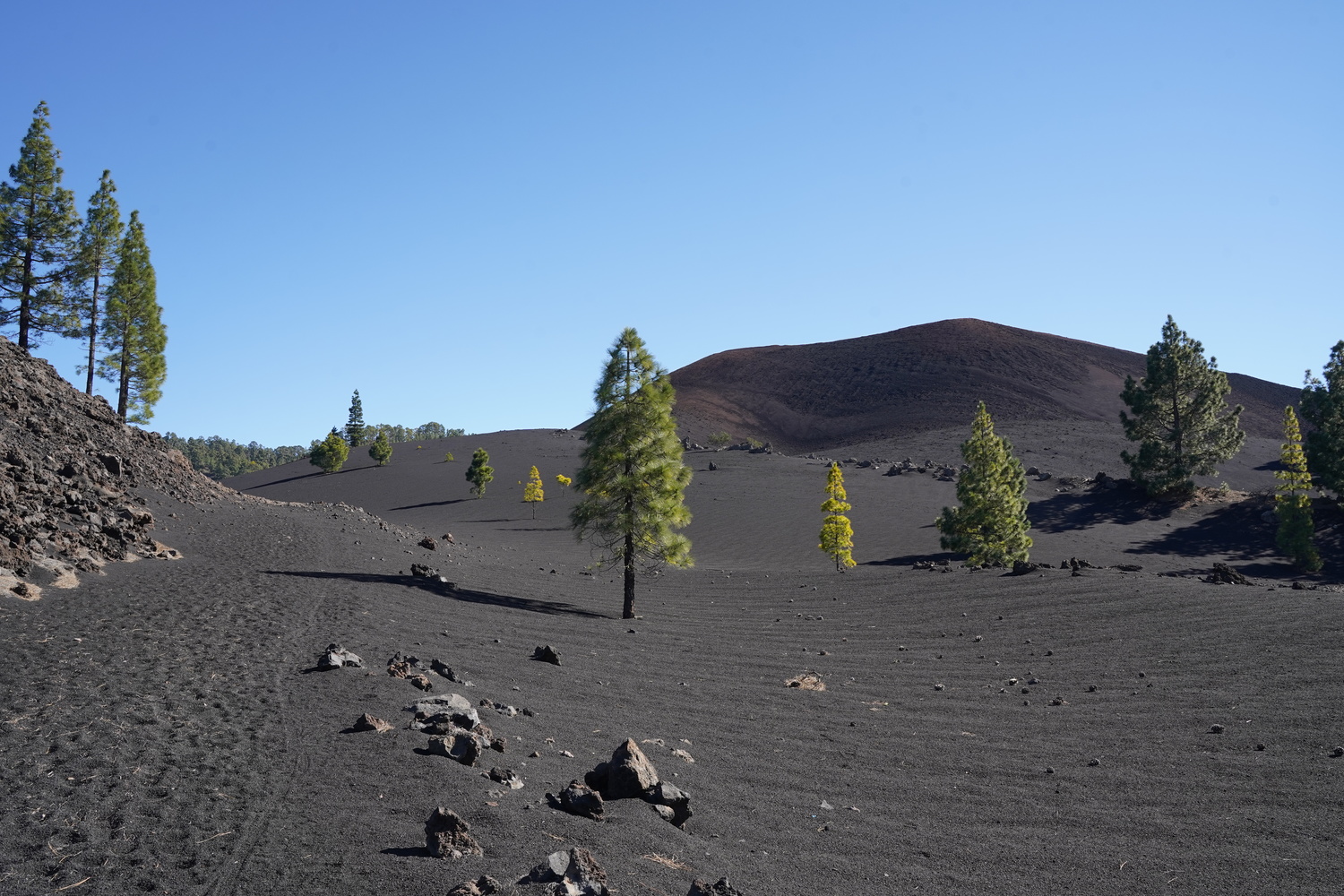 Some of the most spectacular hiking trails will be at Teide. The first trail to follow is the Chinyero volcano. The start of the route is marked on the map. You have never seen such a black sand desert. Also on this trail, the dense white clouds below will make a huge impression. Like a white mountain, they cut into the rocks.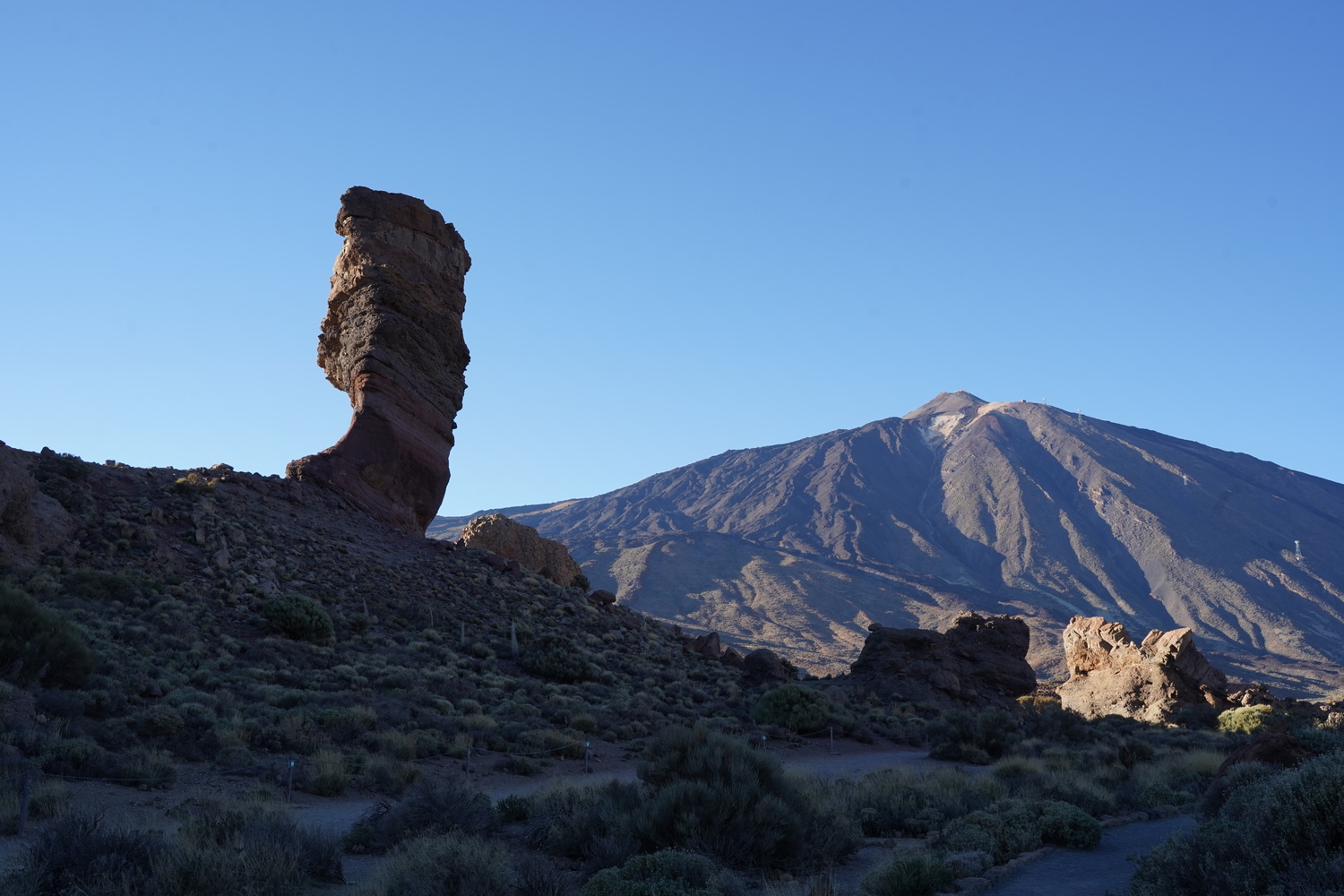 One of the most spectacular trails is the Canadas del Teide with the Cinchado Rock. The trail is short and worth leaving for the end of the day (about 2 hours) to enjoy the golden hour. The setting sun gilds the rocks. From here it is a few kilometres to the cable car ascent to Teide. There is a fee, limited numbers and booking in advance is required, especially during in-season. From Cinchado, there is also a 14-kilometre climb up the Teide volcano, which takes about 6 hours. Some of the requirements are pre-registration and at least intermediate mountain hiking skills. It is worth spending a day in the Teide Park.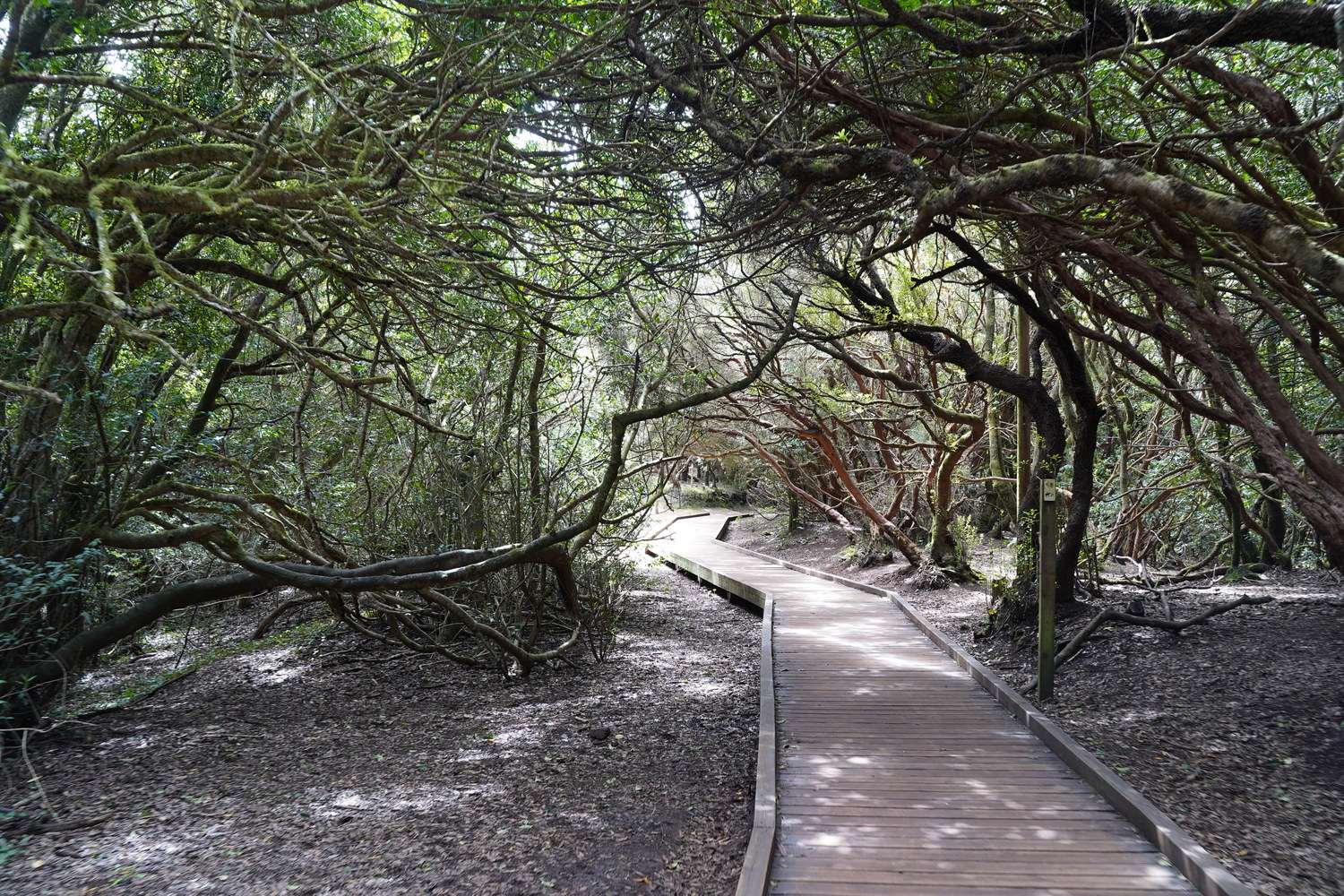 Anaga Park footpaths. These are man-made ditches in the hillside that centuries ago were used by locals to connect villages. A little further on from Anaga Park there is a descent to Taganana. The plazas are quite large and there are eateries. Fantastic views of the Teide volcano (very first photo in the article).
Places to visit in Tenerife

Tenerife is not just about visiting natural attractions. Although the natural wonders are probably what leave the biggest impression. While in Tenerife, be sure to visit Loro Park, and head to the African market in Tenerife's Santa Cruz.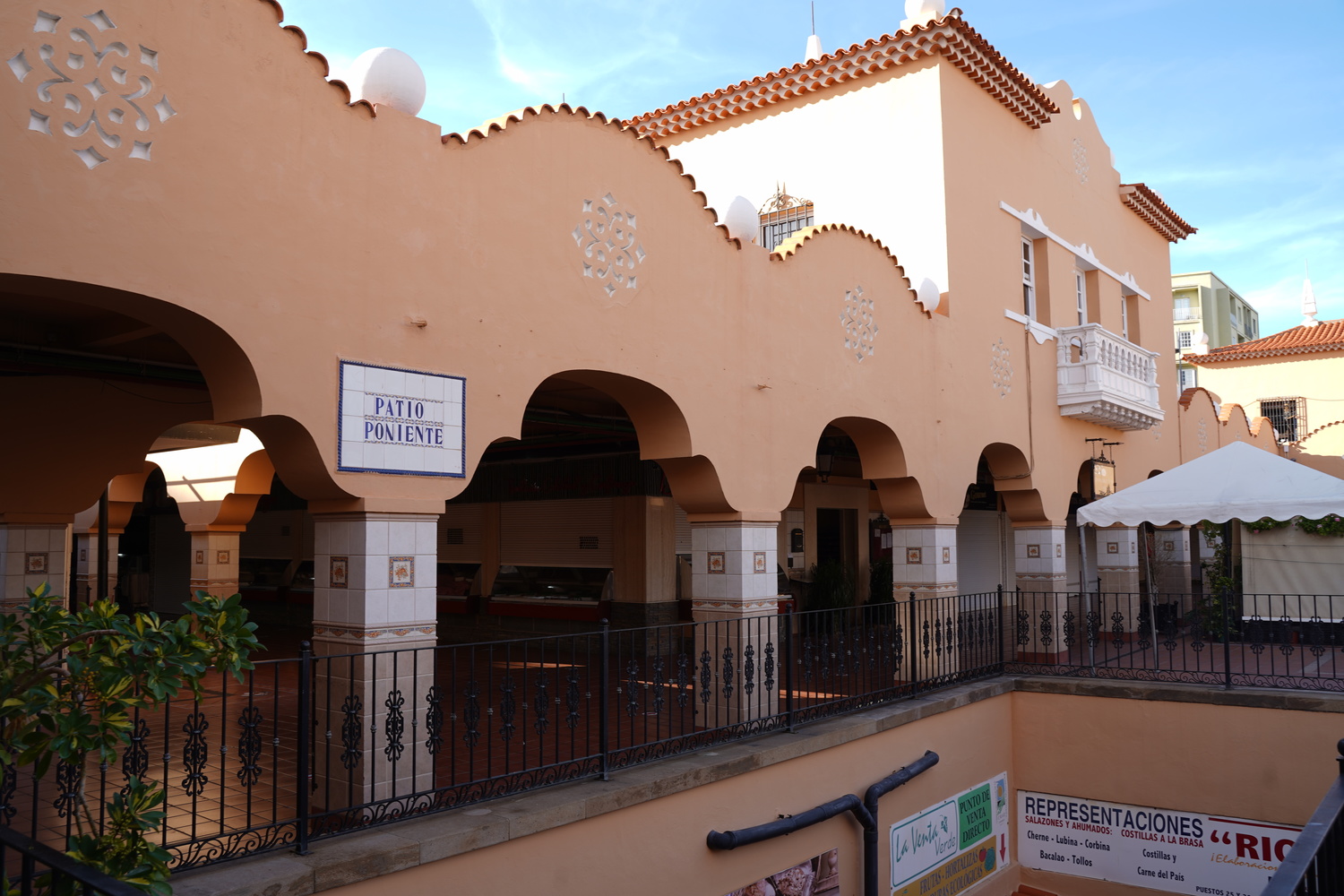 The largest on the island is Tenerife's Santa Cruz African Market. If you have an apartment, this will be a good place to stock up on fish and seafood. You should arrive before lunchtime.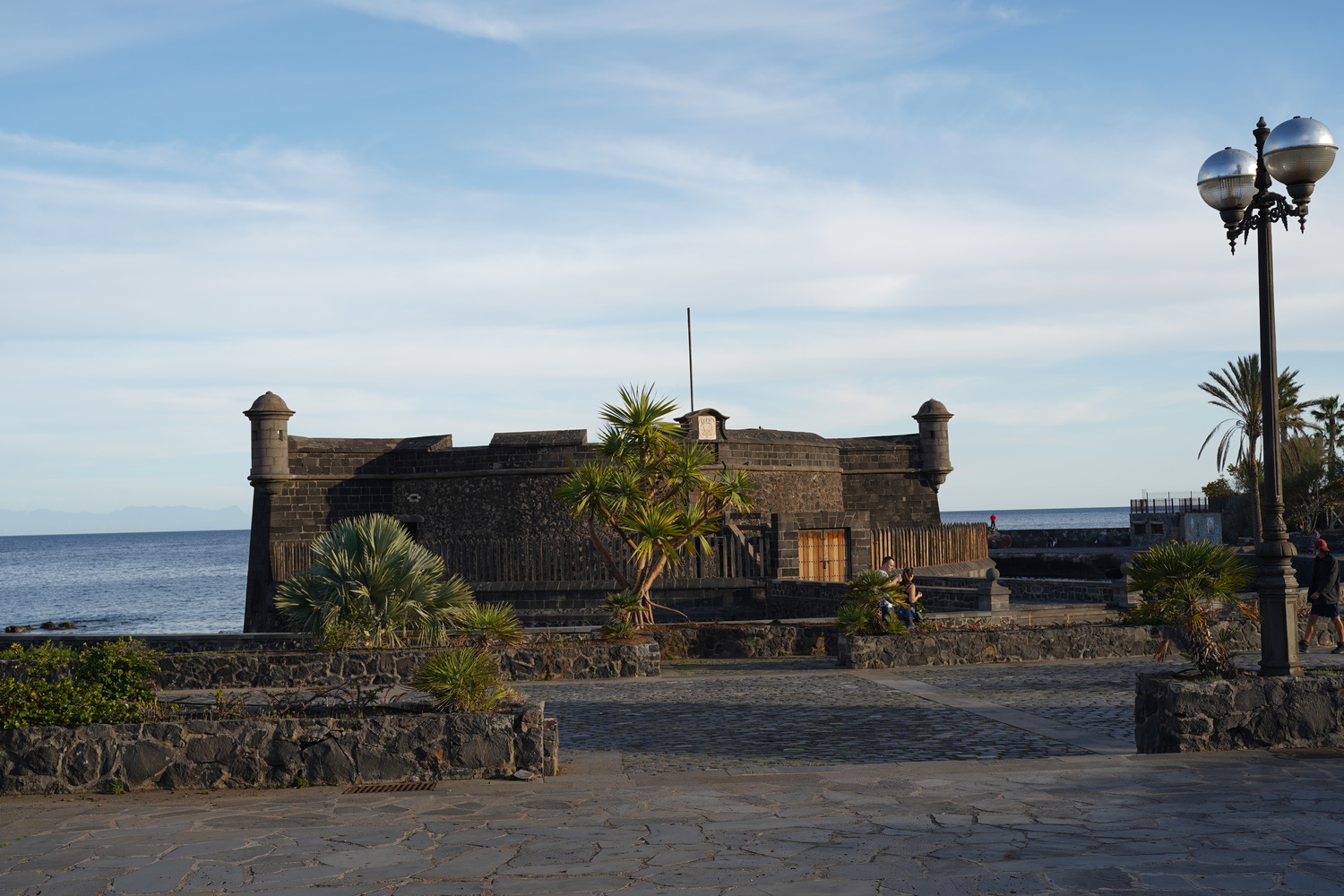 Tenerife's capital, Tenerife Santa Cruz, is not a spectacular place to visit. Next to the bastion is a concert hall of impressive architecture. That's probably it apart from the shopping in Santa Cruz.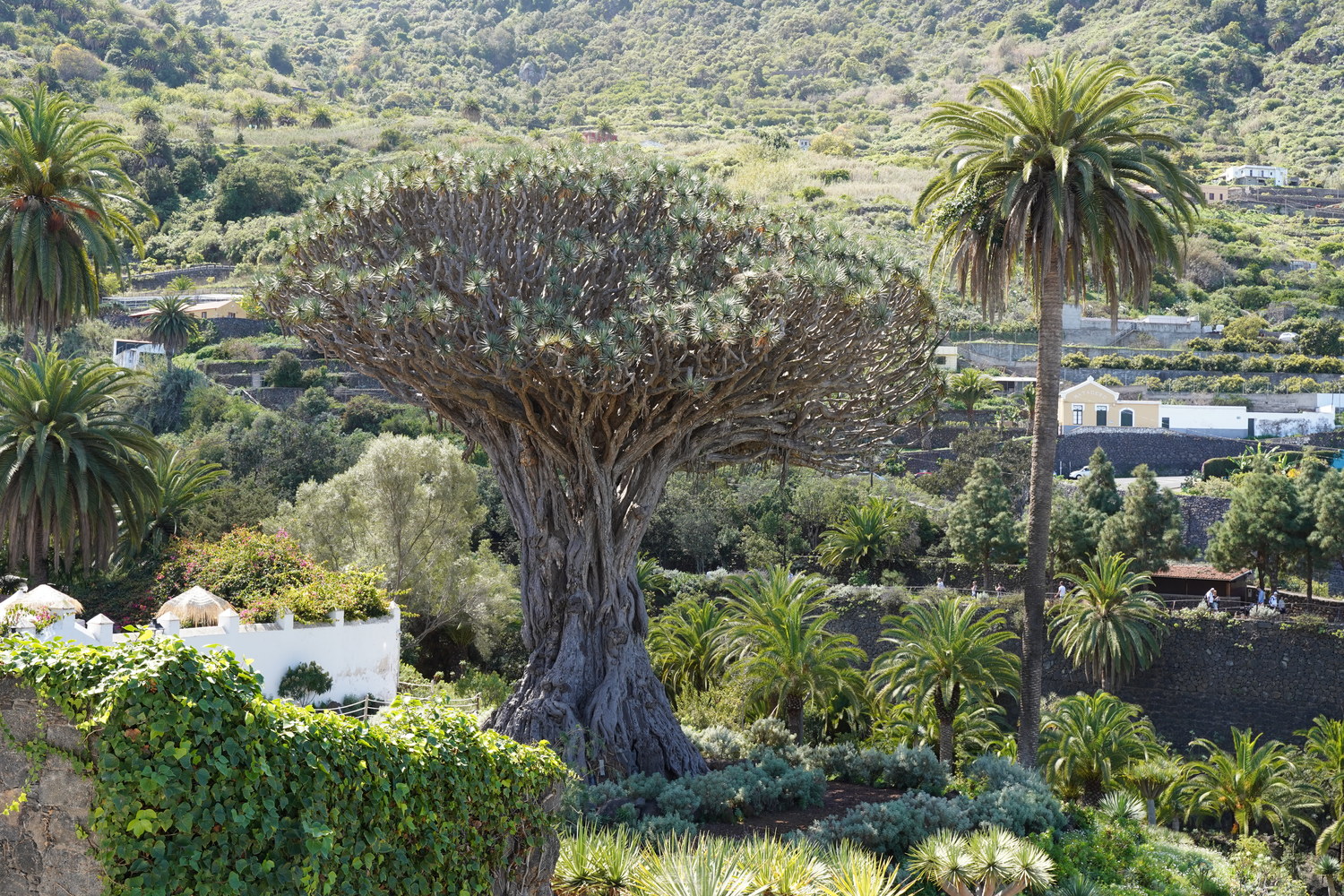 There are quite a few interesting places to visit concentrated in Ikod de los Vinos. Most people associate this place with Tenerife's oldest tree, the dragon tree. The tree is impressive, but no less impressive than the ficus tree that grows several hundred metres away in the park.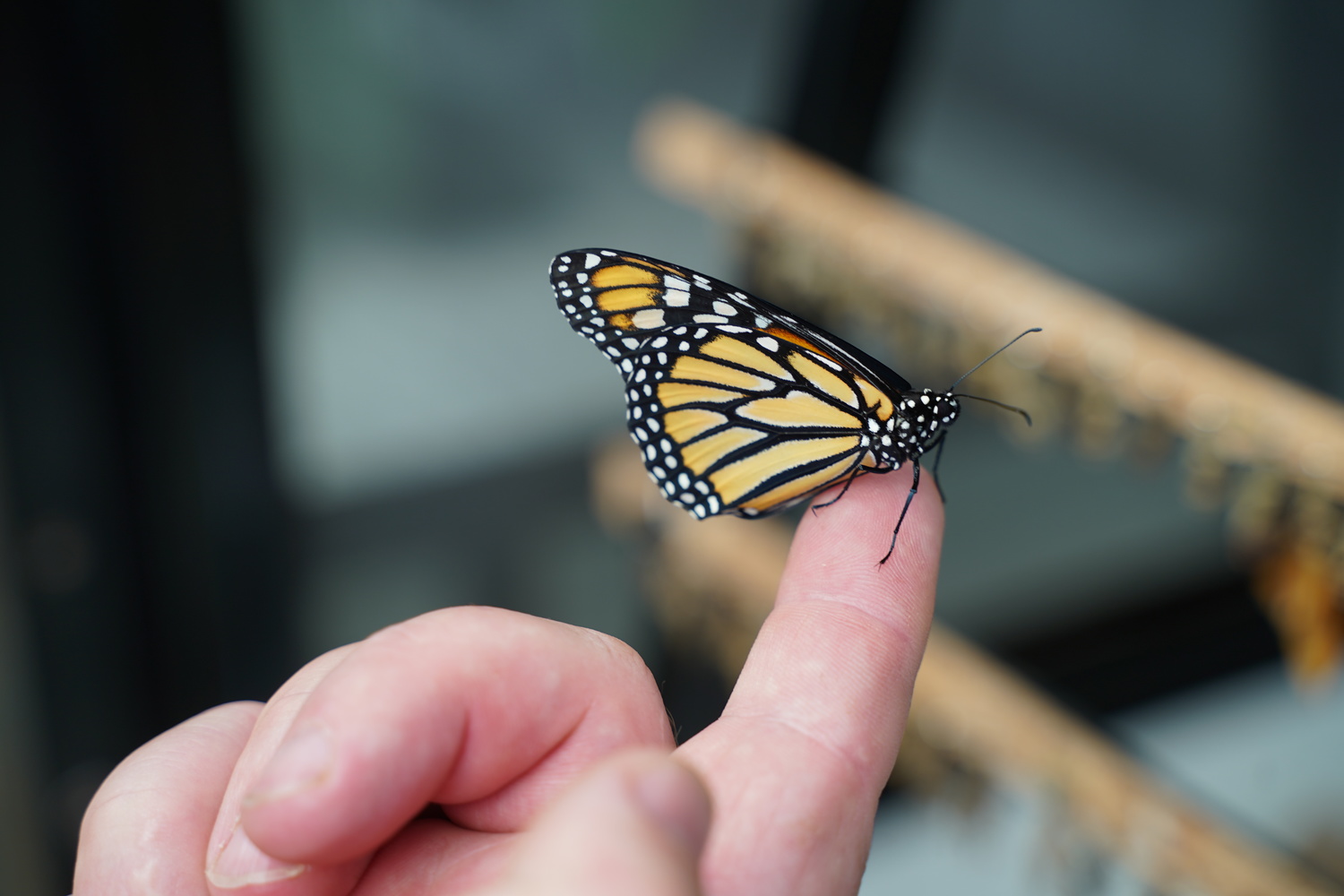 A visit to the butterfly museum next to the dragon tree (Drago de Ikod de los Vinos) is equally impressive. Thousands of shimmering butterflies fly freely in a large building with subtropical vegetation. They can land on your head or your hands, an unparalleled sight.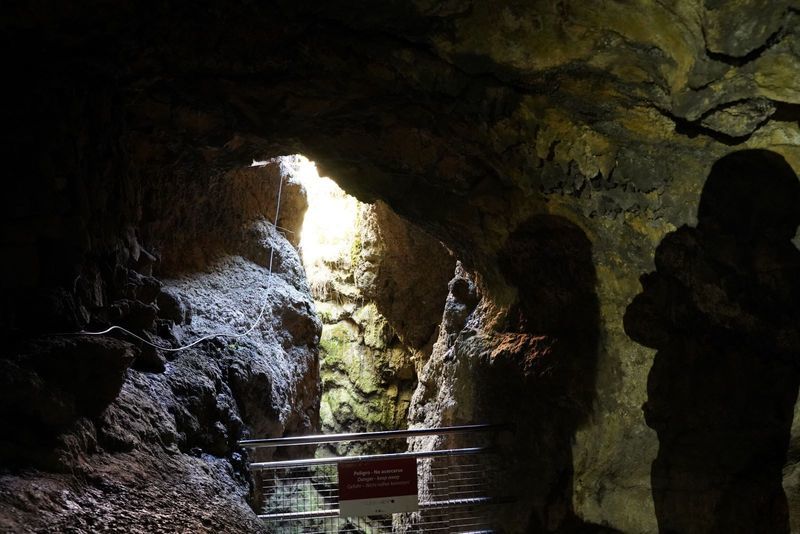 Near Los Vinos, visit the Cave of the Wind. This cave is not washed out as usual. It is a cave formed by the flow and solidification of volcanic lava. It is not very impressive, but it is different from the usual stalactite/stalagmite caves in sedimentary rocks.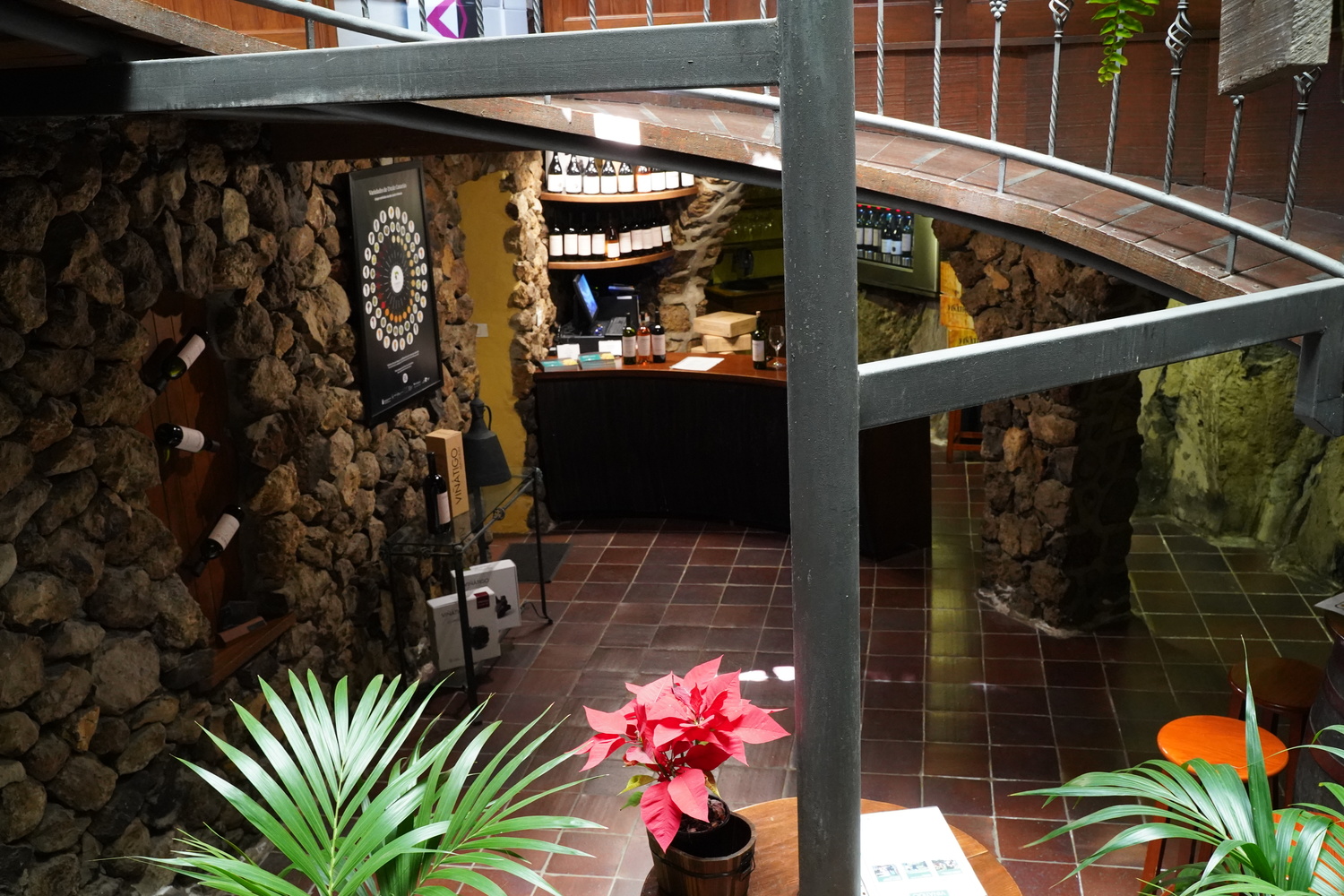 There are many wineries on the north coast of Tenerife, just around Los Vinos. Tenerife wines are good, though not cheap. The vines are of local varieties, most famously the Malvasia. Although I liked the Listan vines best. Tours should be arranged in advance and tasting of several wines is free.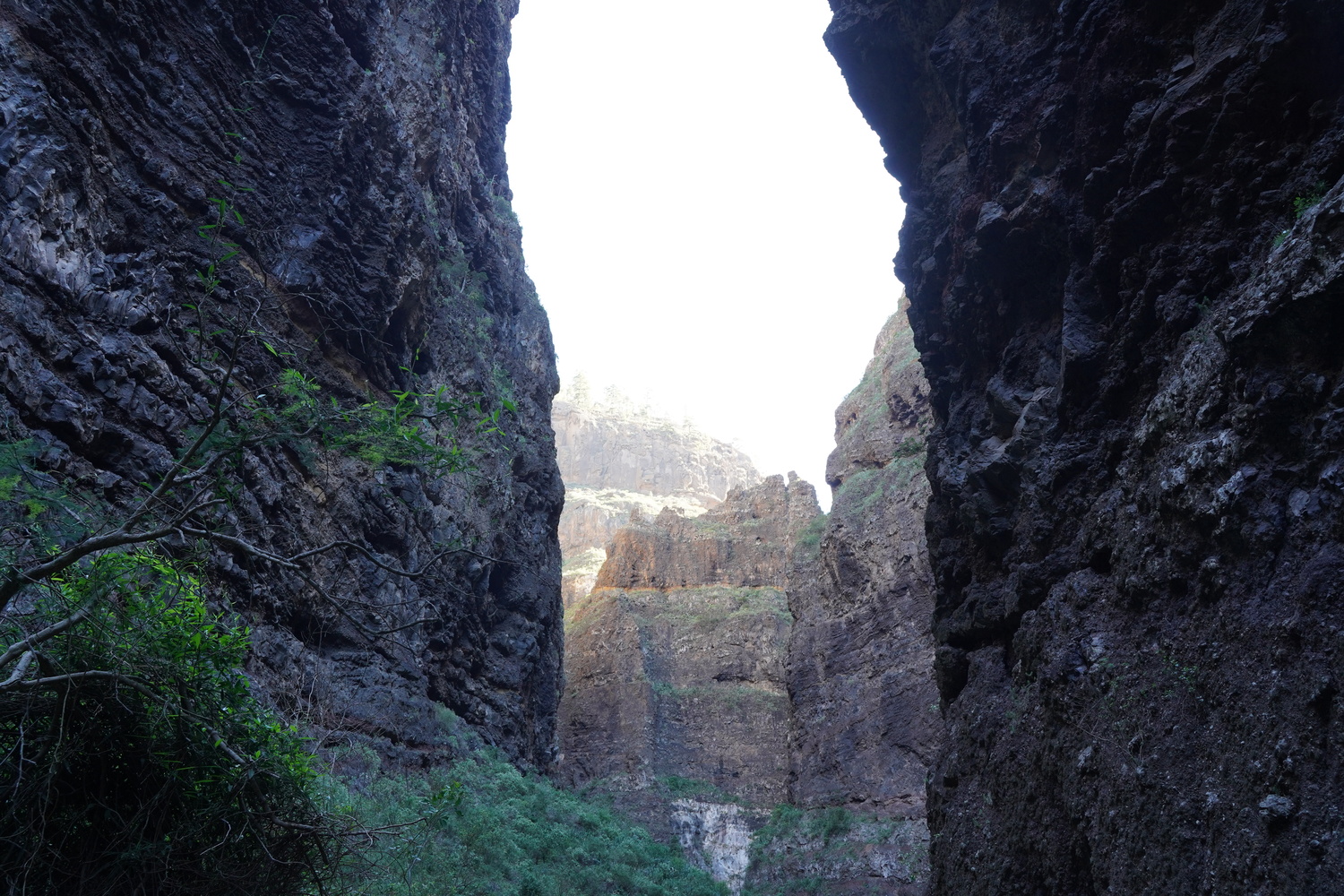 The island of Tenerife is riddled with deep gorges. Some of the gorges are suitable for excursions. In the south of Tenerife, the Barranco del Inferno is worth a visit. The tour starts in the town and very quickly disappears into a wild gorge with steep cliffs hundreds of metres high.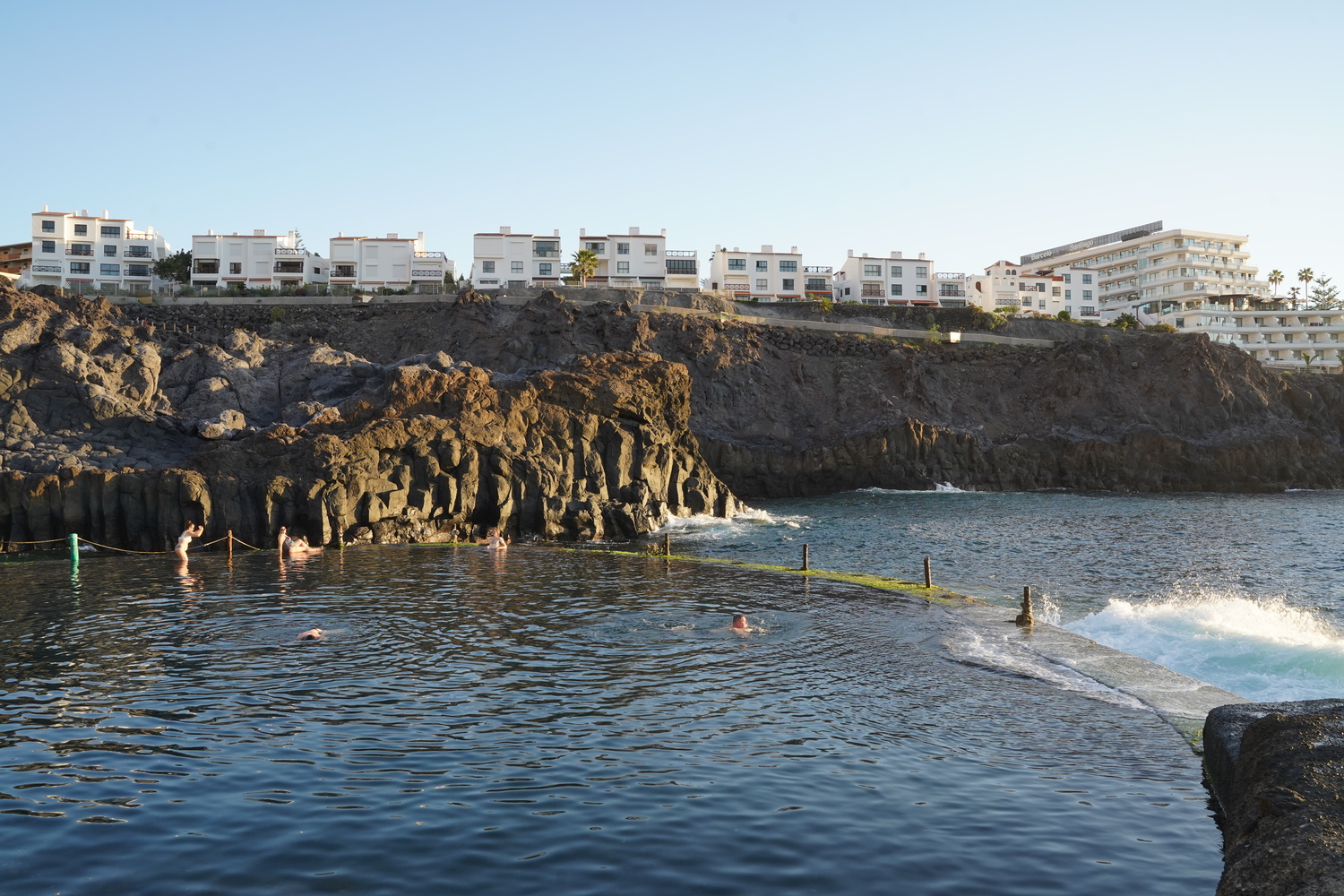 Even when the Atlantic Ocean is choppy, you can swim in natural pools. Although there have been cases where huge waves have pulled unwary holidaymakers into the ocean. This is Los Gigantes. You can see clearly how the houses on the hillside do not have direct access to the water.
What to eat in Tenerife

There is a common misconception that Tenerife is dominated by fish and seafood dishes. In fact, Tenerife has a fairly well-developed agricultural economy and meat dishes are also worth a look. It's not even about what you eat, but when and where. In the big cities, the restaurants on the promenades trade quantity for quality. The real gems are to be found in the outskirts of towns and small villages.
Fish restaurants display fish and seafood in display chillers. Fishermen usually return from the Atlantic around 11-12 o'clock and immediately take their catch to the customers. The customers are not only restaurants but also their major supermarkets. Only the fish caught are more vibrant, often even coloured. Its flesh is still glass. It is impossible to spoil such fish. For this reason, go out to eat fish at lunchtime.
Black rice dyed with sepia ink will go well with fish. The black rice dish with seafood is called Arozz negro.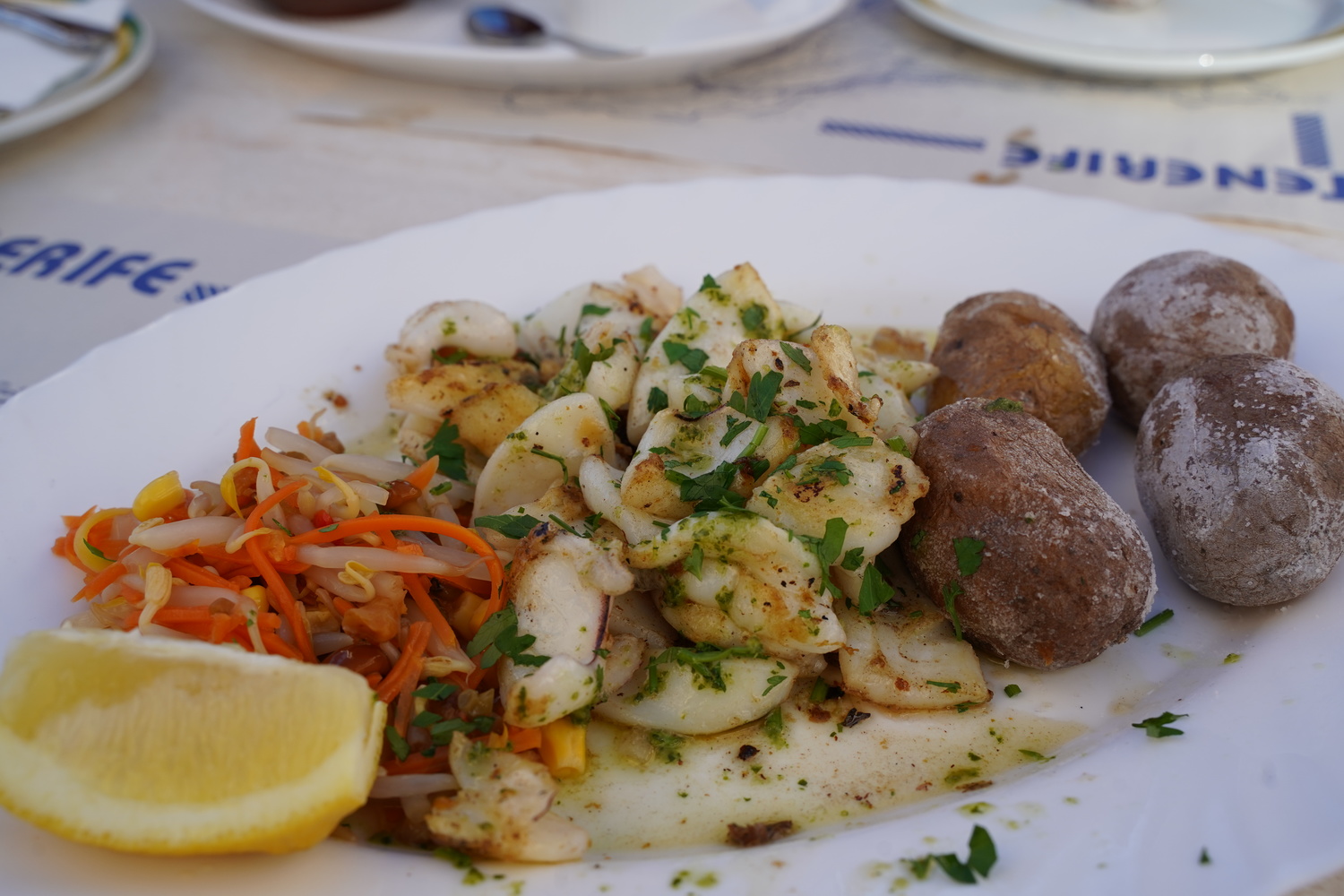 The best value for money is found with prawns and squid. Although it is better to order them in the evening as they are imported and usually thawed. Most dishes are accompanied by Canarian sweet potato fries rolled in salt.
We were very impressed by the exceptional quality of the beef at the restaurant Asador Ruta el Teide in the small mountain town of Tamaimo. Great courage for a restaurant to serve tartar and even greater courage with a green egg. The beef is displayed in a window. And what a steak it was there, incomparable and when it was a bit cold they brought a metal plate to heat it up. Even the burger was extraordinary.
In Tenerife, it is worth trying paella. That is rice with seafood. However, you should order it in advance rather than take it if it's on the snack menu. On the instant menu you get rice porridge with seafood. Real paella takes quite a long time to cook and the rice needs to be soft and fluffy.
In mountain villages it is better to have simpler vegetable and meat dishes. The various stews can be very surprising.
A special mention for Tenerife's sweets. One café on the way to Anaga has been noted separately. Unfortunately, it's hard to pick out something from their range, we took a lot to try - everything was fresh and melted in our mouths.
Accomodation in Tenerife
Tenerife offers a range of budget and luxury accommodation options. All you need to do is hunt for a good place to stay. For example, we managed to get a full colonial villa with 4 bedrooms, 2 living rooms, a kitchen, 2 bathrooms, a private barbecue, a large pool and a view of the Atlantic Ocean and the island of Gomera for 300 euros per night. As far as we could see, during the summer season it is starting at 1000 euros per night. Even after we arrived, it cost that much. It's important to start looking in advance, you can contact the owners.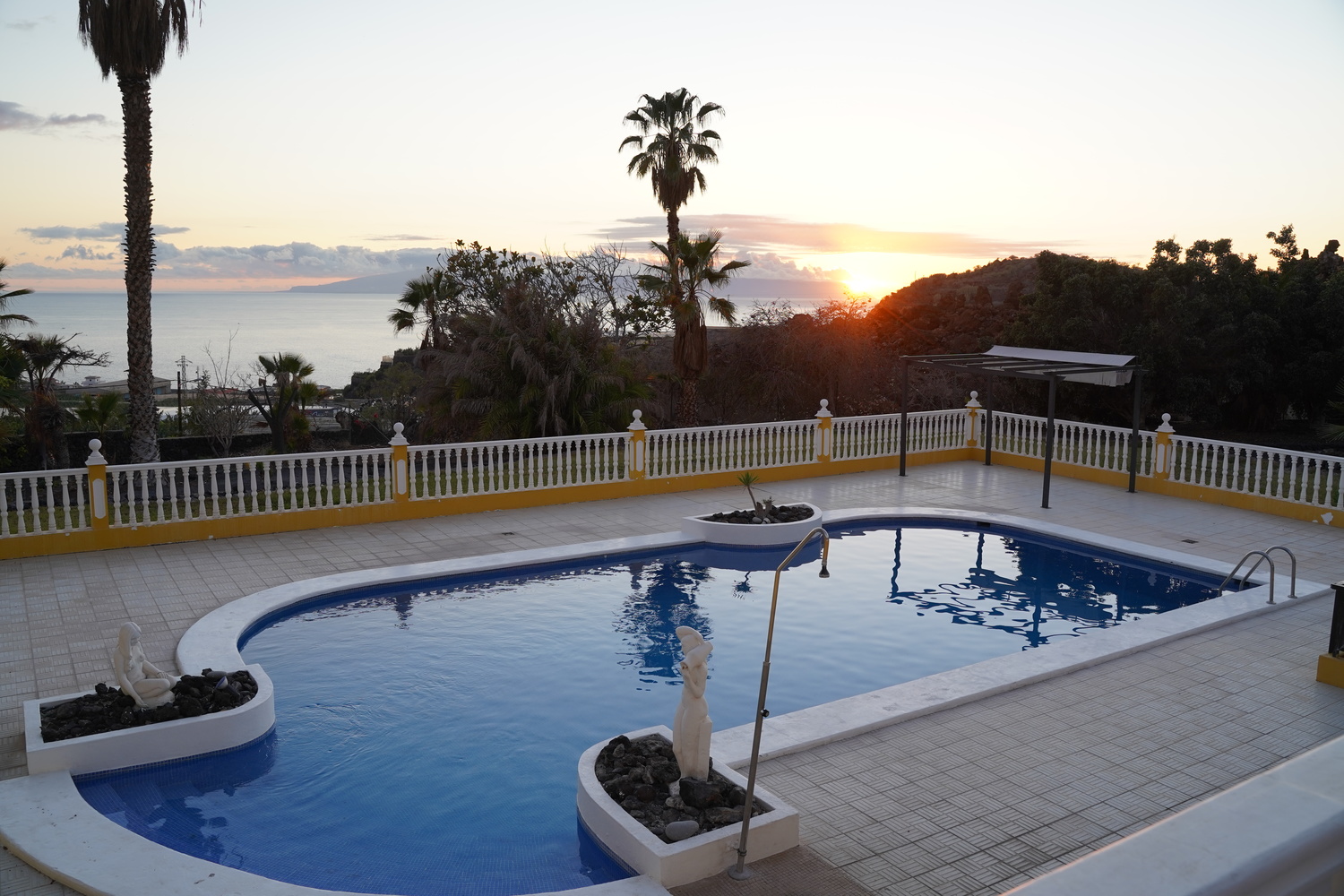 The villas are usually located some distance from the ocean. However, they do have a courtyard where you can park your car. Villas in Tenerife are perfect for a group of friends.
Apartment complexes are usually located in zones 2 and beyond. In Los Gigantes, an apartment of around 60-80 square metres with a kitchen costs around €70-100. A kitchen is very useful because Tenerife supermarkets have high-quality and relatively inexpensive food. Fish is brought to the supermarkets by fishermen and at lunchtime the fish stalls are adorned with colourful Atlantic fish. The apartments are ideal for families with children.
Hotels in Tenerife in the comparable range to apartments are more expensive. On average, you can rent a 25 square metre hotel room for an apartment of 80 square metres. There is clearly more social interaction in a hotel.
Cheap tickets to Tenerife
You'll also need to hunt for cheap tickets to Tenerife. Charter tickets to Tenerife will cost around 3 times more than combined low-cost airline tickets.
A convenient search engine for cheap tickets is azair.com. Connecting via other airports is quite dangerous as most low-cost airlines do not offer connecting flights. This will leave you without compensation if you are late.
We've put together a video briefing on what to see in Tenerife. We've tried to give you as much as possible in as little time as possible.
Monuments, restaurants and local foods
Clermont-Ferrnad, located in Auvergne a green and peaceful region, is the perfect place if you want to discover France in an unusual way.
Morocco by car. The full itinerary of a car trip in Morocco.
Go through 4 different countries and visit new places, cultures and ways of life in a 12 days road trip accross Europe.