Road trip: 15 days accross Europe
15 days through Europe in car
Have you ever though, when it was time to go in holydays or travel, to do a road trip ? But not a simple car road in your country, but through Europe ? If there is one advantage to be a European citizen, it is this one: free passage in all the countries of the EU, so why don't go for it for your next holidays ? 15 days accross Europe, from Vilnius, Lithuanian capital to Nantes, Atlantic coast city in France !
In this itinerary, we chose to go through 4 different countries: Poland, Czech Republic, Germany and finally France.
If you are leaving for 15 days, the best is to take a familial car, to take all the things you will need during the trip, and enjoy having a comfortable car. For packing, stay simple, the advantage of these 4 countries is that if you go during summer, you will rarely have bad weather. The temperature varies between 20 and 30 degrees, according to the region and period. So you can take summer clothes, some shirts and shorts for instance. However, it is possible to have bad weather sometimes, or that during the evening it gets colder, thus plan to take some trousers and sweatshirts. Also do not forget to take good walking shoes with you, there is nothing worse than having to visit and walk around the cities with a foot ache.
Add sunglasses, sun cream, a hat, and happiness and you will have the perfect trip ! (However, if you do the road trip during winter, the weather will be much colder in poland and Czech republic than in France for example, so don't forget to check the temperature before going).
Other important information: Poland and Czech Republic do not use euro as their currency, so you will have to make cash in the right currency or see with your bank if you can pay by card too.
1st day of Road Trip - Departure day !
Our first stop from Vilnius will be Warsaw in Poland. In 6 hours you can be there, by road and highway (only for about 1h20) for a cost of 50 euros, according to the price of fuel and your car. For accommodation, find a hotel that has a car park, with no additional fee, it will save you a lot of money ! Otherwise you can park the car in a free place, usually hotels are not very far away from public parking. A lot of them in Warsaw have free parking for their customers so don't worry.
When you arrive, leave your luggage in the hotel and go out for a walk in this beautiful capital, full of history.
One of the very known place to go is the Royal pathway. It is the perfect way if you want to discover the monumental and classical architecture, and the royal residences. Along the way, you go through Warsaw old town: the market square, the Royal Palace, Saint Anne church, presidential palace, Lazienki Park, Palace on Water and University of Warsaw, to quote just a few places. Some other routes are possible, for instance Chopin pathway: its house of birth, its monument in Lazienki park, its museum…
Furthermore, the architecture and influences of the city changed after world war I and II, so while going around the city, you will find various routes to discover the new Warsaw, the Art neighborhood and the new architecture of glass and steel.
This is now the evening, so this is time to taste local polish food ! Wherever you are in Warsaw, there are always restaurants or bars not very far away. Near the Royal pathways you will find various polish restaurants where to taste traditional dishes.
On your second day in Warsaw, you can go on the routes you didn't have time to do before, for example, Praga quarter, on the other side of the Vistule. It is one of the quarter that didn't suffer great damage from the two world wars. Within the years, it has been inhabited by artists, which gives it a unique atmosphere and aspect. However, the quarter does not have a good reputation and it is safer to go only by day, remaining on the main streets. This way you will not have any problems.
Second stop: Wroclaw
Next stop on your travel itinerary: Wroclaw ! It is at 3h30 from Warsaw, so you can leave warsaw in late afternoon to arrive at your destination during the evening. The journey begins the day after.
On the 3rd morning you can go to the townhall square, surrounded by colourful houses, that embellish the square. The town hall is a representation of gothic art, from the 13 and 14th century. You can notice on the facade the astronomical clock. You can enter the building and discover for free the bourgeoisie museum, with 4 rooms: one from the 14th century, where public meetings and ceremonies took place; another one from 1299, that was used by the municipality members; a courtroom from the 14th century; and the great hall, where concerts are sometimes organised.
On the afternoon, you can go visit the Panorama of Raclawice Battle. This is a huge painting, 114 meters long and 15 meters high, exposed in cylinder so that the visitors are in the centre of the room and can observe easily all the painting. It dates from the 19th century and is one of the most well preserved work of that type in all Europe.
What can you eat in Poland ? The dishes you will find have various influences: Ukrainian, Lithuanian, Austrian…
The beetroot soup, called "barszcz czerwony", the "Krupnik", soup with vegetable, barley and chicken, are examples of the soup you can have. In main courses, there are the famous "Pierogies", sort of ravioli filled with either spinach or mushrooms or potatoes. A hundred kinds of Pierogies exist, which makes it a very rich dish. Also, you can find filling with jam, fruits or chocolate. Poland also have Kluski, little buns made with flour and potatoes, cooked in boiled water, and bigos, a mix made with sauerkraut and a sausages stew.
In term of pastries, the former pope, Jean-Paul II loved the Kremowka, a vanilla mille-feuille. For Carnival, you will find the chrusty, little fritters with icing sugar. Then we can mention the Jablecznik, a cake with apples and fresh cream
In wrocław, in the old town part, there are many cafes and bars, thus as restaurants. You will find traditional dishes and european one. This is also a good place to go at night.
Leave Wroclaw for antoher great city: Praha
On the morning of the 4th day, you'll be living for Praha, Czech Republic capital, at 4 hours and a half in car from Wroclaw. To be able to drive in Czech Republic, you have to buy a sticker to put on your car, when arriving to the border. It cost 12,50 euros. If you don't have it police officers can give you a fine to pay.
The main touristic spot you perhaps heard about is Charles bridge, so busy during summer that you can't almost walk amongst all the visitirs. Nevertheless, it does not prevent to enjoy the beauty of its architecture and history, and on the mornings and evenings, there are less people ! Another activity is to go see the Royal palace, located not far away from Charles bridge. On this side of the town, you can also go visit the KGB museum.
©Prague City Tourism
Spend the day in the streets of Praha, visiting the monuments and tasting the traditional dishes and pastries, as thus as the beers, said to be the best in Europe ! You can find various interesting walks on https://www.prague.eu/. They all have the advantage to be off the beaten track, to make you go where the locals go, and finally, they all propose very beautiful views of the town.
Praha Castle at dusk. ©Prague City Tourism
At the end of the day, you can go in a bar to enjoy the evening or go to the hotel to rest.
Driving to the land of cars !
On day 5, you head to Stuttgart in Germany. It is at about 4 hours and a half from Praha, so better to live in the morning to arrive at the beginning of the afternoon. (In Geramany you do not pay for the highway but you have to buy a sticker, for a fee from 5 to 15 euros according to the length of stay in Germany.)
Really near the city centre, you can house in Hotel Wörtz und Schlösschen zur Weinsteige, they have a free parking for the car, free wifi, and is a high standard hotel (4 stars).
You can spend the afternoon walking around, take your camera and go in the city centre, you will enjoy walking in all the little streets Stuttgart has. You can visit some museums, particularly the cars museums, as Stuttgart is to be the birthplace of automobile. Off centred, there are mercedes benz museum and porsche museum, however the two museums are in opposites places, so choose the one you prefer if you do not want to spend all day in the museums ! Mercedes exposes more cars, but Porsche museum is worth too.
6th day of our European Journey, the Alsatian capital: Strasbourg
Going to Strasbourg is always a good idea. You are in France, but the history of this region, that once belonged to Germany, makes it very different from the rest of France.
Especially nearby the river, you will see many houses, with apparent wooden beam on the facades, which gives the city a charming atmosphere and look. The most noticeable neighborhood is Petite France, near Quai du Faisan, there you will see these typical houses on the riverside, dating from the 16th and 17th centuries. Millers and tanners would live there back at the time.
Another inescapable place is the cathedral, built from 1015 to 1439 in a gothic art style. The roman style construction have all disappeared except for the crypt and the floor. For 5 euros, you can go at the top of the cathedral to see the panoramic view on Strasbourg and the Black forest in Germany (from october 2018 to march 2019 it will be closed for works).
©Sara Sergent - Office de Tourisme de Strasbourg et sa Région

For visiting the city, you have various choices: by walk, bike, segway, touristic ship or touristic train. On strasbourg city office, you can find some companies that offer these services: http://www.otstrasbourg.fr/en/leisure-activities/visits-and-activities-in-the-town/different-ways-to-visit.html
You may also have heard about this city because it is part of the european metropol, it hosts Council of Europe, European parliament, the Human rights building and the Europe building. The Europe Building is a place of education about Europe in order to make the visitors feel more European and know better the functionning of this institution. If you want to see all of the buildings, they are near the Parc de l'Orangerie that you can access easily by tramway. You cannot visit the Human rights building from the inside but you can visit the others although you have to call and register before going. (not necessary for the Europe Building)
Last thing but not least, Strasbourg is the Christmas capital in France. Its christmas market is very famous, as well as the decorations in the streets. Every year a lot of people, from France but also foreigners, come to Strasbourg to live this unique christmas spirit.
Some Alsatian dishes, pastries or drinks:
Flàmmeküeche, originally it is a thin bread dough with crème fraîche, onions and bacon, cooked in bread oven. But nowadays they have Flàmmenküeche with a lot of different tastes, even sugary. Bretzel, Manala, that we find on christmas time, Gingerbread, Gewurtztraminer: Alsatian wine, Choucroute, spaetzle: pasta made with eggs, are some of the culinary specialties of this region.
Au Brasseur is located not far away from Strasbourg Cathedral. They produce their own beer, in a traditional way and cook the famous Flàmmeküeche (the original one and the alternative versions). The establishment first opened in 1746 but was reopened in 1991 uder this name, so it has a lot of history to tell! The owner will know how to advise you which beer to take according to what you want to eat.
For sleeping in Strasbourg, it is better to have a hotel with a car parking and near the city centre, or next to a tramway or bus stop.
After Starsbourg, we are going to go by the Loire Castles in France. The Loire Catsle are Castles, from various era, that are along the river called Loire.
The First Loire Castle of our journey: Chambord
After spending two nights and a day in strasbourg, you can leave on the morning of day 7 for Chambord, one of the Loire castles in France.
Going by the highway, it takes about 6 hours. You have to take in consideration the price of fuel and of highways that are not free in France (it will be about 35 euros of toll) You can choose not to take the highway, but it is 4 hours more of driving.
After leaving your luggages at the hotel and eat, you can go visit Chambord castle. Build in 1519 on order of Francis the 1st, this castle is the symbol of French Renaissance architecture through the world. We can see it emerge from water, surrounded by big gardens.
In the 16th century, the surroundings have been furnished by King Louis XIV: gardens, royal stables. The king used to come here with its court to organise big hunting expeditions.
The castle is on UNESCO world heritage list since 1981 and a historical monument since 1840.
When people talk about Loire Castle, they all have an image of Chambord castle coming in mind, even if there are plenty of other castle so you should definitely go see it.
If you are more than 25, the price is 13 euros, but if you are between 18 and 25 and from European Union, you will not have to pay.
The park has a big free part, that is open every day.
From 30th of June to 14th of July 2018, Chambord celebrates its music festival !
From 28th of april to 30th of september 2018, Chambord put on a show with horses and hawks. It is everyday except on monday at 11:45 or 16:00. (From 3rd of July to 27th of August, there is also a show on mondays). The language is French, but you can have a summary sheet in english, german, chinese, italian and dutch. (14,5 euros for adults and 11 for children)
©Leonard de Serres
Second Loire Castle : Blois.
25 minutes in car from Chambord, there is Blois, guarding a beautiful castle, with a history of a thousand years old. Indeed the first construction of the Castle takes its roots in the 9th century, when it was a fortress. But nowadays, the castle only keeps few structure of the 13th century from the medieval constructions. This part of the castle is one type of architecture amongst the 4 you will see in Blois. In fact, in the 15th century, the King Louis XII build a gothic wing, in 1515, Francis the 1st build new structures with Italian inspiration, in a renaissance style. Finally, the last type of architecture is classical, made by Gaston of Orleans, brother of King Louis XIII.
As there is road to go there and visiting a castle always take some time, you will not have the time to visit Chambord and Blois castles on the same afternoon. The best is to go in Blois after Chambord visit, to sleep there and visit Blois castle the day after (So on day 8 on the morning).
During the year, various animations are planned:
From April to the end of September, at night (10 pm or 10:30 pm) the history of Blois is told with music and lights on the castle walls. The spectacle (called Blois vous est conté) is in French but you can have an audio translation in 9 languages. It is a fantastic experience to do, 1000 years of history are told to visitors with special effects, lights and sounds, that makes the castle live.
In Summer time, fencing shows are organised and are possible to see for free, during visiting the castle. It is from Sunday to Thursday at 11:30, 16:15, or 17:45.
Finally, every Saturday from the 15th of July to 26th of August, you can watch a renaissance dance spectacle, in period costumes, at 14:30 or 15h45.
For the sound and lights show, you have to buy a special ticket, in addition to the normal entrance.
Chaumont Castle on the afternoon of day 8
The advantage of Loire castle is that there are not far away from each other, so if you do Blois a morning, you can go visit Chaumont in the afternoon, it is only at 20 minutes in car. It was first built in the 11th century but destroyed by king Louis XI, and was rebuilt few years later. Every year takes place the gardens international festival in Chaumont castle. Until the 4th of November, you can explore various universe in the gardens of Chaumont. They have been designed by international artists from Russia, United States, Germany, Japan, Italy, Canada, South Korea and of course from France. And not only gardeners but also by landscapers, directors, geographer, architects, and even an anthropologist, so you will live a unique experience by visiting Chaumont gardens !
Furthermore, Chaumont is a place of Art and nature, in the gardens or inside the castles, you will see work of numerous artists coming from different places around the world. This year is particular because it is the 10th anniversary of the art and nature centre of Chaumont. Another reason to go see this beautiful castle and its gardens !
On the 9th day, we head to Amboise
For sleeping, go to Amboise, 20 minutes from Chaumont. This little city is very charming and you'll enjoy staying there for a day. It has the famous Amboise castle but there are other monuments to visit and walks to do in the city. This was once the place of stay of Leonardo Da Vinci that lived in Clos Lucé Castle.
General view of Amboise Castle ©L.M de Serres
As you are in France, you also can take time to taste some local wines, with controlled appellation. In Loire, the wines are fruity and can be Red, White, Rose, and slightly sparkling.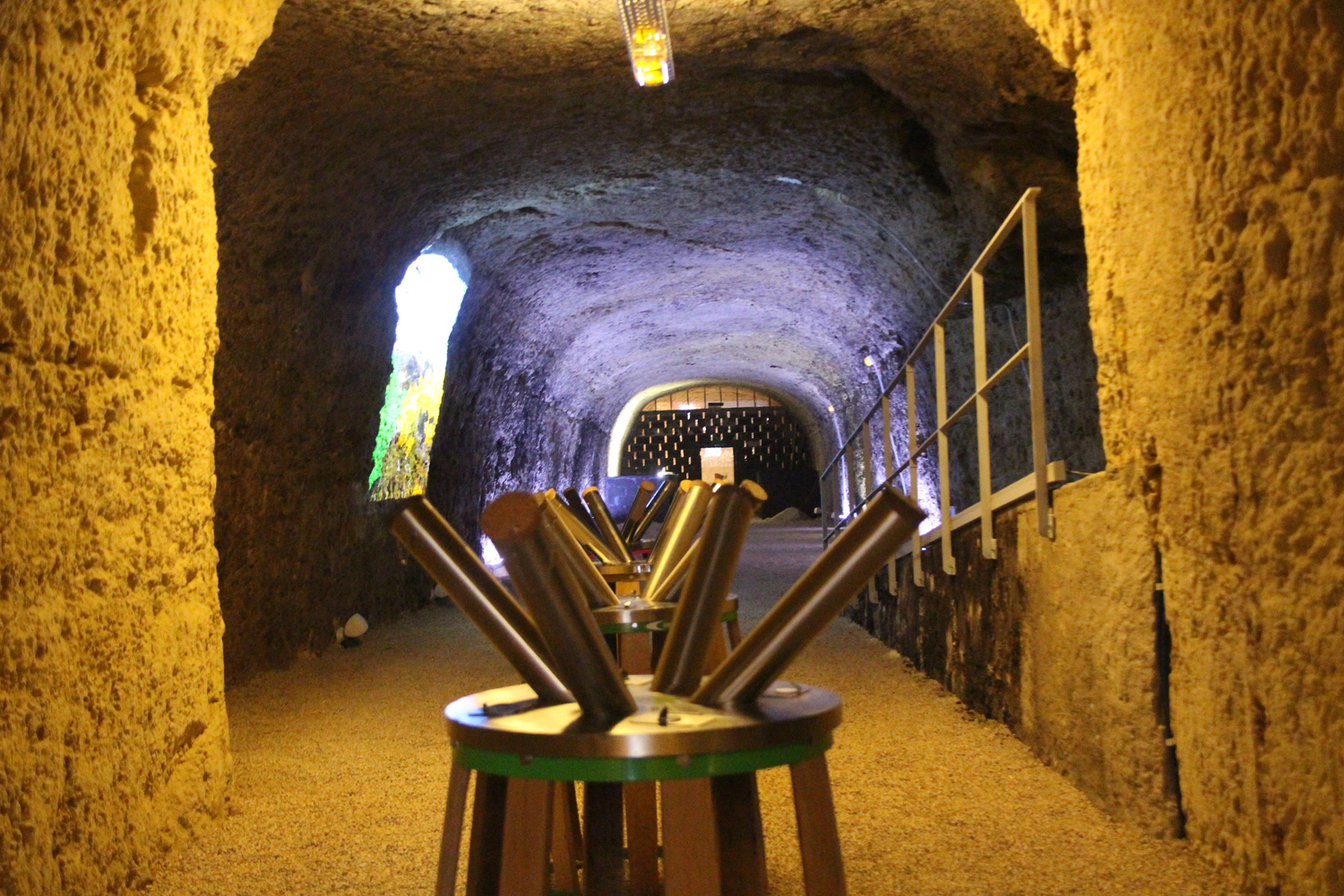 The Duhard caves, troglodytes caves, can be visited if you would like to taste some wines and learn about wine making and history. The caves have a 500 years old history, and they have wine aging from 1874. It is located in the heart of Amboise. They offer you to visit the caves and have a degustation of some of their wines. You can then buy the wine or other products (such as jam) in their shop.
Then: Tours
You can leave on the 10th morning for Tours, penultimate stage of our journey in Europe. There is not particularly a castle to see in Tours, as a lot of the castle has disappeared with time. Now we can only see the governor's house, where meetings took place, and the medieval tower of Guise. But two things not to miss are the historic centre of Tours, which is on the UNESCO list, and the Saint-Gatien Cathedral.
A nice way to enjoy the city, meet locals and discover the french gastronomy, is to go to the markets. In Tours you can go to the Gourmet Market, on the first sunday of the month, or the traditional market, open every morning in different places in town. You can find the different markets and places on Tours Tourism Office website: http://www.tours-tourism.co.uk/food/markets
You will spend the night in tour and then head to Nantes fro the 2 last days of our Road Trip.
Final stop: Nantes
After 10 days of travel, you arrive at your final destination in the Atlantic French coast : Nantes.
It is not very far from Tours, just 2h15 if you take the highway. The motorway tolls will cost you about 15 euros. But you can choose to go only by road, so that you do not pay tolls, although the travel will last longer. (3 hours in total)
In Nantes, you should visit the Castle of Dukes of Bretagne and Saint-Pierre Cathedral, both located in the historical centre. From the city, we can see a 500 meters fortress of the castle, with 7 towers. From the court side, we see the residence of the dukes from the 15th century thus as buildings from the 16th and 18th century, the whiteness of these buildings contrast with the exterior fortified walls. The castle now hosts the museum of Nantes' history.
The museum also displays an exhibition about the decolonization, that shows the history of colonialism, according to various point of view, not only a european one. (from 28/04/18 to 04/11/18).
For music lovers, the castle offers an exhibition about Rock. To listen some info or music, they created an original way of listening: you put a cup, like the ones you get in festivals, on a sensor and the music goes on.
All year Nantes has various events, such as the International Biennial of Performing Arts for instance. At christmas, in 2018 they will have sounds and images animations on the cathedral, based on Alain Thomas paintings, with a Russian theme.
Finally another thing to go to is "Les machines de l'Ile". There is a big mecanic elephant, in which you can climb and see its mechanism from the inside. They also have a gallery full of littler mechanical animals. Furthermore, for marin creatures, they have a giant carrousel, on three levels. (Be careful, the tickets are bought for one attraction only: either the Elephant or the Gallery or the Carrousel. However, every tickets give you access to the workshop terrace, where you can see the work of the manufacturers.)
The Great Elephant Les Machines de l'île. Nantes (Loire-Atlantique) ©Jean-Dominique Billaud/LVAN
https://www.lesmachines-nantes.fr/en/
In autumn, they organises shows, animation, concerts for the Indian Autumn, most of the time for free or very cheap. In christmas time, they put on familial activities, hot wine selling, chocolate selling etc.
In addition, Nantes is actually not very far from the beach, so if you come during the hot days, you can enjoy going there.
In conclusion Nantes is definitely not a city to miss !
Culinary specialties from Loire region
La Cantine du Voyage, dans le cadre du Voyage à Nantes 2015 - habillage du lieu par Appelle-moi papa © Matthieu Chauveau / LVAN
La Cantine du Voyage. Ok this is not a dish but this is definitely the place where you can find a good one! It is familial place so it is perfect if you come with children.
What traditional dishes can you find in Nantes?
Due to the proximity with the sea, many dishes will have fish inside, and you can find fresh fish and seafood in the markets
The region is also known for its vegetables culture, it sells lamb's lettuce to all Europe and they have delicious leeks.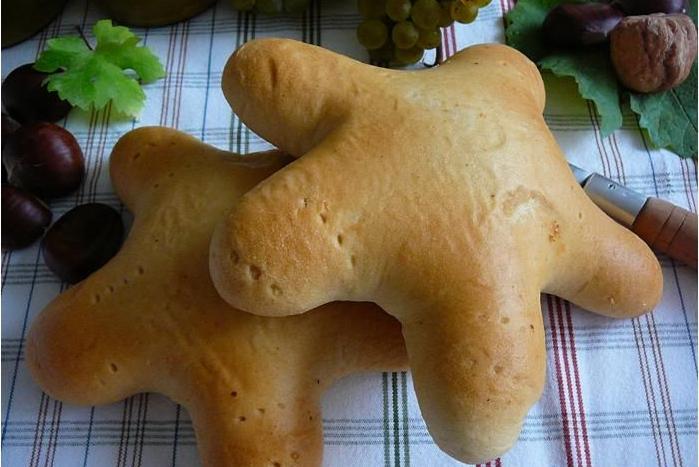 Fouace is a mix between brioche and Fouée is like bread, with a filling
bread, usually in a star shape that you rillettes, butter, or mogette (a white bean)
will find in a lot of Boulangerie in Nantes.
In dessert, you also have the "gâteaux Nantais", an almond cake with a sugar and rum icing on its top.
© Patrick Gérard/LVAN
In dishes, the "Canard Nantais", is a duck cooked in white wine (Muscadet)and apples and dried grapes.
"La côte Nantaise" is a really typical dish. It is a bacon rib in jelly, with liver, and pork roti, first cooked on oven, and then served cold.
France is the country of wine and cheese so obviously, Nantes also has some specialties, such as "Le curé de Nantes" a cheese sometimes perfumes with herbs or muscadet.
In wine, you will have the famous Muscadet.
Nantes does not have a lot of culinary specialties, but the chefs have bunch of ideas to make their cuisine good, so you'll have no problem to find a good restaurant in Nantes, and for a reasonable price.
For the returning trip, we calculated that it would take about 25 hours of driving from Nantes to Vilnius. We will stop to sleep twice. One time in Frankfurt and the other time in Lodz, in Poland.
From Nantes to Frankfurt, it will take you about 9 hours to go there, with a fee of 60 euros for the highway tolls. For the travel you have to consider the time of rest so it will actually take more than 9 hours to go from Nantes to Frankfurt. A great thing would be to have someone else that can drive so that you can share the driving time.
On the second day of the return journey, you will drive from Frankfurt to Lodz. It will be approximately the same amount of time but you will not have any highway tolls to pay, just the fuel. You will have various choices of hotels around lodz to sleep, and the day after, it is the final day of our european trip.
Finally you head to Vilnius, the road from Lodz to Vilnius goes by the same road as Vilnius-Warsaw. For this last travel, you will have to drive "only" for 7h30.
In this itinerary, you can visit Frankfurt and Lodz if you wish and have time to do so. They are both beautiful and interesting cities to see.
-Frankfurt is an important financial pole. This is where the European Bank is. In fact, you can see a nice financial quarter in Frankfurt, with skyscrapers. Also, there is the Altstadt, a quarter with houses with wooden beams and the gothic cathedral. The Römer, is a 3 houses facade of medieval time, that hosts the townhall since the 15th century. Furthermore, there are plenty of museums to do in Frankfurt.
-Lodz is a polish city, the 3rd one of the country. But as Warsaw is very near and more attractive for investors and visitors, the standards of living are quite low there. However, this a cultural city. Indeed, it has a multicultural heritage with jews, germans, poles, and it organizes bunches of cultural events and exhibitions taht you can attend.
Hélène MARCHANDISE
Monuments, restaurants and local foods
Clermont-Ferrnad, located in Auvergne a green and peaceful region, is the perfect place if you want to discover France in an unusual way.
Morocco by car. The full itinerary of a car trip in Morocco.
Go through 4 different countries and visit new places, cultures and ways of life in a 12 days road trip accross Europe.