Morocco by car
Car renting in Morocco
There are two different ways to rent a car in Morocco. The first one is to rent out a car from a well-known international car rental company and the second is to use local car rental services. There are some differences, but there is no need to think that local companies have way worse cars. We chose to rent out a car from a local company ant got a new, only couple of months old Ford Fiesta. Biggest differences between the rental companies' options are the price and the deposit policy. International companies rent out the cars for a little cheaper but they require a big, around 1000 euros reaching deposit while locals rent the cars for a little more, but does not require any deposit.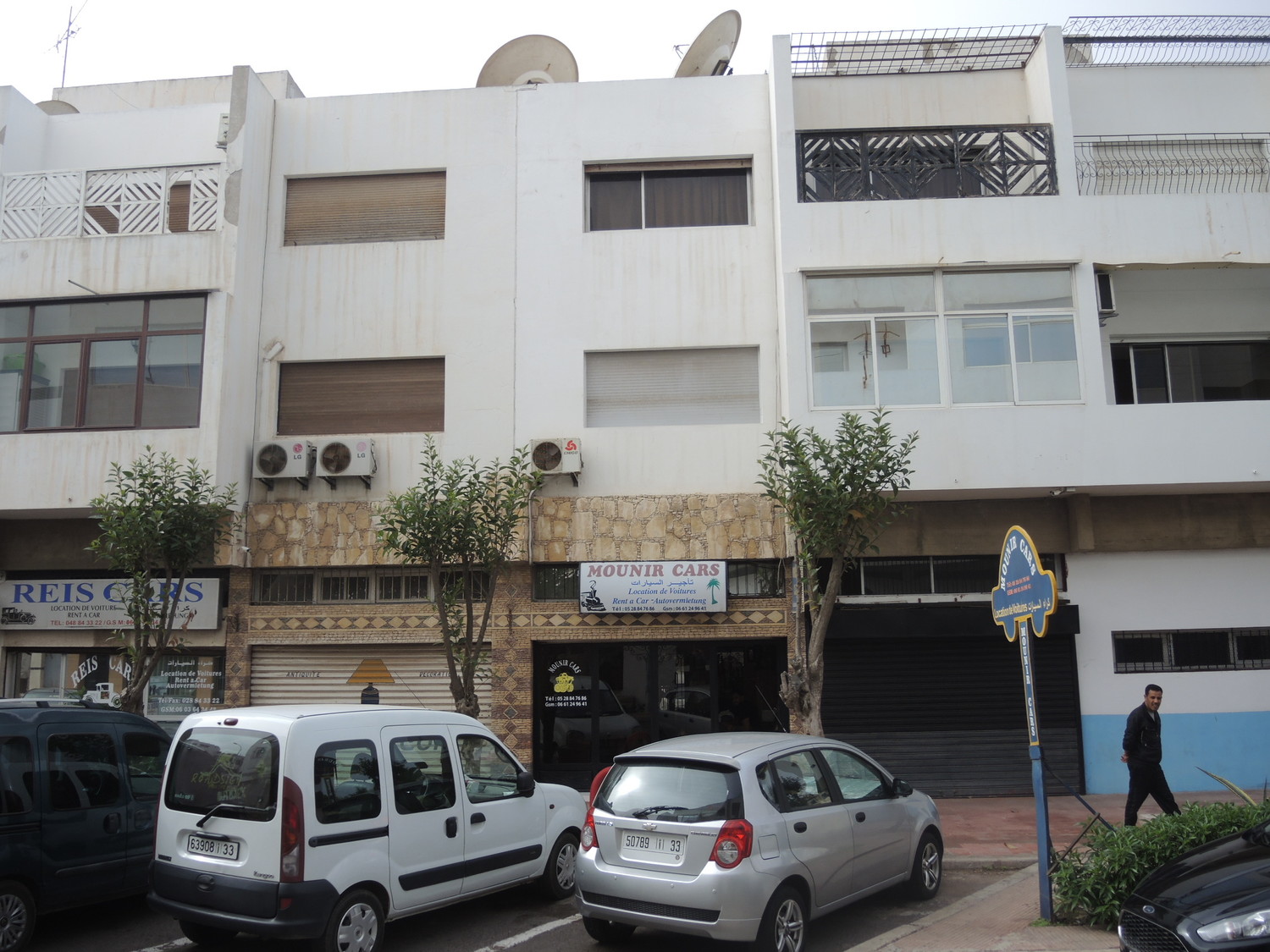 We chose a local company "Mounir cars" in Agadir and we got an almost new, couple of months old Ford Fiesta.
It is not only advisable, it is actually a must to take out a full insurance with a full coverage so the trip would be much calmer. Our Ford Fiesta cost about 30 euros per day with a full coverage insurance plan. Additional 70 euros were required because we returned the car in another city, Marrakech, since we landed in Agadir and flew out from Marrakech.
Planning a trip itinerary
Moroccan roads are great and modern. Nevertheless, some parts of the roads go through the mountains, so sometimes a 200-kilometer drive (for example, from Agadir to Essaouira) would take up around 5 hours.
It is not advisable to plan a drive longer than of 200 kilometers a day, that would be an optimal choice. In this way, in the morning you leave after a quality night sleep and you reach your destination when it's still day time outside and it leaves you with some additional time to look through your next steps.
Our trip through Morocco was of a similar pace. After we landed in Agadir, we spent a whole day there went to Sidi Ifni, Legzira beach and we saw the arcs on the beach. Later, a longer drive, to Essaouira awaited. It would be better to stop and stay for the night in Taghazout surfers' town. From Essaouira, Atlas Mountains and Ouzoud waterfalls are a little further away. We then left for the Atlas Mountains and spent the night in Ait Benhaddou. From there, we went to explore Atlas Mountains again and spent the night on the other side of the mountains. In the morning we left to Marrakech where we gave our car back and spent a couple of days simply enjoying Marrakech.
10-day trip in Morocco by car
In 10 days time, however, you can only see a part of Morocco.
We landed in Agadir in the evening (November 1) and go to the city center where we have our hotel pre-booked. We chose a hotel that offers a room with a small kitchen inside because we wanted to prepare ourselves some fresh seafood that w purchased in the fish market nearby. Here, we spend a day and the morning of the 3rd day.
On the third day (November 3), we leave Agadir for Sidi Ifni through Legzira, where we go by foot to see the famous arcs on the beach.
On the fourth day (November 4), we go a little back along the coast and reach Taghazout. It is a 190km drive that takes us 3 and a half hours.
The fifth day (November 5). We drive to Essaouira, 150km, 2 and a half hours.
On the sixth day (November 6), we leave for Ouzoud waterfalls and the drive is longer. It's 360 kilometers and it would take about 5 and a half hours.
Day number seven (November 7). We go to Air Benhaddou through Uarzazat on the road R307 which goes through the Atlas Mountains. 253 kilometers, it takes about 6 hours to reach it.
On the day number eight (November 8), we go back to the Atlas Mountains on the way to Marrakech and spend the night in the mountains in Toufliht. We use the road N9 through the mountains and the road is about 125 kilometers and it takes about 3 hours.
Day number nine (November 9) starts with reaching Marrakech. We park the car before the Medina starts and we go on foot to a riad inside the Medina of Marrakech to stay for the night.
Day number ten (November 10). We spend the time in Marrakech and give our car back to the rental company.
On the eleventh day (November 11) we take a taxi to the airport and leave Morocco.
A detailed day-by-day itinerary in Morocco
Day number 1
We land in Agadir airport quite early in the morning. We stop by an information stand and ask one more time about the taxi prices and we get the approval, that the price is fixed and it is 200 dirhams. In the airport's currency exchange office, the exchange rate is similar to the ones in the city, it is just not worth of exchanging the money in the very first or the second office. You can take a cab or a hotel shuttle bus to reach the center of the city and the drivers are pretty considerate; that would cost you around 50 dirhams for each person. In our personal opinion, it is not very clever to rent a car in the airport rentals. A car is quite a burden while in the city, since you have to find parking spaces and it is actually cheaper to use taxi service while commuting in the city. In the city you may encounter 3 different taxi rates. As usual, the airport taxi is the most expensive, in which case it would cost you about 50 dirhams for a large, 5-people car and 25 dirhams for a smaller, 4-people taxi.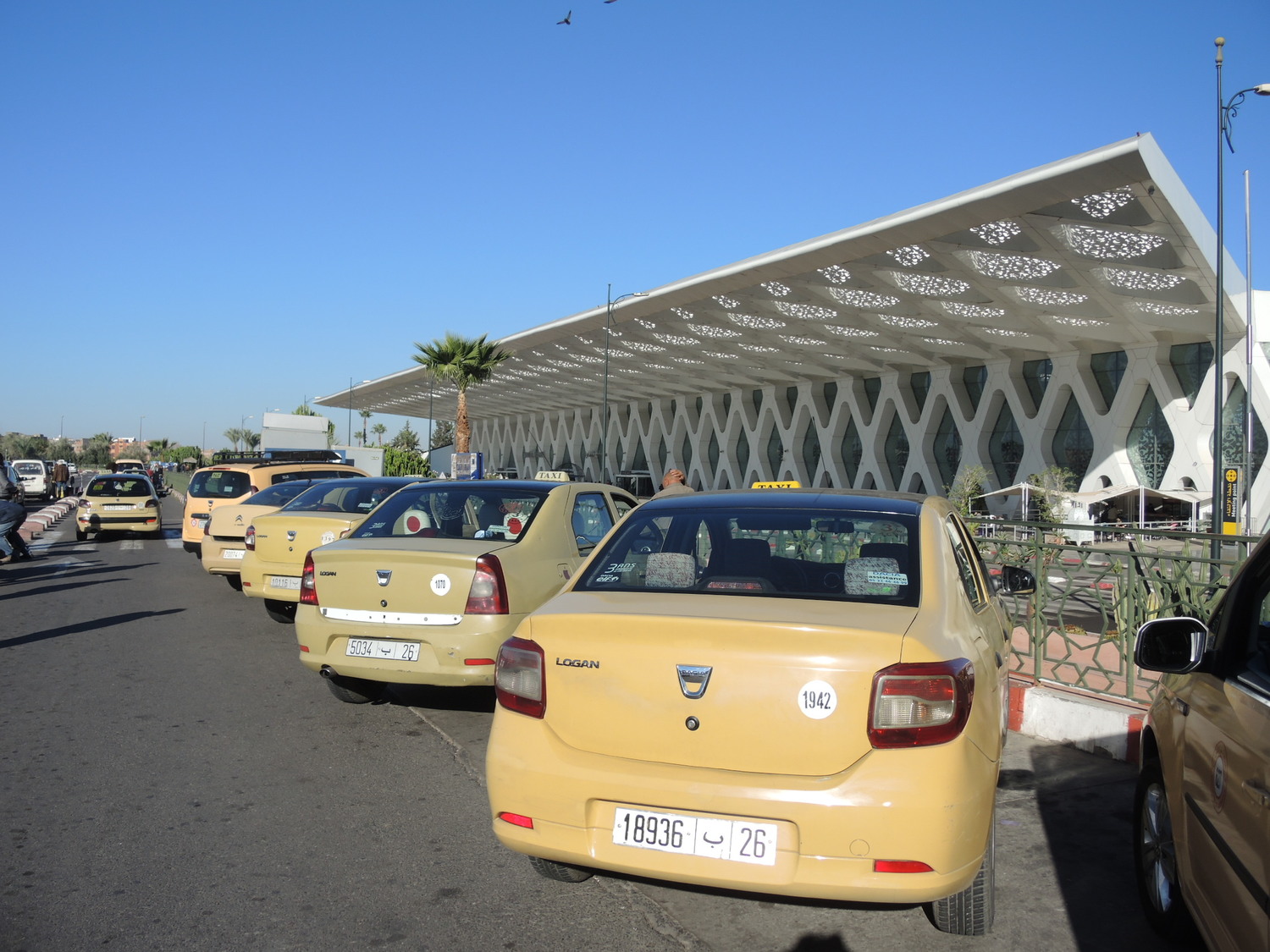 Al Massira airport in Agadir. Here you can see the 'bigger' taxi cars and the buses that might take you to your hotel.
We chose our hotel through booking.com for two-night stay. We were looking for a hotel that would be as close to the sea as possible, but, at the same time, close to the center and would have a kitchen inside. Agadir is considerably young resort town which doesn't have its own medina, the streets are wide and straight. There are also an abundance of hotels and entertainment centers. Agadir is known for its long beach and wide promenade. For the first evening we chose to go jump in the waves of the Atlantic Ocean. Even though it's November, the water is very warm, just as in Lithuania during the summer. We take a stroll along the promenade and sit at a café which is full of local people. According my personal traveling experience, seeing tourists ant truck drivers in a café is a big advantage and a proof of quality food and good prices.
There is an amazing promenade in Agadir, which is unusually wide and the sandy beach is right next to it. Across the street you may see a lot of restaurants and shops.
Day number 2
In the morning we chose to go look for a fish market. We passed the promenade and the luxurious neighborhood by the coast. Sadly, it is closed, since it is Friday and according to the locals the market is open on Saturdays. In this market you may find fresh fish laid right ion the ice and the vendors will offer you to have them prepared on the spot. A local "guide" approached us in a nice and professional manner. He did not give us a chance to say no to him and he even stopped a truck in order for us to cross the street. You may find a bigger fish market and the port a little further away so it is advisable to reach it by a taxi. It is worth to go there if you want to look at the beautiful blue boats and buy some fish, but we think it would be better to leave this attraction for when you're in Essaouira.
It is best to get the accurate information from the local workers in airports, hotels or bigger restaurants. They usually are capable of giving the information in a clearer manner and their English is usually way better. So, we get the information from a person working at the airport and he told us to go to the other side of the city in order to reach El Massira fish market. Our taxi ride there cost us 50 dirhams. Do not agree when a taxi driver offers to give you a ride when it would be priced according to the meter, because in this case you would simply become another case of a fooled tourist. You should name a concrete fixed price, and even though the driver will probably not be very happy about that, he will eventually agree. This will show the driver that you are, in case, a well experienced tourist.
There is a huge selection in the El Massira fish market. Of course, there is some not-that-fresh fish in there, that a less experienced tourist will buy as if it would be perfectly fine. After purchasing the fish, they will clean it right on the spot, which makes the cooking process way easier. On the average, a fresh fish costs around 60 dirhams and the clean-up will be around 5 more dirhams. It is very advisable to try your luck in bargaining – sometimes the vendors will cut down the price in half or even 2 thirds.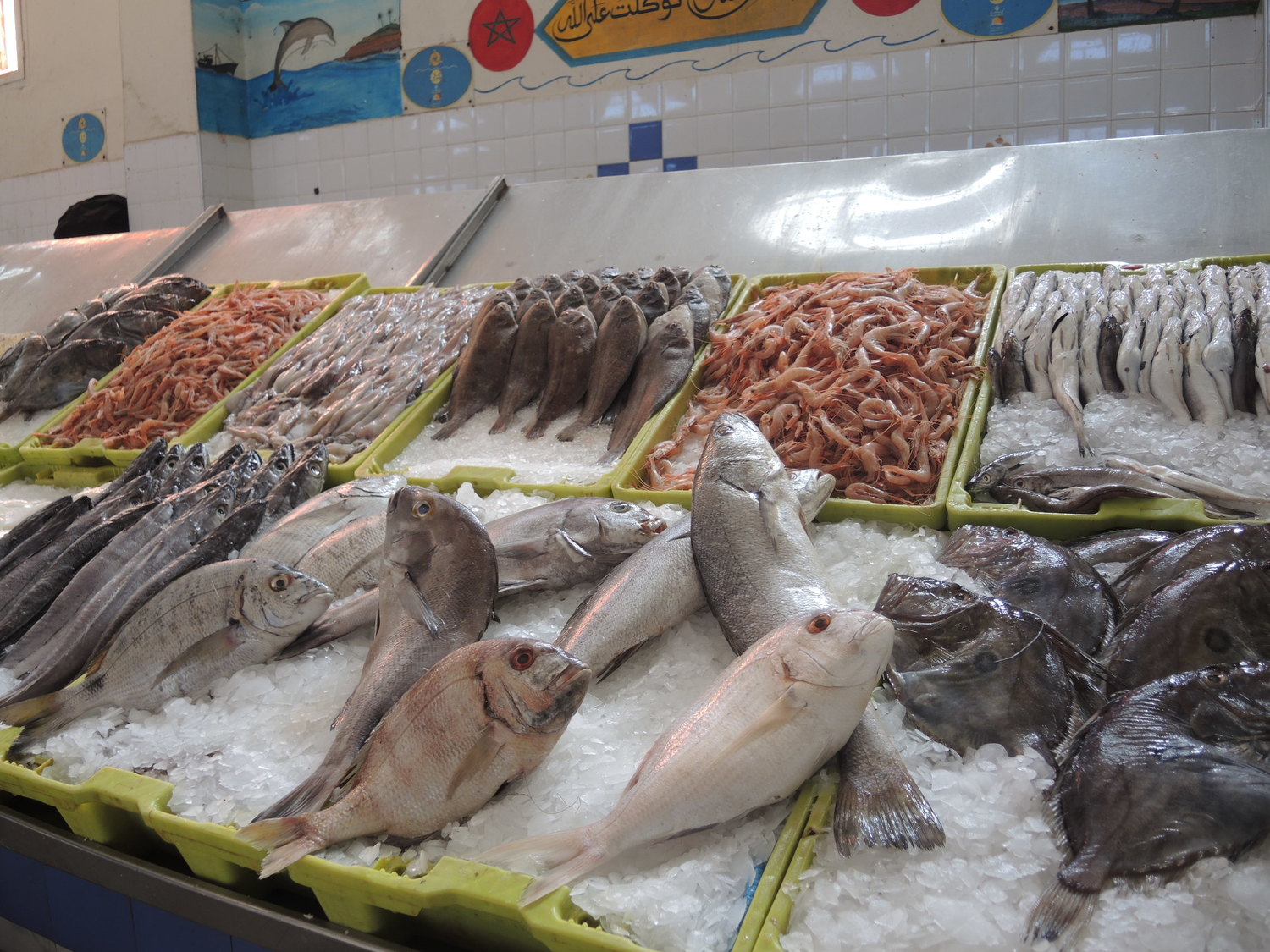 In the market you can see whether the fish is fresh by looking at its eyes. It is important to find a fish that has eyes just sparking with freshness. However, you can see some fish that has kind of sunken eyes, which shows that it is not that fresh anymore. I personally would not buy a fish like that.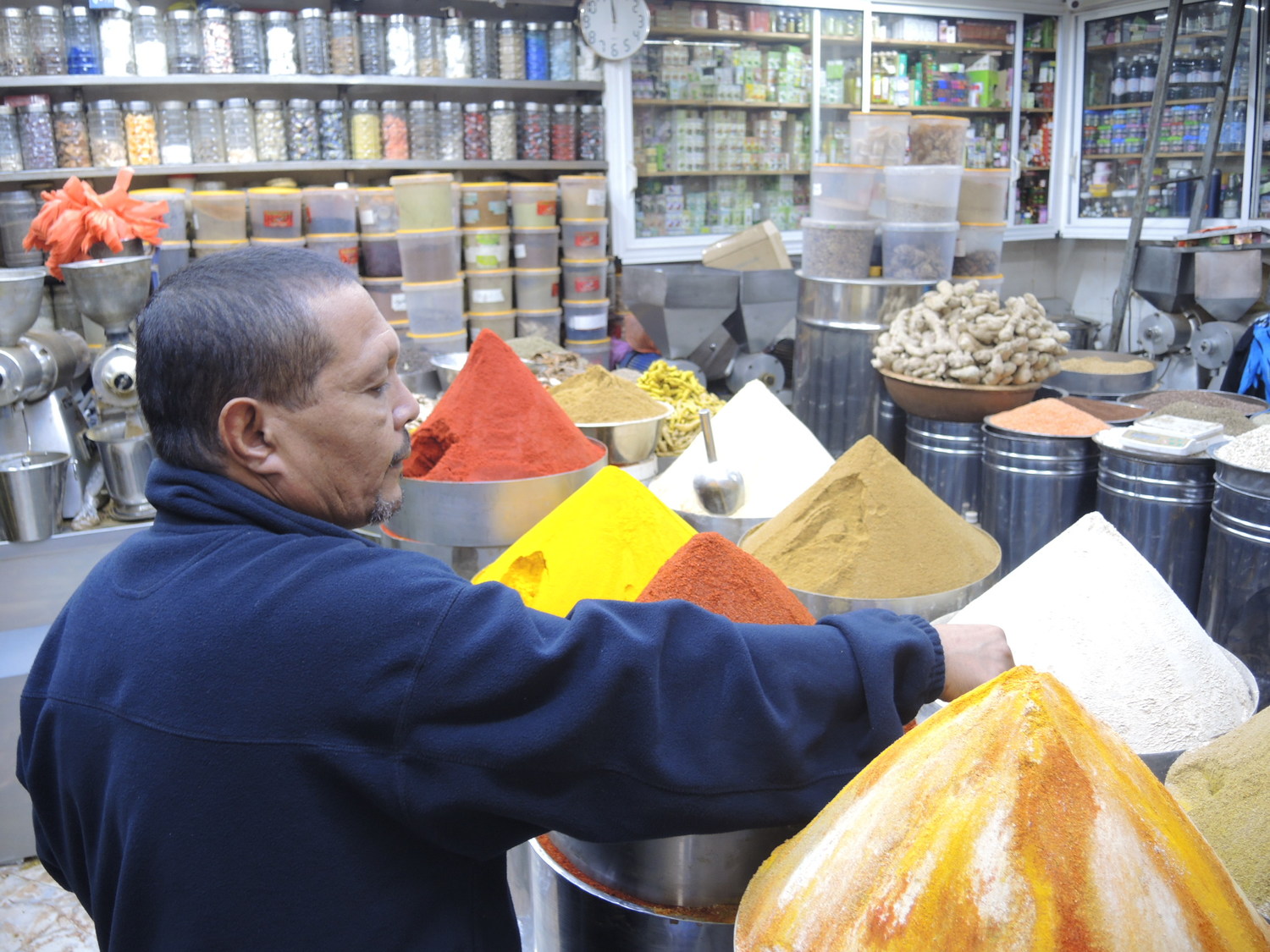 After your visit at the fish market it is worth paying the visit to a Souk El Had (souk – a market in Moroccan) that is close by. There you will be able to find an abundance of vegetables and spices, as well as handicrafts. Here you can bargain freely and you will be able to buy some stuff way cheaper than in shops in the town.
In the Souk El Had market in Agadir you can find almost anything, including spices, herbs and vegetables, and handicrafts.
After visiting the market, the ladies chose to go to the beach and the men stayed in busy with the cooking. The process goes pretty fun, especially after the visit to the local supermarket which is less than a hundred meters away from our hotel Residence Yasmina – that is where the rest ingredients of our recipe are bought. You can also buy alcohol in there. A pretty good local bear Flag costs around 2 euros, local white wine around 8 euros and a liter of vodka will cost you around 15 euros.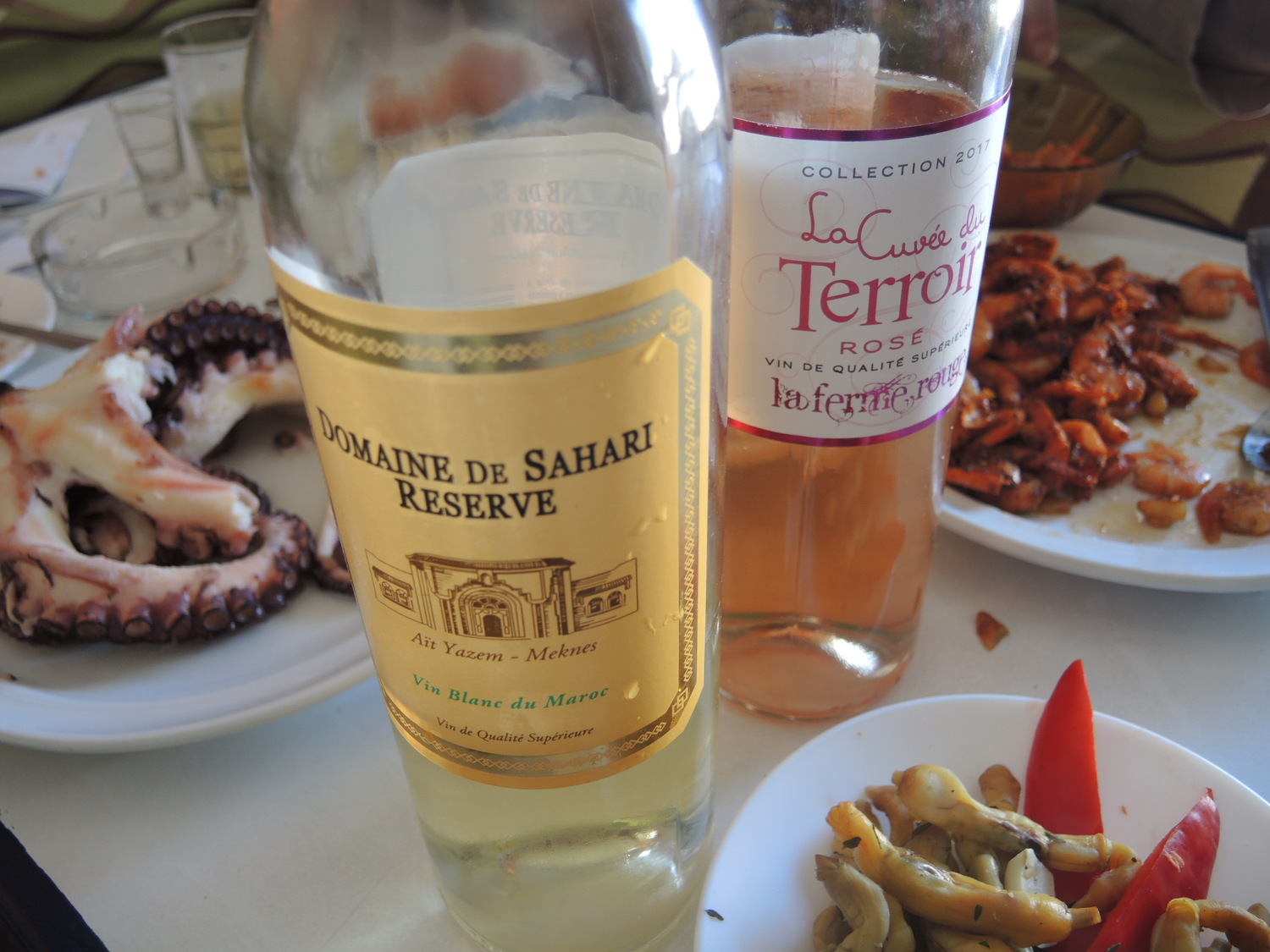 In Morocco you may find a rather good local beer and wine. In the photo you can see De Sachari Grenache white wine.
At the hotel you will get some extra pots and pans if asked. We already knew that we will ask to use the hotel kitchen as well, because there is not enough equipment in our room kitchen.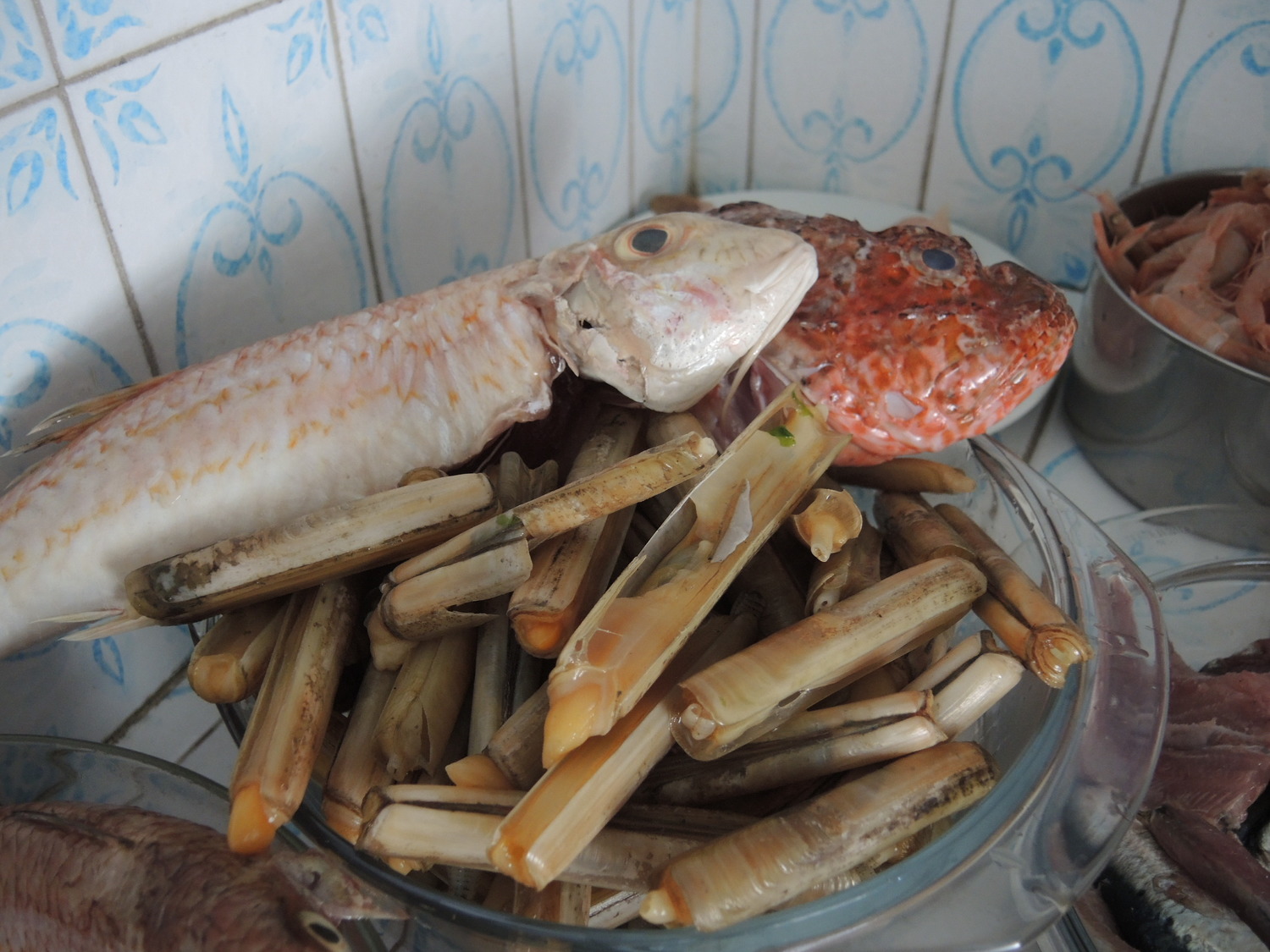 Muraena is a fish that could be made by cooking and by grilling. The white meat is quite fat but has a lot of small bones. It is quite delicious but I would rather choose sea eel. The squid gets softer while cooking it and after that it is used with salads or fried, sautéed or made into a soup. Before cooking it, you should beat the limbs of it. The head of it cooks for a quite a short time, same as a whole squid. While cleaning the sardines, you should take out the bone and it is consumed fresh and only slightly fried. The other kind of a fish – the ray, actually smells a little like urine, but it still is okay to eat. It is usually marinated in milk and fried afterwards. A mullet is a type of fish that is perfect for fish broth, its fillet is great for frying and then putting into the soup. Peeled shrimp are perfect for tarter and soup and they might be cooked in several different ways. You can find more recipes in an article "What to eat in Morocco".
Evening in the hotel garden while enjoying our homemade fish soup.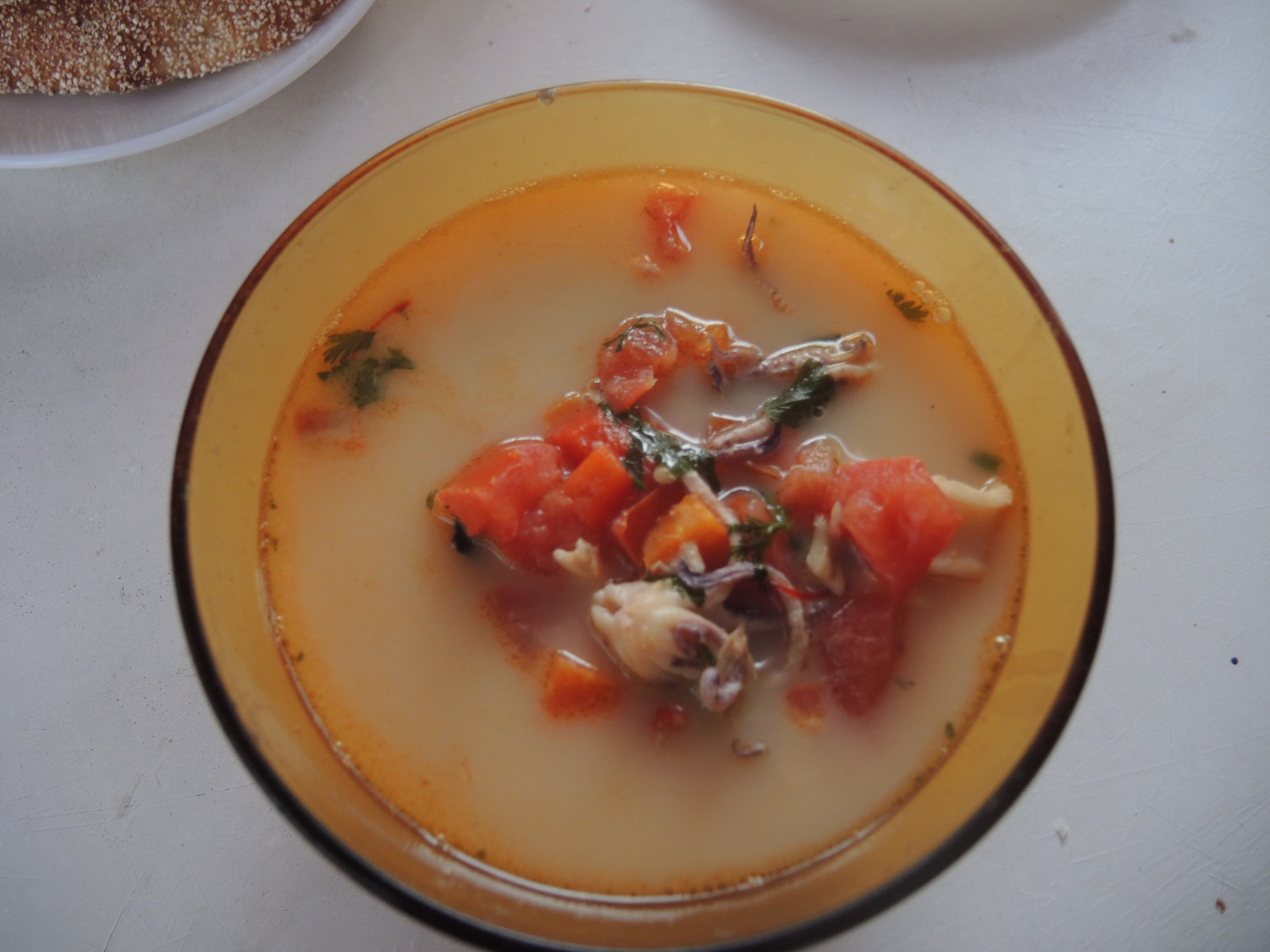 A fish soup that would be perfect for first course, second course and even for recipe. I would love it anytime! You can find this recipe in the mentioned article "What to eat in Morocco".
Day number 3
The previous day we visited a couple of car rental companies. In the second one that we visited, we were offered a really good price and only a couple month old car. In the morning, after the breakfast we went down there and rented out the car. A trip to Sidi Ifni awaits.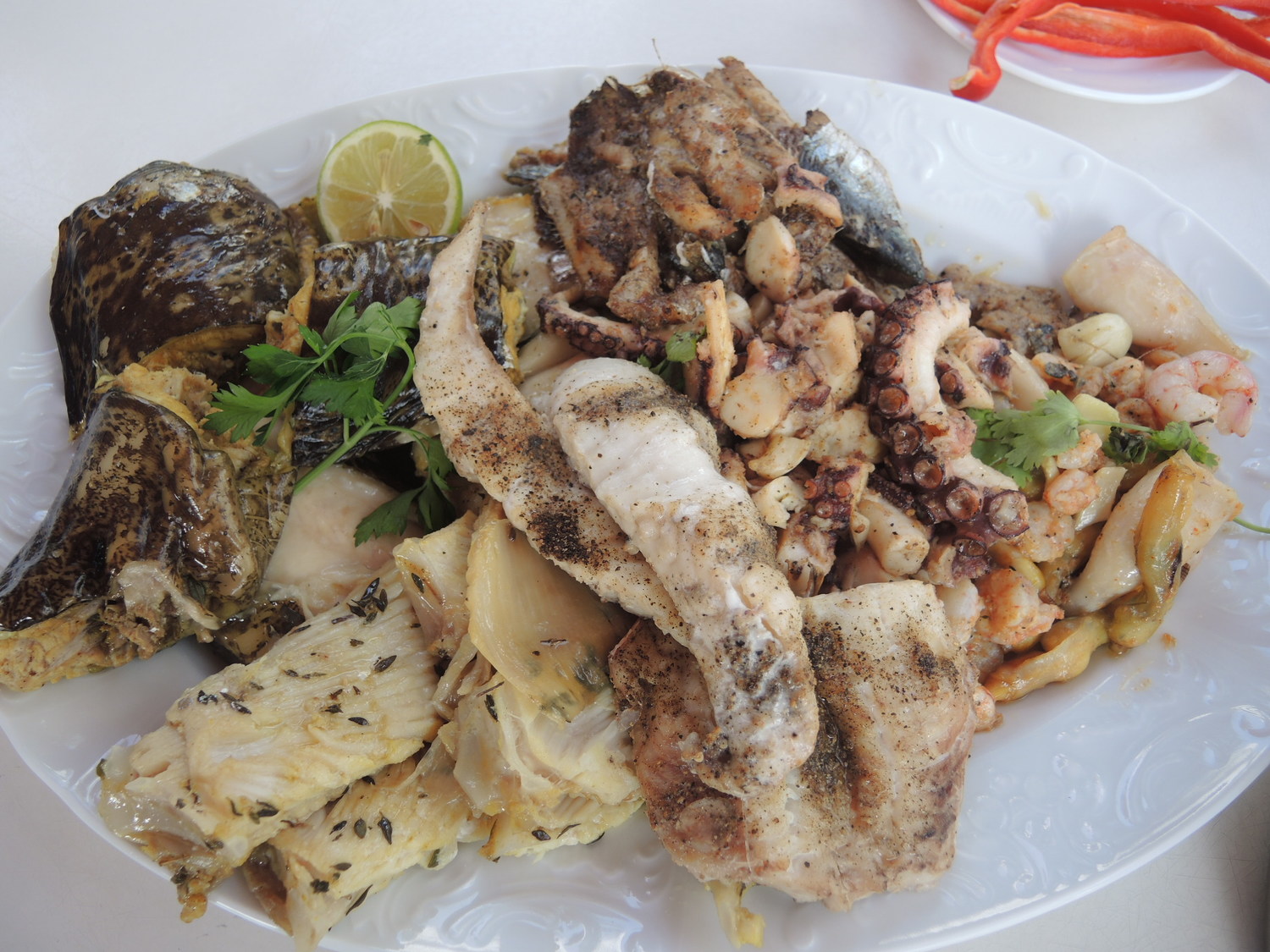 Fish Plata for breakfast. The plate was quite large so we had some left for lunch as well.
To reach Sidi Ifni we used the N1 road. When we reach Sidi Abbou, in the roundabout we make a left turn. There is a sign showing the way to Sidi Ifni as well. That is actually not very good route to take, we should rather continue going straight until we reached Tiznit and then make a turn. Anyway, we did not turn around and continued on the narrow, paved road. By the side of the road we see a lot of small, not touristy towns that we actually felt bad about not stopping to see. Mainly, we felt bad about not stopping to try a tagine there. We were so lucky that it was the time right after the rain, when the desert is recovered and the cactus and white desert flowers are blooming. We make a quick stop to go to the beach where we can see some spectacular views. There is a spot on the map showing the place. We also stopped at Mirleft and jump into the ocean.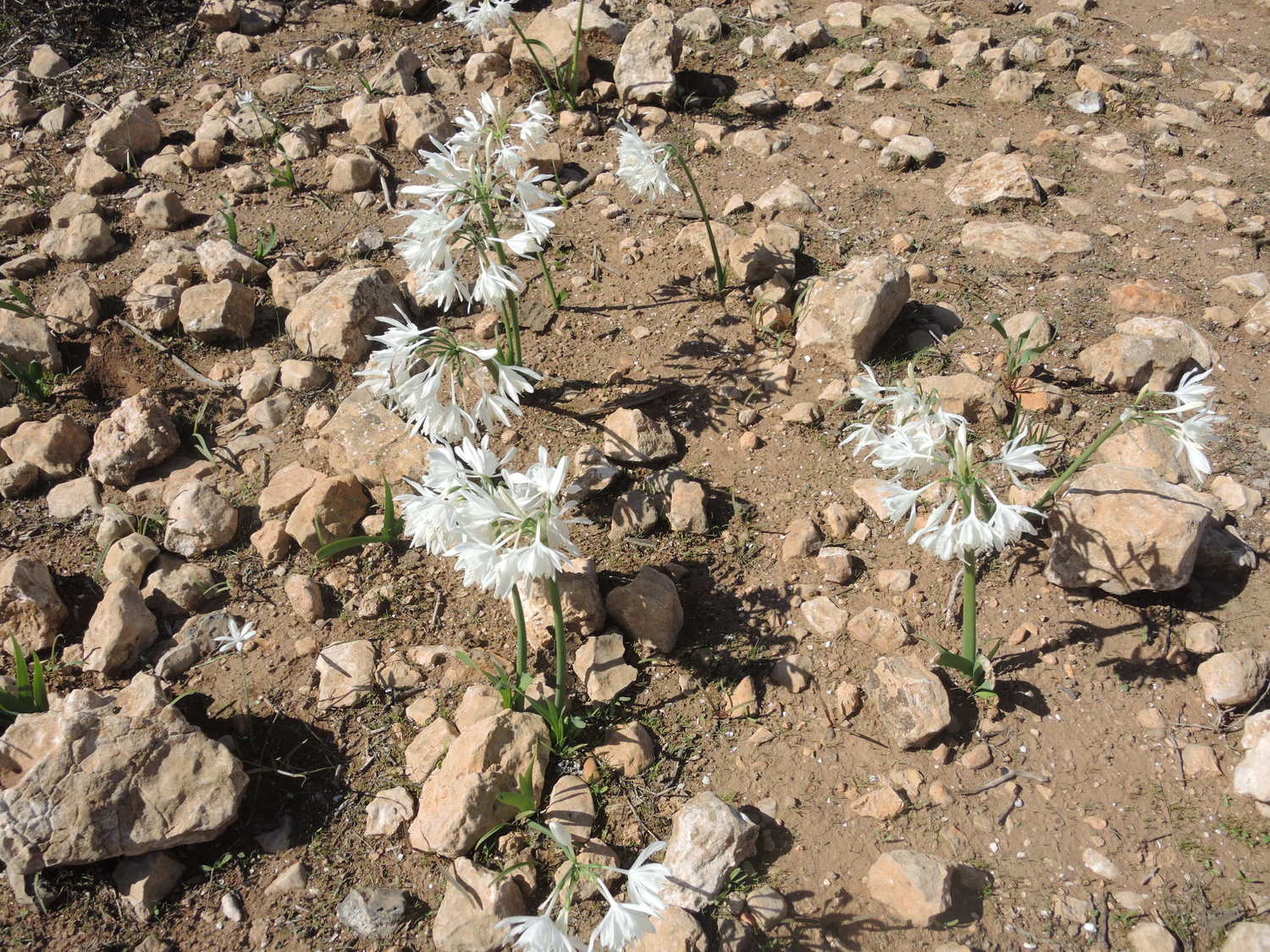 After the rain you can see some sea daffodil in the desert. You can see them along the road P1016.
When on road P1905, right before the R104 there is a viewpoint where you can also go down to the beach.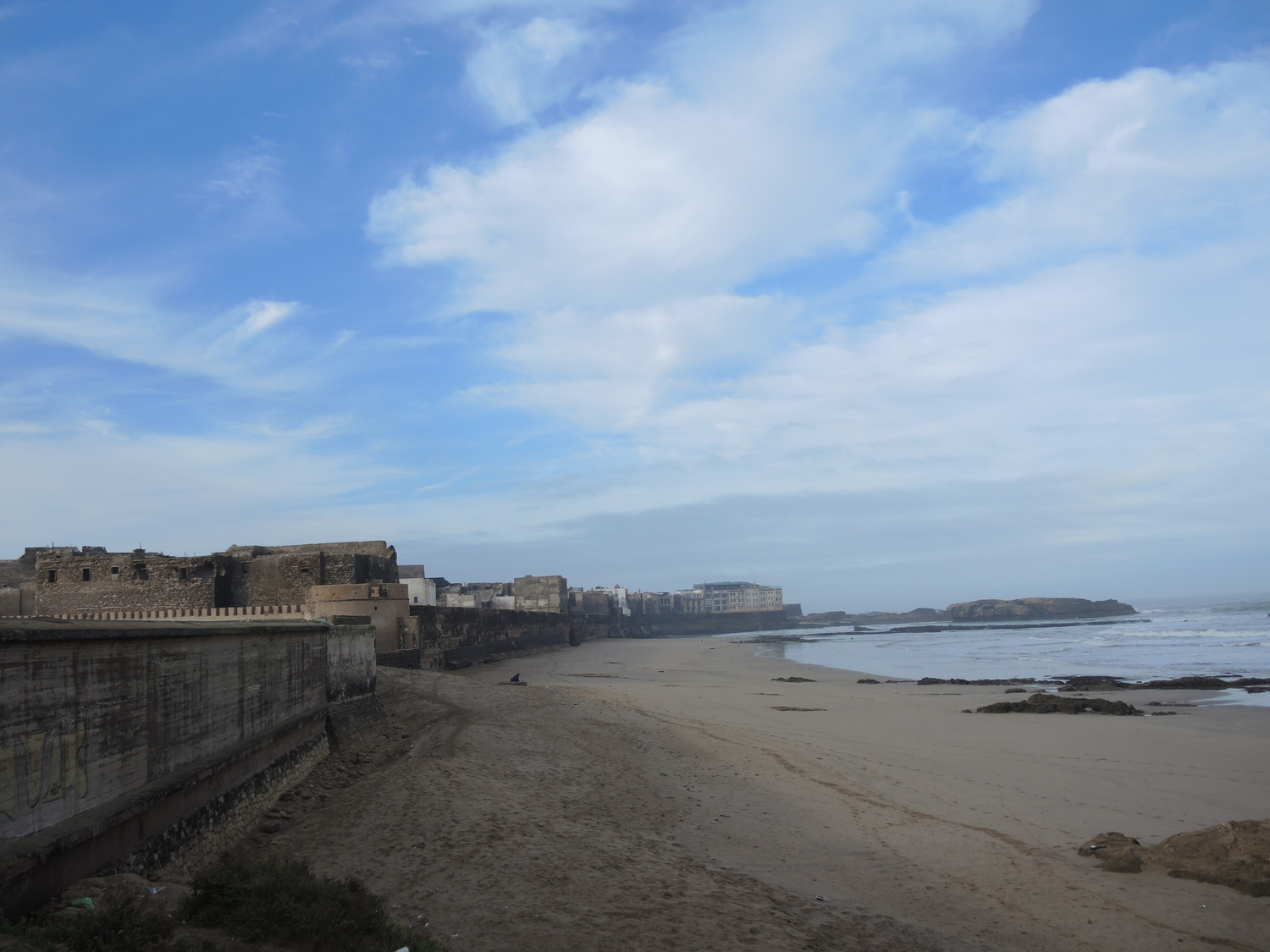 Mirleft beach
Our destination is Legzira. We couldn't find any hotels on Booking.com, but we had the information that a hotel room costs about 25 euros per person. We went to one of the hotels further from the center and we booked it for 15 euros per person. The hotel is on the beach when the sea is less than a hundred meters away. During the high tide it comes even closer. It is a little humid in the rooms which is a little scary at the time, but it actually turned out to be very refreshing.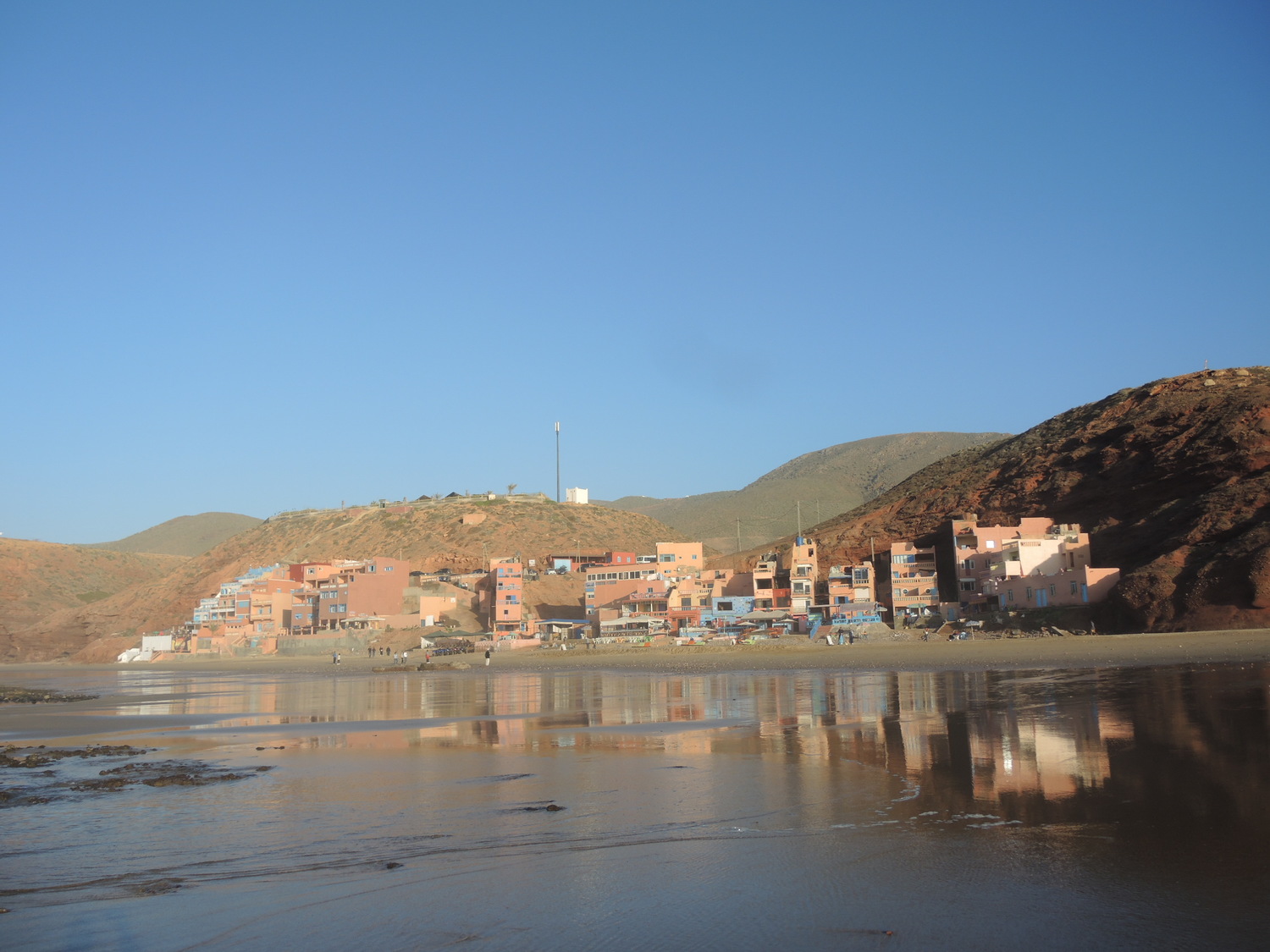 Hotels and restaurants are right on the beach here in Legzira. You can feel the ocean through the windows.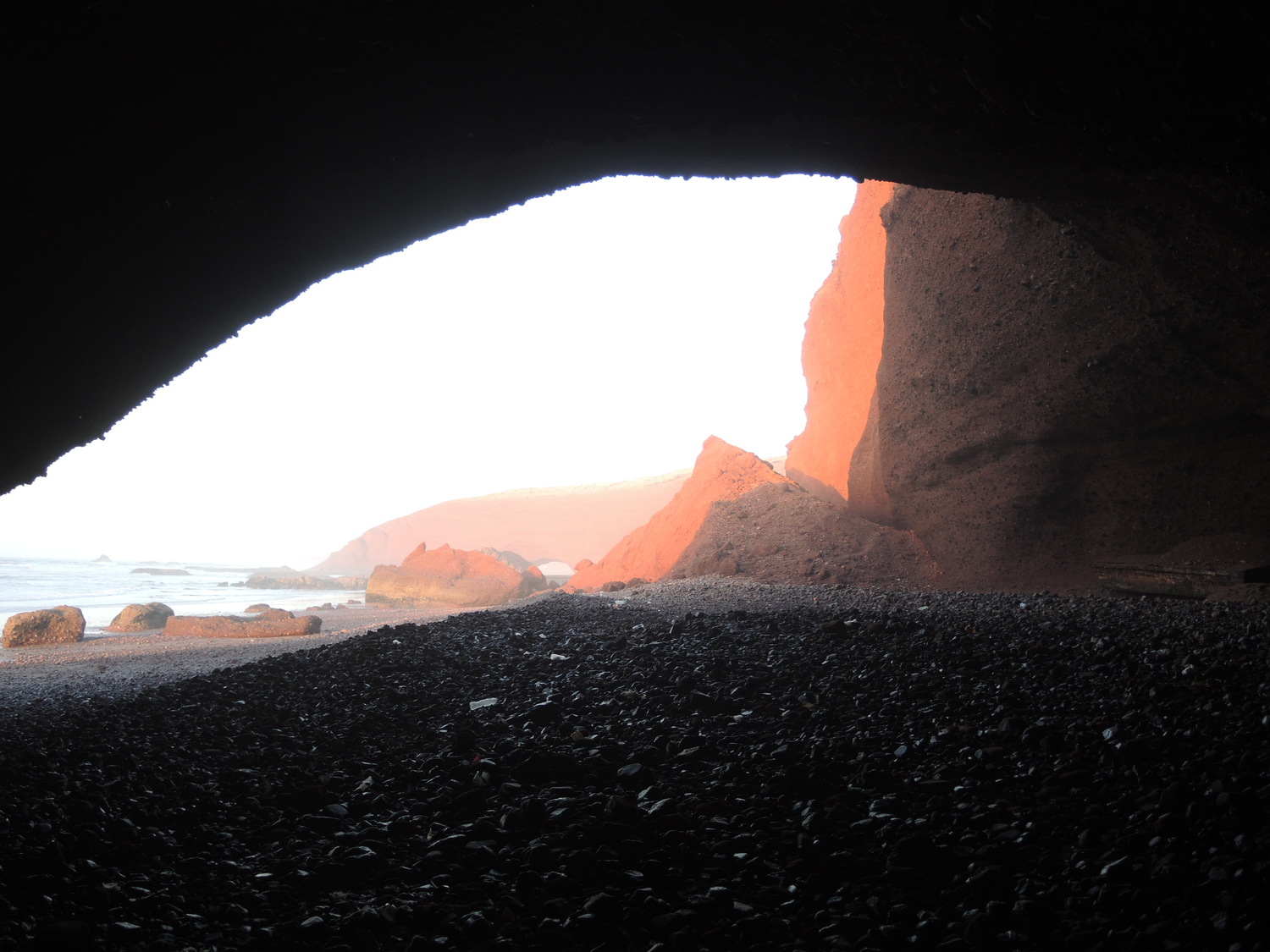 The arcs of Sidi Ifni go by many different names. They are about five kilometers from the Sidi Ifni itself so you can easily reach it by walking along the beach. You should, however, take into account that after a high tide there is not a lot of beach left to walk through, so you mind have to reach the arcs through the above.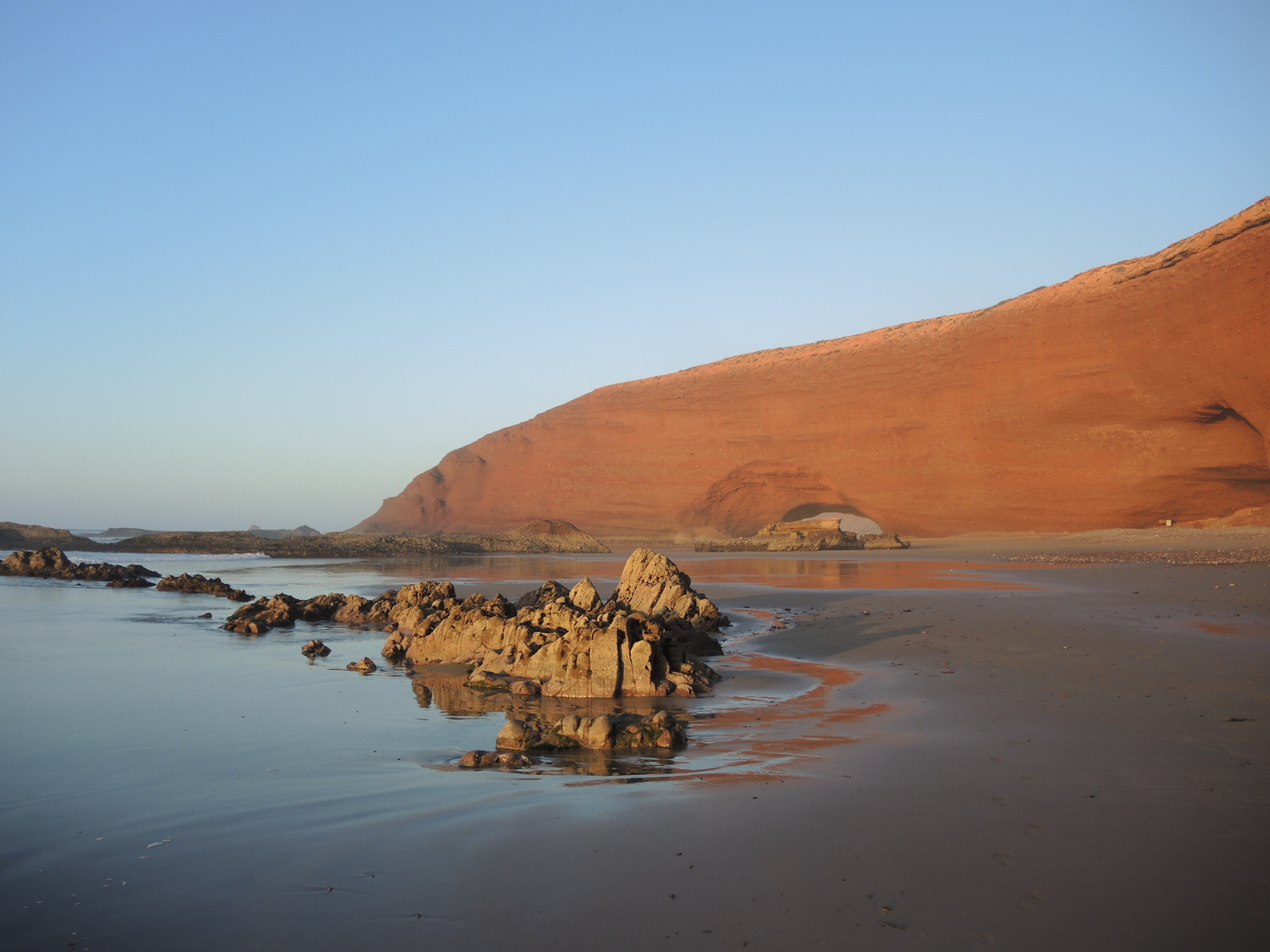 The arcs look the best during the sunset when they reflect on the ocean water. In the photo you can see the closest arc.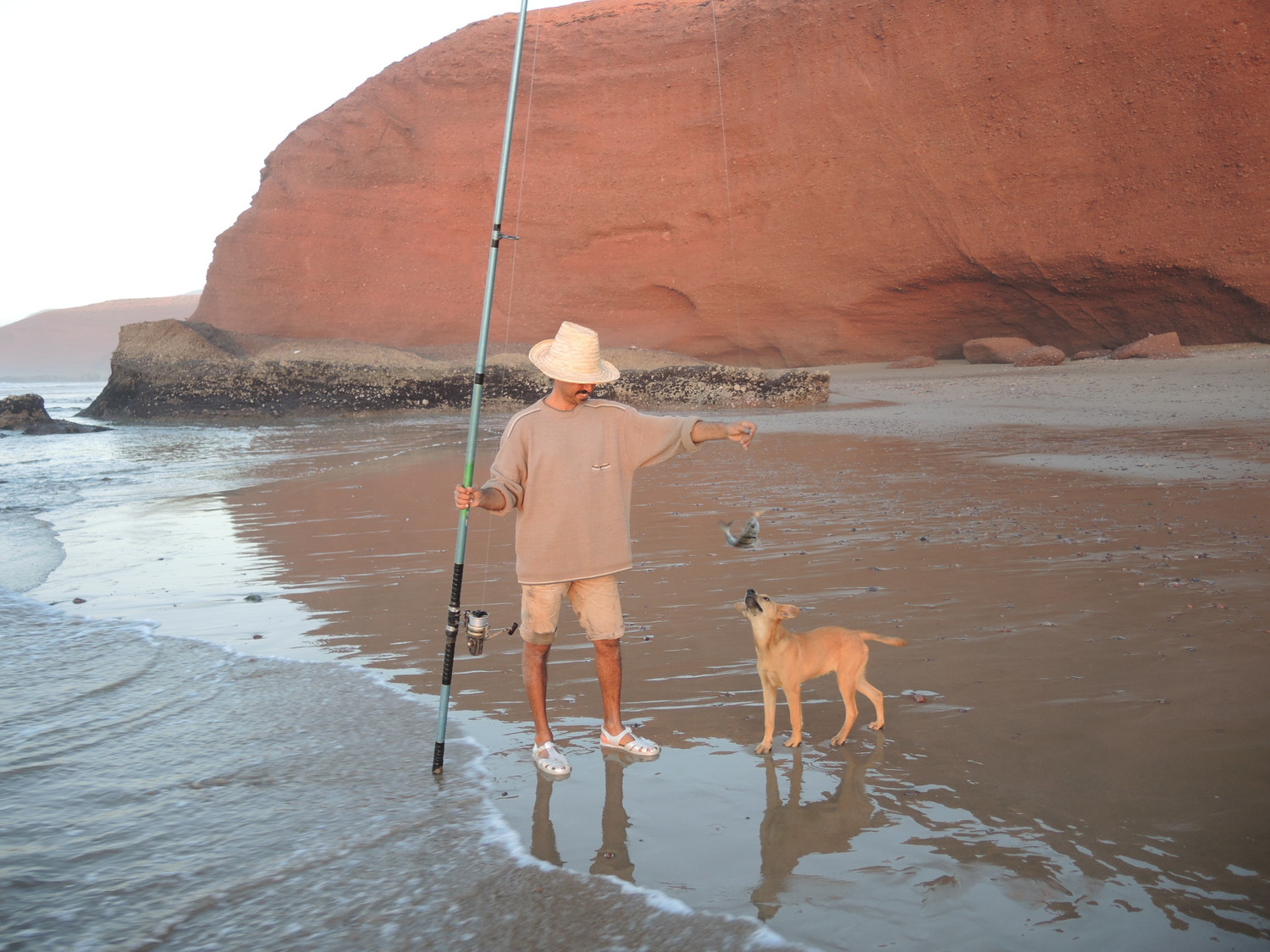 The fishermen usually fish with long, ground-angle rods while sitting on the rocks. It seems to be a lot of effort and the reward is usually just small crucian carps.
Day number 4
The early morning is the best time to jump into the waves of the Atlantic Ocean. There is a low tide in the morning, so you can easily reach the arcs by foot along the beach, but we chose not to go there at the evening. We did, although took a walk to the other side, and got caught into it. After we pass one arc, we find a fantastic beach. Sadly, we went out bare foot, which is extremely uncomfortable to walk through the rocks. We decided to go back and have a delicious breakfast on the coast of Atlantic Ocean.
On the right side from the Legzira you can find amazing beaches. You can spend even a couple of days hiking through the rocks here.
We leave for Taghazout and we choose the straightest way through Tiznit. Even though the roads in Morocco are good, there are so many passing going through the centers of the cities. This kind of cities are perfect for stopping for a bite and a cup of coffee. We stopped at a small café and it seemed to be the only place where we could get it. We had a great strong coffee served in s glass.
We passed Agadir and took a road along the coast. Next to Mirleft, same as in between Agadir and Taghazout you may see a lot of construction of new resorts. Soon there will be a lot of new modern resorts.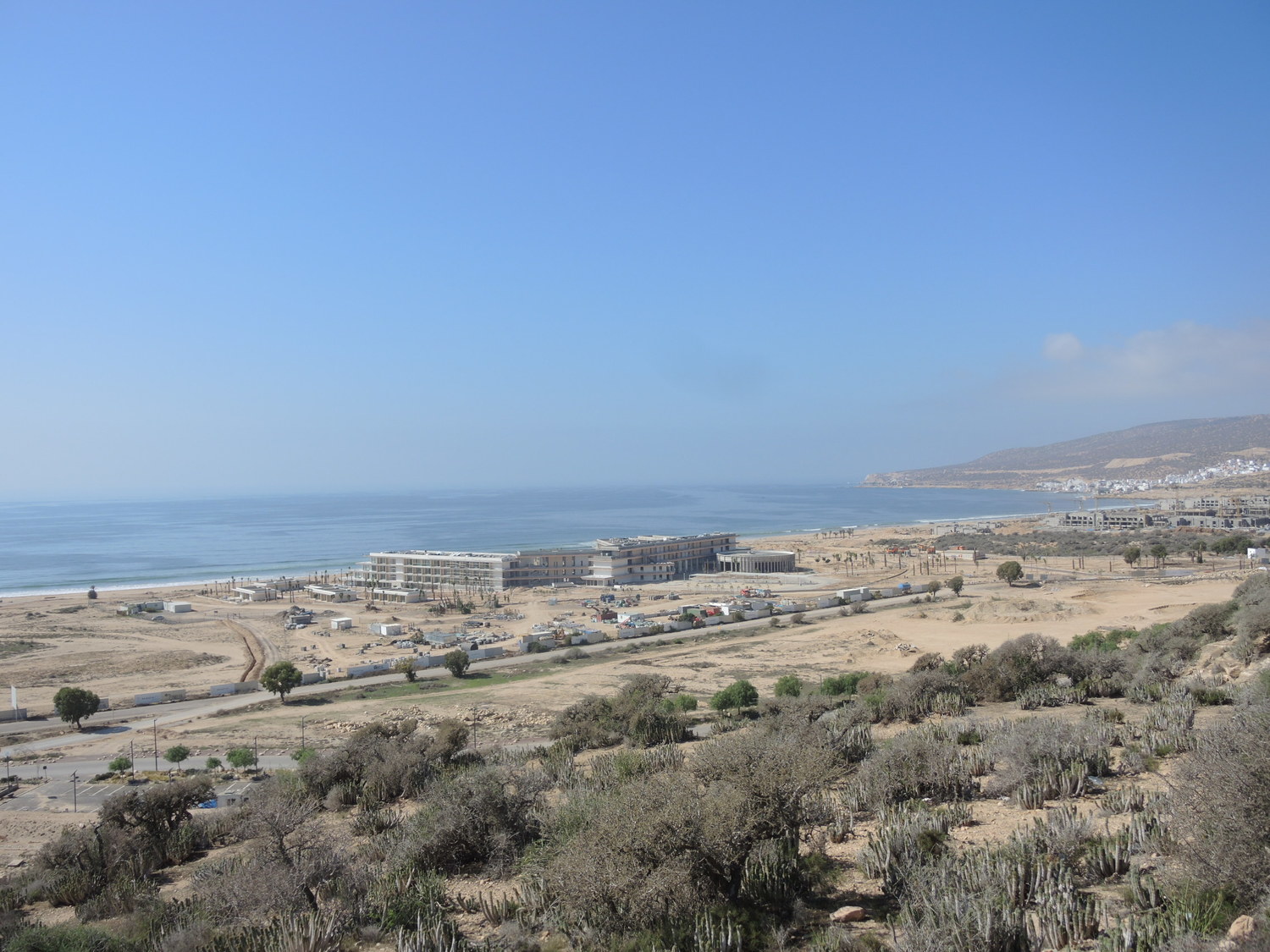 In the regions of Mirleft and Taghazout you can see a lot of constructions of new and modern hotels. It is actually a big challenge for this coast since it has such limited resources.
Taghazout has a lot of sandy beaches which is a true paradise for the surfers. You can easily rent out a surfboard anywhere in the town. Even if you are not a surfer it is worth spending some time in this cute cozy town. Along the coast you can find many restaurants with delicious and affordable food, as well as hotels with ocean view.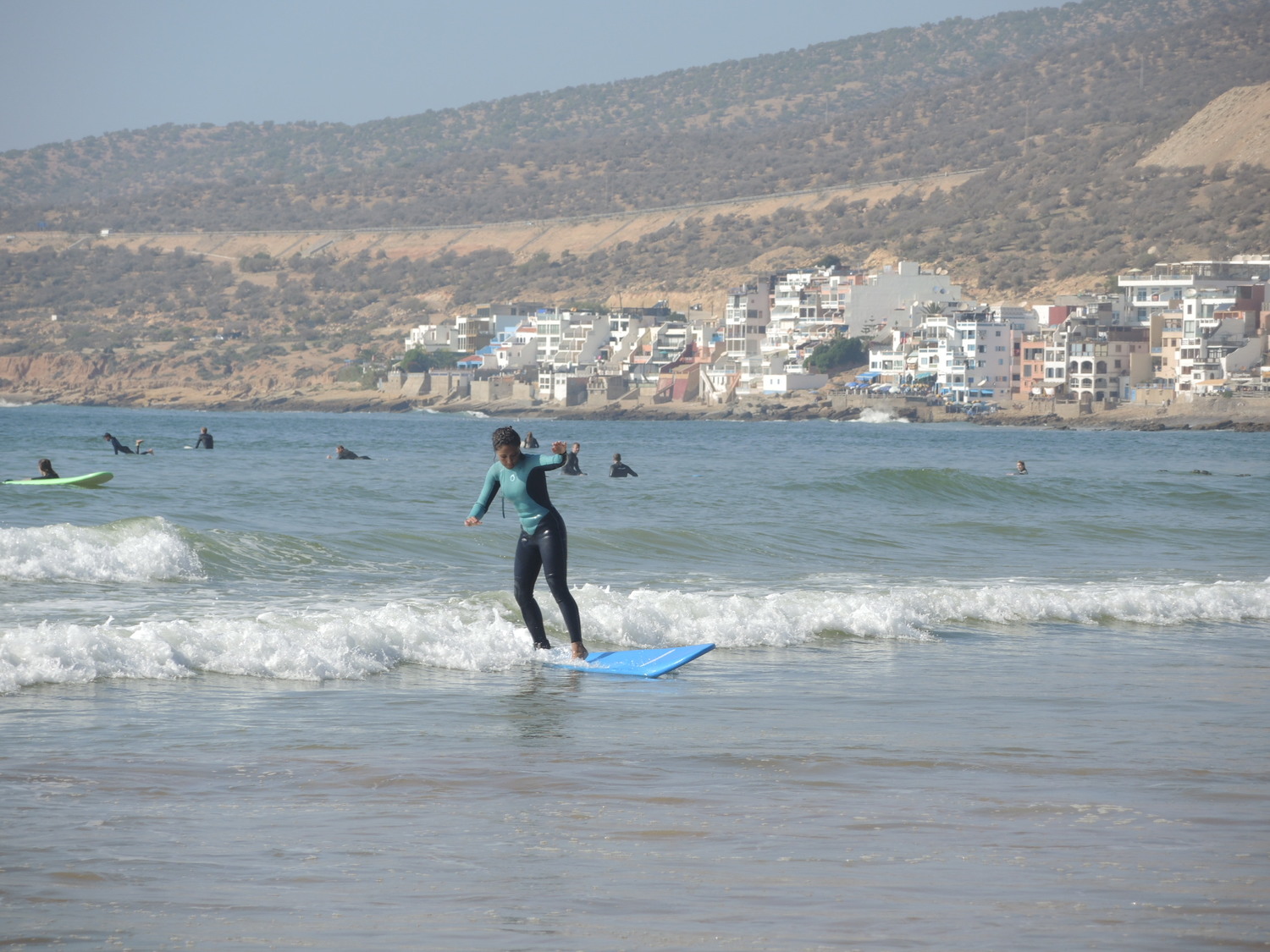 Surfers on the coast of Taghazout. Going further towards Essaouira you can find many well-equipped camping places and spots to put out a tent right next to the sea.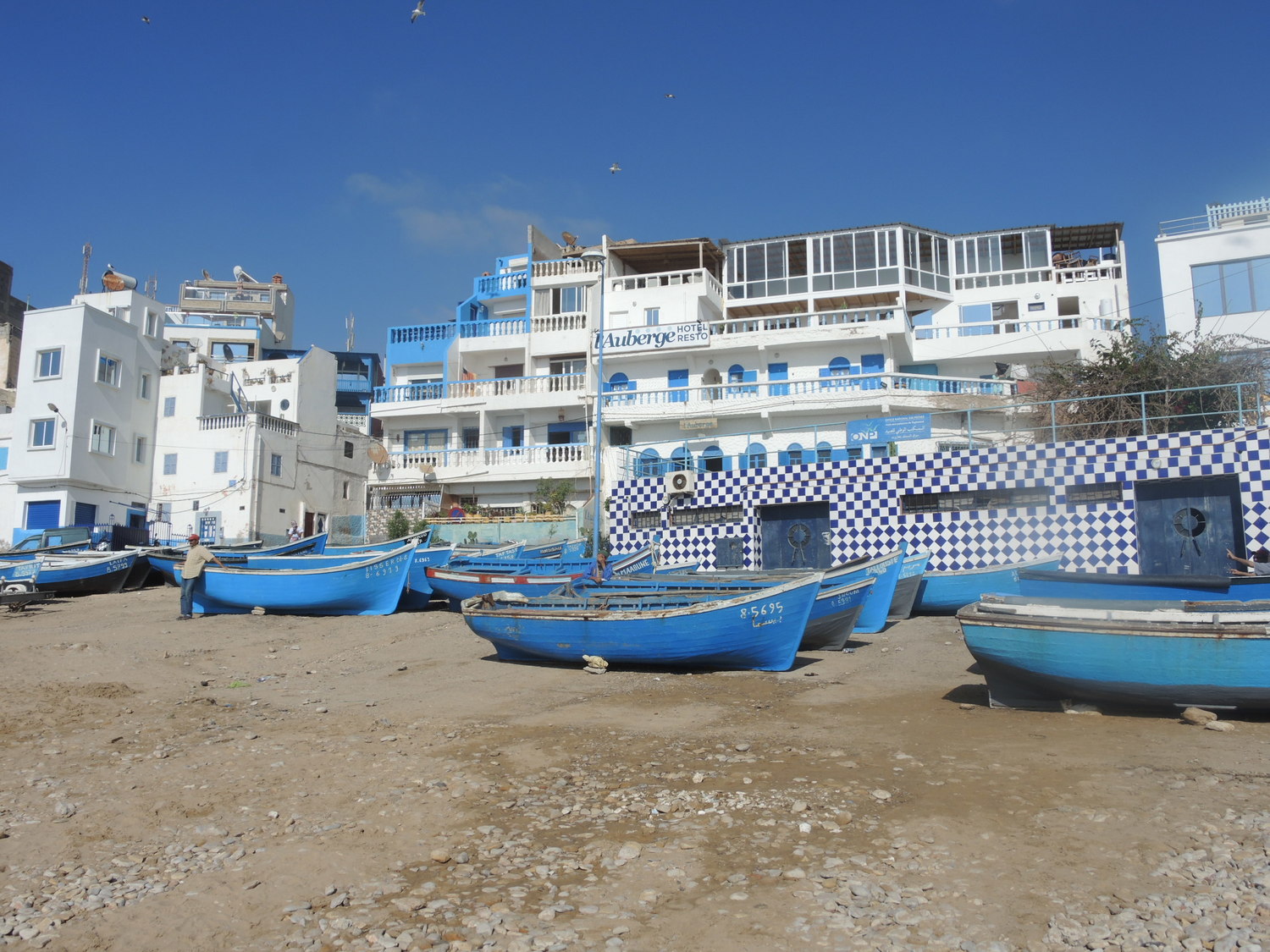 Taghazout fish port. The boats are taken out the water with a tractor. In the morning you can buy fresh fish right here.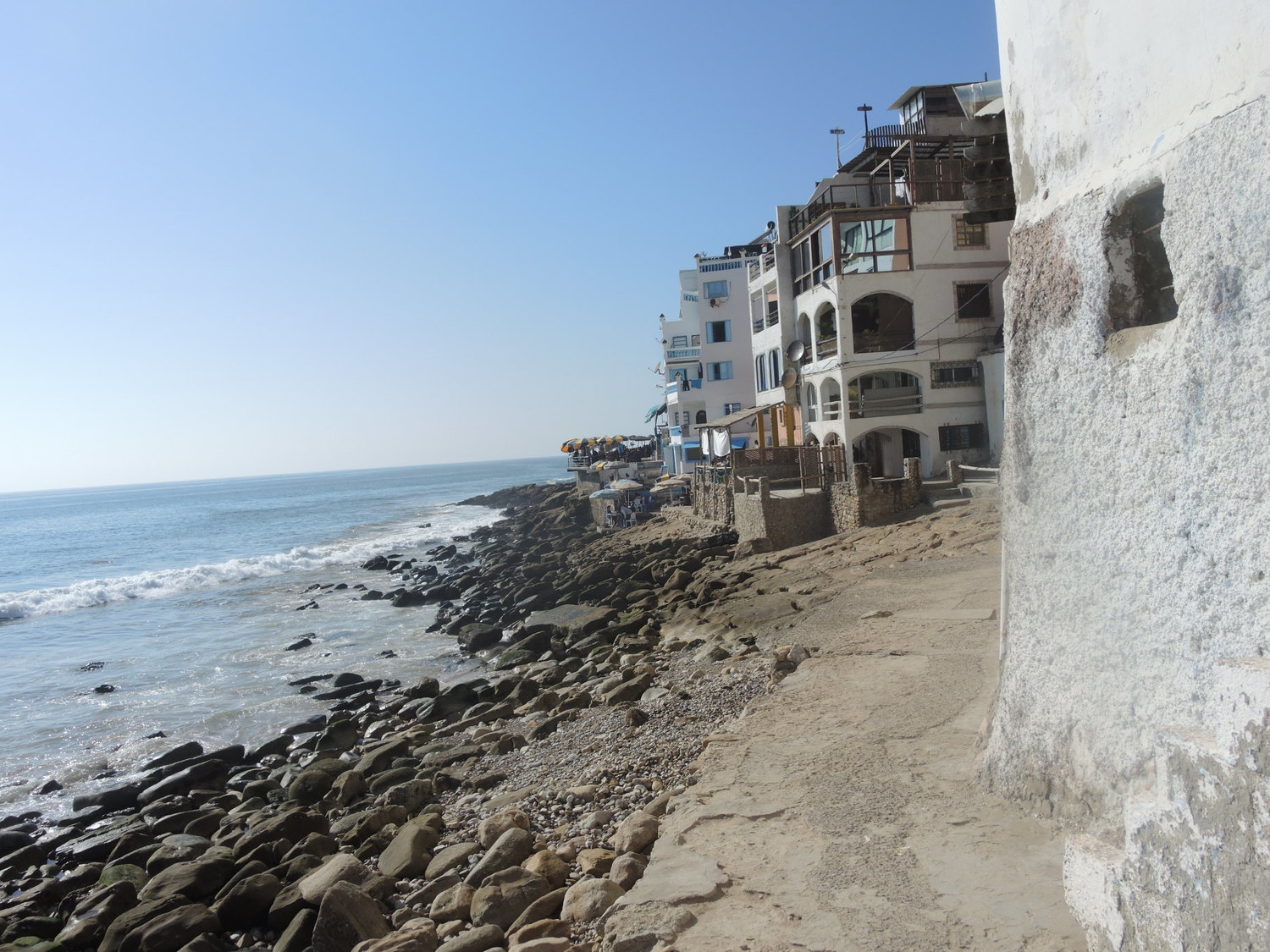 You can find a lot of restaurants along the coast. The prices are quite affordable, you will pay 5 – 7 euros for a tagine.
After lunch we leave for Essaouira. Now I would consider it to be a mistake, since it gets dark pretty fast and you will have to drive in the dark. And the road is quite long, it takes up to 4 hours. You will miss the beautiful mountain views and it is practically impossible to find a riad in the Essaouira medina ant night. Especially if you're looking for a riad that is on the side of the Atlantic Ocean. It is better to spend a calm evening back at Taghazout while enjoying a cup of mint tea and squid tagine.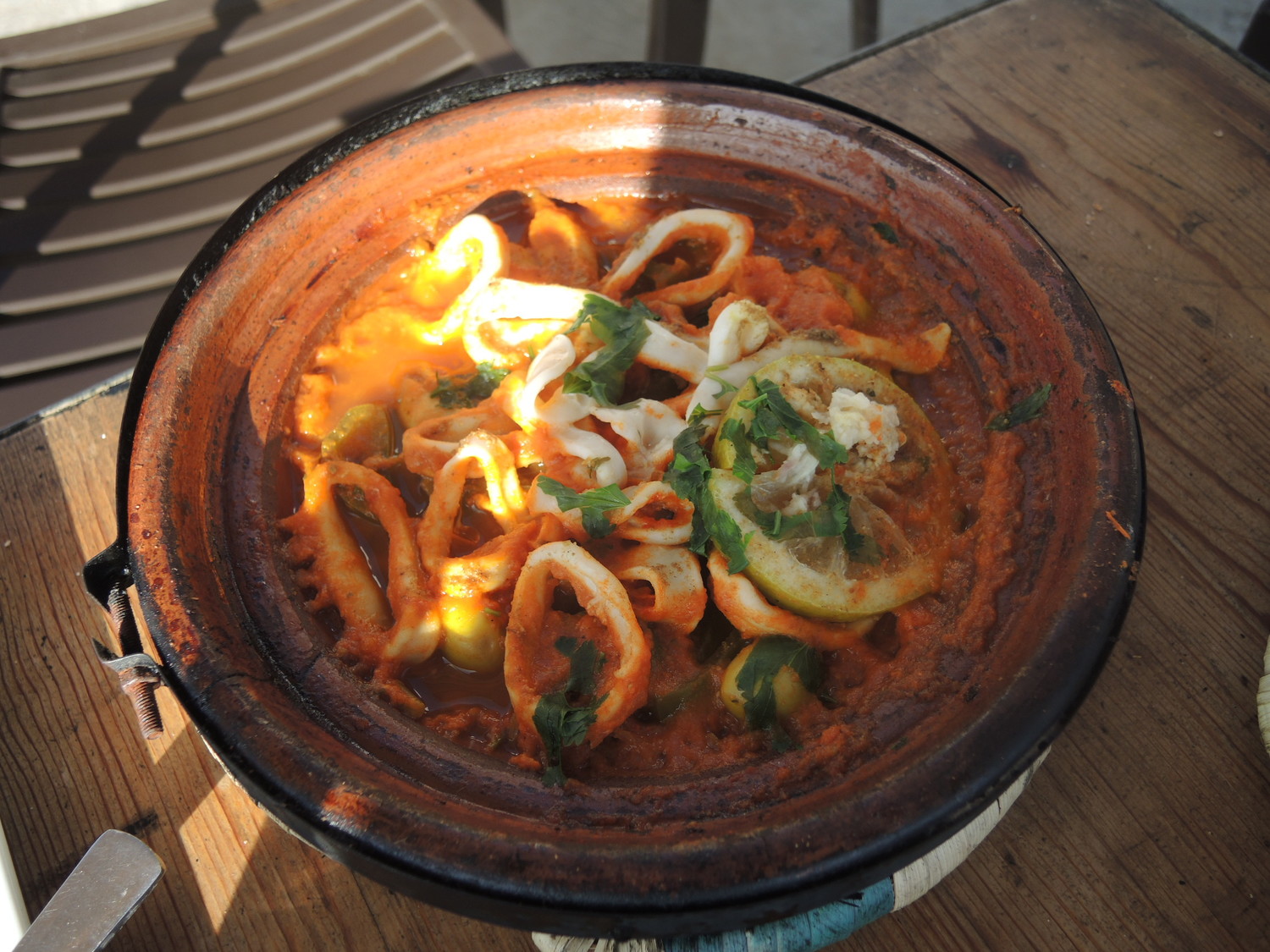 Fresh fish and seafood are mostly provided by the local fishermen. If you choose to stay here for longer, you can buy it from the mini-stalls on the beach.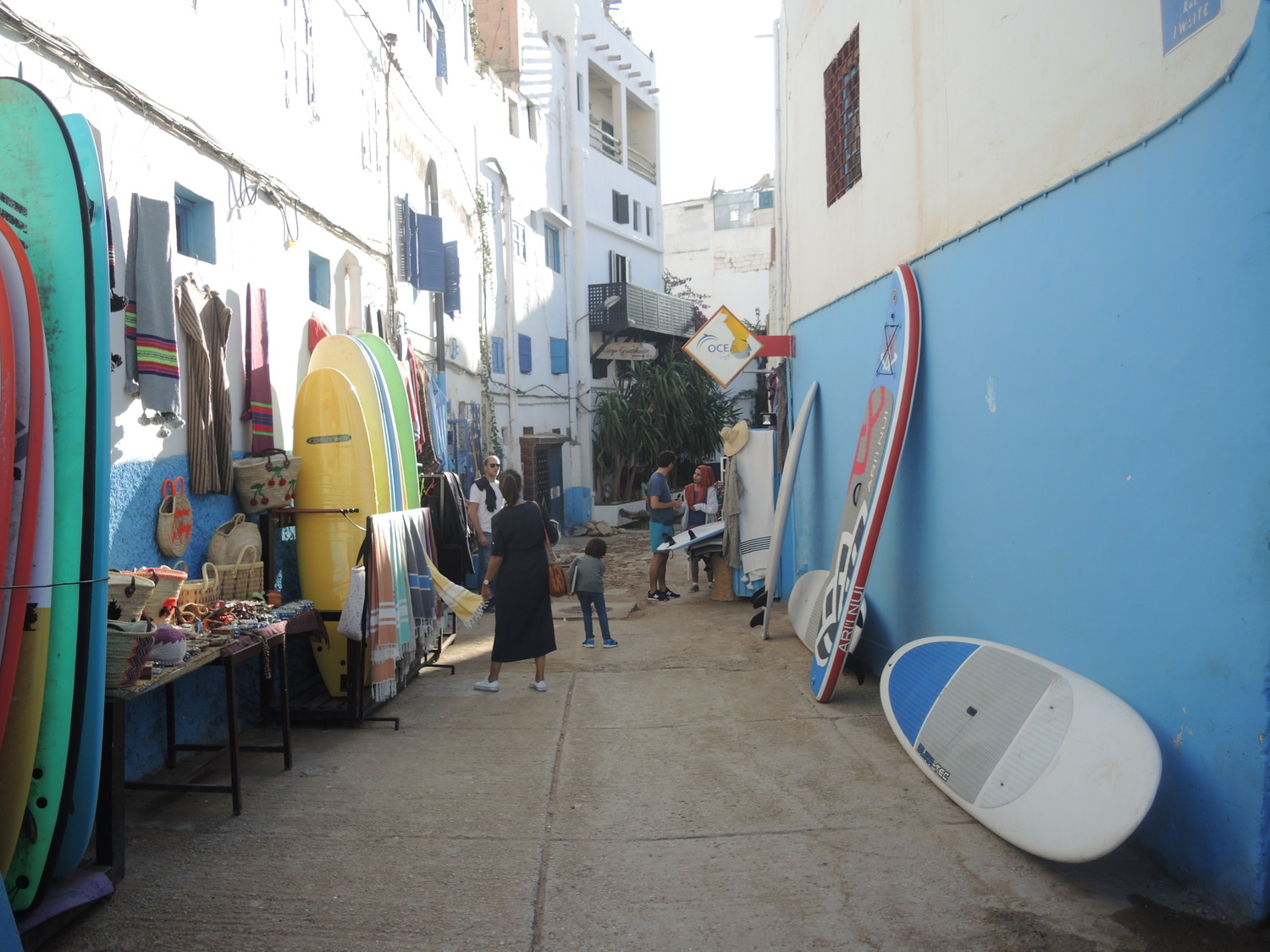 Surfboard rentals in Taghazout.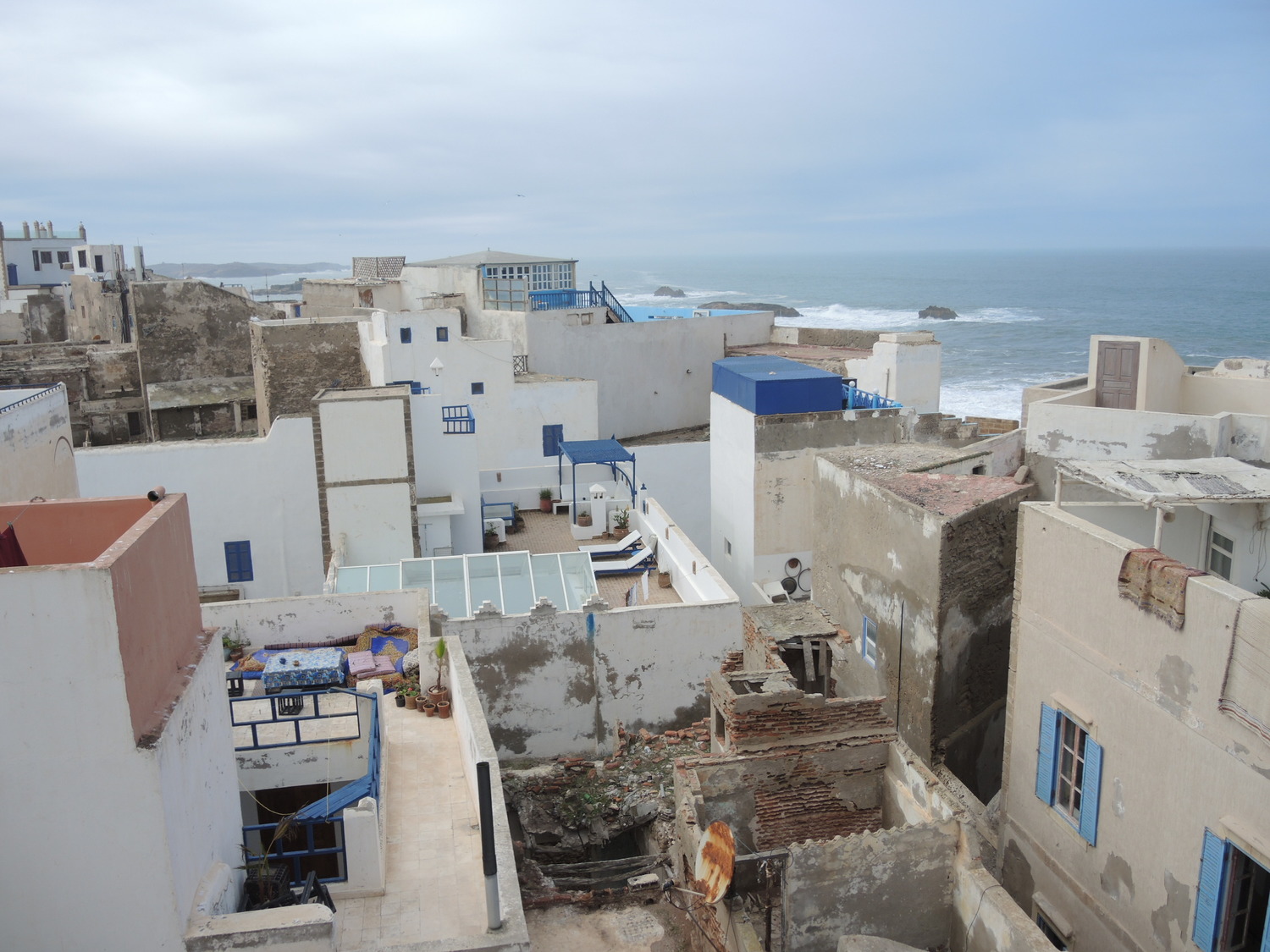 The middle of the road is dedicated for donkeys. This one apparently knew that and walked slowly in the middle all by itself, without its master. Unfortunately, there are many more "four-wheeled donkeys", aka sloppy drivers. If the road is narrow and consists only of one lane, this kind of drivers usually go right in the middle of the road and does not let anybody go through.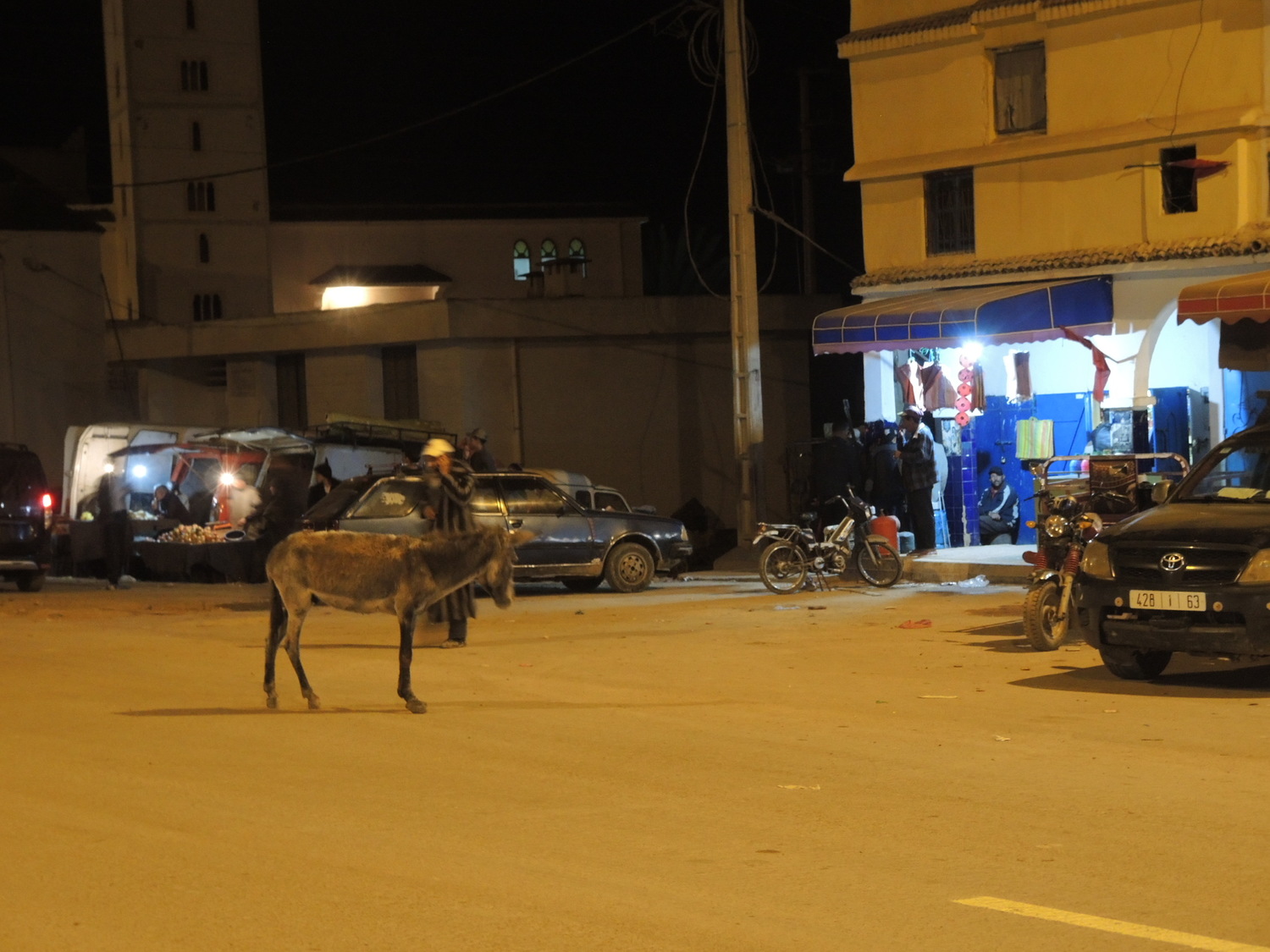 The highways going through the cities require a special caution, especially at night time, as all the night life is concentrated there.
At night we reached Essaouira. We stayed in a riad behind the medina wall, named El Kasbah Souiria. There is a wide road between it and the medina, where you can calmly leave the car parked. Of course, a parking boy introduces himself right away and he will probably require some kind of payment. If you are not good with arguing, they might even require up to 4 euros. It is more advisable to park the car in an official locked car park which is nearby.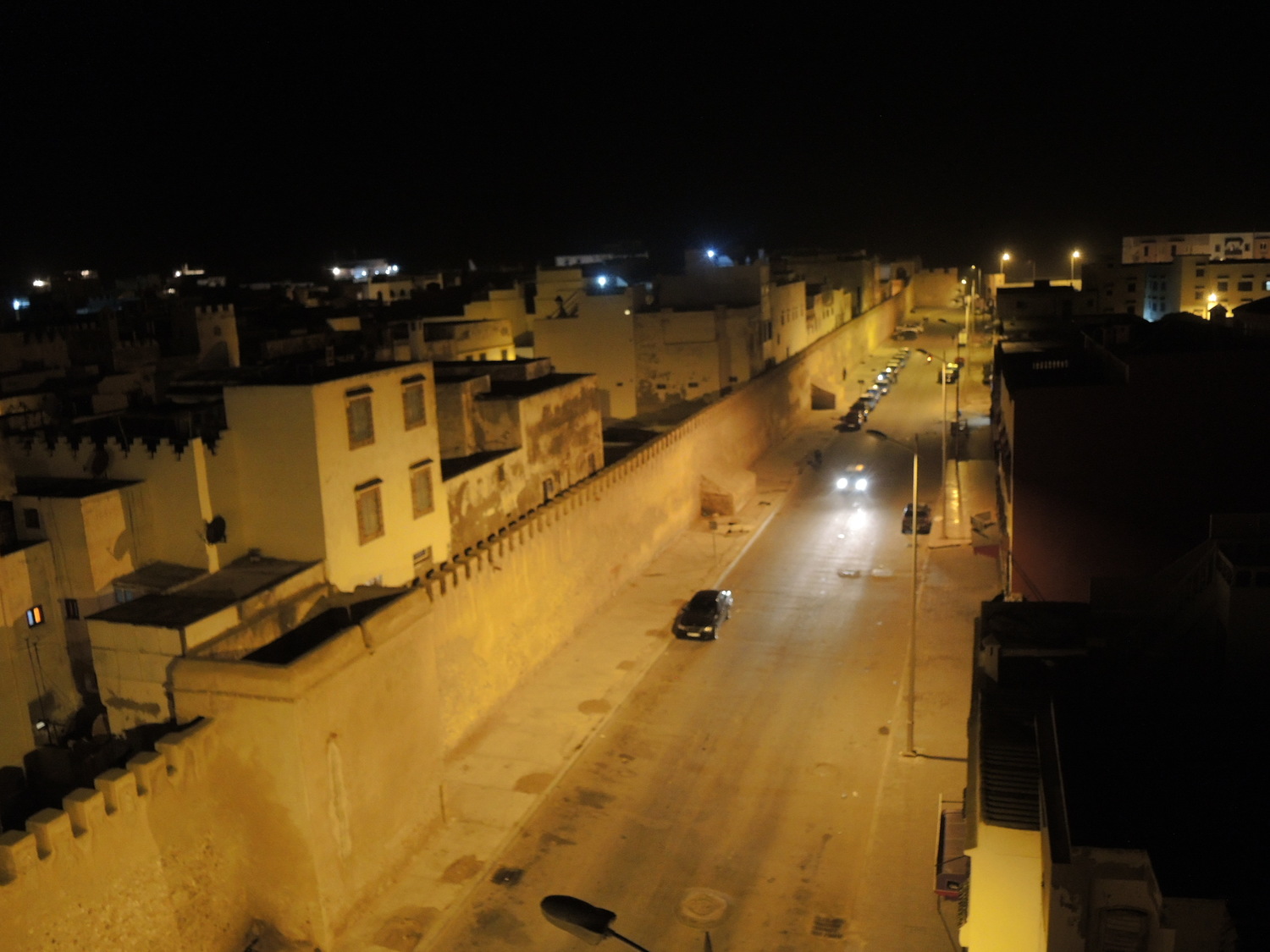 Night in Essaouira. In a photo you can see Moulai Youself street and Bab Doukkala gate. Right next to the gate you can catch buses that go to other cities.
Day number 5
When we wake up in the morning, we get the chance to see the surroundings in the light. Firstly, we choose to go down to the Atlantic Ocean. It appears not to be very often visited, since the passing near Bab Doukkala gate looks more like a public restroom.
We also enjoyed breakfast on the terrace of our riad.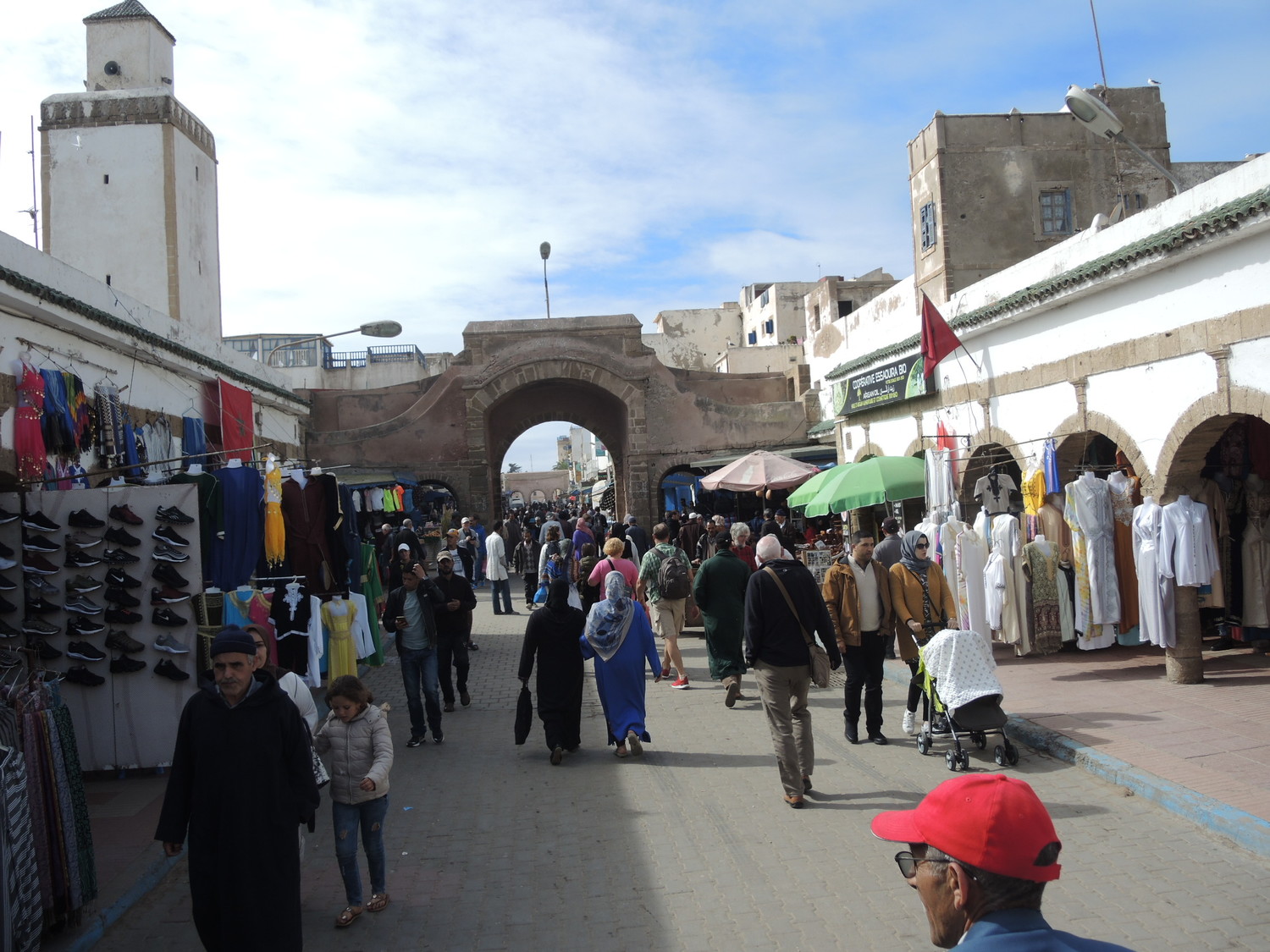 Mohamed Zerktauni Aveniu is the main artery of the Essaouira and it lies from Bab Doukkala gate towards the fishermen port.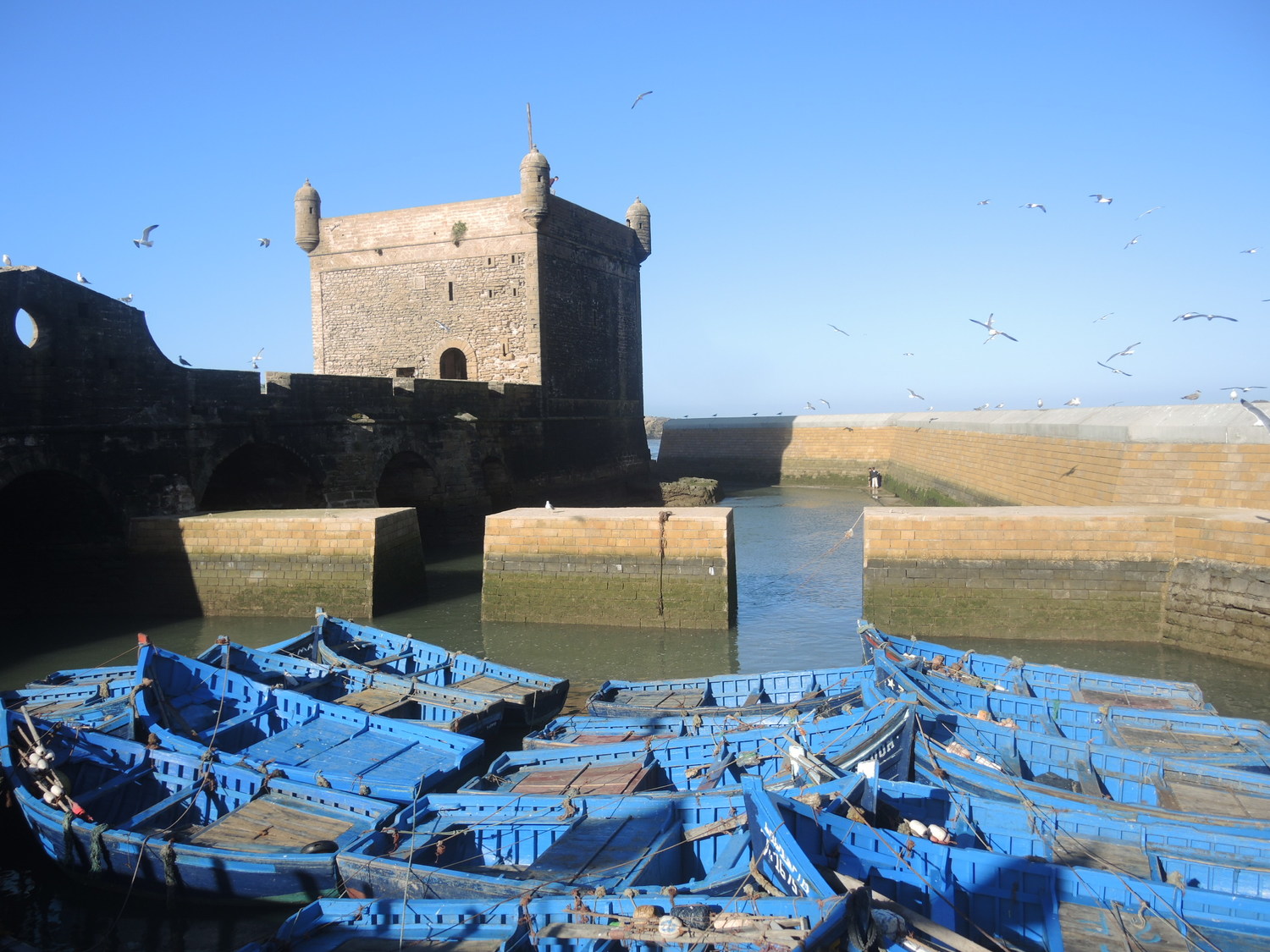 Fishermen port in Essaouira and a fish market right next to it. Right before it there are selling and cooking pavilions – restaurants.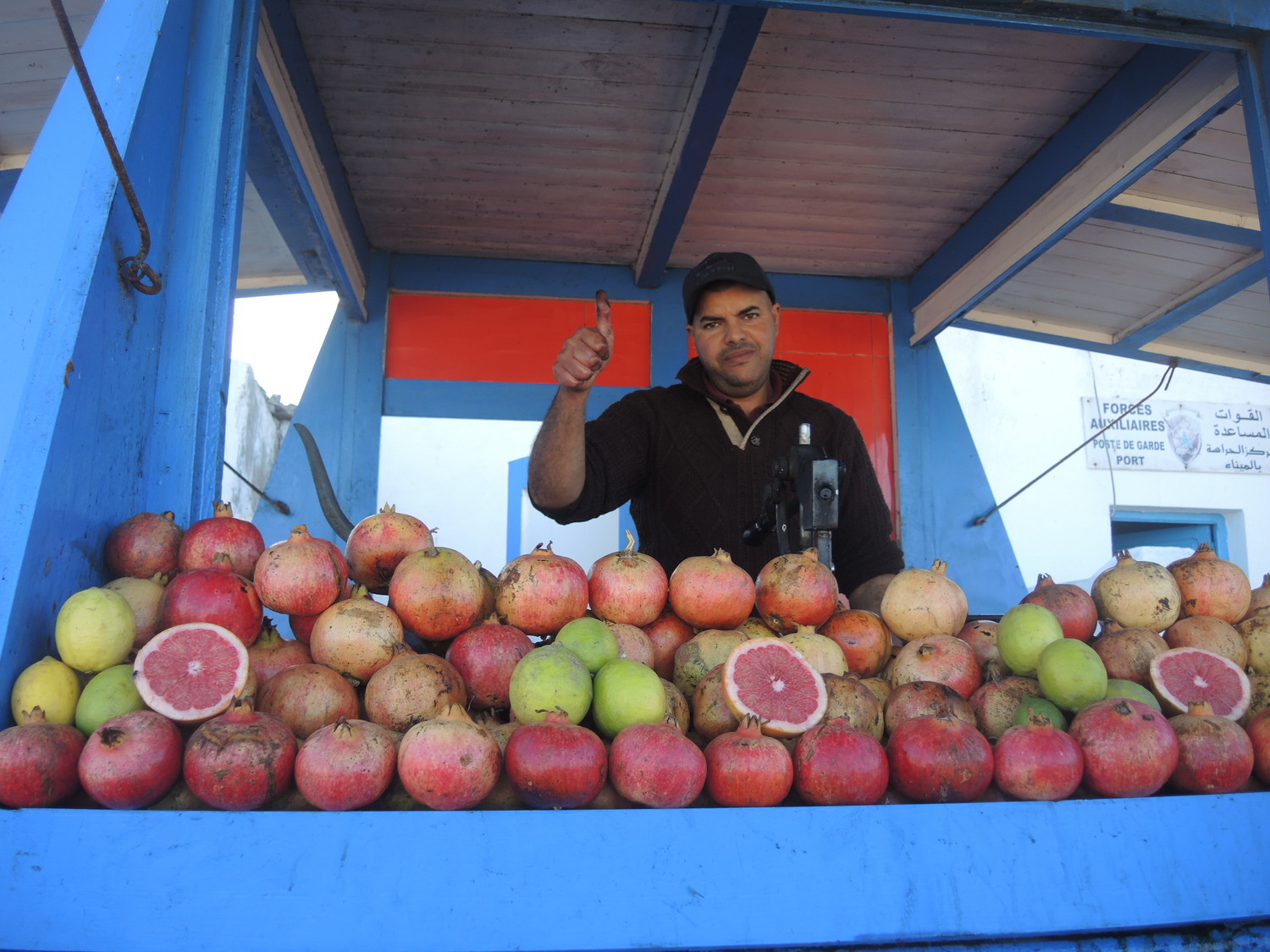 Have a glass of pomegranate juice, which is a great way to fill yourself with valuable vitamins. The prices differ according to the size of the glass. You may expect to pay around 1 euro per 100 milliliters of juice.
Undoubtedly, it is worth staying in riads while in Essaouira. Usually they are modern, designer-refurnished and renovated spaces, with its best feature – spacious terraces. The cities in Morocco are almost of the same height, which makes the view from each terrace breathtaking. The terraces almost always have two floors. In the first one there is usually a closed, wind-proof space, with a fireplace, bookshelf and some comfortable sofas. On top of it, there is a smaller, open space with an amazing view to the roofs of medina and to the ocean.
Essaouira offers the best view to the Atlantic Ocean from the riads near the coast. You have better chances of getting a good deal by booking in advance through booking.com. We found an awesome riad for a great price called Dar Al Bahar, which offers an incredible view to the ocean and to the city fort.
We got lucky to get an amazing riad even though we searched for it spontaneously. After breakfast we left our bags in the car and went out to find a riad. It is actually a great way to get to know the medina better as well. It is fun just walking along the winding narrow streets of medina knocking on different riad doors, checking of the rooms and terraces, which all offer unique and slightly different views.
It is worth mentioning that riads that you can find on booking.com were full even though it was not the peak of the season. Some of the riads we saw on booking.com were really hard to find, even impossible. Although, we booked a great riad which offered us a two-people room with breakfast included for 30 euros. The name of the riad is La Rose Des Vents and we could not find it in booking.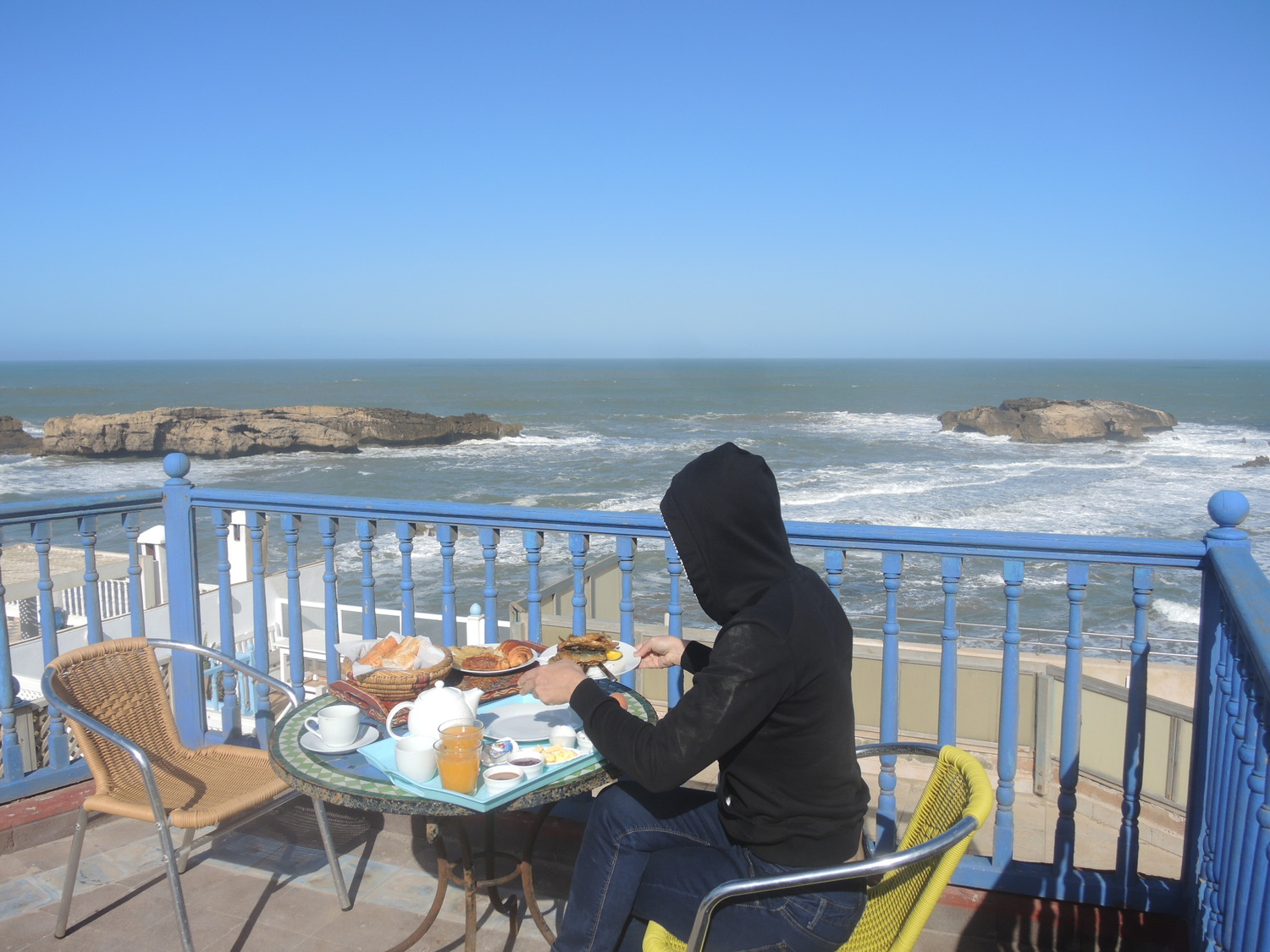 The place where we feel the most satisfied where the terrace of our riad. It is very nice to have breakfast here and to taste some homemade fish for dinner. This is the riad La Rose Des Vents.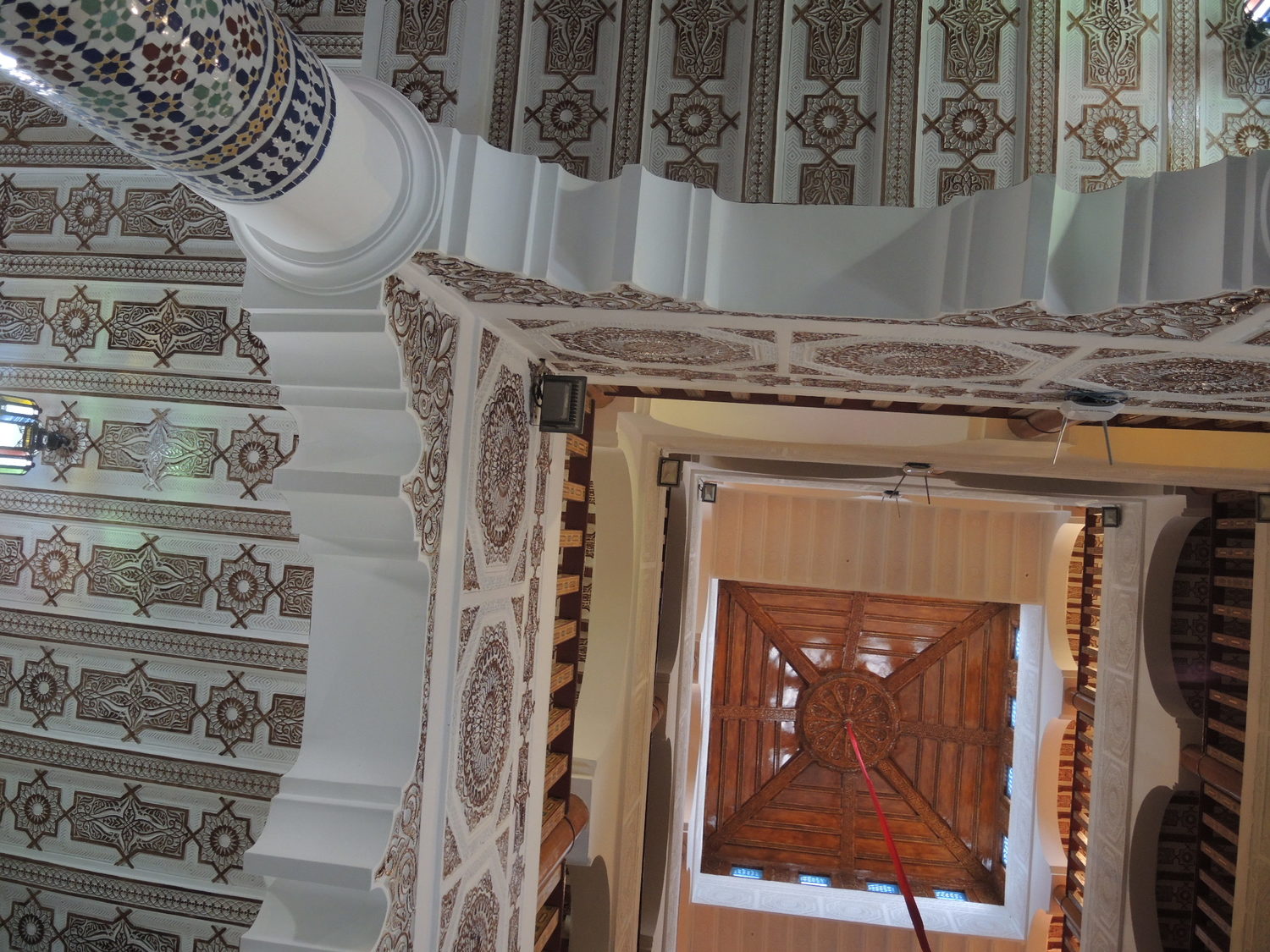 Riads usually have smaller rooms without kitchen it them, but you can always talk it through to get the availability to use the main riad's kitchen. We cooked some fish dishes in riad La Rose Des Vents.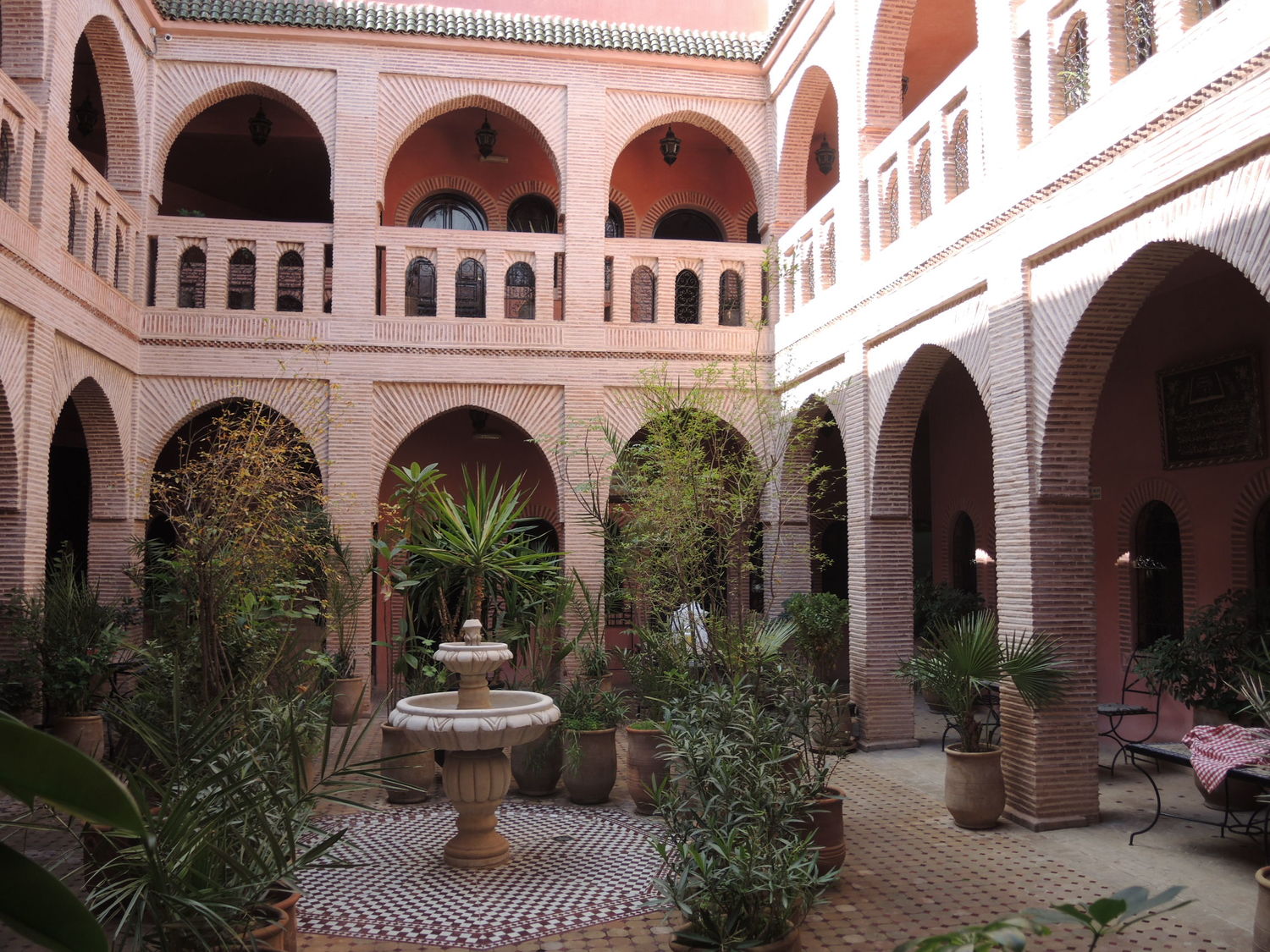 We couldn't find any other riad that would come close to this one. The host really did a great job with renovating this riad and working on its design.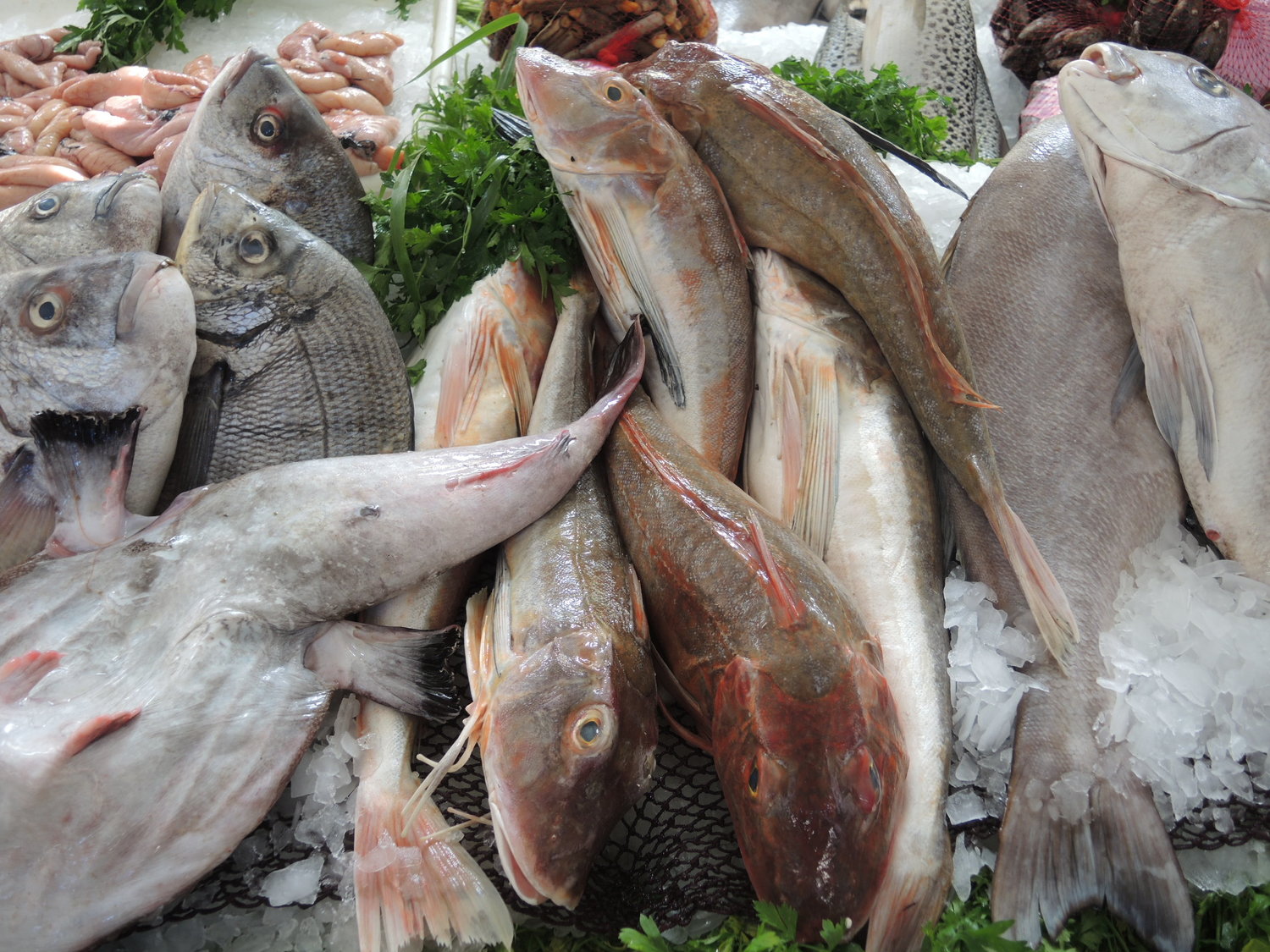 These are big trays where you get a variety of different fish but it is sometimes bad already. Even here you can see some fish with sunken eyes.
You can read more about Essaouira in the article "What to do in Essaouira".
Day number 6
After the breakfast we leave quite early. We took a good route going through Marrakech towards the Ouzoud waterfalls. We leave the road N8 and turn into R307 which we will be using to pass through the Atlas Mountains. We later took P3102 and P3105 route to reach Ouzoud waterfalls. It got dark and we made the right decision to book a hotel room further from the center, and away from the buzz of the city, in Salim Hotel.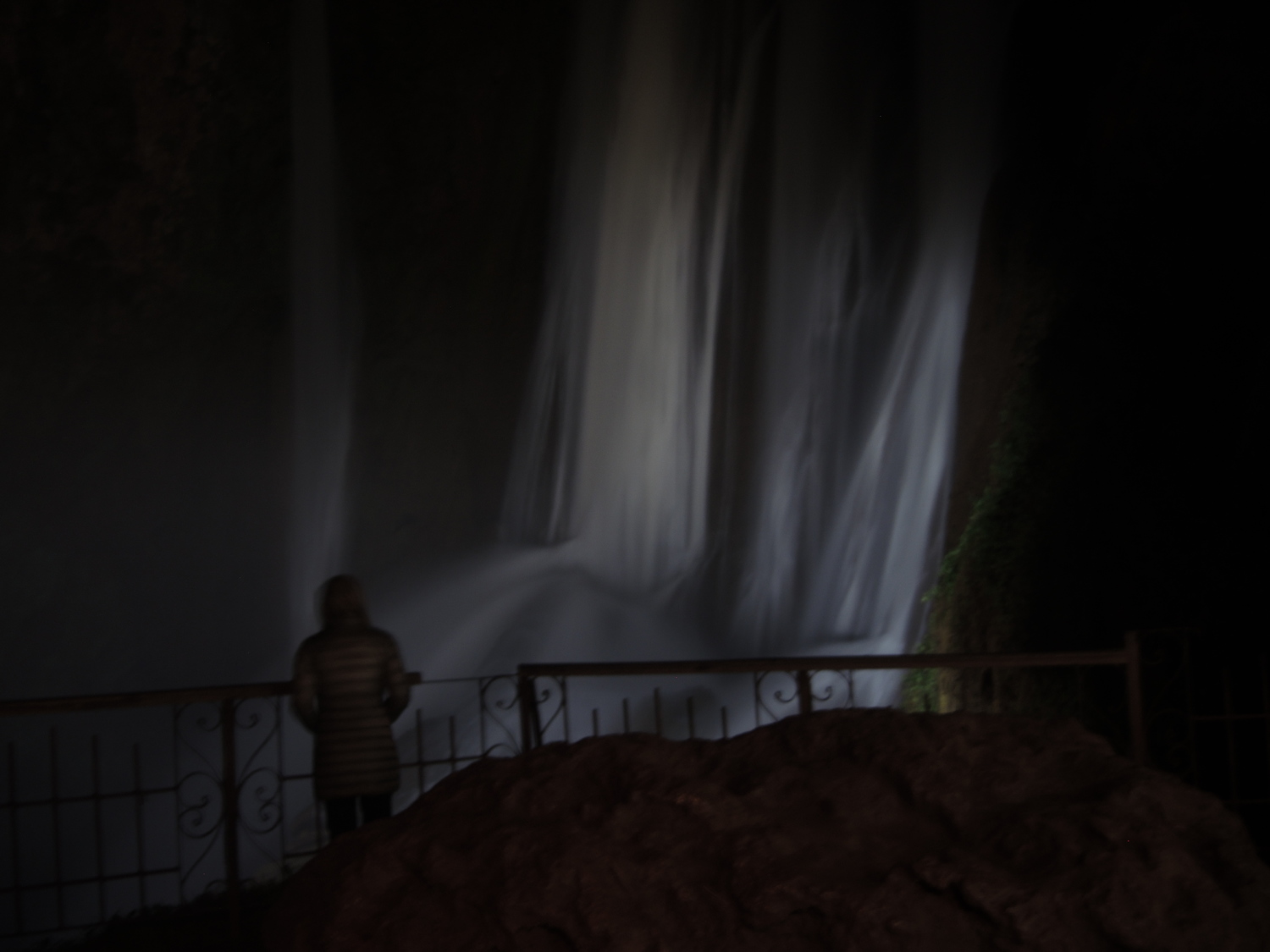 Ouzoud waterfalls look amazing while lit at night. There are paths leading to the falls.
In the hotel we get a whole floor for ourselves. It has a huge living room, another, smaller living room and two bedrooms. Same as in almost all hotels, there is a Wi-Fi, which is commonly considered to be as a part of a full package.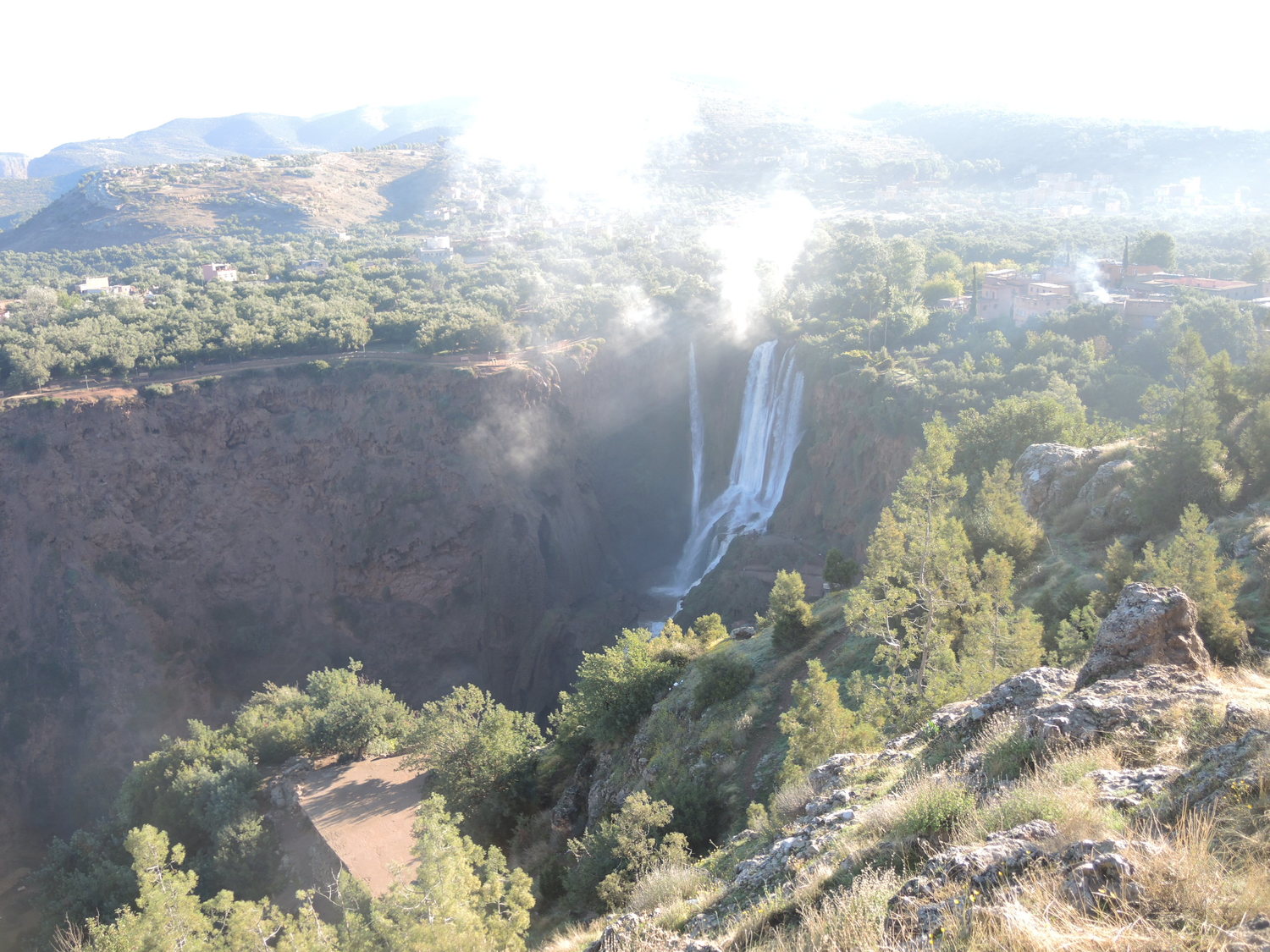 A view to the Ouzoud waterfalls from the above, right next to Samir Hotel.
Even knowing that there is a Wi-Fi in hotels, it is very useful and advisable to purchase a phone card with Internet connection. You will probably be offered to buy them at the airport and be said that they have a free Internet inside, but don't be fooled. If you want Internet, you have to buy additional card, which are not very expensive.
Day number 7
This day we wake up earlier and start our way down to the waterfalls. There is a whole industry down at the waterfalls area, full of restaurants and small shops. Since it is really early, most of them are not open yet, but we did persuade cooks in one small restaurant to make us some breakfast omelet. There are also not many tourists, they are still probably sound asleep. You simply have to order a Berber omelet, which is a tagine omelet with tomatoes.
Right next to the waterfalls there are whole gangs of wild monkeys. They are friendly, not the pickpocket type, and they are not getting in your face when you are eating. They are probably well taught not to, and maybe they are a little afraid to fall into a hot plate of tagine. Local people have made a pretty smart business out of it. For a couple of dirhams, you can buy some nuts and feed the monkeys, which, might get on your shoulder.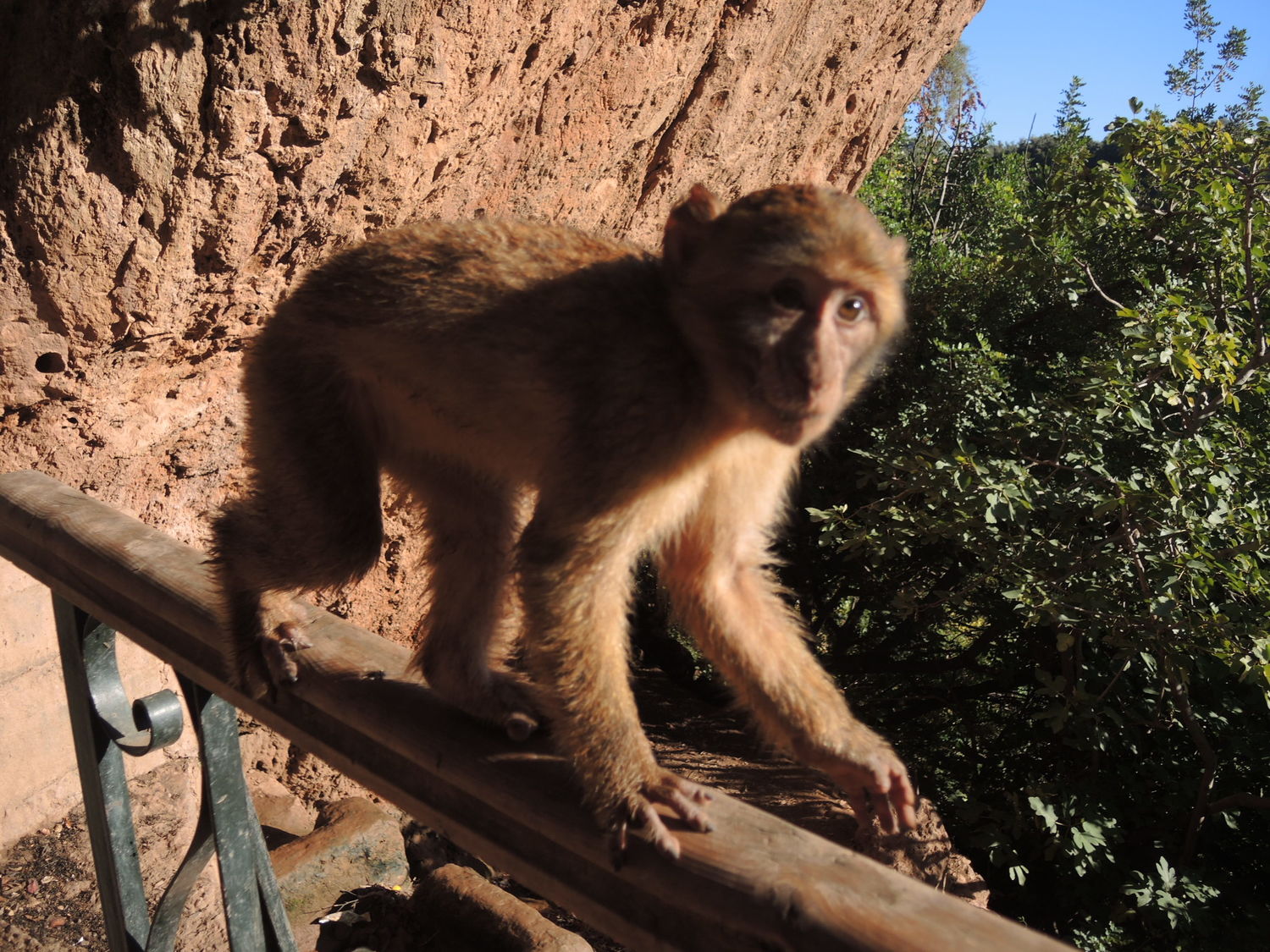 The monkeys spend their nights on the side of the mountains in the forest and only in the morning they come to the tourist zone. It is so interesting to observe their behavior. Some of them are partly wild, very fast and look for food in a large space. Others are rather lazy, just sit in their favorite spot and wait for the nut treats from the tourists.
After the breakfast we go down to the very bottom. In the restaurants there are tagines warming up, already waiting for the tourists. There are also some boats that might take the tourists for a boat ride in the lake under the waterfalls.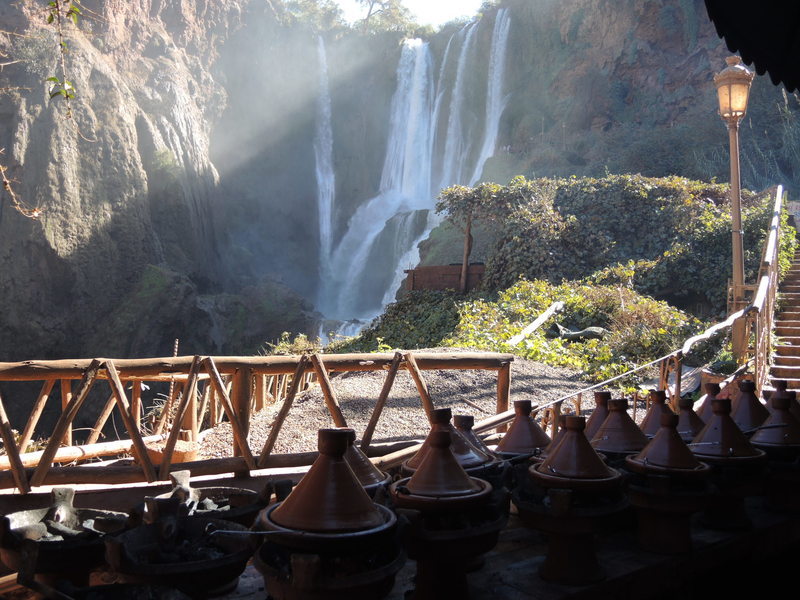 Tagines warming up, waiting for the flood of the tourists. If you see many tagines warming up in front of the restaurants, it usually shows that it is a good one with delicious food.
We probably spent a little too much time and left a little too late. There is a long way going through route R307. We should have left around at 10 am. The road works are active and are being made for both lanes at a time. In the mountains, you will drive through a one lane road though. The road was the worst at places where recent heavy rainfall has covered the road.
The road complexity is totally compensated by the beauty of the mountains. The road goes through beautiful green river valleys. In many places you might see snowy mountain tops. After we went through the flatland, we started reaching some serious height. 1.2-liter Ford Fiesta barely picked up. Sometimes we even had to stop and give the engine a rest. When the second part of the day started to approach, we just understood that we would not like to meet the dark while in the mountains.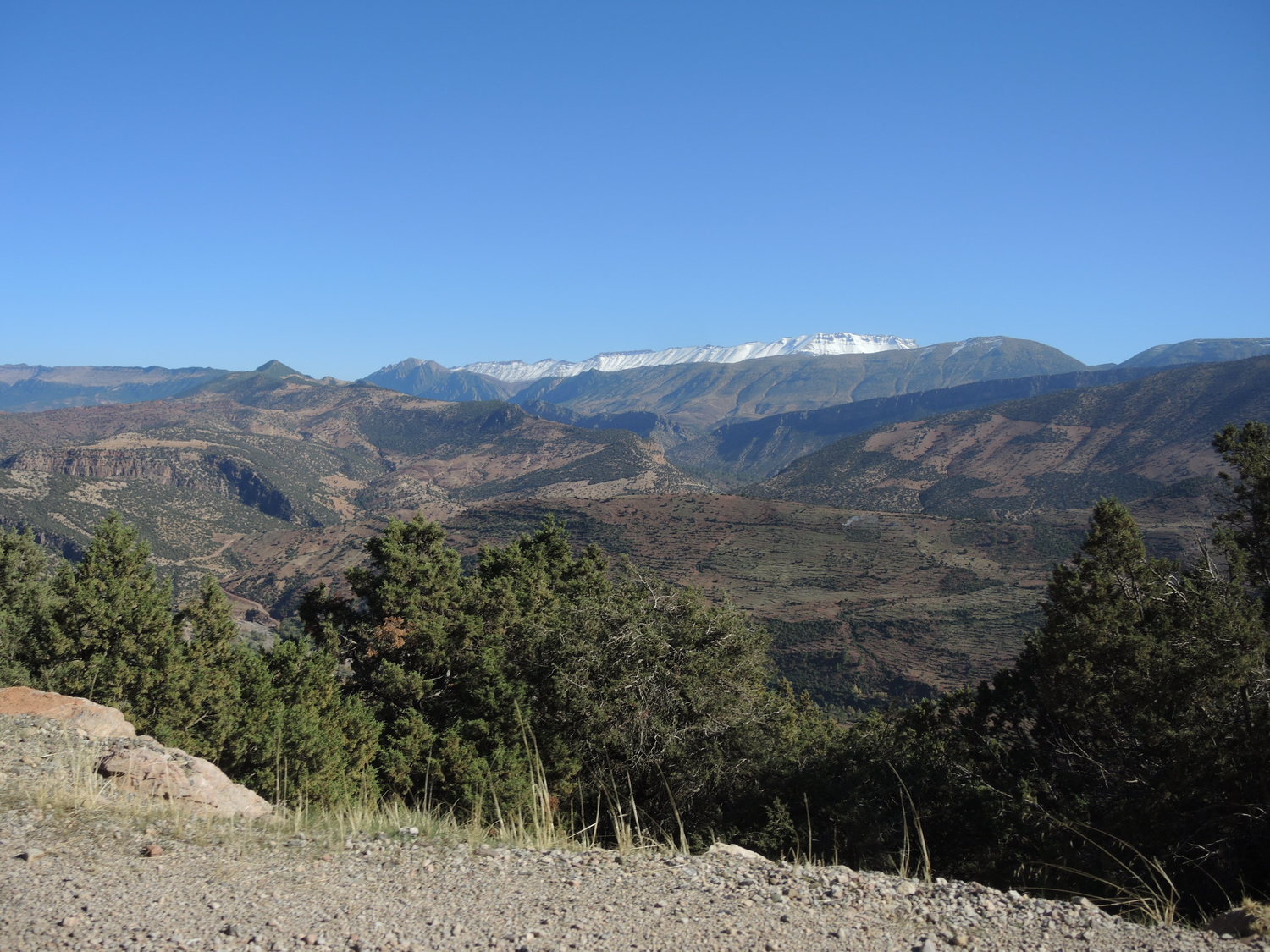 Atlas Mountains, going through Demnate. We start seeing the snowy mountain tops.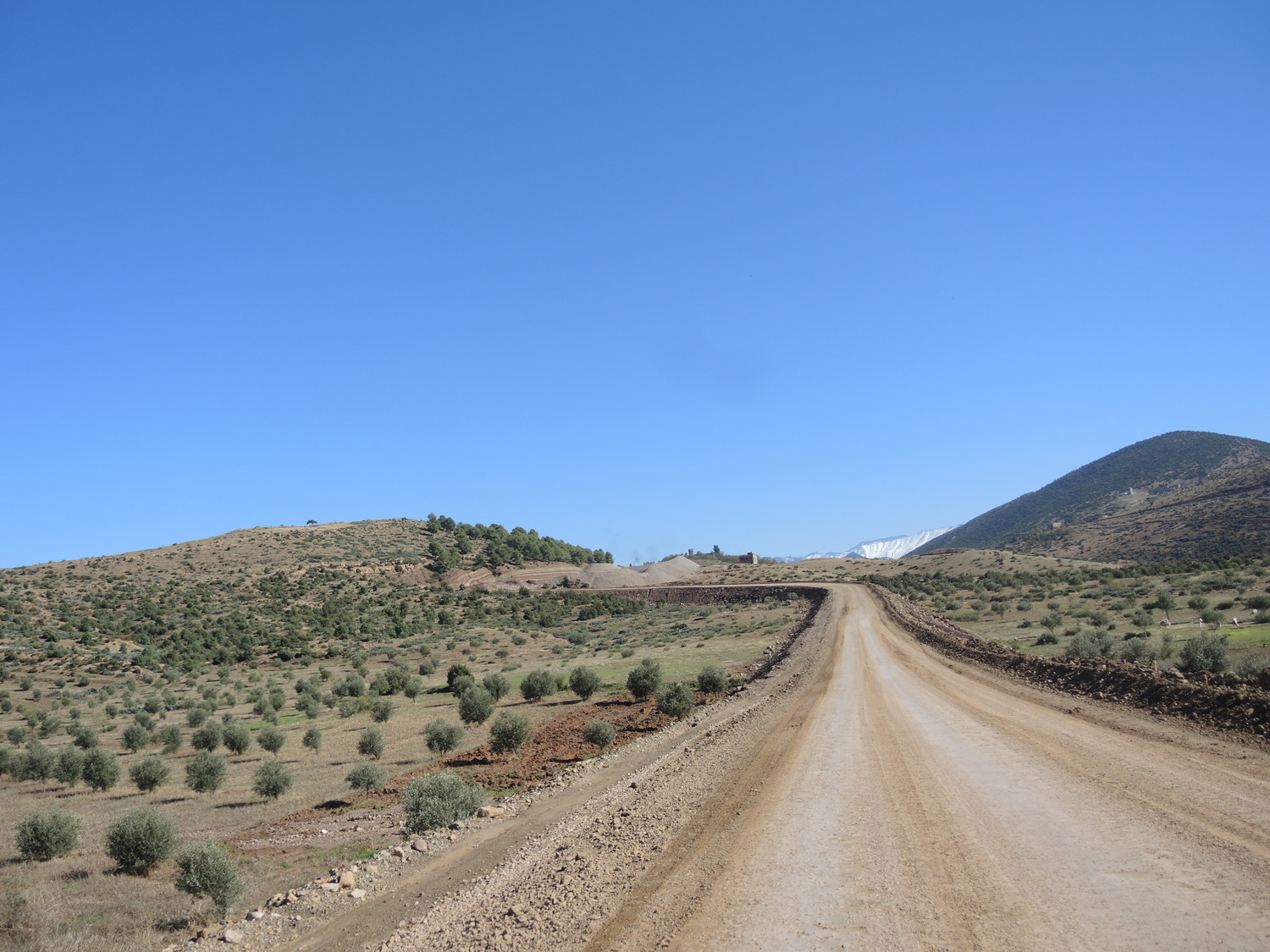 At last, we started going down the mountains. It still goes up and down, we even got a little bored, but there is still something beautiful showing itself. We get our motivation back.
When it got dark, we managed to reach the bottom. We are at last on a flatland again and we move towards Uarzarat. It is just so annoying to see all those four-wheeled all-terrain vehicles that take up a whole road. But after a while they do let you go through.
At dark we pass Uarzazat, we reach Ait Benhaddou. There are still some tavernas open by the side of the road, where the top floors are working as hotels as well. After a third try we found a great price for a room in a hotel Labaraka. The rooms were a little old but had an awesome terrace with a view to Ait Benhaddou. Also, some restaurants with delicious food were still open for quite a long time. However, minced meat tagines are not the best choice in the evening, since they get really dry.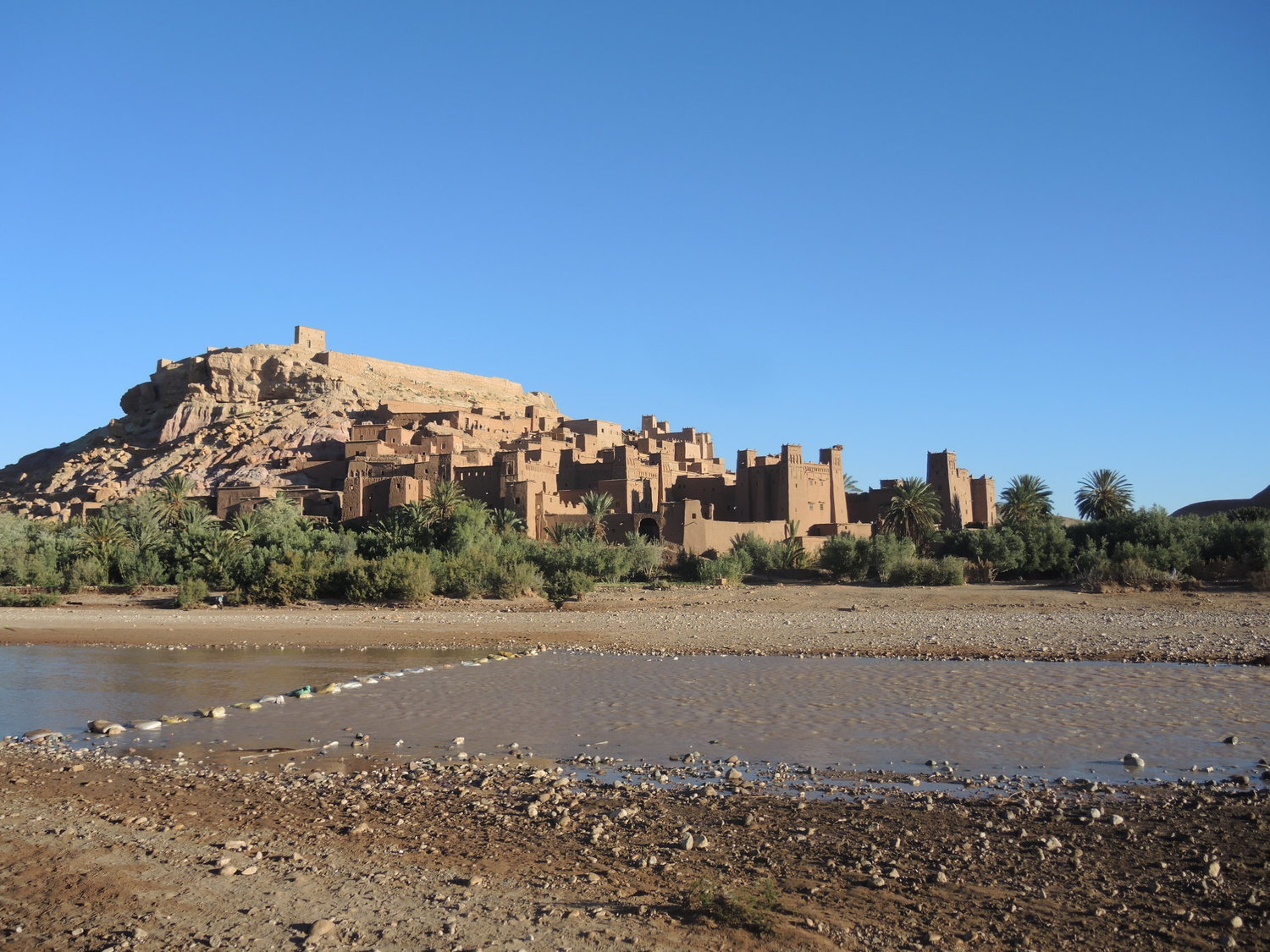 The view from the Ait Benhaddou old town to the new town. There are only 9 families living in the old time. All the business is behind the river, as well as the best hotels. Here you can see Hotel La Kasbah with its incredible view.
Day number 8
We step out to the terrace with the first sun rays to enjoy the views or sun lit Ait Benhaddou. We have breakfast right there on the terrace and get ready to hit the road. Other guests were having their breakfast downstairs but we asked to get ours on the terrace. It is simple – ask for it and you will probably get it.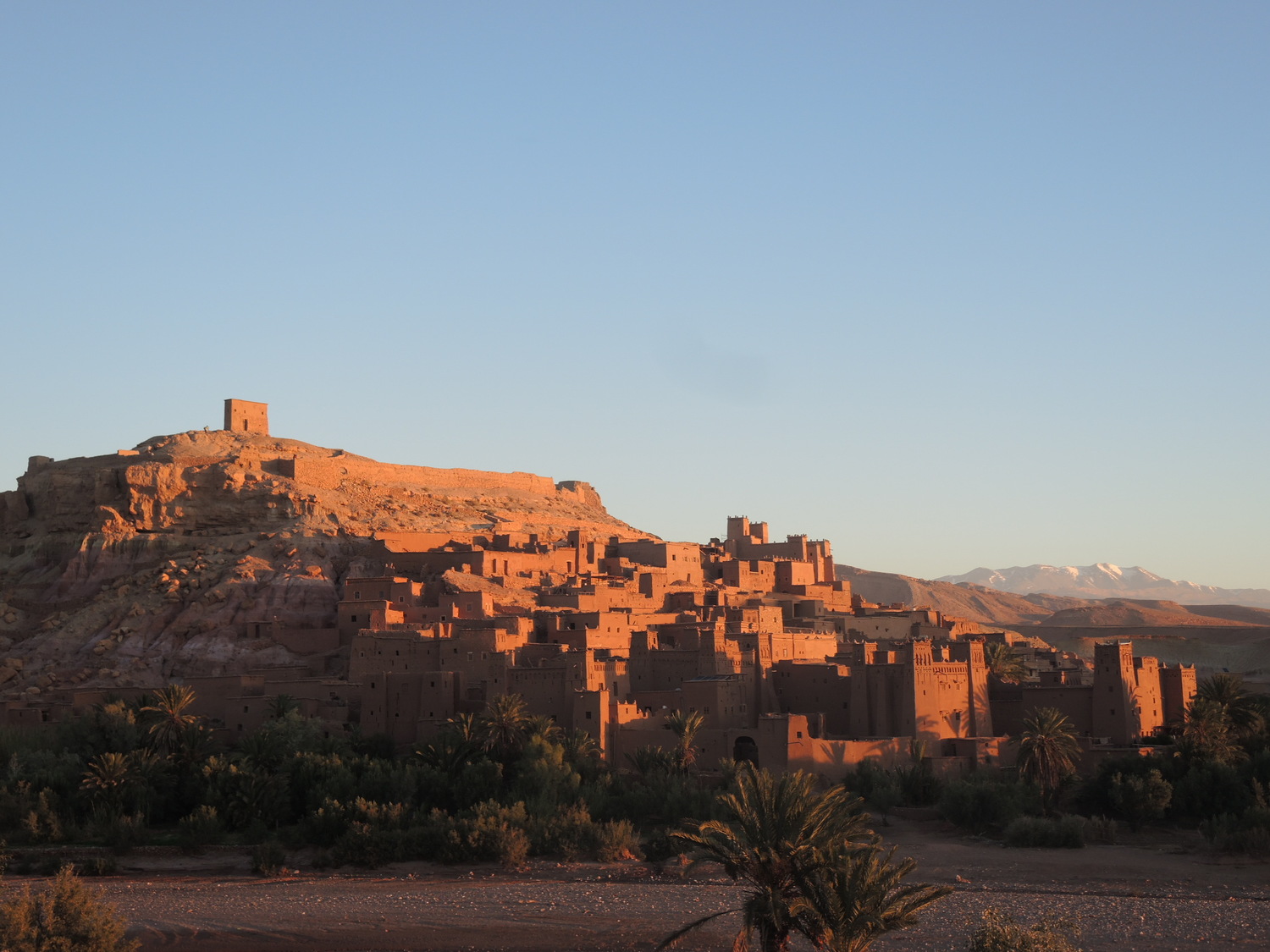 Ait Benhaddou with first sun rays. The red town turns even redder.
There are two different ways to reach Ait Benhaddou – you can either use the bridge or go straight through the river. It is actually quite fun to go through the river, because there is a more beautiful view on that side. It is also worth to get on a small hill right before the Ait Benhaddou which offers a very photogenic view.
If you have some more time, around two days maybe, you should use them to go to the desert. It is not that far away. The closer one is Mhadid desert, which offers smaller dunes, and the further one is Merzouga desert with bigger, more impressive dunes.
Since we do not have any additional days, we go back to Marrakech. We decided not to go to Marrakech exactly, but instead we chose to stay somewhere in the mountains. We found a hotel in Touflit forest. Since the road is not long, we are not in any rush and stop frequently. It is still daytime outside when we reach it and we even go on to take a walk in the forest.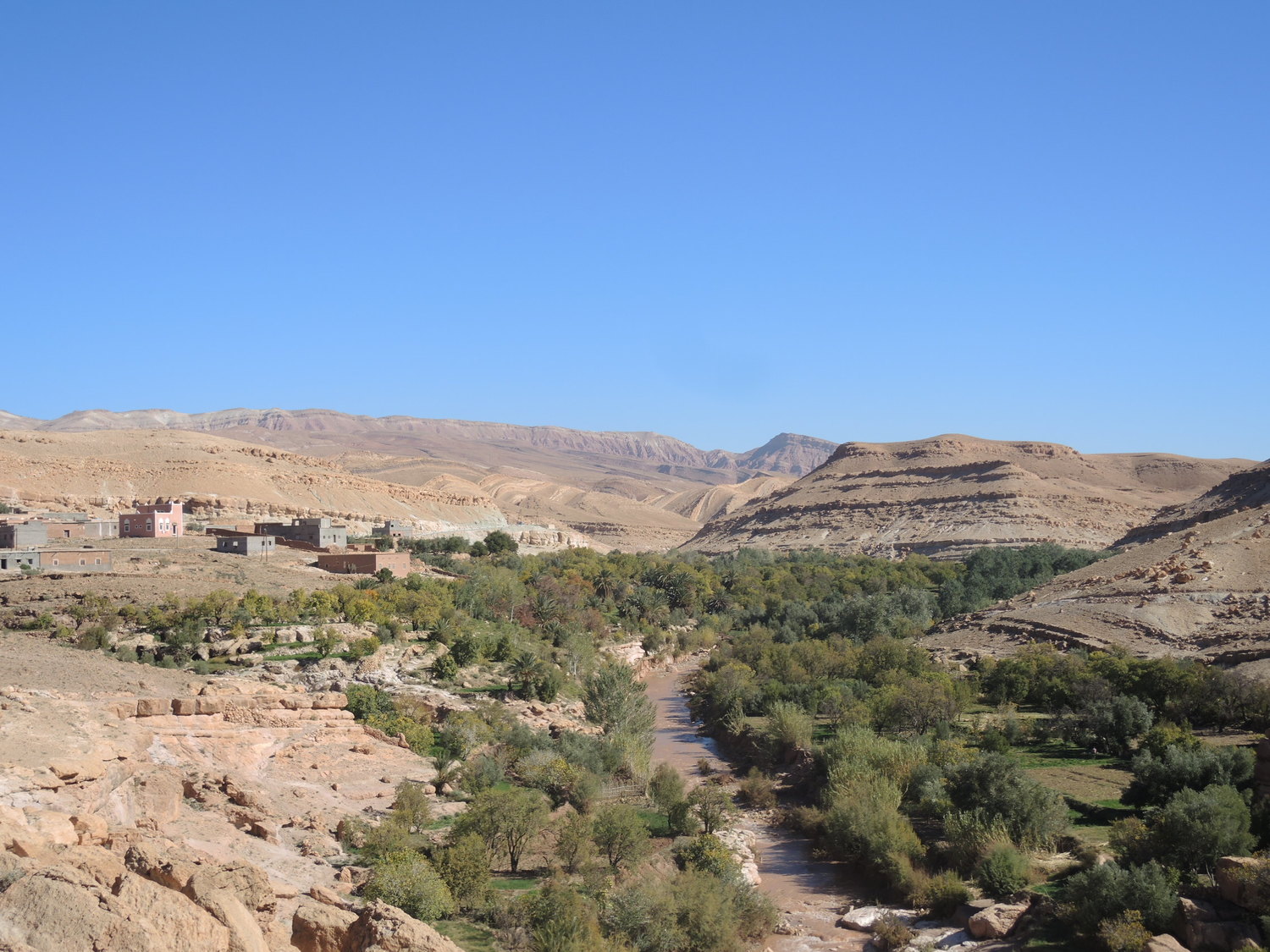 Asif Ounila (the salty river) that goes through Ait Benhaddou. Along it stretches the P1506 road that offers incredible views. Small towns in the river valley are as impressive as the Ait Benhaddou itself.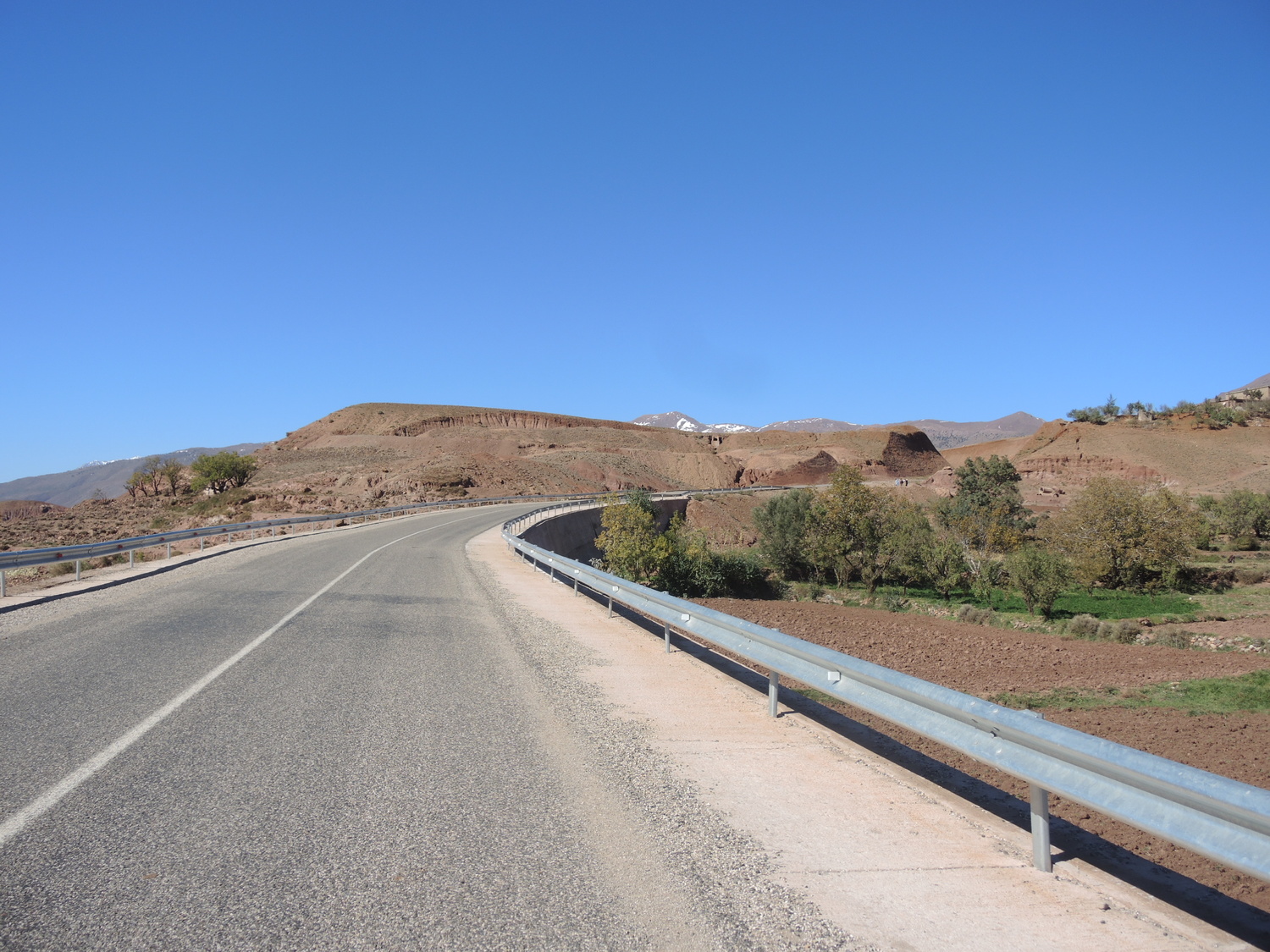 If you buy an excursion package, the driver will pull over here to let you enjoy the views. The bus route does not go through here though.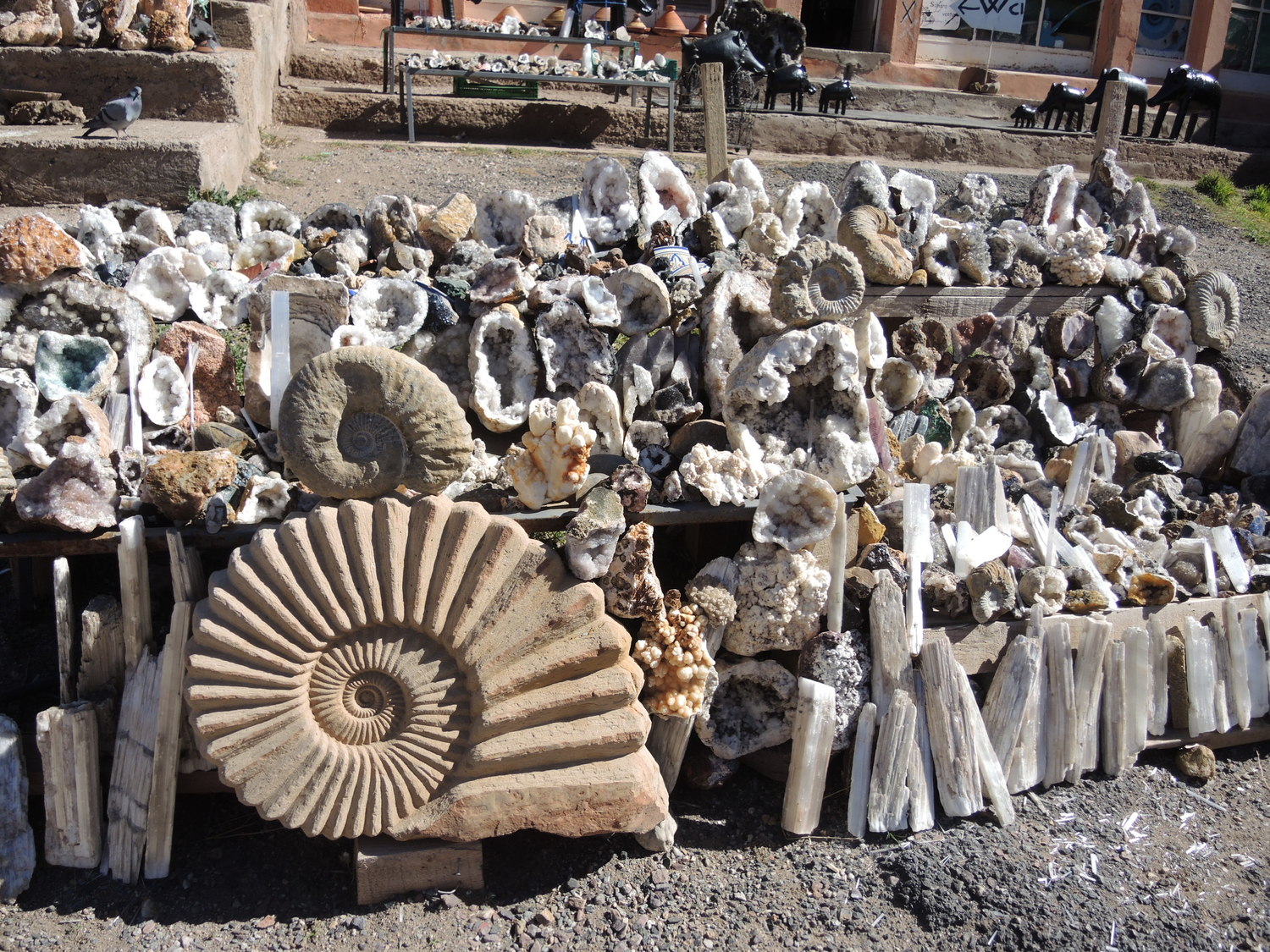 In Tizi N Ticha crossing you can buy rocks and fossils. We don't recommend buying very bright crystals, since they are artificially painted and not worth of anything.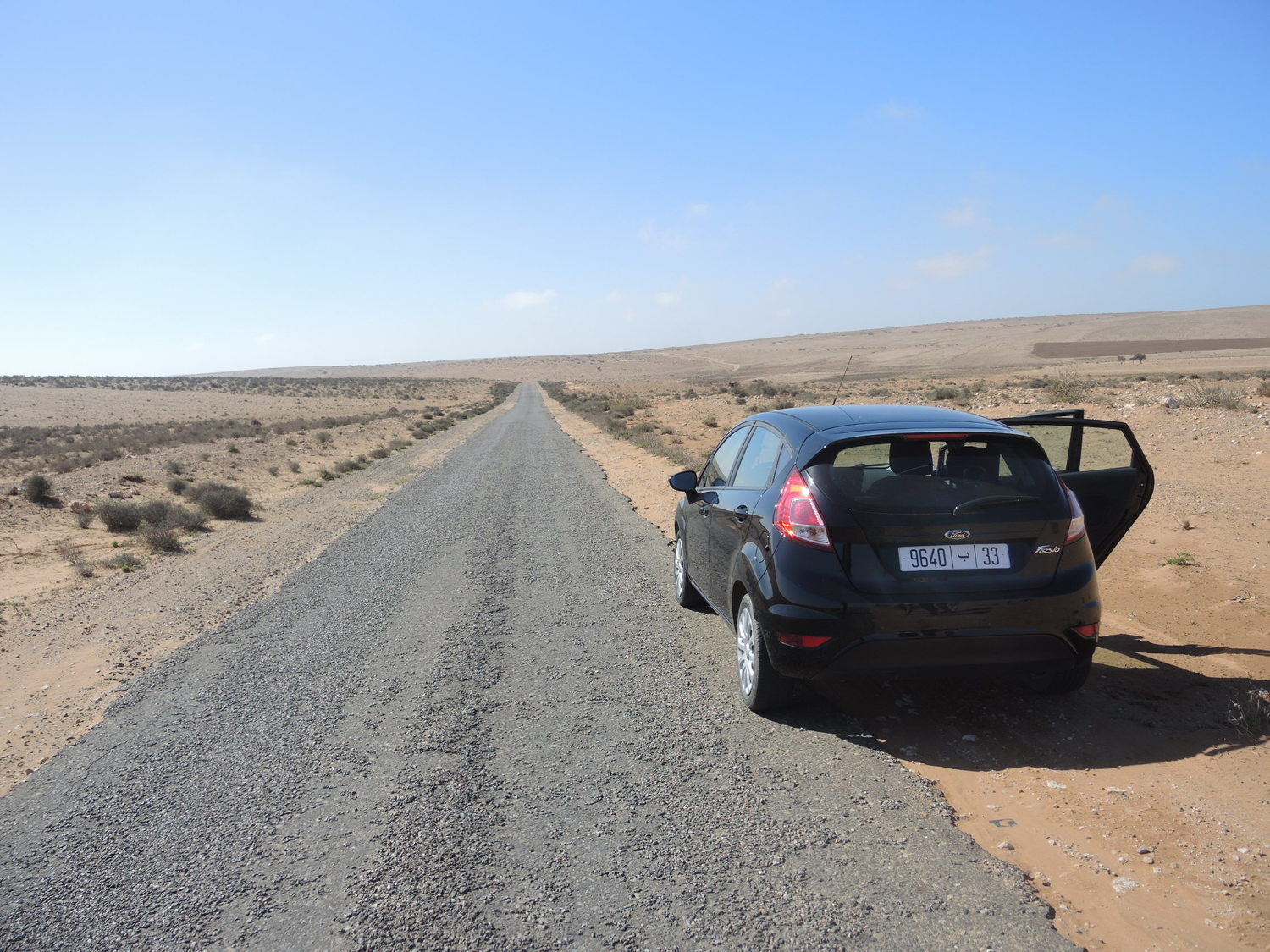 N9 road consists of 2 lanes and on some occasions, there's an extra one to go around other cars. The slope is not that steep so our quite weak vehicle was able to show some strength here.
The mountains are full of life. The gorges are deep and those that offer some more water are fully habituated by people.
The coniferous forests are very similar to Lithuanian ones, the only difference is that it has some different tree species, like pine cedar and larch. Here you can even find some types of mushrooms that are the same as in Lithuanian forest.
Day number 9
In the morning, after the breakfast on the terrace with an amazing view to the valley, we couldn't control ourselves not to go down to the valley and take a walk in the village and surrounding fields. This way we got amazing two hours of well-deserved rest. Some locals look at as quite angrily, others with some curiosity in their eyes, but they still don't forbid us to take pictures.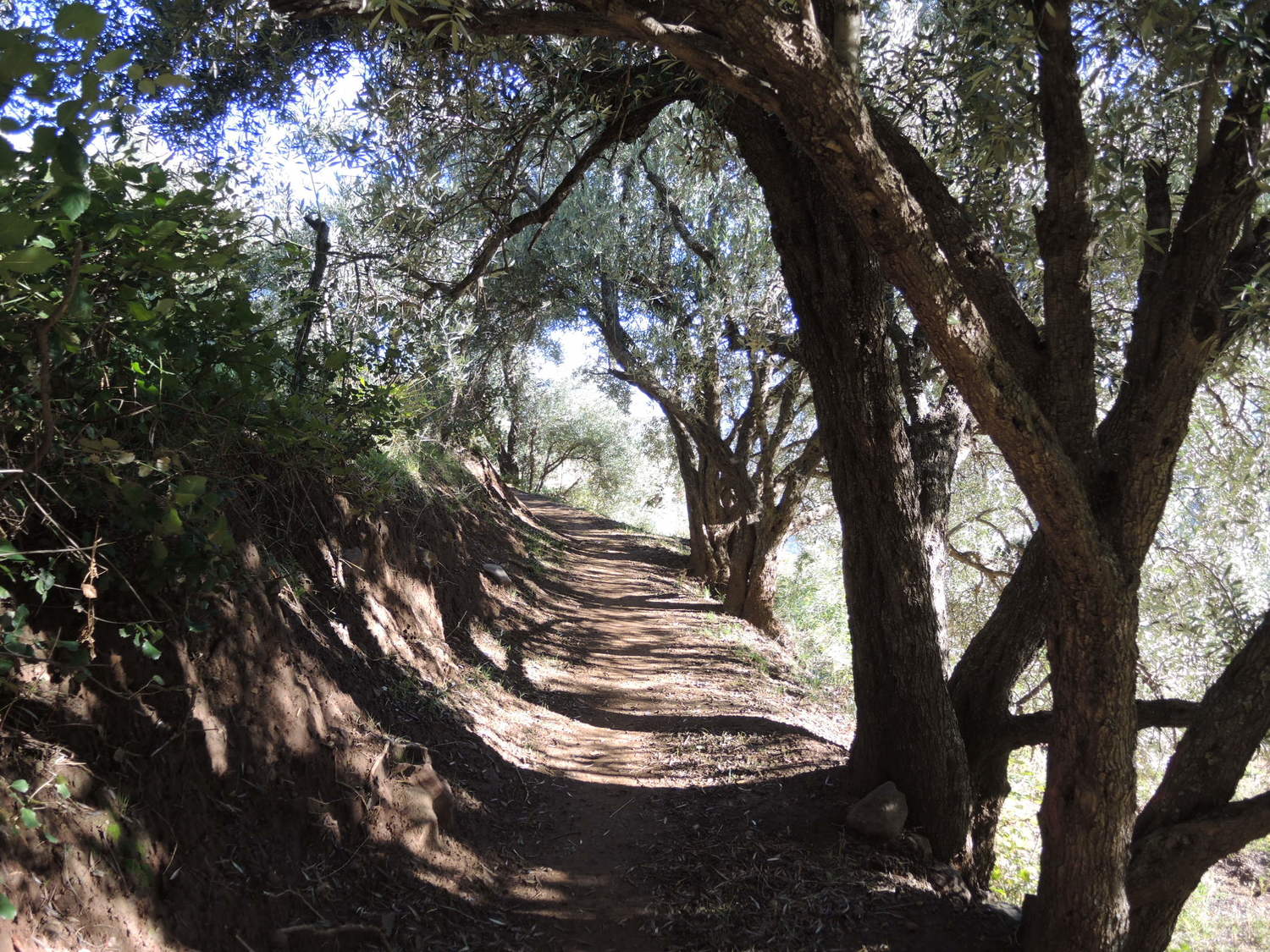 Olive trees promenade.
We reached Marrakech in one and a half hour. Some parking boys or "guards" shout at us that there is no road going to the medina and invite us to park at their parking lots. We decided to turn around and drive to the Koutoubia mosque. Here we find a normal parking lot with no difficulties, where the parking price is 3-4 euros per 24 hours.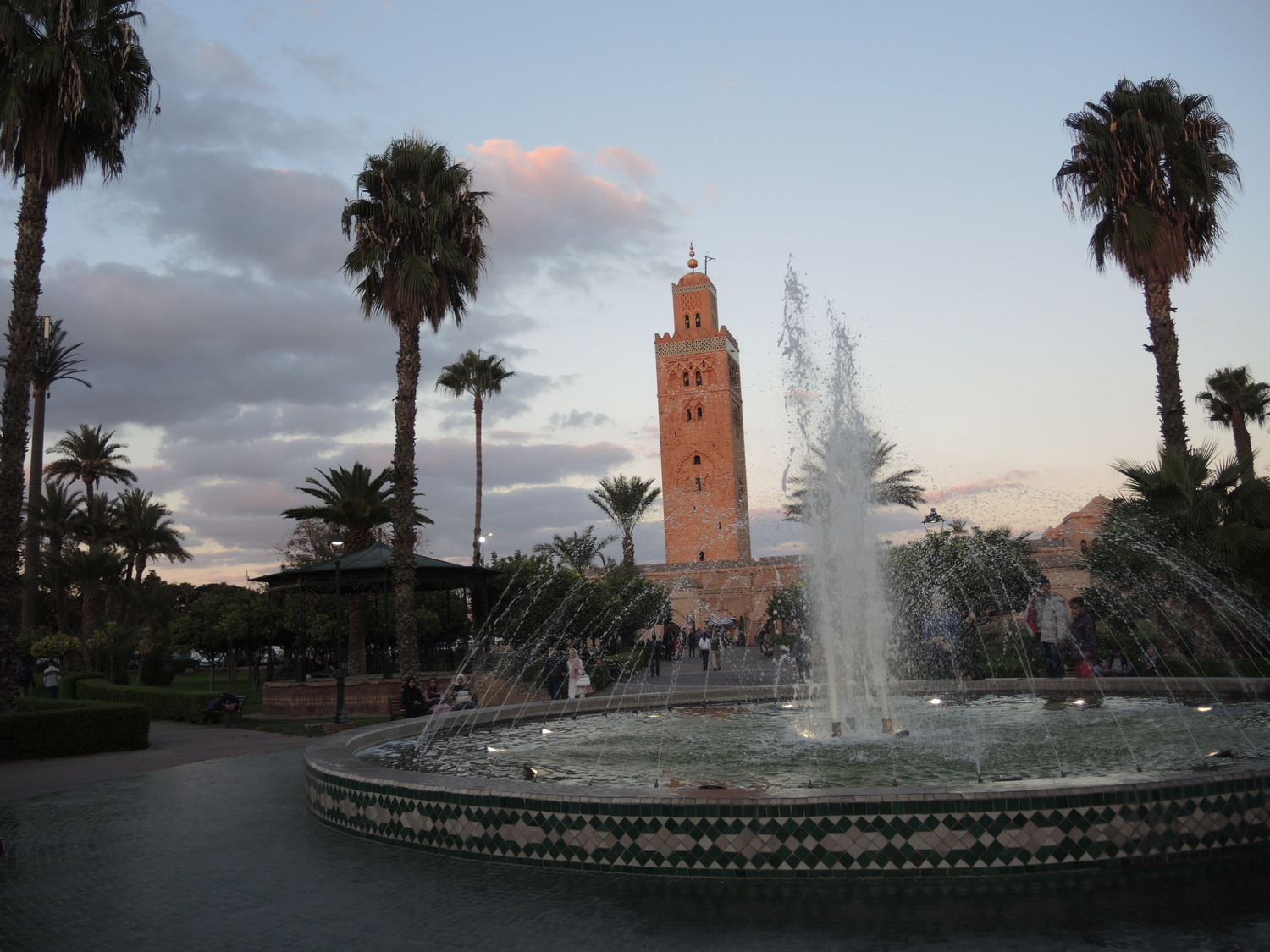 From there we start moving towards the city. There are a lot of currency exchange and cash ATMs behind the mosque. We reach the Jamaa El Fna market square which is quite empty during the day time.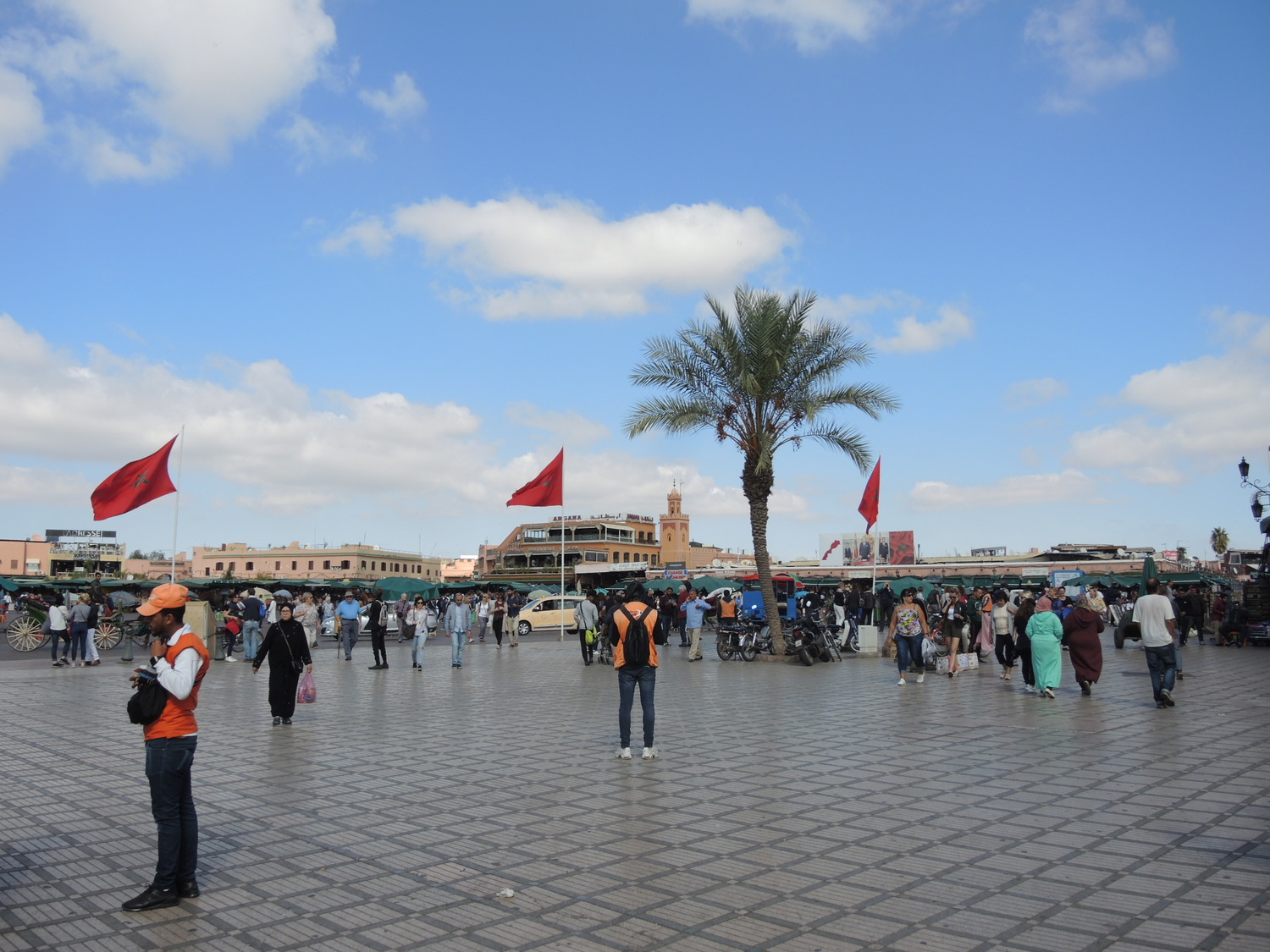 Jamaa El Fna market square is empty during the day time. At night you will be able to see a whole different view here.
Like before, we decided to go spontaneously without the hotel reservations. However, our experience in Essaouira is very useful, because we already know that we have to knock on the closed doors. It is Friday evening and we, sadly, can not find a free hotel room for two days anywhere. We decided to use the "local guide" services and he shows us the BonHeur riad. We took a look at the rooms and without hesitation, we knew that we wanted to stay there, since one of the rooms is practically on the terrace, really big and with a huge balcony. The price for it, with breakfast included, was only 30 euros per night, so we make a deal for one night.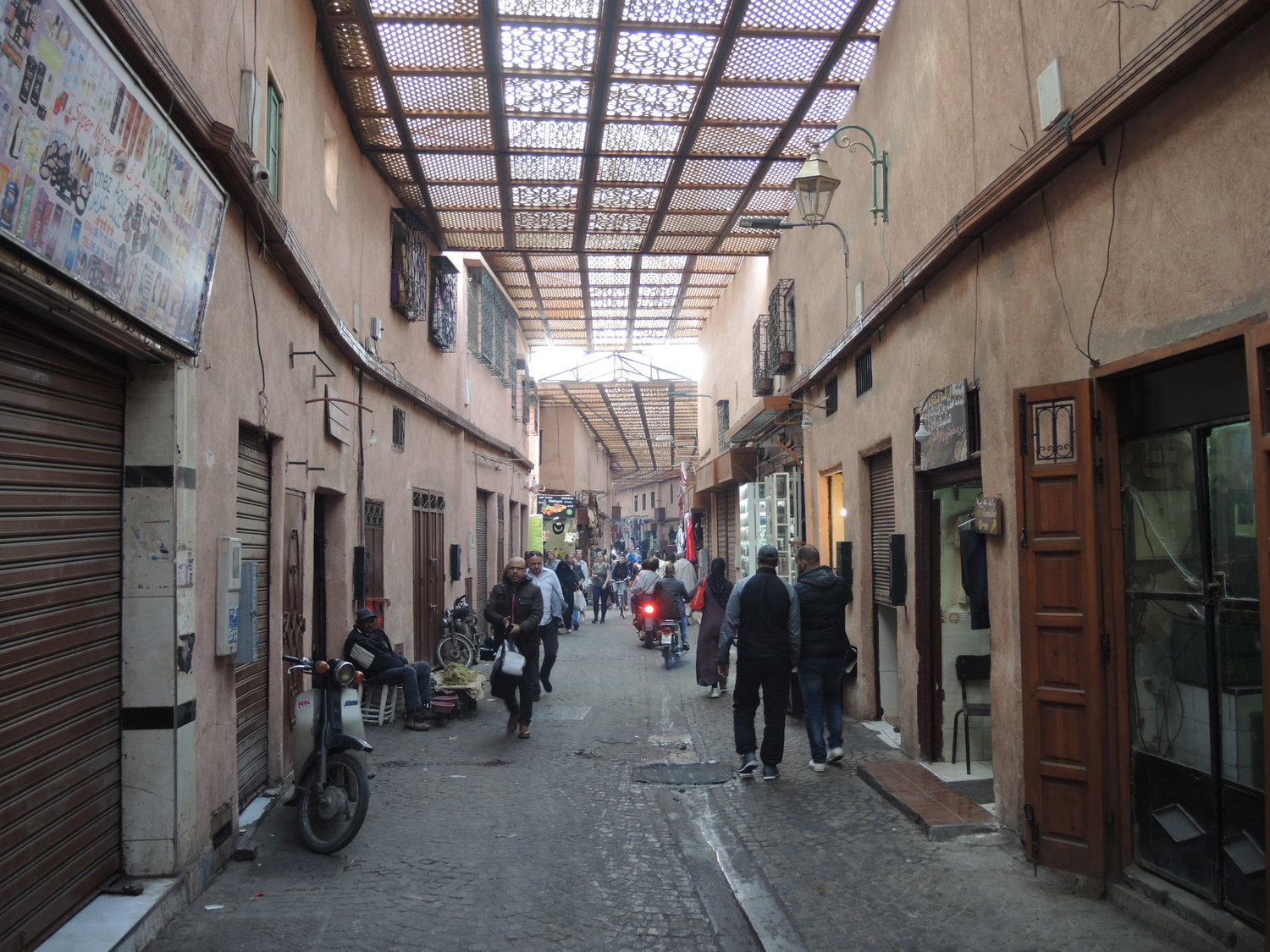 You can call Der Debachi street the main one. Here you can find street food, craft stores.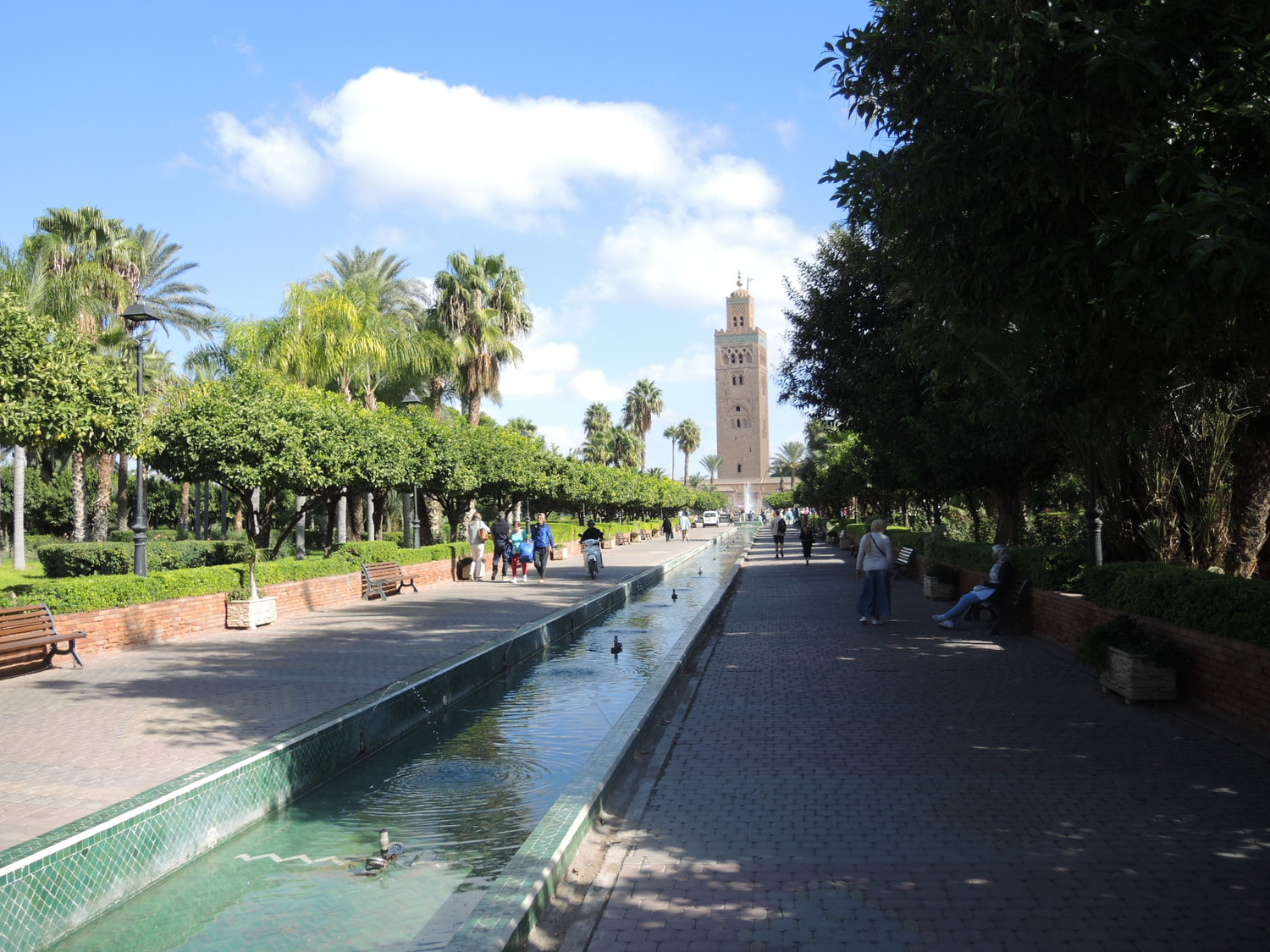 Koutoubia mosque.
In the evening we go to the parking lot and take our car to the rental in order to return it. At night we spend some time walking around the market. It is a perfect time for some shopping, especially around 11 pm. The vendors are already closing up and are tired to bargain, so the prices go down twice as fast as during the day.
We stick to the same tactics. Brave communication, holding the initiative, walking away when the price is not going down. The vendors usually take up the initiative and start offering other items. You have to hold your posture and tone and start the bargain, before going to the other items.
Day number 10
We spend this full day to explore Marrakech. More on what Marrakech has to offer you may find in the article "What to do in Marrakech". It takes us some time to find another place to stay, since BonHeur was sadly unavailable for another night. We didn't have to go far though, only about 400 meters, to a hotel in Kennaria street. We noticed that around 11 o'clock, some more room choices appear on booking.com. Kennaria street is not worse situated as the Der Debachi street. Jamaa El Fna market is close, but you don't have to listen to the noise of it, it is an active neighborhood will quality restaurants and close to El Bahia and El Badi palaces. The street is quite wide and designed for the taxis to move easily.
We take a walk across a whole Marrakech towards the Jardin Majorelle botanical garden. It is quite far away, it would be easier to reach it with a taxi (fixed price with starting point being the Koutoubia mosque is 7 euros). However, it is fun to walk around the town and get to know it better.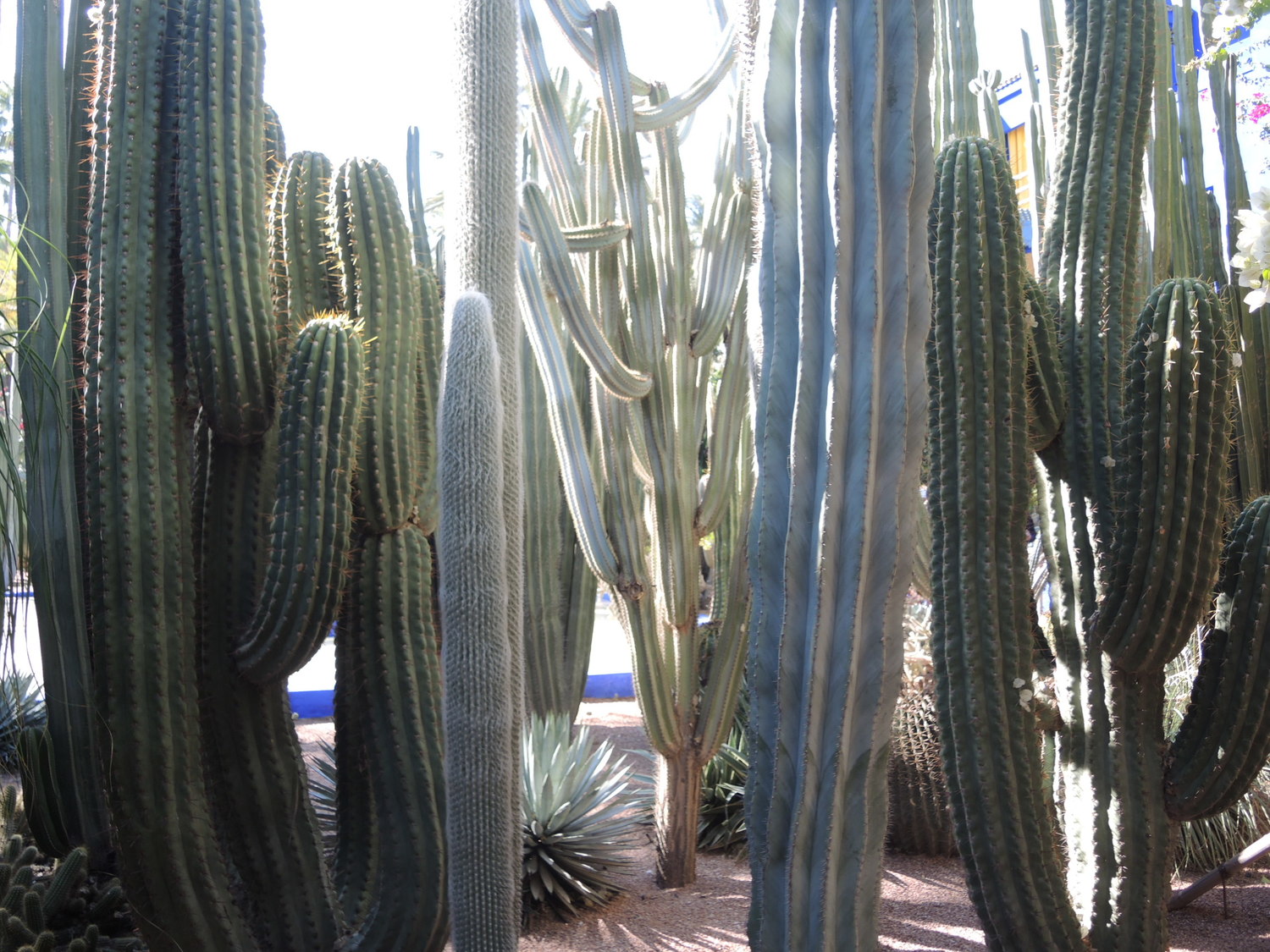 Majorelle botanical garden is very beautiful and in a complete harmony. An abundance of beautiful plants go very well with a lot of incredible pools, ponds and buildings.
It is worth going to the other side of the town to visit Saadit mausoleum.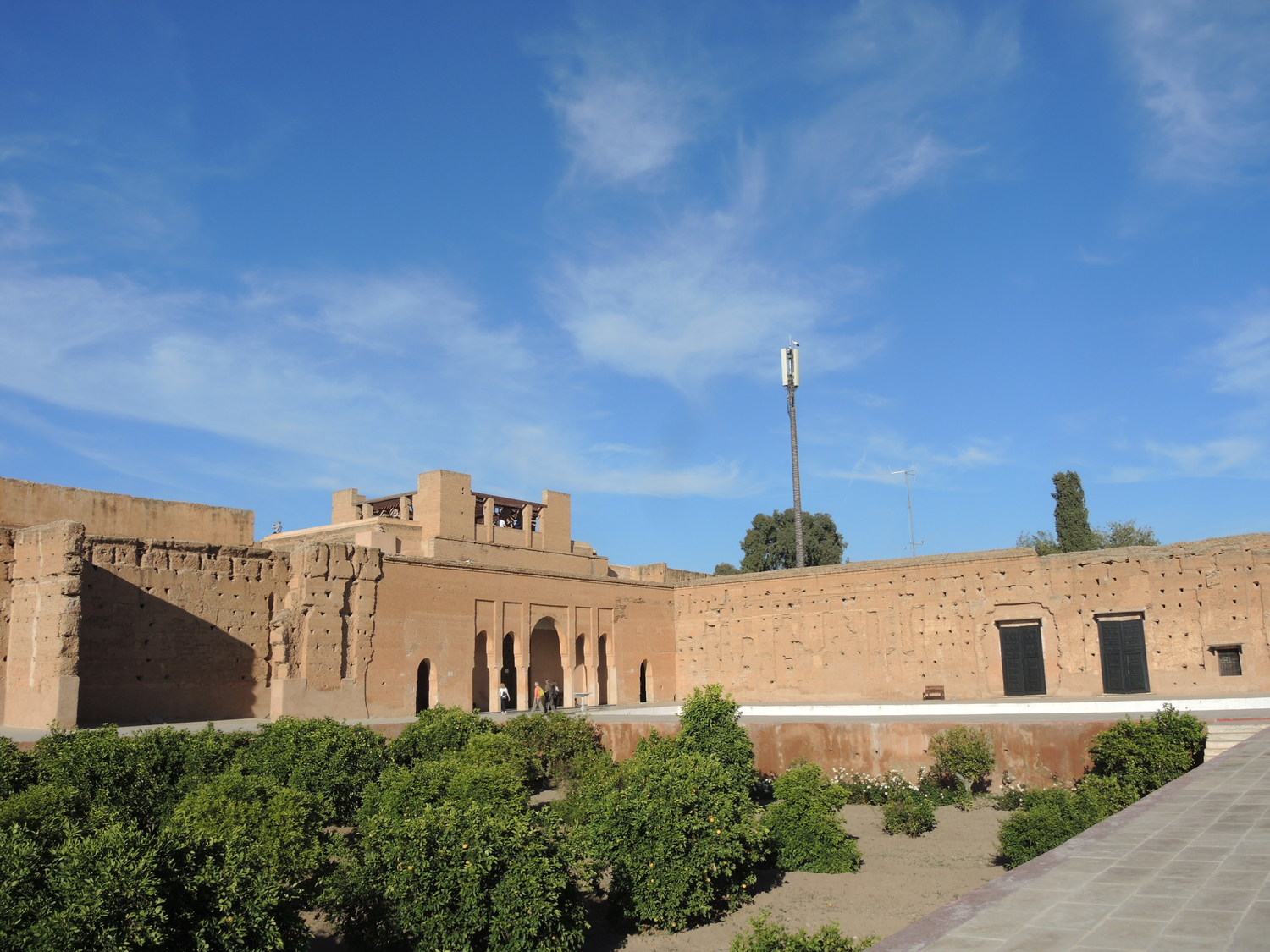 El Badi palace in Marrakech. The entry fee is 7 euros, it is hard to determine if it is worth it. You can only imagine the majesty of the vintage palace. Water systems and security system from the 12th century is impressive, as well as huge gardens and pools.
From the top of one of the towers, you can see the Atlas Mountains.
A little further away you can visit the El Bahia palace. This palace has amazing gardens to offer and the environment is really similar to the folk stories One Thousand and One Night.
We start moving towards the Kennaria street, without forgetting about the street food. We try some amazing fried sardines and we can see the locals eating it, so it is safe enough for us to try it as well.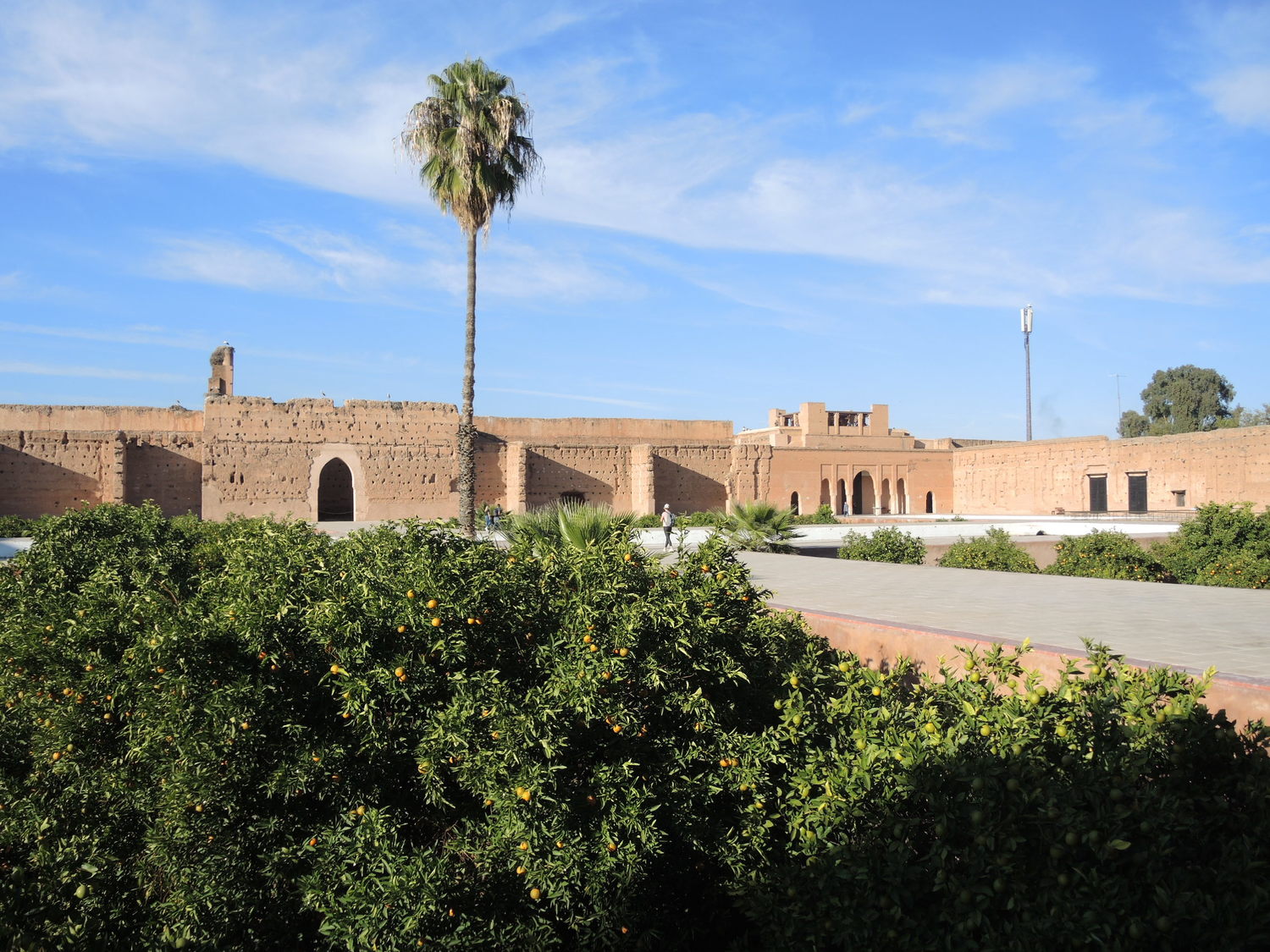 Beautiful El Badi palace.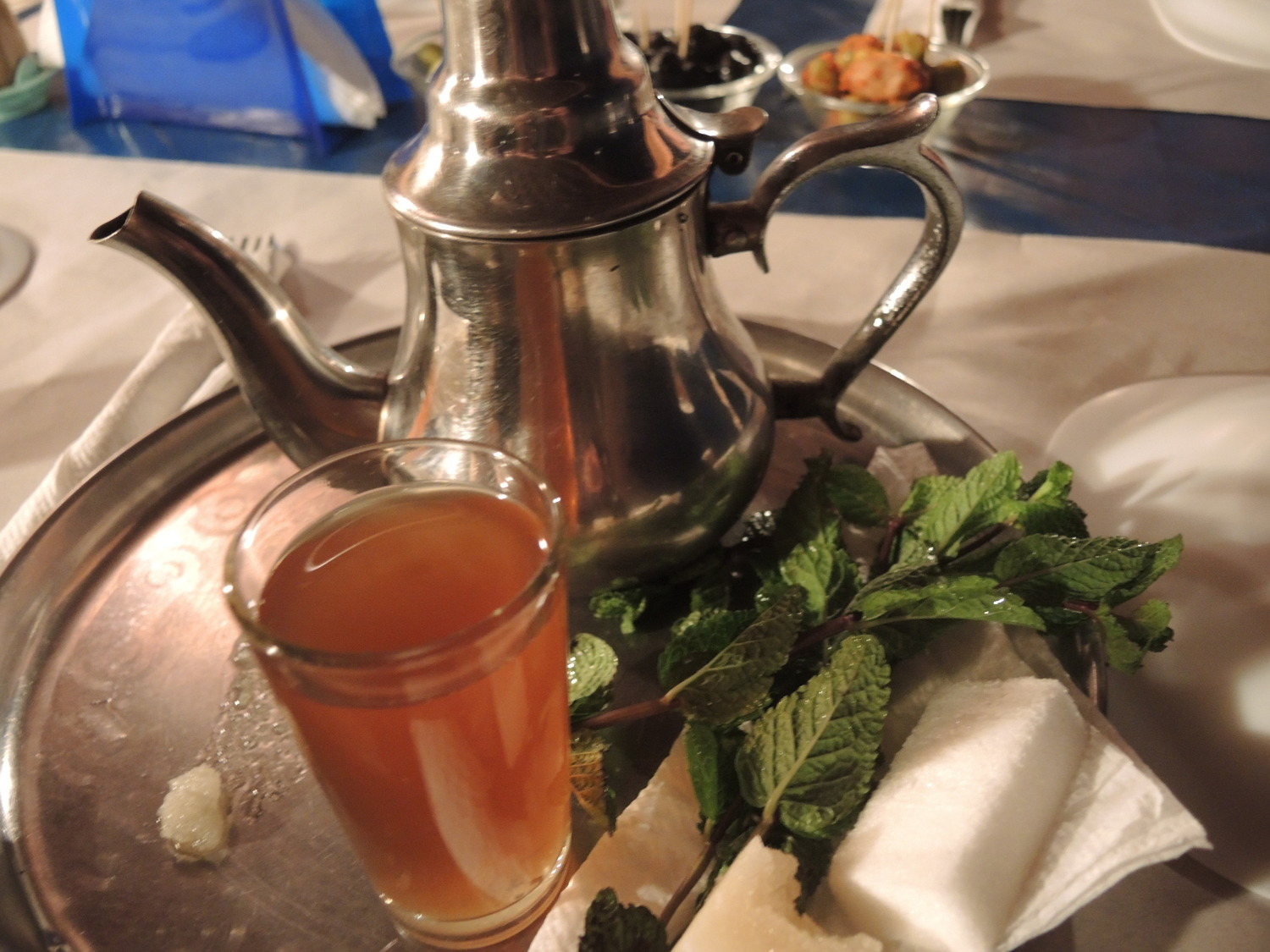 A great way to relax is to enjoy a cup of Moroccan mint tea.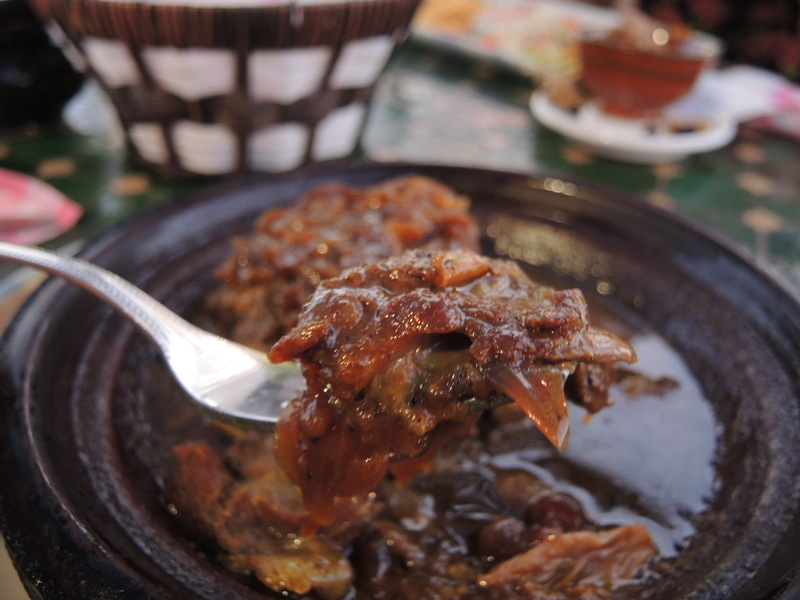 Berber goat tagine.
It is not worth to full your bellies that much, since amazing culinary masterpieces awaits in the night market in Jamaa El Fna. The square turns into a whole new world at night with lots of pavilions with different foods. You can find more on the Moroccan food in the article "What to eat in Morocco".
In the evening, we agree with a driver that a taxi car would arrive and take us to the airport. It will cost us 15 euros.
Day number 11
In the morning we still have some time to walk around Marrakech and have a cup of coffee with the locals. Then we head to the airport. Bye bye, Morocco, we really hope to come back some time.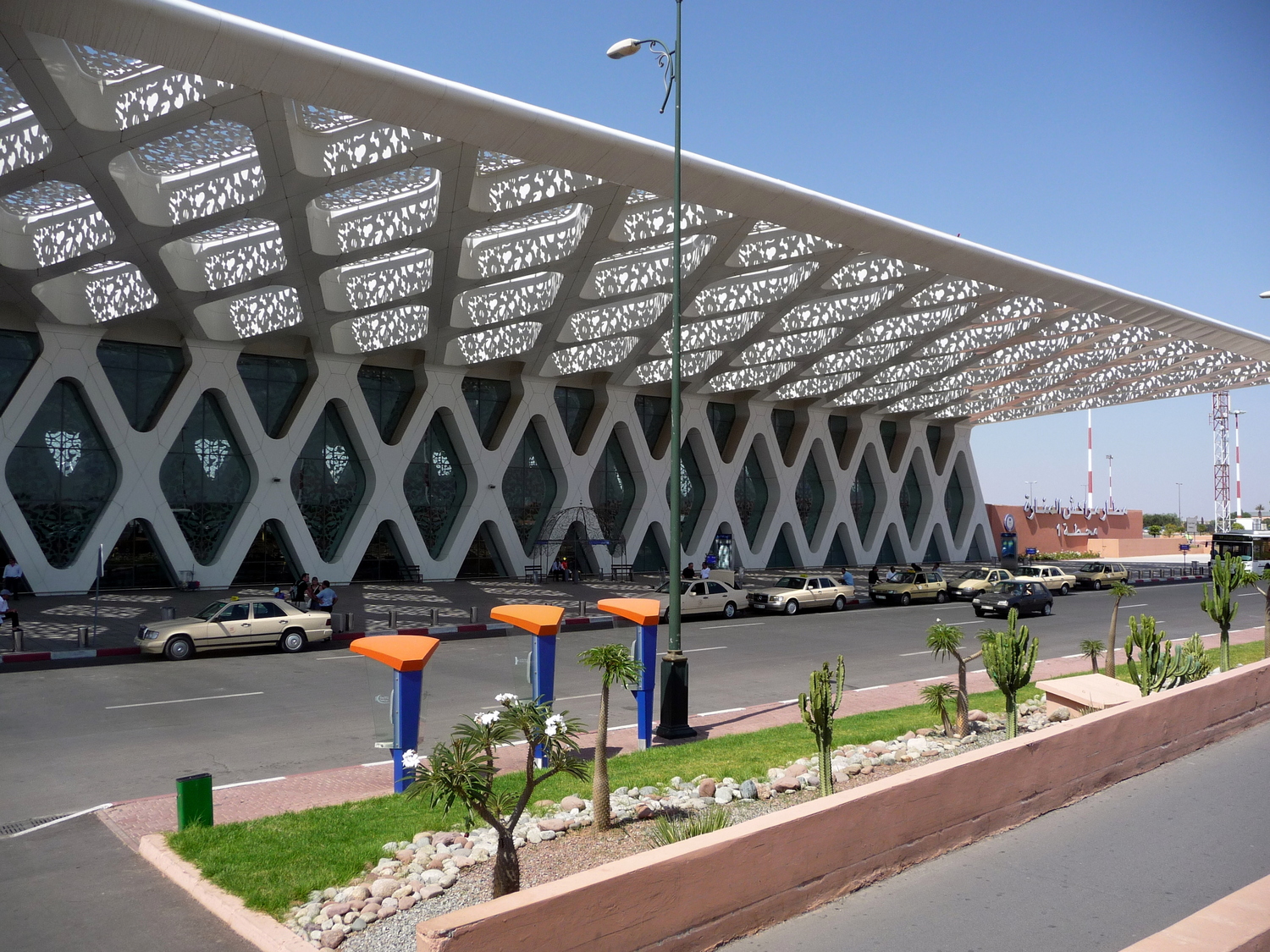 Menara airport is really big and modern.
Monuments, restaurants and local foods
Clermont-Ferrnad, located in Auvergne a green and peaceful region, is the perfect place if you want to discover France in an unusual way.
Morocco by car. The full itinerary of a car trip in Morocco.
Go through 4 different countries and visit new places, cultures and ways of life in a 12 days road trip accross Europe.